Blue and gray bathroom ideas – 11 cool and calming schemes
Be inspired to embrace timeless two-tone decorating with these beautiful blue and gray bathroom ideas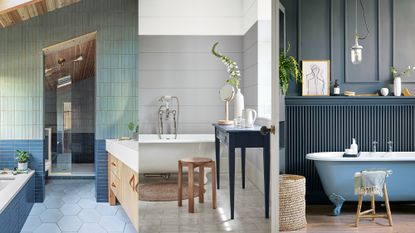 (Image credit: Max Humphreys / Christopher Dibble / Little Greene / Dominic Blackmore )
Blue and gray bathroom ideas are a popular choice and it's easy to see why. Cool, calming and synonymous watery landscapes, blue and gray make a perfect paring for a wash space color scheme.
With both blue and gray offering a huge spectrum of shades, from fresh sky blues and light pebble tones, to deep indigo and powder grays, the two shades provide huge scope for creating all sorts of exciting bathroom color ideas and interior looks.
Whether you're looking for a gray bathroom with blue accents, a blue bathroom with hints of gray, or a perfectly balanced scheme, we've gathered a host of blue and gray bathroom ideas and expert tips to help inspire your design.
Blue and gray bathroom ideas
Blue and gray bathroom ideas, similarly to blue and white bathroom ideas, are a go-to for creating cool, tranquil spaces. While gray bathrooms and white bathroom ideas can look effortlessly elegant, adding in blue to the palette is a fabulous way to elevate these monochrome schemes.
Bathrooms are a big investment and, once installed, can be hard to change, so it's no wonder that decorating with neutrals like gray and white is popular, as it's a palette guaranteed to stand the test of time. A drawback of these pared-back schemes is that they can risk feeling bland, however, introducing cool watery blues will bring personality to the space while keeping it feeling restful.
The key to using blue and gray in a bathroom is selecting tones to match the atmosphere you want to create. With paint, tiles and furniture available in such a wide array of blue and gray tones, from light to dark, there's huge scope for creating all sorts of looks.
Used alongside white, light blues and grays are perfect for creating a bright, uplifting spaces – ideal for small bathrooms and beach bathroom decor. Alternatively, bolder hues like turquoise and teal through to indigo and navy, and deeper steel grays would bring a more dramatic and mysterious look, perfect if you want a bathroom with impact.
1. Pair blue and gray with metallics for a luxury look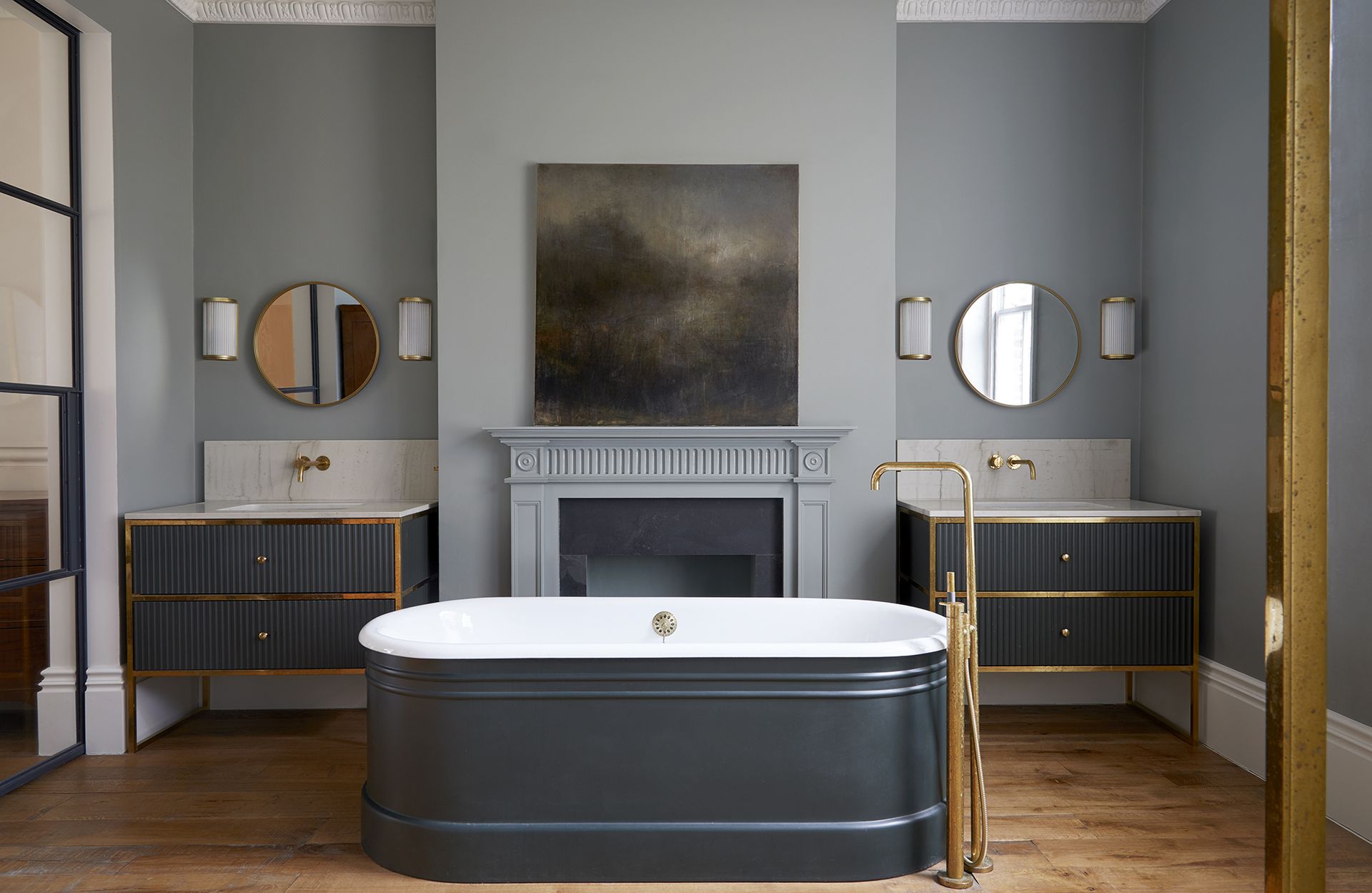 Farrow & Ball's gray-blue De Nimes shade, together with a deep bluey charcoal, provided the perfect sophisticated palette for this luxury bathroom designed by Finkernagel Ross and featuring a Bute bath and fittings by Drummonds.
'We wanted to create a soothing, spa-like space; this color particularly spoke to our clients and worked beautifully with the rest of the palette we were putting together for the room,' says Catherine Finkernagel, director and architect at Finkernagel Ross.
To prevent the space feeling cold, and to add a touch of glamour, the designers fitted bespoke cabinets with brass and reeded detailing. 'This project showcases a fabulous balance of materials and finishes. The gray-blue color scheme is warmly contrasted by a rich wooden floor, and gleaming brass fittings,' says James Lentaigne, creative director of Drummonds. 'Our Bute bath in a painted finish forms the centrepiece of the space, whilst the bespoke vanities on either side provide a sense of symmetry.'
2. Create a quirky look with gray wallpaper and blue paneling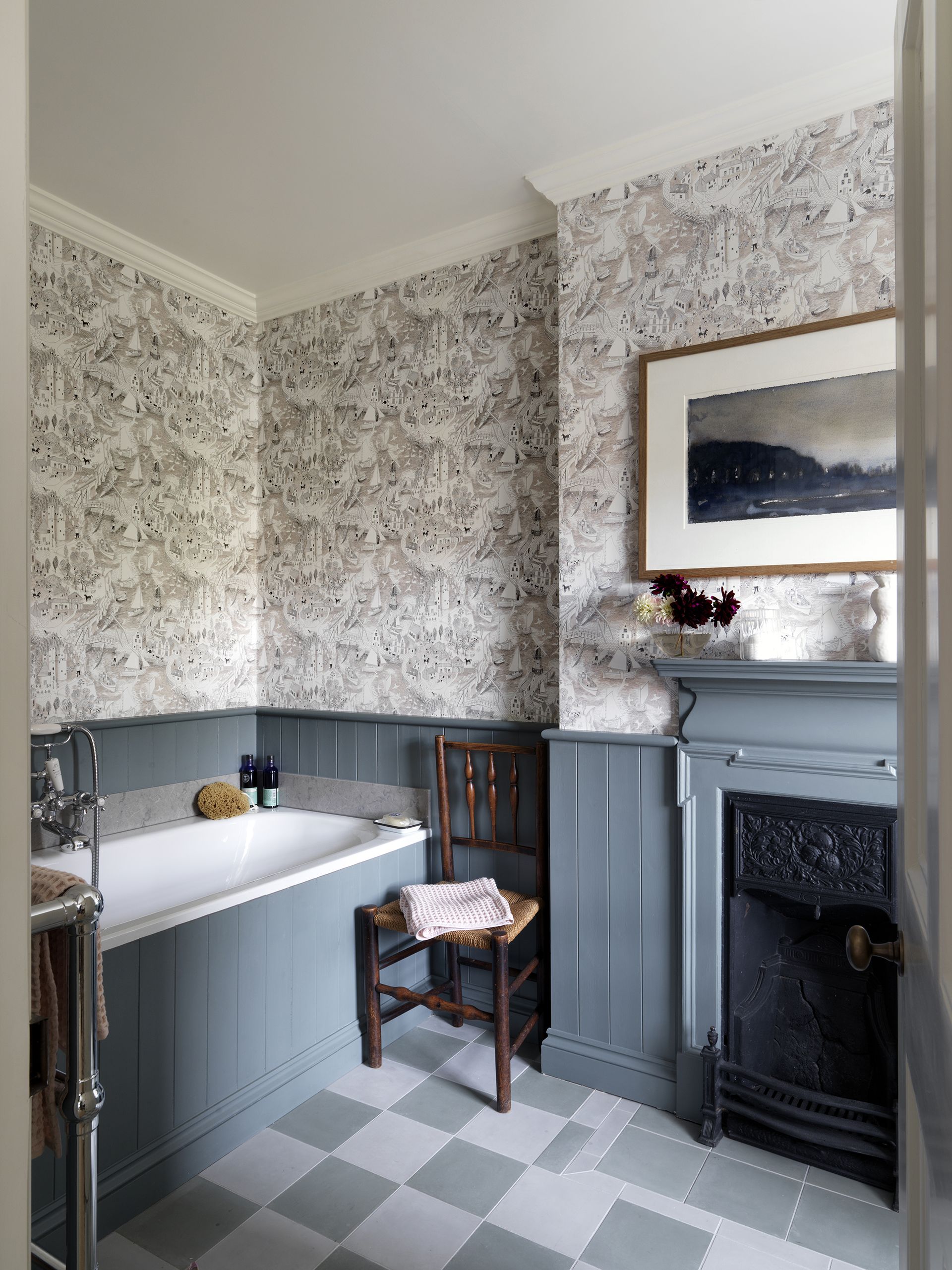 Often blue and gray bathrooms conjure sleek, modern spaces, but the color combination can work wonderfully in traditional bathroom ideas, too, as proven in this scheme by K&H Design.
'The brief was to design a traditional guest bathroom. We loved the Marthe Armtiage Windmill wallpaper, so we color matched the blue in the wallpaper for the tongue-and-groove paneling and fireplace mantel in Farrow & Ball's De Nimes,' says Katie Glaister, founder of K&H Design.
Bathroom wallpapers are a bold look, especially when used wall-to-wall and are not recommended for use in direct contact with water. Here, the addition of painted bathroom paneling not only provides a practical and wipeable surface, but visually it helps balance the ornate pattern.
3. Create a focal point with a navy vanity unit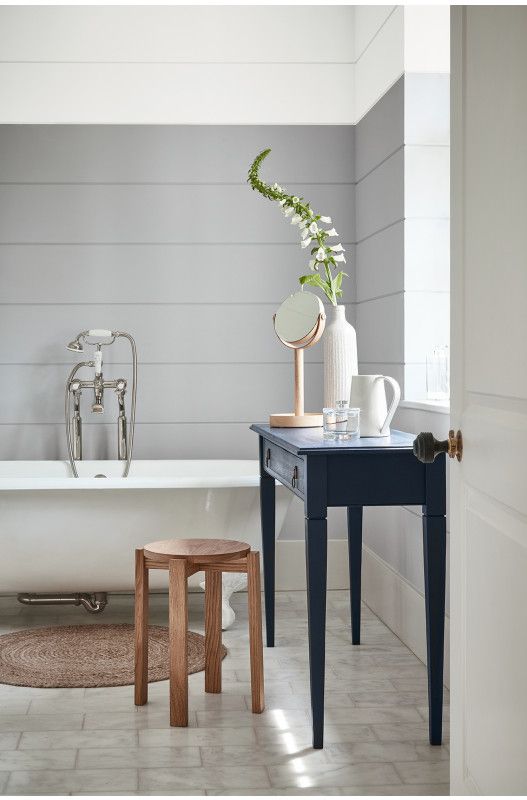 White and gray bathrooms are a timeless choice and a failsafe combination for making small bathrooms appear bigger, but they can sometimes lack depth and focus. To give these spaces a grounding feature and an element of fun, try painting a vanity in a contrasting shade such as a deep navy.
'When choosing a color for your bathroom vanity unit, consider the atmosphere you are looking to create, a smart gray such as 'Urbane Gray' will deliver an elegant finish against white ceramics and chrome taps, whilst the inky blue, Basalt pairs beautifully with 'Gauze' and 'Gauze Dark' for a contrasting scheme,' says Ruth Mottershead, creative director of Little Greene.
'If you're looking to add a bold highlight color, consider a fresh golden yellow such as 'Giallo' or a deep teal blue tone such as 'Canton' which pairs beautifully with bright whites.'
4. Bring pattern and texture with wall tiles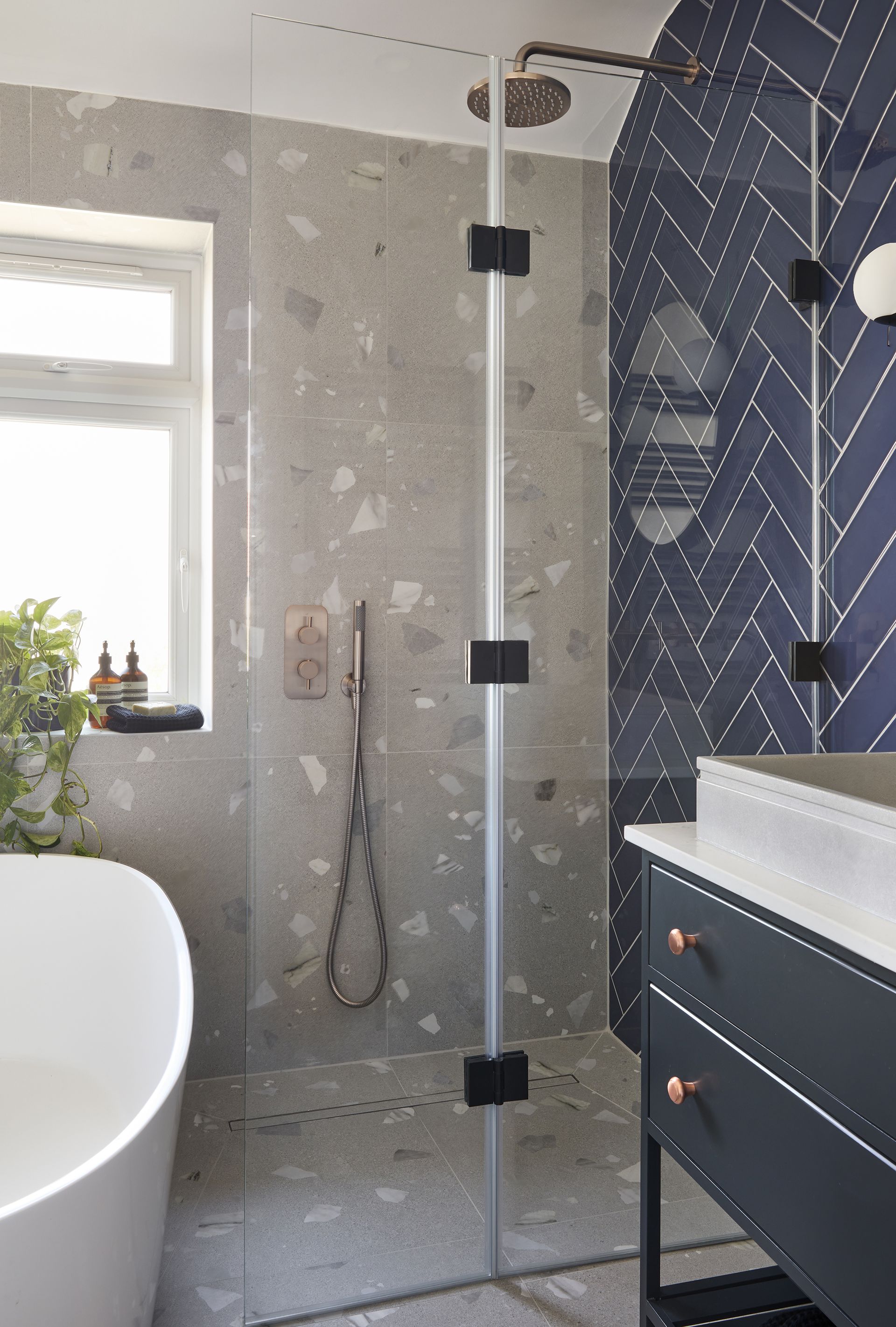 Bathroom wall tiles are a wonderful way to bring character into a wash space. In this blue and gray scheme, terrazzo tiles have been complemented with a navy feature wall of herringbone tiles to bring not just color but pattern, too.
'There is a theory that blue can be cold but it can actually be calming and mysterious with a touch of luxury. You'll also find that blue is a color that changes shade depending on the time of the day and the way light hits it, adding further interest,' says Barrie Cutchie, design director, BC Designs.
'Further warming touches come through the use of brushed metallics in copper which is rich and works so well alongside the gray and blue color scheme.'
5. Take inspiration from the sea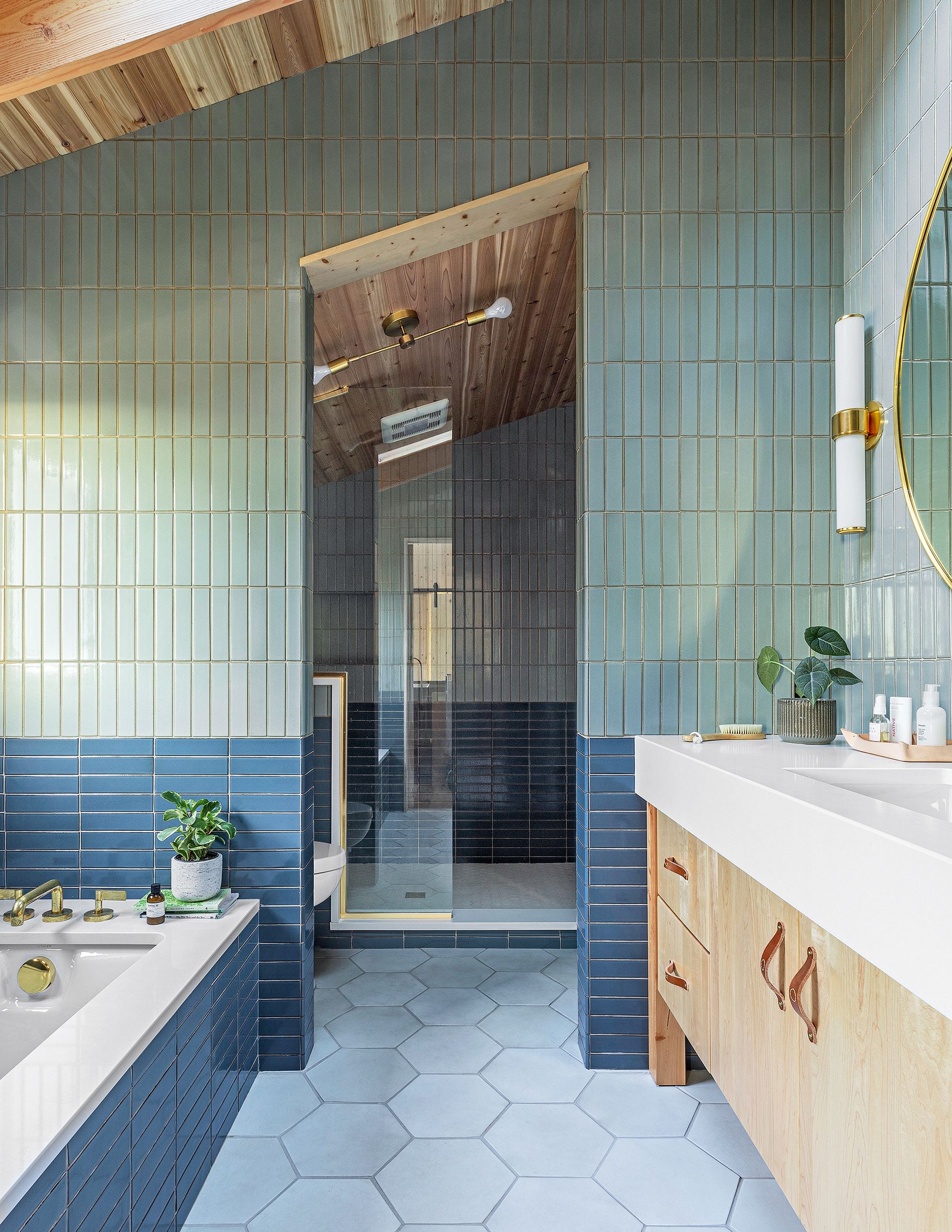 When designing a blue and gray bathroom the coast is a great place to seek inspiration. In this scheme designed by Max Humphrey, field tiles in Blue Galena and New Lagoon from Ann Sacks' MADE collection at West One Bathrooms are paired with a hexagonal gray bathroom floor tiles to create a modern twist on coastal decor.
'Since this house is right on the beach, the idea for switching the wall tiles in color and from horizontal to vertical was inspired by the concept of shallow end/deep end or low tide/high tide, with the saturated colors representing the sea,' says interior designer Max Humphrey. 'Taking the tile from floor to ceiling also came from thinking about that swimming pool locker room vibe.'
6. Add an unexpected pop of blue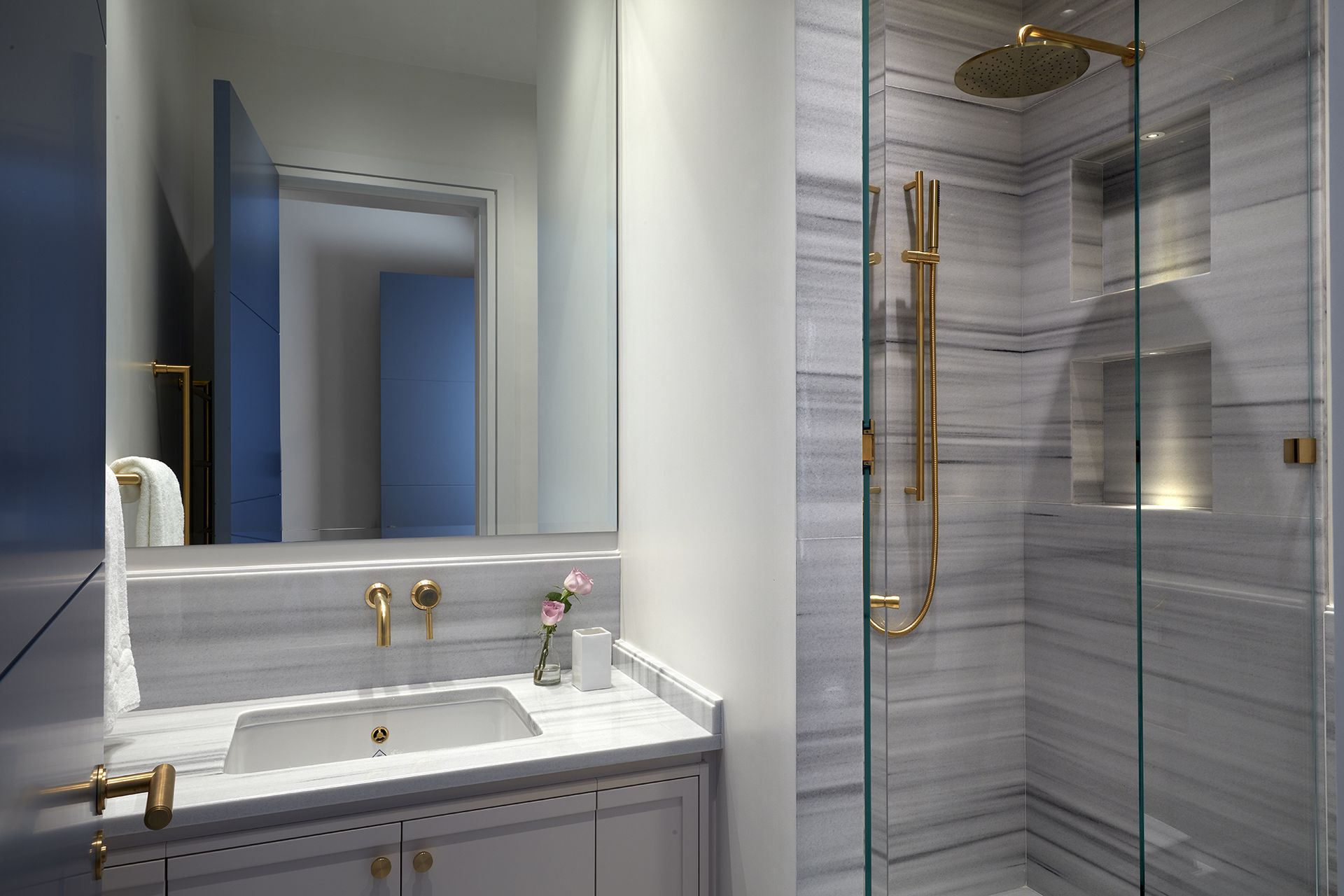 Neutral bathroom ideas are easy to live with and have enduring appeal, but careful consideration should be taken at design stage to ensure they have depth and interest. Here K&H Design chose streaky marble tiles to bring texture and painted the door in a deep blue to bring a playful color addition.
'We repainted all the doors which were dark brown with Juniper Ash by Little Greene to add warmth to this modern apartment,' says Amelia Brooks, marketing and design, K&H Design.
7. Create a feature of a shower with blue tiles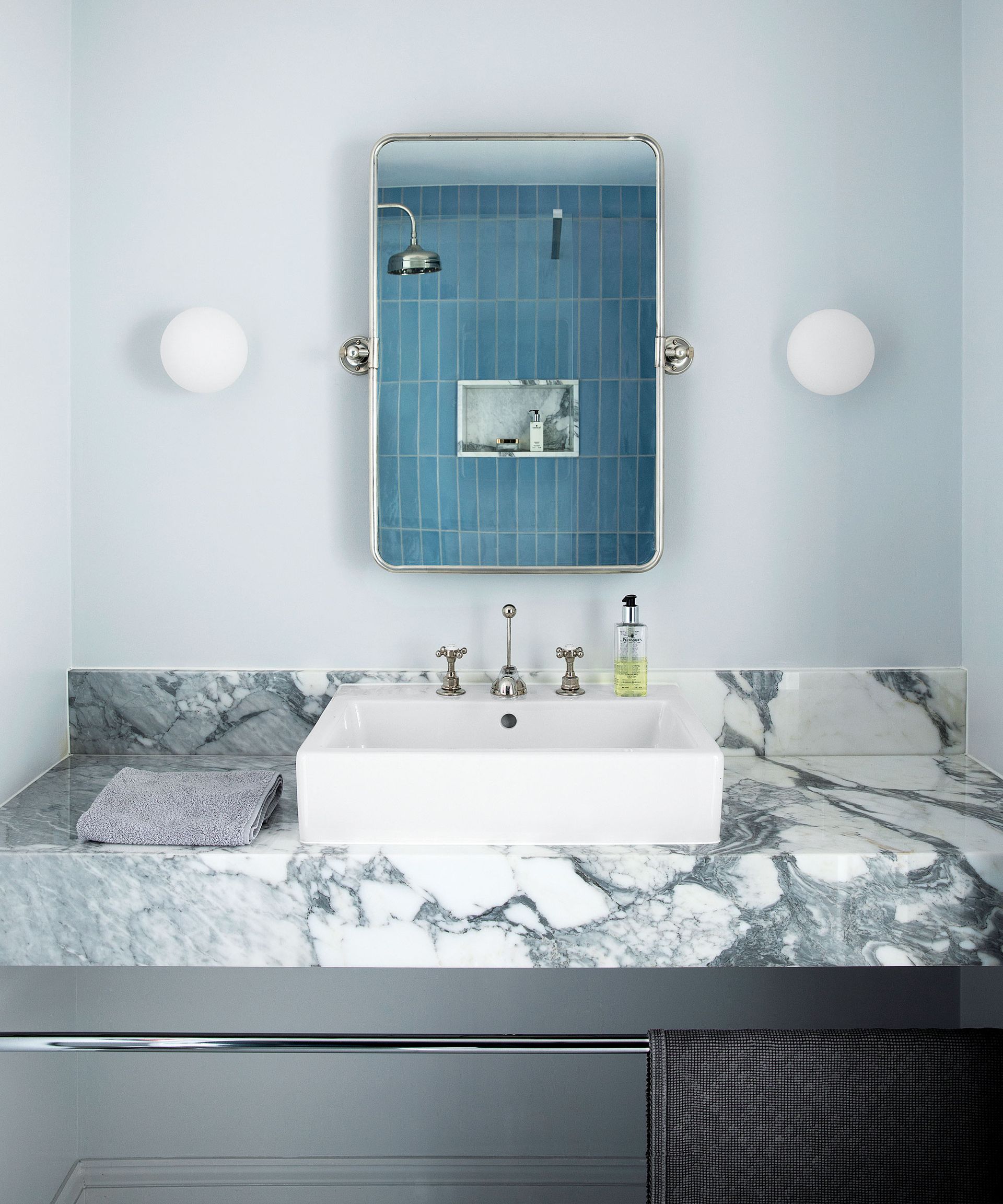 If you're cautious about introducing color into a bathroom then limiting it to a shower area could be the solution. With its white walls, marble bathroom countertop and sleek gray bathroom vanity idea, this monochrome bathroom has a feeling of understated luxury, while the the blue shower tiles bring a welcome burst of energy.
8. Play with light and shade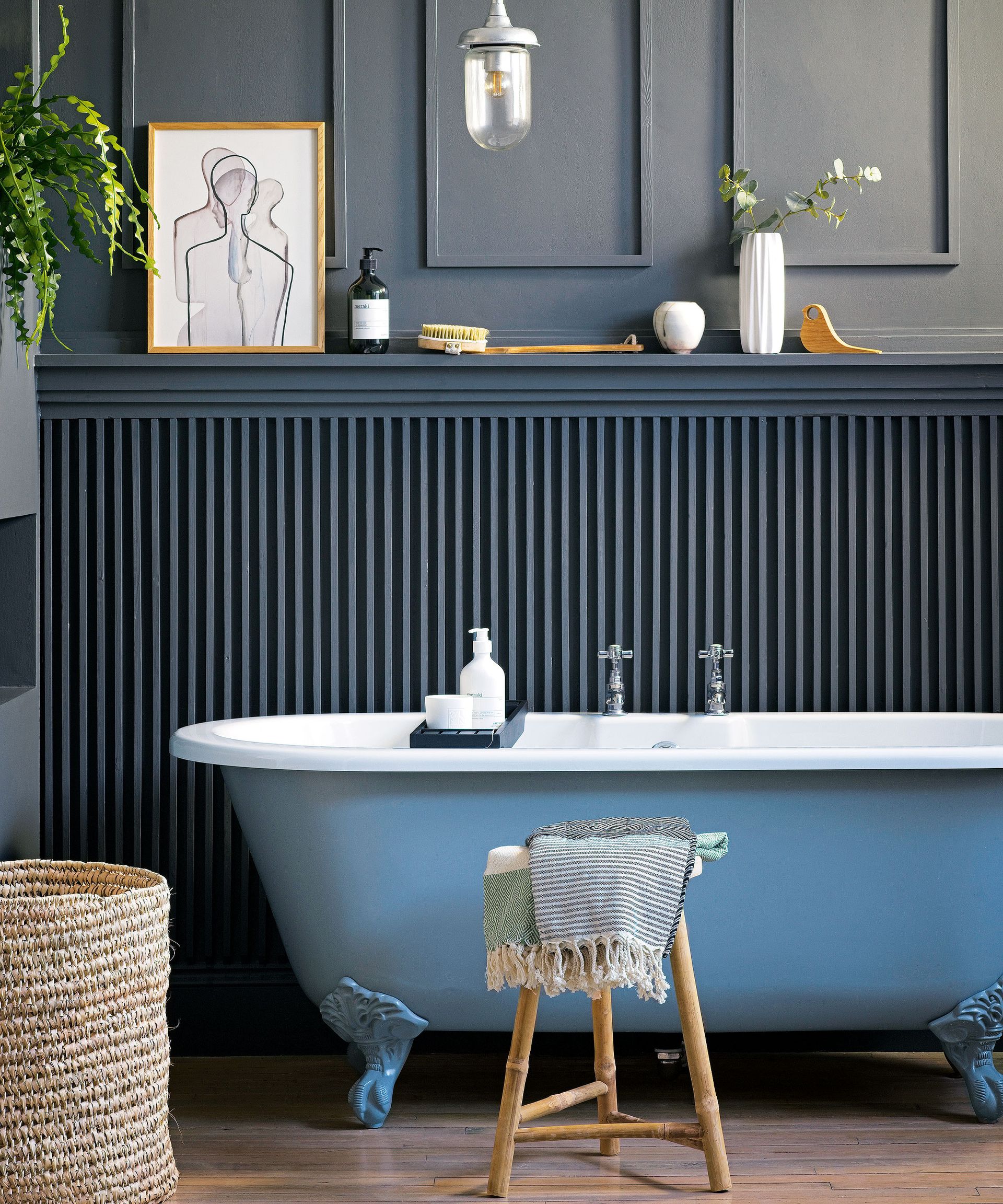 As small, transient spaces, bathrooms can be a wonderful place to experiment with dark colors and contrasting tones. Painting walls in a deep gray will bring a sense of glamour and sophistication and offers a blank canvas to play with all sort of accent colors. This pastel blue bath makes a lovely contrast to the warm, natural materials of the accessories, but pastel pink could also work well.
9. Hang a statement wallpaper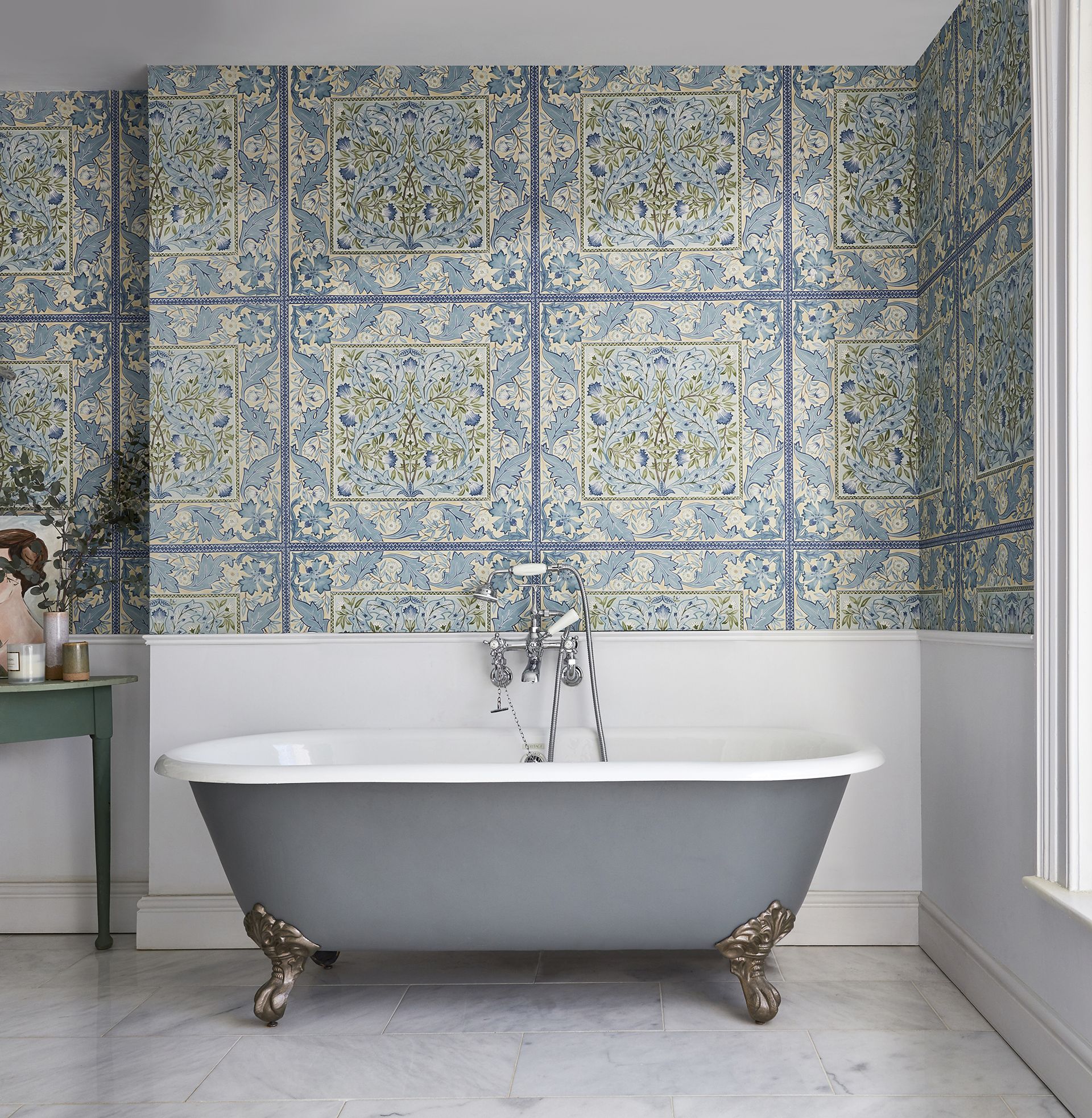 If you're looking to create a bathroom with wow-factor then you can't go wrong with an ornate, colorful wallpaper. Provided they are hung away from direct contact with water, beautiful bathroom wallpapers are a wonderful way to bring color and pattern and work particularly well in large bathrooms where they have space to shine.
Featuring a myriad of delicate blue tones this Wilhelmina wallpaper by Morris & Co brings heritage style into the home and is beautifully balanced by a bath in a mid-tone gray.
10. Pair gray marble with blue joinery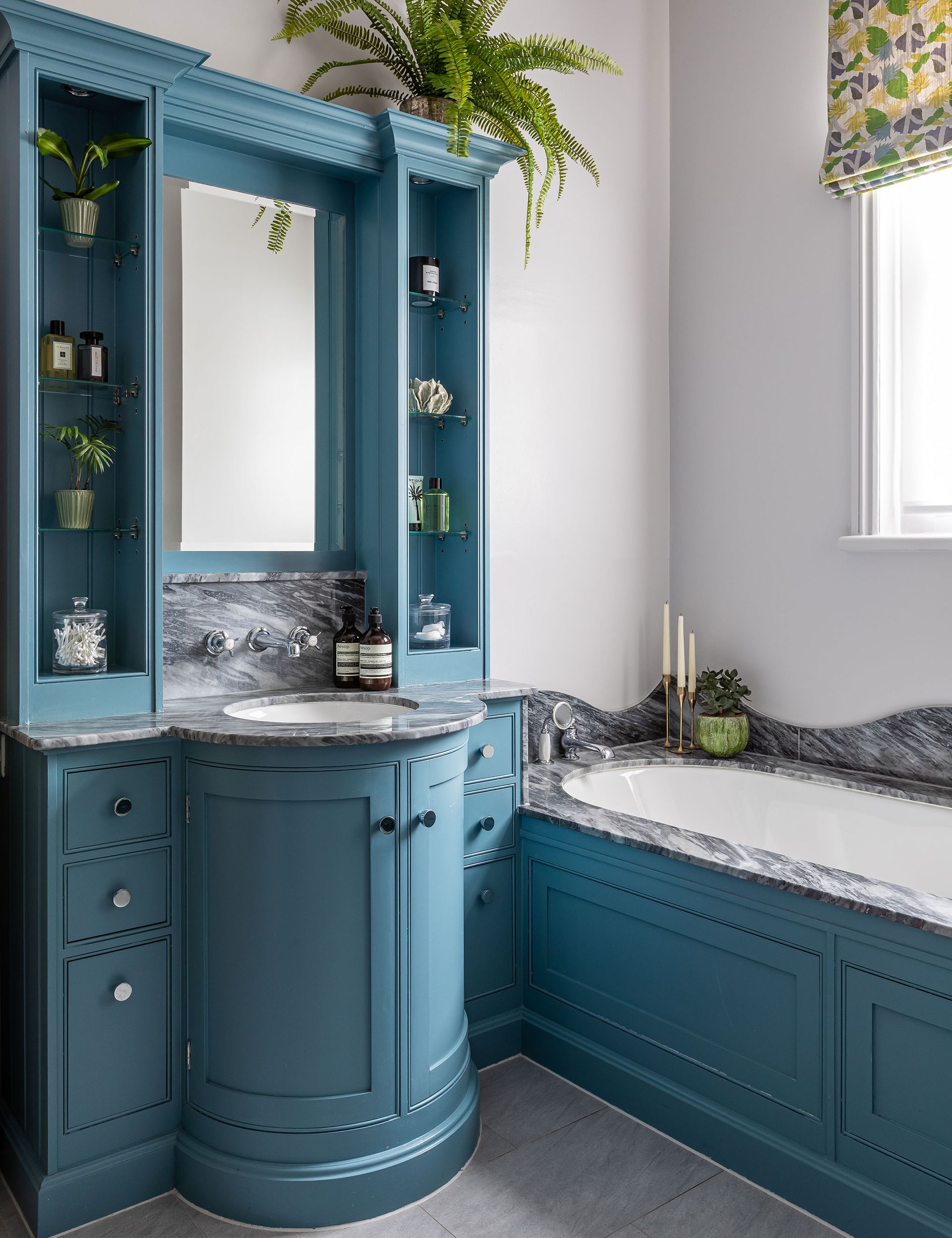 Too often bathrooms can end up as cold, plain boxes, but in this space by Otta the designers have used color, shape, texture and pattern to create a unique space full of interest.
The mid-blue paintwork draws attention to the unusual curved bespoke joinery which contrasts beautifully with the gray veined marble surfaces.
11. Add a statement roll top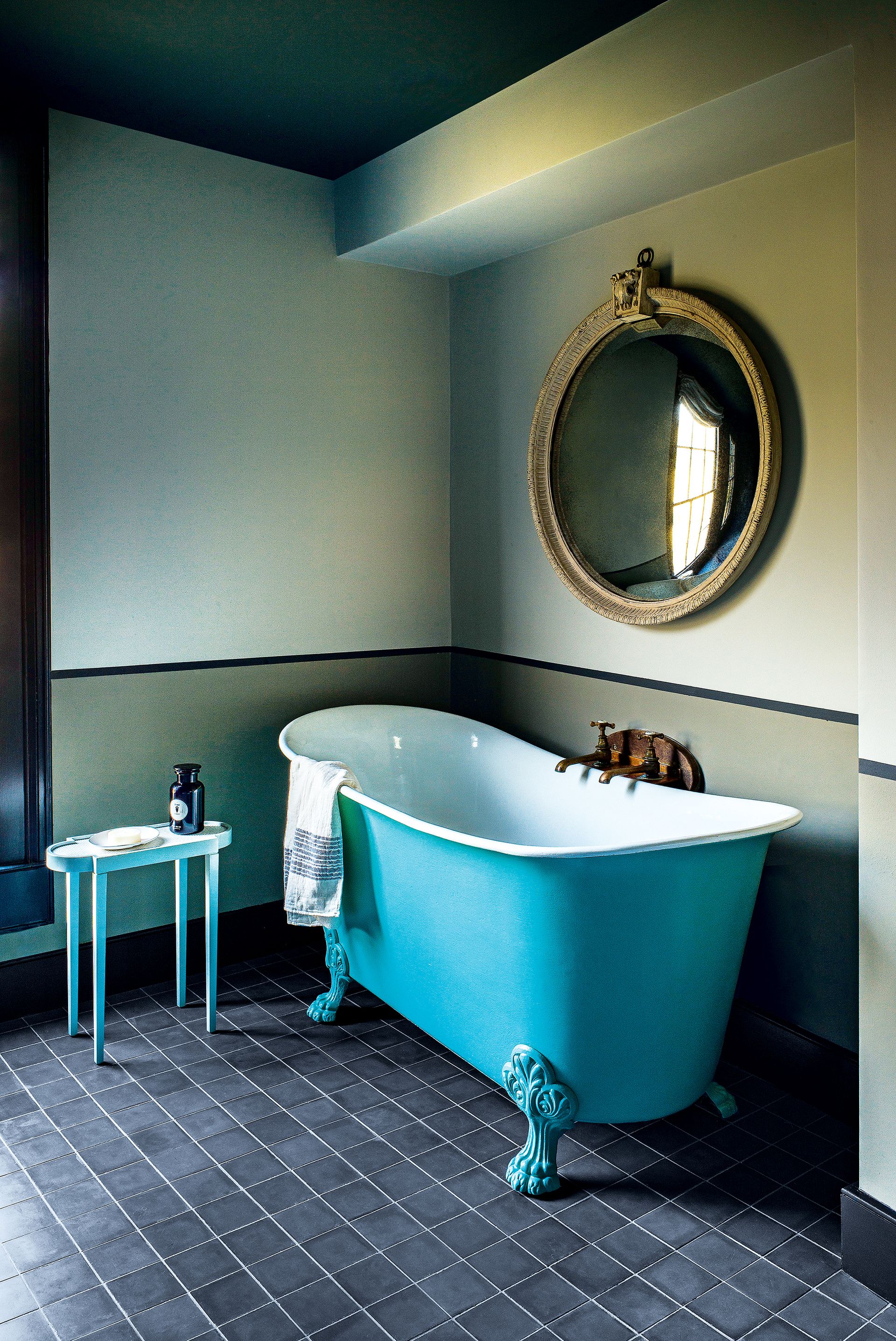 For those looking for a bathroom with luxury spa-like feel, a roll top is a must have, and, with many companies offering painted exteriors of your choice, they can be a great way to create a focal point. This turquoise design really sings when set against green-gray walls and dark gray bathroom floor tiles.
Do blue and gray go together in a bathroom?
Blue and gray is a popular palette for bathrooms as it is fresh and soothing. Conjuring coastal scenes and watery landscapes, blue and gray make fitting colors for a wash space and are a lovely way to bring the beauty and nurturing powers of nature into the home.
Being a neutral tone, gray partners with most colors and won't go out of style, this makes it good for bathrooms, which are not easy to change once installed. However, often gray and white bathrooms can be seen as bland – as a cool color, adding in blue can lift the look while still keeping the space feeling calming.
'Blue has an enduring appeal and is very versatile. Blues work well on their own or can really come to life when combined with other shades within the palette for a harmonious interior; off-white, greens and grays are classic combinations but contrasting pinks and reds are increasing in popularity for a layered look,' says Dominic Myland, director of Mylands Paints.
When decorating with blue and gray it's important to consider each tone carefully to ensure they work together, as different shades will have different temperatures and moods and the tone you use can have a big impact on the look and feel of the space.
'Light blue can be very soothing whilst more saturated blues can be stimulating; desaturated blues are a great choice for a quieter backdrop for other colors within a space and brighter tones can also be the star of the show,' adds Dominic Myland.
On the other hand, 'super strong tones like teal, gray and mustard are lively and exciting and add energy to a room, to make it pop,' explains Justyna Korczynska, senior designer at Crown.
Are gray bathrooms out of style?
Gray is a versatile and timeless color which does not go out of style, this makes it a wonderful shade for designing a bathroom with enduring appeal. A pared-back, cool shade, gray can be used to create all sorts of moods depending on the tone, from restful and elegant to sophisticated and dramatic.
Naturally gray works well with its partners white and black as part of a monochrome bathroom scheme, but it equally pairs well with most shades on the color wheel. This makes gray a fabulous neutral base for layering bolder colors in a bathroom such as teal and turquoise.
Sign up to the Homes & Gardens newsletter
Decor Ideas. Project Inspiration. Expert Advice. Delivered to your inbox.
Pippa is Content Editor on Homes & Gardens online contributing to Period Living and Country Homes & Interiors print issues. A graduate of Art History and formerly Style Editor at Period Living, she is passionate about architecture, creating decorating content, interior styling and writing about craft and historic homes. She enjoys searching out beautiful images and the latest trends to share with the Homes & Gardens audience. A keen gardener, when she's not writing you'll find her growing flowers on her village allotment for styling projects.