Family bathroom ideas – 10 practical but pretty rooms to suit all ages
These family bathroom ideas will help you design a space that's as functional as it is aesthetically pleasing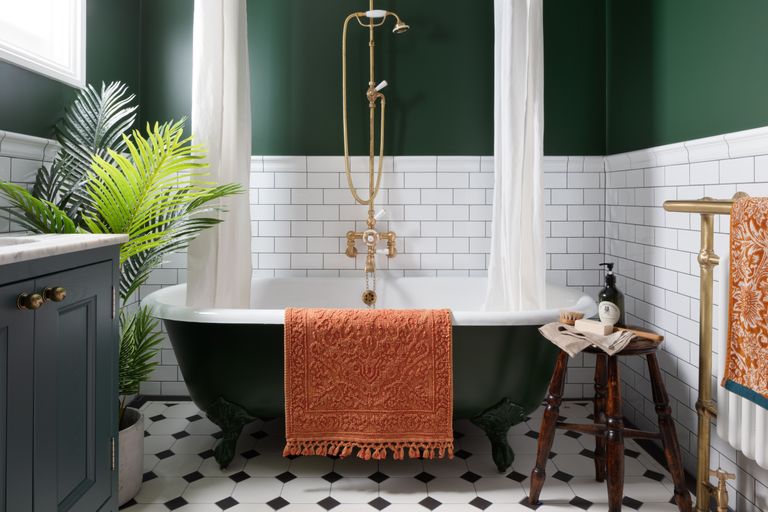 (Image credit: Chantel Elshout Studio/Paul Craig)
A well-planned family bathroom, usually the biggest in the house, if only by a few precious inches, can make or break the morning rush and/or bedtime routine. The best designs are loaded with storage, easy to clean, and perfect for sharing.
As well as considering who will be using the bathroom now, it also pays to cast your mind forward at least 10 years in order to future-proof your choices, especially when it comes to permanent fixtures like sanitaryware.
Family bathroom ideas might include a bath, easiest for scrubbing up babies and toddlers, but teenagers usually prefer the speed and convenience of a shower, while older family members may benefit from an easily accessible walk-in shower. A little forward planning could save you the pain of a premature remodel.
Family bathroom ideas
Whatever your needs now, and in the future, we've got plenty of beautiful bathroom ideas – and these family bathroom ideas are perfect for the whole family.
1. Invest in a show-stopping bath
Family and kids' bathroom ideas need fore thought.
The most family-friendly bath is double-ended, which can easily accommodate two toddlers with no bickering over who sits at the faucet end. But there's no need to throw style out with the bath water in favor of such practicalities. This show-stopping roll-top is a real talking point and makes a big statement in the average-size space – perfect if you are looking for family-friendly small bathroom ideas.
'If your family bathroom isn't huge, we'd recommend an over-bath shower rather than trying to shoehorn in separate facilities,' says Chantel Elshout, director of Chantel Elshout Studio.
'This two-in-one solution allows space for the bath to breathe, which actually gives the impression of a more generous room. Taking it up to the ceiling with a glamorous shower rail also draws the eye upward to take in the impressive ceiling height, again giving the illusion of a far bigger room.'
2. Max out every inch of a family bathroom
Clever bathroom layout ideas are a must in family bathrooms.
'When space is tight in a home then the family bathroom often loses out size-wise, which means careful planning is more important than ever,' says Deborah Bass, founder of Base Interior.
'A small but well-planned bathroom can be more inviting and comfortable than a badly designed larger bathroom. The key is to focus on ease of movement and ergonomics, so that everything can be accessed without feeling cramped or compromised.
'For example, bath faucets that the kids won't bump their heads on, basin taps that are easy to reach and operate, towel radiators that you can actually hang a towel on, and of course ample and accessible storage.'
Making each item earn its place is vital; a bath with overhead shower performs two roles in one footprint, while a toilet seat can act as a handy perching point for monitoring bath time.
3. Go bespoke
One of the best family bathroom ideas is fitted furniture that is made-to-measure – it can achieve larger volumes of storage than freestanding. Here, Christopher Peters has fitted an incredible array of cupboards and drawers, including two generous laundry baskets, within a 1.5m-wide area under the eaves.
'One factor to bear in mind when considering bespoke storage over off-the-shelf is the extended lead time, which can be several weeks from enquiry to installation,' says master designer and owner Will Lyne.
Try to get your order booked in as early as possible and bear in mind that a little patience will pay off in the long term.
4. Consider inventive family bathroom ideas
Bathroom wall ideas need to be given careful consideration – and this clever look is one of our favorites.
'Easy cleaning is crucial to the success of a busy family bathroom and clients are growing increasingly tired of grubby grout lines, particularly in areas with hard water when they end up tricky to keep clean,' says Kirsten Wain, designer at West One Bathrooms.
'One of the solutions growing in popularity with families in recent years is waterproof wallpaper. The product is made from fiberglass and uses a specialist transparent waterproof primer which stops water penetrating through the surface. The prints can be scaled to suit the space in the room giving a truly bespoke finish. And, best of all, it is hard wearing and durable for family use and you can really have some fun with it.'
5. Make family bathrooms accessible for all
Family bathroom ideas need to be accessible safe for the youngest members of your household, so think about the needs of your whole family when considering walk-in shower ideas.
'When choosing a shower head, opt for one with the riser rail kit so you can adjust the height and angle to suit the shortest and tallest family members,' says interior designer Emma Gurner of Folds Inside Ltd.
'Built in storage niches to house soaps and shampoos are a great way to keep the space tidy and we also recommend low-level shower trays or level-entry wet room style tanking, which reduces the trip hazard potential for young and old.'
6. Be bold with family bathroom decor
'Family bathrooms are a great opportunity to bring bolder colors and patterns into a home. There are so many great tiles to choose from out there, making it easy to have a little fun,' says interior designer Gemma Dudgeon.
Limiting your bravest designs to bathroom floor tile ideas, rather than walls, is a great way to enjoy dynamic designs without risk of overpowering the space – and bathroom paint ideas can. be more daring, too.
'I love Little Greene's Mister David on the side of this bath, which was supplied ready-primed,' adds Gemma. 'If the owners ever tire of it or feel like changing the decor, re-painting would be really very easy.'
7. Share a basin
'The family bathroom can be a busy place, especially first thing in the morning as everybody jostles to clean their teeth, wash and shave before heading off to work and school,' says Howard Birch, director of Aston Matthews.
'Family friction can be avoided with a twin basin, which takes up slightly less space than two individual basins but still allow two people to use the basin at one time. Twin basins also look good and add a sense of decadence to the family bathroom.'
8. Work the walls in a family bathroom
Choose colorful yet functional accessories to bring your family bathroom to life.
'Wall-mounted accessories are especially practical as they keep surfaces clutter free and can be positioned at the exact height required,' adds bathroom designer Caroline Greig from Ripples.
Ideally locate toothpaste and liquid out of reach of the very youngest family members. 'We always recommend a wall-mounted toilet brush in family bathrooms, too. Not only does it clear space on the floor, making the room appear bigger, but it also keeps the brush out of the way of crawling children and from getting accidentally knocked over.'
9. Stay warm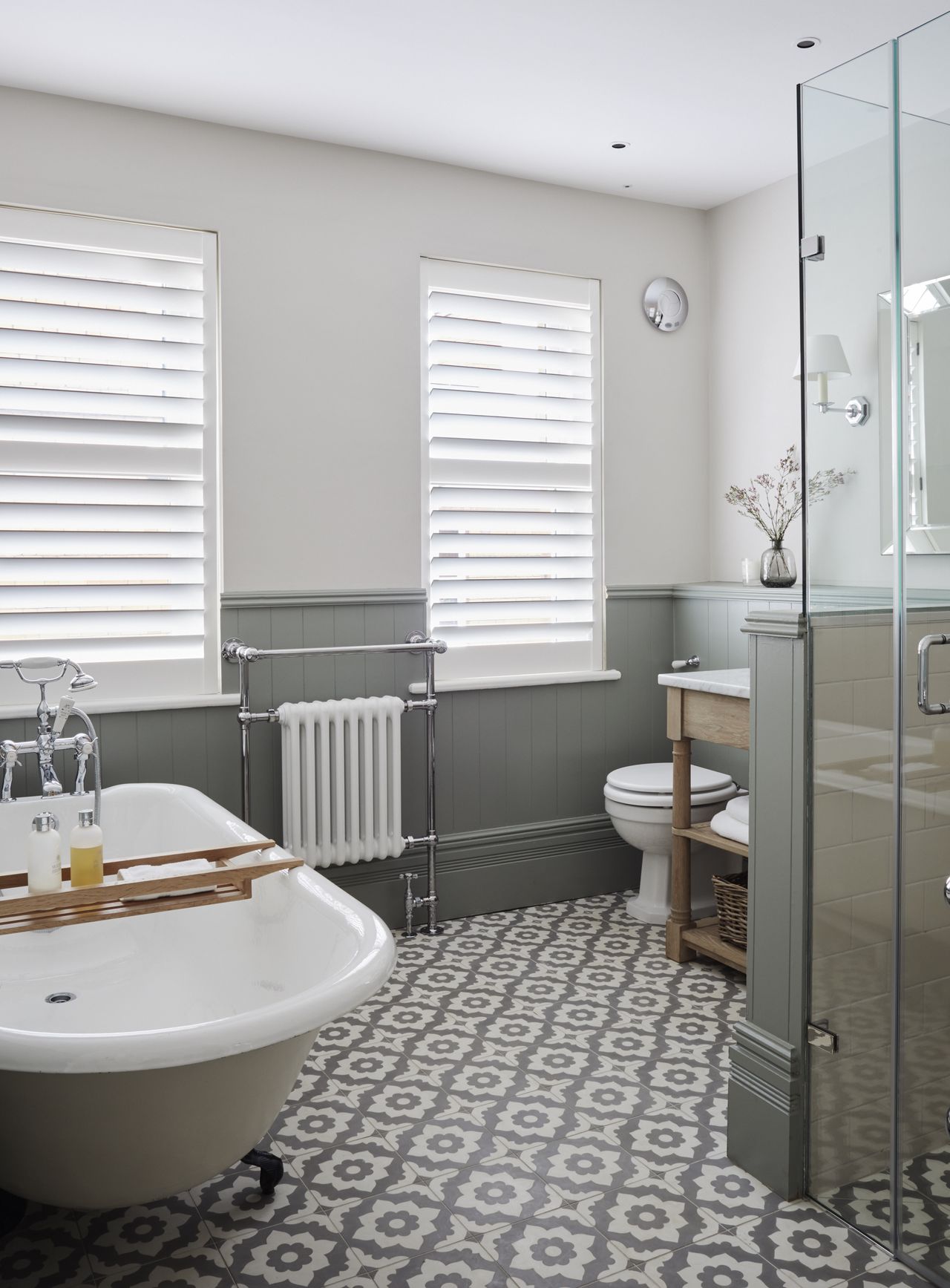 Heating is important in any bathroom but, for family bathroom ideas, it ranks highly, so it's worth taking extra time to consider all your options.
'Plenty of heated towel rails not only help keep the bathroom tidy and the floors towels free, but also prevent the smell of damp pervading through into the adjoining rooms,' explains Louise Wicksteed, design director, Sims Hilditch.
An electric towel rail, run independently from your central heating, will provide toasty towels year-round. 'Underfloor heating is the fastest way to deal with splashes on the floor, preventing slip hazards and potential damage to your flooring,' adds Louise.
10. Add a decorative touch to your family bathroom ideas
If you're considering bathroom color schemes that are practical but pretty, sometimes, dark bathroom ideas are often a great way to go – they will disguise splashes and marks more easily, and make even the most functional of spaces feel curated. We love this wallpaper by Little Greene – ensure any wallpaper you use is water resistant, and if not, consider protecting it with a coat of decorator's varnish.
What is a family bathroom
A family bathroom usually includes a bath – sometimes the only one in the house – a shower (either separate or above the bath), a toilet and at least one basin.
It has a door that opens onto a landing or corridor, so you don't have to walk through a bedroom for access. In some homes, particularly period properties, the toilet and a hand basin may be in a separate adjacent room so that it can be accessed when the family bathroom is in use.
It is designed for use by any family members who do not have the luxury of considering ensuite ideas connected to their bedroom, usually the children but also overnight guests.
How big should a family bathroom be?
A family bathroom should be as big as you can possibly achieve but, in many cases, like new-build homes, they can be a paltry 6ft square. Many people opt to convert their spare bedroom to achieve a more luxuriously appointed family bathroom. Or you may be able to steal space from a dead-end hallway or relocate a hot water tank to create more space in your family bathroom.
If physically up-scaling your family bathroom's footprint isn't feasible, you can make the most of what you've got using specialist space-saving sanitaryware, corner vanity units, narrow-depth cabinets and compact baths.
Linda graduated from university with a First in Journalism, Film and Broadcasting. Her career began on a trade title for the kitchen and bathroom industry, and she has worked for Homes & Gardens, and sister-brands Livingetc, Country Homes & Interiors and Ideal Home, since 2006, covering interiors topics, though kitchens and bathrooms are her specialism.