Kids' bathroom ideas – 19 ways to take them from crib to college
Enjoy characterful and creative kids' bathroom decor designs – for children of all ages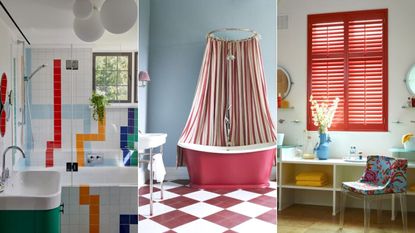 (Image credit: Cave Interiors/Helen Cathcart/Future/Polly Wreford/California Shutters)
If you are looking for kids' bathroom ideas, it's vital to ensure their space is both fun and functional, but importantly that it can cope with different demands as they grow, as well as being practical and safe for them now.
Whether you're getting ready to welcome a new arrival or renovating the bathroom your kids currently use, we've got plenty of advice and kids' bathroom ideas to keep them happy from cradle to college. From sophisticated, timeless style to bright and playful, you'll find ideas to suit children growing up in all styles of home.
There are so many creative bathroom ideas for making bath time fun, but also super-efficient when it comes to that busy morning school-run. A truly child-friendly bathing space should be cute but functional, and the best layouts allow plenty of room for more than one tot or teen to manoeuver.
Plus, if your kids are lucky enough to have their own dedicated space, your kids' room ideas and kids' bathroom ideas might well coordinate for a cohesive feel.
Kids' bathroom ideas
'Designing a children's bathroom is a lesson in balancing fun and functionality,' enthuses Zoe Jones, stylist and visual content manager, Roper Rhodes. 'Naturally we should prioritize safety and storage when considering age-appropriate design, but it's also important not to forget novelty, color and creativity, even in the bathroom.'
Like family bathroom ideas, safety, functionality and bathroom storage ideas are key, but unlike spaces you'll all use, kids' bathroom ideas can be far more whimsical. Using bathroom pictures to collate a look will help you nail your kids bathroom ideas.
1. Choose a fun and quirky wallpaper
Kids' bathrooms can take a ton more pattern than adult ones tend to, and you can bring this into the room easily with bathroom wallpaper ideas, which are far more easier to update, or even paint over, than bathroom wall tiles. Look to the new ranges of water-resistant and 100 per cent water-proof wallpapers and wall mural ideas (Wall&deco is a great place to start) for a space that can stand up to splashing.
'This bathroom was created with two young children in mind. The bold colors and pattern in the Schumacher "Aviary" wallpaper was a big hit with the clients and their children alike, and the primary colors allow for a timeless look that will grow with the kids over time,' says Jessica Davis, owner and principal designer of JL Design.
2. Team bubblegum pink with gold accessories
Bathroom color ideas can be much more adventurous in kids' bathrooms, but do bear in mind that wall-to-wall bathroom tile ideas are expensive to change, so don't go too bold if you (or your child) aren't convinced.
'Designed for a young girl, the wall-to-floor pink tiling creates a glamorous and feminine bathroom.
'Bert & May's Luna Rose and Plain Rose tiles cover every surface, and the sophisticated brass fittings from Fired Earth give the room maturity and sophistication,' says Ruth Webber, creative director at Bert & May.
3. Build in plenty of storage
Easily accessible storage is vital, both so that small children can reach what they need safely but so that teens can (potentially) put things away once they've used them. This kids' bathroom has been designed to provide both, including a smart bathroom vanity idea, in a way that maximizes a small footprint.
'Designed for a growing family, this compact children's bath is one of our favorites. Layered on top of a clean, simple and functional foundation is a playful palette with a rich combination of color, textures and materials.
'Open tiled shelves at the end of the cast-iron bathtub allow for easy access to bath toys, bathing products, and towels. This bath should serve the family for years to come,' says Karen Harautuneian, owner and principal designer at Hub of the House Studio.
4. Go for a bold primary color
Decorating with primary colors can bring an architecturally uninspiring space to life, and create a cheerful space that makes bath time fun for little ones.
'The bright shades of the Salerno tiles are perfect for making a statement. They can be laid in a variety of styles, for example, herringbone, stacked, vertical, horizontal or brick-bond. They are also available in a variety of colors including aqua, apple, yellow, red, white, mink, beige, green and blue.
'Kids' bathrooms provide a great opportunity to go all out on design, and by using small, bright tiles on a feature wall is a great way to introduce color and personality to your design,' says Jo Oliver, director of The Stone & Ceramic Warehouse.
Decorating with yellow and other bright and joyful colors perfectly suits such space.s
5. Use white as a blank canvas
White bathroom tile ideas are the safest choice for kids' bathrooms, with accessories and furniture an easier option for adding character.
'If you keep your kids' bathroom white – or nearly white, you can add color as and when you like. For example, the green vanity looks great with white and you can then add in other colors like the shower curtain – which is changeable and the towels. Keep the floor neutral too and your scheme can grow with the kids,' says Jennifer Ebert, digital editor, Homes & Gardens.
6. Choose a patterned tile design that will last
Whatever you choose for walls and floors, if it's difficult to replace, ensure it's not too childish: cute toddlers quickly turn into picky teens.
'In this shared boys' bathroom I wanted to ensure there was loads of storage but I also wanted to find a way to inject some color and pattern without it feeling too juvenile.
'This fabulous Spanish wall tile does just the trick! Each tile has a different colored line mixed in with the black/white. Installing it in a random way makes it appear almost like wallpaper. It really helps to elevate the space and make it feel layered and interesting for the long haul,' says Cindy Mckay, founder and lead designer at Cindy McKay Interiors.
7. Have a (subtle) nautical theme
Walk-in shower ideas can be incredibly practical in kids' bathrooms, but you'll want to invest in shower curtain ideas to reduce the room's regular soakings.
'We wanted to infuse this lake house bathroom with a nautical and retro camp feel. While most coastal and nautical bathrooms' color palettes include bright and rich shades of blues, we opted for shades of greys paired with crisp and clean white hues. We kept it simple and classic.
'The hexagon tiles on the floor combined with the white square subway bathroom tile on the bathroom and shower walls gave the bathroom the perfect seaside/vacation retro camp look we were looking for.
'The slightly raised step around the shower pan mirrors the wall's tile and keeps water contained. We finished the small walk-in shower with a floating anchor patterned shower curtain on two sides that feels modern and casual,' says Eddie Maestri, principal architect, creative director and owner of Maestri Studio.

8. Choose low-stress paint
Any bathroom paint ideas you have should ideally be moisture-resistant but in a bathroom primarily used by little people, the walls may also be subjected to significant splashes, errant toothpaste and grubby fingerprints.
While you don't have to stick to specialist bathroom paint finishes in kids' bathrooms, which can be a little restrictive color-wise, do look for washable paints that can be easily cleaned without ruining the finish.
'Soft sheen paints with an acrylic base are the best choice for a child's bathroom as they are wipeable and scrubbable but also incredibly low in VOCs so a safe choice health-wise,' explains Francesca Wezel, founder and director of Francesca's Paints.
Ensuite ideas aren't just for adults – in this child's ensuite bathroom, designed by Ana Engelhorn and featuring fittings by Drummonds, the glorious pink is a custom shade by Francesca's Paints.
9. Use checks and stripes for a bold look
If you want a traditional bathroom aesthetic that feels adult but would appeal to children, too, decorating with stripes and/or decorating with gingham is a great option.
'There's a circus element to this stunning bathroom with its striped shower curtain – something young kids will adore. A good sized roll top is an essential element; the bigger it is the more kids you can clean at the same time! Choose bold large format tiles for extra punch and your fun bathroom will be complete,' says Andrea Childs, editor, Country Homes & Interiors.
Note that laying tiles on the floor so that they appear diagonally rather than as train tracks will make a small bathroom look bigger.
10. Create separation in a Jack & Jill bathroom
Jack and Jill bathrooms are a great use of space, allowing for one kids' bathroom shared between two or more children. If you have the space, creating separation between users can help the space feel organized (and show up the messiest child). It can also allow for younger and older children to have safe and appropriate access to what they use in the bathroom.
11. Make an impact
Fun bathroom decor can be expressed through hard surfaces, such as bathroom tiles. Interior designer Caz Myers let a strong geometric floor tile steal the show in this luxurious kids' bathroom.
'We were looking for something striking and different and Barber & Osgerby's Puzzle range for Mutina scores on both,' says Myers.
Including plenty of plain tiles in the mix prevents the pattern from overpowering and means the lucky young owner is unlikely to outgrow the design any time soon.
A wall-hung vanity, or any other bathroom furniture, will also contribute to the feeling of space.
12. Boost a small space
Kids' bathroom ideas often have to include multi-tasking, which is where bathroom shower ideas come into their own. Toddlers are easier to scrub down in a bath, but teens are almost impossible to get out of the shower.
In this compact bathroom requiring future-proof facilities for a fast-growing family, interior designer Georgina Cave of Cave Interiors has achieved the best of both worlds with an over-bath shower. The glass screen folds out to contain the splashiest of limbs, while installing a showerhead on an adjustable riser means it can accommodate various head heights.
'Taking inspiration from London's tube map, we incorporated a geometric grid of colours on an otherwise white back drop of tiles to create a sense of fun, whilst keeping the space light, bright and bang on brief,' explains Cave.
13. Get cozy with color
Ceiling paint ideas are welcoming in kids' bathrooms. Indeed, warm hues can go a long way to softening the cold, sterile surfaces in a bathroom.
In this kids' bathroom, a punch of Benjamin Moore's Tomato Tango (in its specialist Aura Bath & Spa paint) on the ceiling makes the space feel cozier and more intimate. The walls are in Stoneware, a clean white with warm undertones. Ensure you choose the right paint finishes for ceilings in a bathroom since it will be subjected to lots of moisture.
14. Work the windows
If you are looking for practical bathroom window treatment ideas that are practical, wipeable, moisture-resistant and space-clever, consider shutter ideas, which are a savvy choice for kids' bathroom ideas and provide ventilation and light while maintaining privacy, too.
'Shutters are also super hygienic – a big plus for lots of parents. Vinyl shutters work especially well in bathrooms as they are moisture-resistant and easy to clean. Plus, shutters don't have the same hazards associated with corded blinds,' adds Chrissie Harper, Customer Experience, California Shutters.
'Add a pop of color into the mix to brighten the space. A bright green or red will soon distract from the chaos of bath toys and towels!'
15. Allow kids' bathroom decor room to grow
When looking for kids' bathroom ideas, choose timeless fittings, built to last, for a space that can be easily adapted as your children grow.
'This Jack and Jill bathroom was designed for two young sisters and the aesthetic considers their current loves – unicorns and sparkles. They adore the princess feel of the sumptuous curtains and sparkly pole,' says Jo Aynsley, design director, Jeffreys Interiors.
'As their tastes change, the curtains can be changed or repurposed into Roman blinds and the addition of candles or plants will make the space feel fresher and more mature. Behind the vanity there is a recessed wet room housing a bath and separate shower. For now, this allows for fun, splashy bath times with minimal mopping up, but as they grow will become a more private space for bathing while the vanity remains available for use.'
16. Select seamless surfaces
When considering kids' bathroom decor, leave nowhere for bacteria to linger by choosing modern, streamlined sanitaryware in crisp white.
This pretty, yet practical kid's ensuite shower room features a simple wall-hung WC and wall-hung basin vanity in light grey.
'A wall-hung vanity with a modern, seamless finish and sweeping basin makes it so easy to clean–both the unit and the floor beneath. A logical choice when spillages and mucky fingerprints are almost certainly on the cards,' adds Zoe Jones, stylist and visual content manager, Roper Rhodes.
17. Restore order
Organizing a bathroom well is vital in a kids' bathroom, and this means planning in storage.
'Bathroom storage is hugely important in any kids' bathroom, and not just to ensure it doesn't resemble a toy shop,' says Kirsten Wain, designer, West One Bathrooms.
'The space below a basin is otherwise wasted so adding a useful drawer or two to hide away toiletries and towels is a given. If wall-mounted, you may find there is enough space underneath to pop a handy step for reaching the basin. If space permits, a tall but narrow unit can provide Tardis-like storage for a multitude of bath toys. Parents needn't worry about children swinging from wall mounted fixtures–with the right wall fixings, a wall-hung basin or even the toilet can easily handle the weight of multiple kids!'
18. Avoid the emergency room
Low maintenance tiles are always a winner in kids' bathrooms. Make life easy for yourself by steering clear of any tiles that need sealing before and/or after installation. Natural stones and encaustic tiles for example are porous and will have the potential to stain if not regularly resealed. Instead go for virtually bullet-proof porcelain or ceramic tiles, in bright and breezy colors of course!
'On floors we would recommend choosing tiles with a slightly textured surface, and if it is a wet room even more texture again. This will ensure they are anti-slip and safer for children, and adults, too,' adds Jo Oliver, director, The Stone & Ceramic Warehouse.
19. Speed up bedtime
Take the pressure off at bedtime by doubling up on basins. Do make sure there's enough space around the basins for two or more to gather, without elbow-jousting, not forgetting that you may need to be in there monitoring their brushwork, too. Choose basins with deep bowls to help contain splashes and spills.
How do I make my kids' bathroom fun?
To make your kids' bathroom fun without committing to expensive fixtures that they may quickly out-grow, seek out colorful accessories and textiles in playful patterns. Shower curtains, wall art, bath mats, towels and toy storage in zesty shades can all be used to pep up a plain bathroom suite.
Styling up a bathroom for kids could also be led by their current obsession–be it ponies, outer space or pirates. There's no need to go overboard; instead think removeable wall decals, towels or a cute roller blind adorned with motifs of their fave theme.
Earn extra brownie points by incorporating some fun tech. Color-changing lights and waterproof Bluetooth speakers will soon get little ones bopping away in the bath or singing in the shower.
What do I put in a kids' bathroom?
Safety should be forefront when deciding what to put in a kids' bathroom. Choose bath taps and showers with thermostatic controls that will protect them from scalding and sudden temperature fluctuations. Toilet seats on soft-close hinges will help prevent squashed fingers and save your eardrums!
Non-slip flooring is vital and do make sure there are plenty of bath mats to soak up spills. If you're installing a heated towel rail, do make sure it has a programmable thermostat and set it to a heat that will warm towels without burning delicate skin.
Other useful items to put in a kids' bathroom include a laundry hamper, drainable baskets and nets for bath toys, a changing station for babies and, for teens, a very loud shower timer!
Sign up to the Homes & Gardens newsletter
Decor Ideas. Project Inspiration. Expert Advice. Delivered to your inbox.
Linda graduated from university with a First in Journalism, Film and Broadcasting. Her career began on a trade title for the kitchen and bathroom industry, and she has worked for Homes & Gardens, and sister-brands Livingetc, Country Homes & Interiors and Ideal Home, since 2006, covering interiors topics, though kitchens and bathrooms are her specialism.