Subway bathroom tile ideas – 10 designs for walls, showers and backsplashes
Fresh subway bathroom tile ideas to update this timeless classic, from color to creative pattern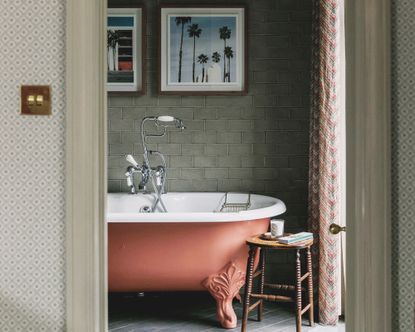 (Image credit: Studio Stuggan)
Originally designed for use in New York City's subway, Paris' Metro and London's Underground, the rectangular 6" x 3" (15 x 7.5cm) ceramic tile has remained perennially popular. Its glazed white surface made it light reflective, easy to clean and stain resistant so ideal for subway stations. As it was instantly suggestive of good hygiene, it was also quickly picked up for use in bathrooms, as well as butcher's shops, dairies, kitchens and indeed anywhere else that needed to be kept spotless.
Subway bathroom tile ideas
Today, the subway (sometimes called 'metro' or 'brick') tile continues to create a clean feel with the added benefit of plenty of retro impact. Versatile, inexpensive and easy to live with, designers have been using subway bathroom tiles to create fresh bathroom ideas – with a host of layout patterns, colors and finishes to add a modern edge to traditional style.
1. Create a mood in your bathroom
'Subway bathroom tile ideas endure because they are like chameleons – they are both nostalgic and contemporary,' says Waterworks co-founder Barbara Sallick. Deep color can add drama to a modern bathroom scheme, while grout can be used for blending, contrasting or providing additional depth. Here, the moody color of the wall tiles adds character and impact, offset by a classic Lucerne washstand with a cool marble top.
2. Go for classic style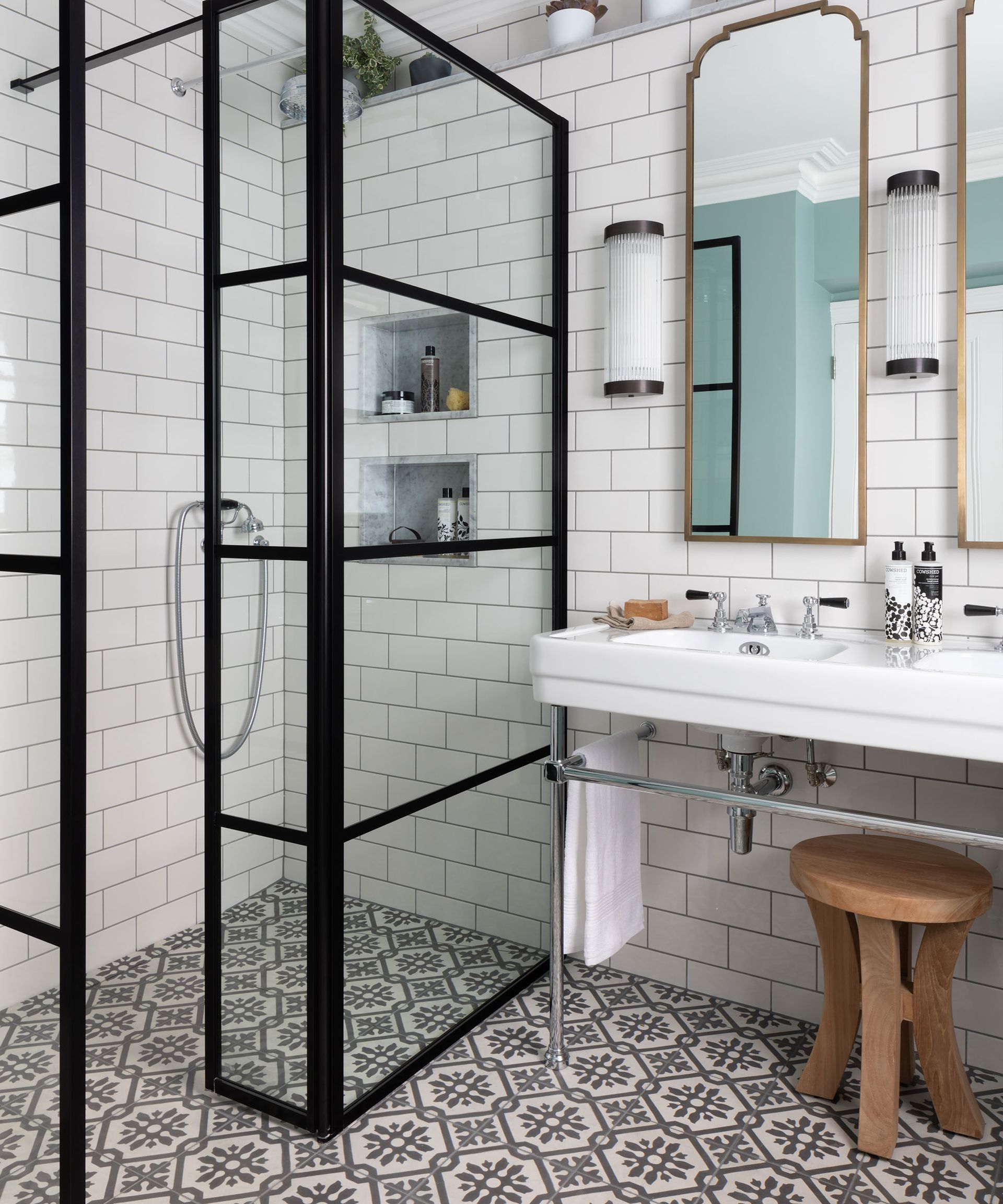 Gloss white bathroom tiles and a shower screen influenced by the design of 1930s Crittall windows create an Art Deco-inspired look to this room by West One Bathrooms, an effect accentuated by the choice of pillar wall lights with fluted glass and a traditional washstand. A patterned floor adds a decorative flourish to offset the utilitarian style of the wall tiles.
3. Play with contrast
Need some small bathroom tile ideas for your washroom renovation? 'It is always fun to play around with pattern in a bathroom using a single tile,' says interior designer Samantha Todhunter. 'In this case, we went with a herringbone pattern and thought it would be fun to do a chunky stripe in a contrasting color. Our client told us his daughter is a die-hard Fulham Football Club fan, so we rejigged the colors to black and white with red hardware, reflecting her FFC passion and to make a witty, graphic bathroom.'
4. Ramp up the impact with color
Gray bathroom tile ideas will show you how to make an impact with this most versatile neutral. Paired with a vintage bathtub painted in Farrow & Ball Red Earth, these simple tiles, fixed in the classic subway brick bond pattern, add depth to this scheme by Studio Duggan. They also serve as a harmonious backdrop to pretty patterned wallpaper and linen drapes by Soane Britain, which enhance the English country feel.
5. Embrace the beauty of bevel
Beautiful and timeless, marble bathroom ideas still remain one of the most popular and lusted after materials to use.
This marble subway tile with shallow, sloped edges has been used here to elevate the detail in this classic design by Spencer & Wedekind. Their bevelled edges create a more three-dimensional result, adding a layer of subtle texture and interest. To enhance the effect, subway tile has been set against plain larger format marble tile above.
6. Make the most of contrast
'We wanted to go for a complete clash of pattern to the floor with this shower tile idea,' explains Omar Bhatti, CEO and design director of Space Shack of his choice of Carnival Oro wall tiles fixed in a graphic, block herringbone pattern. They are teamed with monochrome Sorrento Casselle floor tiles, also from Fired Earth, and simple black fittings to create a bold and vibrant space.
7. Heighten the look
'Vertically positioning metro tiles in a stacked layout is a modern and fresh choice, which is particularly good for small bathroom ideas as it creates the appearance of a larger space,' says Lee Thornley, founder of tile specialist Bert & May. Here, the subway tile accentuates the height of the room and also serves to provide subtle definition against the plain square tile and painted walls, all in the same Livid shade, produced as part of the collaboration between paint company Little Greene and Bert & May.
8. Never underestimate the power of simplicity
Using one color of tile can be surprisingly effective. Boost the impact with detail, such as a band of vertical tile against the horizontal backdrop, as shown here. Light plays off the undulating surface of the rich green Montblanc tile from Original Style, and reflects on the polished finish of the brass shower fitting.
9. Create a decorative edge
In a departure from the classic horizontal line, these brick-shaped handcrafted clay tiles from Otto Tiles have been positioned in a herringbone pattern finished with a zig-zag at half-wall height. Serving a practical purpose in preventing splashes from the sink marking the wall, their Ecru Rose glaze, irregular finish and decorative layout also add a layer of contemporary interest to the bathroom.
10. Mix up your bathroom tiles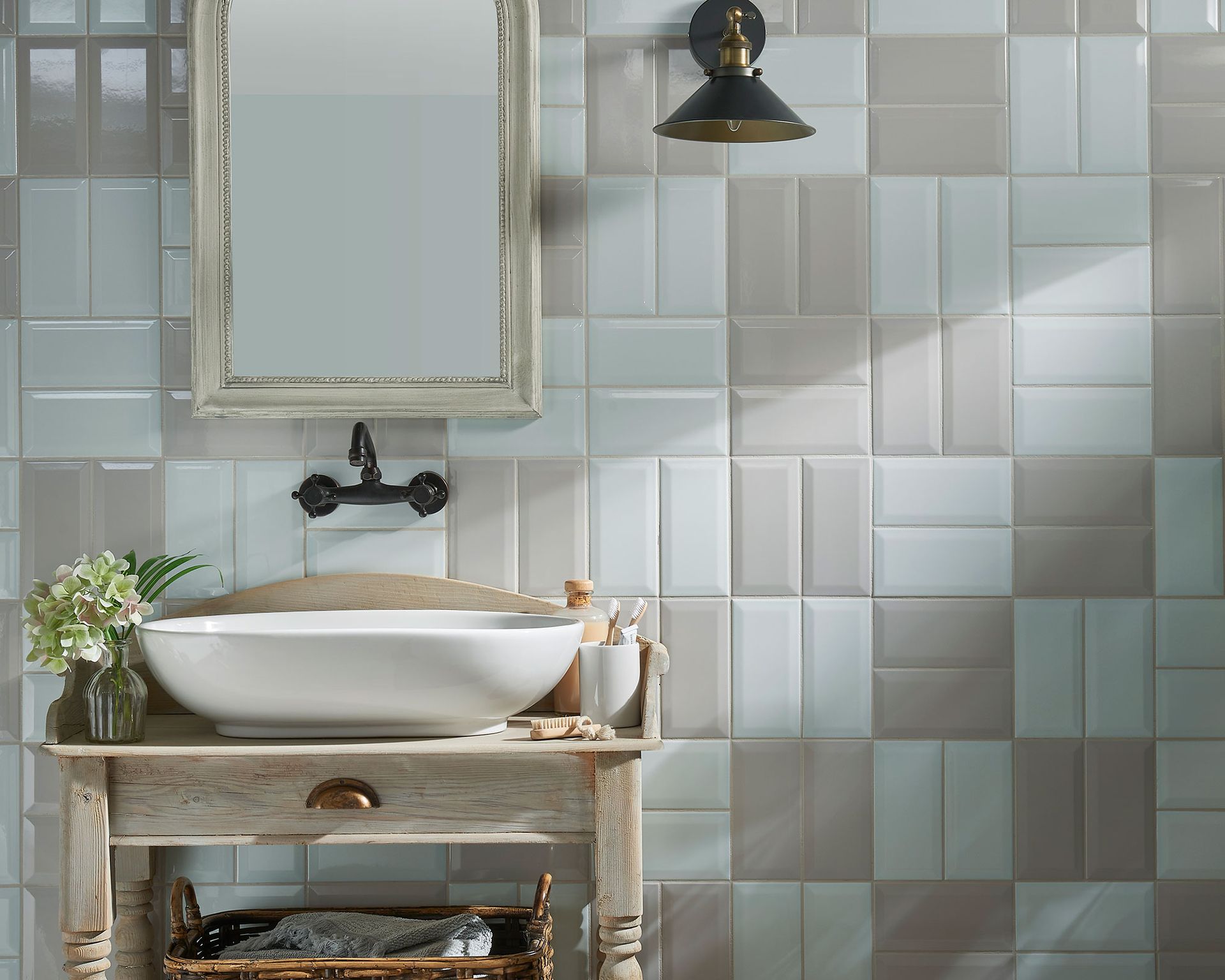 The versatile format of the bathroom subway tile inspires creativity. Here Dove Grey and Mint Metro tile from Topps Tiles have been used together in a basketweave pattern, the sets of two tiles combine seemingly at random in horizontal and vertical patterns to relaxed effect.
Is subway tile good in a small bathroom?
The glazed surface of subway tile helps to reflect light in a small room, enhancing the feeling of space. While white and light color may be the instinctive choice, sometimes a deep tone can create a cocooning feel which makes a smaller room feel especially inviting. Also pay attention to the choice of grout – a matching shade will reduce visible lines and make a space seem less busy, while a contrasting grout may be a clever way to introduce more style if the room feels bland. Remember, finally, that a subway tile can be especially cost effective in a small room, since there is likely to be less wastage in cutting down larger format tile to fit.
Is subway tile easy to maintain?
Ceramic wall tile is usually easy to wipe down with a damp, soft cloth and non-abrasive cleaner, then buffed with a dry, soft cloth for a streak free finish. Subway tile should be easy to maintain – but always check with your supplier before purchase for specific recommendations on your choice of tile and grout.
Sign up to the Homes & Gardens newsletter
Decor Ideas. Project Inspiration. Expert Advice. Delivered to your inbox.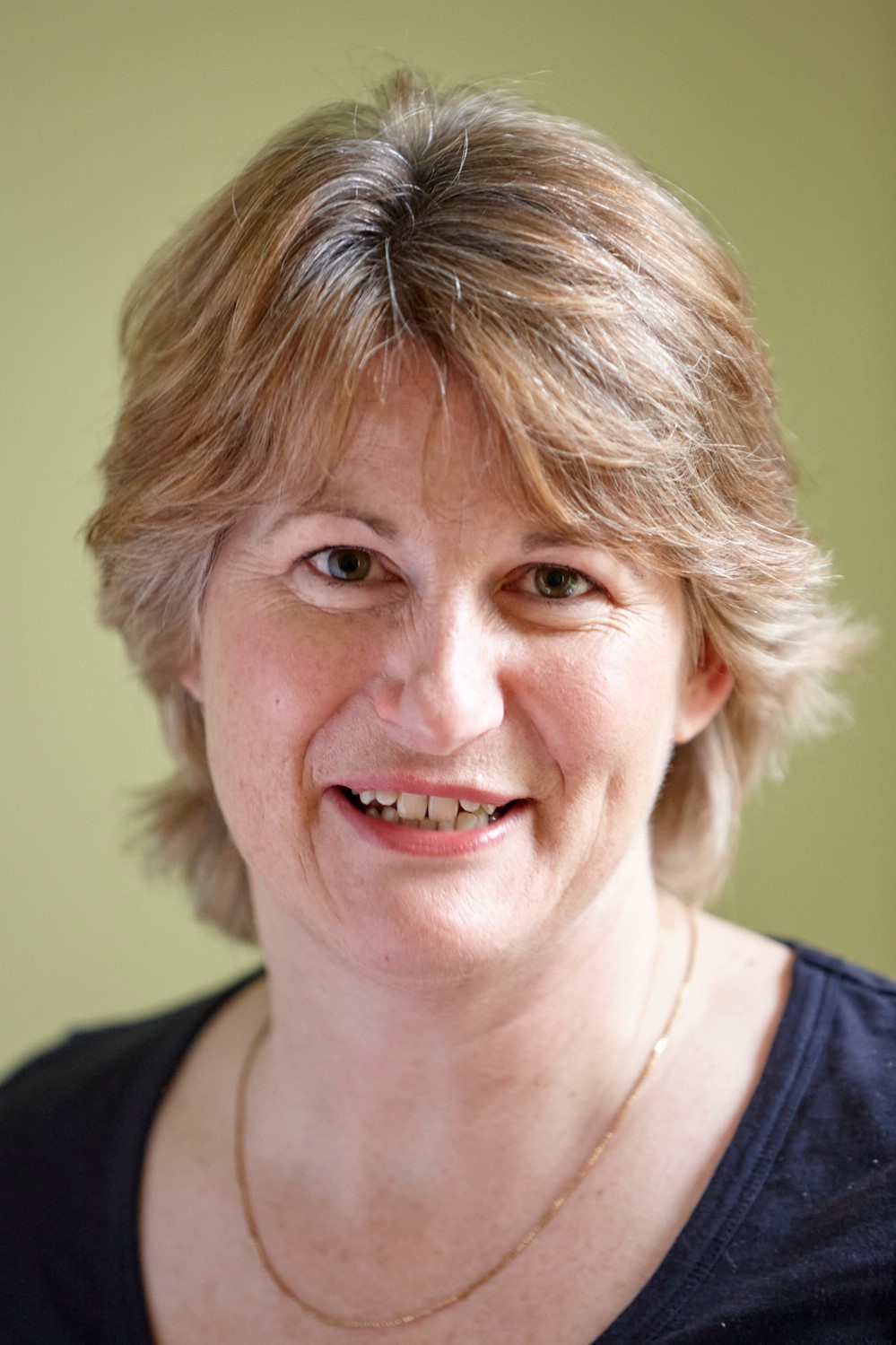 Amelia Thorpe is a specialist interiors and design journalist, covering every topic to do with homes from fabrics, furniture and lighting to surfaces, kitchens and bathrooms.
As the daughter of an antique dealer and a lifelong collector of old cookery books and vintage graphics herself, she also has a particular expertise in antiques, mid-century and decorative arts of all kinds.
Drawn to homes because of their importance in the happiness of our lives and the enjoyment they can bring, Amelia has been writing about the topic for more than fifteen years. She has interviewed some of the most influential designers of our time, from Piero Lissoni, Antonio Citterio, Jaime Hayon and Arik Levy to Nina Campbell and Robert Kime.