Small bathroom tile ideas — stunning small space designs for walls and floors
Beautiful and inspirational small bathroom tile ideas to make your bathroom spacious and stylish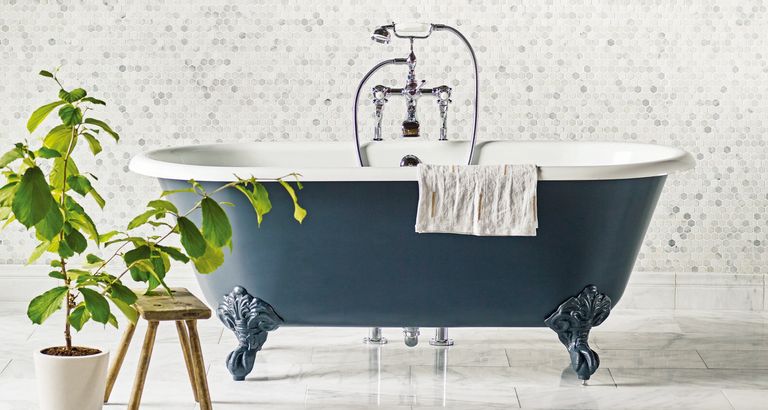 (Image credit: Fired Earth)
Our small bathroom tile ideas come in handy if you're decorating a small bathroom and don't have much room to work with.
Tiles are a must-have in the battle to keep bathroom splashes contained, and they're also the ideal way to inject a hefty dose of personality into the smallest of spaces, too. Luckily, we have plenty of bathroom tile ideas up our sleeve to help you along.
Often decorated by famous designers, the bathrooms in glamorous hotels and restaurants are also rich hunting grounds for clever and unusual tiling ideas. Even the most bijou bathroom can take your breath away and leave you longing for a similar look at home. 
While there are no tiles designed specifically for small bathrooms, there are still plenty of ways that tiles can be utilised to get more from a small space. The tile industry is very led by bathroom trends, so you'll need to select carefully to achieve individuality. And, more crucially, choose a design you won't quickly grow tired of.
Find inspirational ideas and expert advice on small bathroom tile ideas to help you plan your next project.
1. Bold and colorful small bathroom tile ideas
A wet room can be the best solution in a small space; losing the shower screen leaves the whole room visible. However, wet room ideas require serious tanking, which can easily lead to tile overload. 
In this Moroccan-inspired wet room, water-resistant polished plaster was color-matched to the emerald green encaustic shower tiles to create a cozy, cocooning effect.
'We used the tiles only where needed to protect the walls and floors where they come into direct contact with water,' explains Malcolm Abela Sciberras, interior designer, Rebirth at Cuschieri Architects.
2. Create optical illusions
Taking bathroom floor tiles up the walls, or in this case up the tub panel, blurs the boundaries between floor and walls to create the illusion of a bigger space. 
Here, Day True has deliberately mismatched the tile's pattern direction to effectively conceal the juncture where horizontal meets vertical and make the bathroom appear longer.
Do check the tiles you like are suitable for both floor and wall use. Some floor tiles can be too heavy to adhere safely to vertical surfaces, while wall tiles may crack underfoot.
3. Consider a whole new shape
Shape can prove just as effective as pattern when it comes to making a statement with tiles. Hexagons and fish-scale shaped tiles are still popular tile trends, but circular mosaics are a classic that somehow manages to look timeless and on-trend.
'Penny tiles are small and sweet, and offer a modern twist on classic square mosaics, while retaining that luxe look mosaics will always offer,' says Hamish Smith, Creative Director at Ca' Pietra. 
'They look great popped in a recess near the tub or shower but for maximum impact in a small bathroom, go floor-to-ceiling with a fabulous accent wall.'
4. Try changing direction
On marble or marble-look tiles, the direction of the vein pattern can have a big impact in a small room. In this sophisticated en-suite idea, David Collins Studio went for a classical book-matched pattern.
'Like a trompe l'oeil, it makes the space appear larger and is a technique synonymous with luxury that elevates the marble to a unique piece of art,' says associate director, Siobhan Kelly.
Mother of pearl mosaics were added around the vanity area to provide variation and further enhance the delicate features of the natural stone. Running the marble vein pattern horizontally can make a narrow room feel wider, while vertical veining improves the sense of height.
Always do a dry run if possible; lay the tiles out to find the most natural vein connections across tiles, then number each one before installing.
5. Keep it clear
When it comes to bathroom ideas, it's no secret that the more flooring left on show, the more spacious your bathroom will appear. Here, Spanish interior designer Miriam Barrio has drawn all attention to the floor by using bold geometric tiles in an otherwise neutral scheme.
'Wall hung toilets and vanity units are hugely effective in opening up floor space to pave the way for eye-catching tiles,' says Emma Joyce, brand manager at Victoria+ Albert Baths. 'Opting for a freestanding bathtub can also be an intelligent design solution. Unlike built-in tubs, the flooring, and daylight, flows underneath.'
6. Wrap it up
Embrace your creative side and give plain tiles a new lease of life, as Carden Cunietti brilliantly demonstrates in this fun family bathroom. 
'We loved the idea of being in the pattern not just standing upon it and that's why the graphic pattern continues up the walls and on to the ceiling,' explains director Audrey Carden.
Other creative ideas for plain tiles include creating an 'ombre' effect by diffusing the color from dark to light as you tile up the wall and using monochrome mosaics to add words or rug-effect patterns underfoot.
7. Go big on pattern
Outsized pattern may sound like a bad idea in a small bathroom but actually the unexpected polarity of scale can pack a powerful punch. Targeted behind a key feature, like a freestanding bathtub, it only takes a few square metres to make a small bathroom memorable.
'Patterned tiles are brilliant for creating eye-catching feature walls,' says Jane Addis, New Products & Design Manager at Original Style.
Taking the tiles from floor-to-ceiling will effectively mimic the look of wallpaper, serving to soften the hard edges of sanitaryware. 'Go for large format tiles if possible; fewer grout lines will provide a more seamless finish,' adds Jane.
8. Use the lines
When considering ideas for small bathrooms, using grout lines to add pattern without overpowering can prove very effective in small spaces. Here, Waterworks has switched tile direction to shake up a classic brickwork installation, without going overboard. 
The results are interesting but still beautifully timeless. The decorative impact of the grout itself shouldn't be overlooked. Go for a dramatic black or slice of color to really make tiles stand out.
9. Create a colorful accent wall
A colorful tiled accent wall at the end of a small bathroom will draw the eye through, ensuring every inch gets noticed. 'Color is being embraced in small bathrooms in a big way right now,' enthuses designer Katie Agombar from West One Bathrooms.
'Patterned tiles are a really effective way to introduce color, which can then be picked up on accessories, towels and even sanitary ware. Colors such as dark green, pastel blue and pale pink teamed with gray bathroom tile ideas are particularly popular. Combine with brass and black accents for a contemporary and sophisticated palette.'
10. Use tiles to pull focus
Tiles can be used as a tool to draw attention away from awkward architecture, as Cherie Lee Interiors demonstrates in this modern loft bathroom. 'If the ceiling is sloping or the walls have awkward alcoves, using patterned or intricate tiles on vertical surfaces will often exacerbate the issue,' she explains.
'Whereas on the floor, boldly patterned tiles, or plain tiles laid in an interesting geometric pattern like these, creates a horizontal focal point, allowing problematic walls to fade into the background.'
11. Consider suitability first
'Before you start looking at what you want the tiles to look like, it's important to check the tiles are best suited to a bathroom environment,' says Hamish Smith of Ca' Pietra. 
'So make sure you check the following: Are the tiles right for walls or floors? Do they work with underfloor heating? If you are going for a wet room then underfloor heating will be essential to dry the space quickly. 
'If you adore a tile but it isn't advisable to use it on the floor (and that's where you planned to lay it) then unfortunately you'll have to steer clear.
'Finally, make sure the slip-rating is adequate enough for the room, you don't want little feet slipping on tiles post bath-time.'
12. Half-tile in a bold color
When it comes to picking bathroom colour ideas, Hamish Smith says there's no need to shy away from intense tile colour in a small bathroom:
'Embrace the lack of light or a narrow space by using a deep green tile with a rich, reflective glaze. Adding green, in its many forms, connects us to nature, creating a soothing and cocooning space. Used on the walls, this timeless and sophisticated green creates a cosy and enveloping atmosphere. A lighter color on the floors or ceiling will balance the dark tone.'
Fixing the tiles to waist height and using a lighter color above will make the room feel taller. 
What size tiles look best in a small bathroom?
If you're unsure what size tiles will look best in a small bathroom, we've got you covered. In any small space, paring back visual distractions can help achieve a calmer atmosphere. This is where large format tiles excel. Fewer grout lines provide a cleaner aesthetic. They are literally cleaner, too, as there are fewer opportunities for bacteria to hide.
Large format tiles work particularly well where large areas need tiling, such as in the shower or on floors. For smaller areas like the space between basin and mirror, daintier tiles can provide decorative focus.
What color tiles make a small bathroom look bigger?
Did you know that certain color tiles can make a small bathroom look bigger?
'The trick is to look for light-reflecting surfaces such as polished marble, glass and metallics. They will instantly make the bathroom appear larger. They'll also look so glamorous and eye-catching that they'll draw attention away from the size of the room,' says Fired Earth's creative director, Colin Roby-Welford.
'While gleaming white tiles are a failsafe choice, creating a spacious and airy feel, bolder colors can work really well, too. Iridescent, jewel-toned glass or shimmering metallic mosaics will enhance the impression of light in a compact bathroom, opening up the space.'
Should I use patterned tiles in a small bathroom?
We love the use of patterned tiles in a small bathroom. But, unless you're trying to make a strong impact, it is smart to think about scale and balance. A little bit of pattern can go a long way in a compact space.
'A subtle way of using wall-to-wall pattern in a compact space is to opt for patterned mosaics such as hexagons or scallops in pared-back palettes,' suggests Roby-Welford. Restricting the use of strong patterned tiles to below dado height will also reduce their dominance, especially if you paint or tile the wall above in plain, pale colors.
Should you fully tile a small bathroom?
Fully tiling a small bathroom has its upsides and downsides. The upsides first: it will make the room incredibly practical. This is vital if ventilation is poor or if you have a shower or wet room, plus you can add plenty of texture, color and pattern with tile. The downsides: fully tiling a small bathroom can make it feel more enclosed and cold, plus it limits your choice of personalization, such as artwork that you might like to hang.