3 space-boosting tricks you can use when choosing tiles for tiny bathrooms
Make your tiny bathroom feel bigger with these expert tips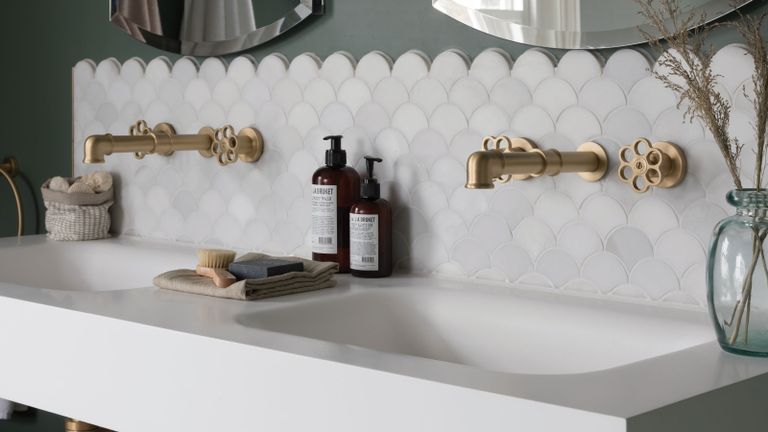 (Image credit: Ca Pietra)
As we all know, bijou can be beautiful – especially when it comes to bathrooms. But how to make your tiny bathroom feel bigger? There are a number of clever tricks you can use – and here, the H&G team and Creative Director at Ca' Pietra, Hamish Smith, gives his top tips on choosing space-boosting tiles.
See: Bathroom ideas – stylish decor ideas for washrooms, ensuites and more
Some of these tips are unexpected, but having tried them out in our own homes, we can attest that they're effective.
1. Don't think tile-size, think grout-matching
Should you go for a large or small tile in a tiny bathroom?
'This is one where opinions tend to differ,' says Hamish. 'Some say that small mosaic tiles are the best way to go in a small bathroom whereas others advise to go for larger tiles to open the space up.
'What it comes down to is whether or not you want to run with the coziness of the room, emphasising its small proportions and celebrating its coziness.'
Actually, picking a mosaic in a light color can enhance the feeling of space just as much as choosing a large tile in a darker color. Our advice? Heighten the space-enhancing effect in both cases by picking a grout that matches the color of the tile as closely as possible – it is the grout lines that can make a space feel more enclosed.
For a modern take on mosaics, 'Try a mosaic in an unusual shape such as scallop or circle,' suggests Hammish.
2. Opt for a seamless finish
'Large format tiles on the walls and floors will instantly make a small bathroom feel more spacious,' says Hamish.
'Go for 30 to 60cm plain-colored tiles on both your walls and floors and they'll blur the boundaries so your floor space isn't so defined.
'The uninterrupted, seamless flow creates clean lines – a marble or limestone will layer on interest with the natural pattern and varied natural shades too.'
3. Rely on visual tricks
'Tiles are the perfect material for using visual tricks to boost space in a small bathroom,' says H&G's Editor in Chief. 'You can create vertical lines to make a low-ceilinged bathroom feel taller, like in the bathroom above, fix Metro-style tiles horizontally to make a narrow space feel wider, or use diagonally-placed tiles, like in the bathroom below, to make a tiny bathroom feel wider and longer.
See: Small bathroom tile ideas – stunning small space designs for walls and floors
'Tiling up to waist height with a paler color above, as in the bathroom above, also helps a tiny bathroom feel bigger.'