How to tile a bathroom wall – experiment with new patterns and textures
Industry experts share their advice on how to tile a bathroom wall, to help you achieve a professional finish every time.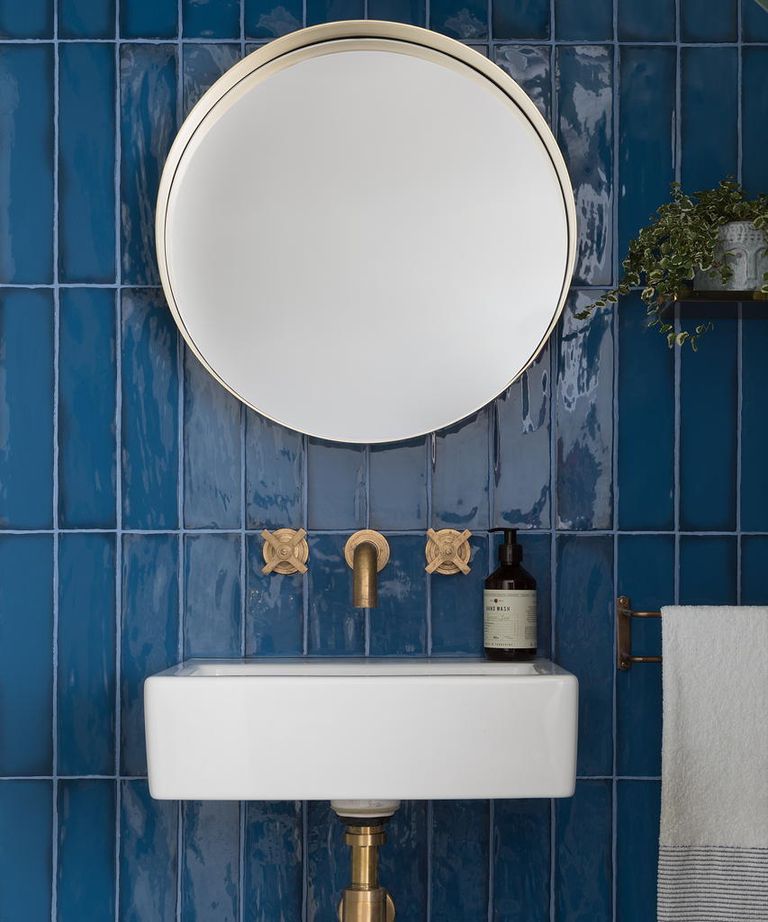 (Image credit: CP Hart)
Tiling is skilled work so if you want to learn how to tile a bathroom wall yourself then you need advice straight from the experts.
Tiles are the natural choice for decorating bathroom walls. As well as being practical and easy to clean, the many bathroom tile ideas out there mean they also offer endless design opportunities.
Laying new wall tiles in a bathroom is one of the best ways to update this space. However, depending on how much of the wall you choose to tile, and factoring in a 10 per cent surplus incase of breakages, a new set of tiles can become expensive.
If you are working within a budget, you can cut costs by knowing how to tile a bathroom wall yourself. So we asked industry experts for their advice on how to tile a bathroom wall like a professional.
What surface is needed for wall tiles?
Before tiling you need to ensure that your bathroom walls are smooth, waterproof and strong enough to support your chosen tiles.
'If your surface is uneven you can overboard it with a tile backer board which will provide an even surface to make fitting much easier,' explains Amanda Telford, CTD Tiles Marketing Manager. 'Whatever surface you are tiling on to needs to be load bearing and able to hold the weight of the tiles, adhesive and grout combined.'
How to tile a bathroom wall
You will need a few specialist tools to tile a bathroom wall.
For cutting the tile:
A metal ruler
Tile scourer
Tile nipper
Fine sandpaper
For the grout:
A grout float
Grout finishing tool
For the adhesive:
A bucket
Drill with a mixing paddle attachment
A tile adhesive spreader
To lay the tiles:
A pencil
Tape measure
5mm floor tile spacer
Long spirit level
Sponge
Timber batten
Fixings
1. Prepare the bathroom wall for tiling
Before beginning to tile make sure the wall has been sanded down, cleaned and sealed.
If the walls need to be strengthened, this is also the time to install a backerboard according to the manufacturer's instructions.
2. Mix up the bathroom tiles to avoid color discrepancies
Plan how you want them to look. Lay them out of the floor, to test out any patterns. Avoid any stark color discrepancies by mixing tiles from several boxes, this will help achieve a blend of color, texture and pattern.
3. Work out your starting point
Make a tile gage using a wooden batten. Place it on the floor next to a row of tiles, with spacers in between and mark each tile on the wooden batten.
Measuring the wall horizontally find the midpoint and align the first line on the tile gage with it. Move the gage to the left mark by mark, until the wooden batten is close to the corner of the wall. Mark on the wall where the last tile would end, and using a spirit level draw a line to the ceiling.
Repeat the entire process again vertically, before screwing wooden battens into place over the lines – your starting point is the corner where the battens meet.
4. Lay the full tiles
From your starting point, use a notched spreader to cover part of the wall in adhesive. Apply the tile firmly with a slight twisting action. Repeat with the rest of the tiles, inserting spacers between each one.
Use the wooden batten and spirit level to ensure the tiles are straight and level. When the adhesive has completely dried remove the wooden battens.
5. Cut and lay the remaining tiles
Measure the gap between the last full tile and the wall. Accounting for the spacer, mark the measurement on a tile and scour a line, before snapping the tile. Repeat for the rest of the tiles.
Starting from the bottom of the main design, lay the cut tiles in the same ways as the full tiles.
6. Grouting
Once the adhesive has completely dried, mix up the grout and use a grout float to work it into the joins between the tiles. For a neat finish, use a grout finishing tool to go over the joins.
How do I plan a bathroom wall tile layout?
When it comes to planning a bathroom wall tile layout, it's important to do your research.
Wall tiles are available in a whole host of shapes, sizes, colours and finishes, which can be arranged in a number of different ways, so take time to think about the look you'd like to achieve. It is also important to consider how the size of the bathroom, lighting and tiles will all work together.
When planning your wall tile layouts, make sure you think about the size of your bathroom. Yousef Mansuri, Head of Design at C.P. Hart, explains, 'If it's a compact space and it's small bathroom tile ideas you need, we recommend large format tiles. This is because less grout lines give the walls more continuity, creating the illusion of a larger space.'
What's the best material for bathroom wall tiles?
Porcelain is one of the best materials for bathroom walls and is used often for shower tile ideas too. It's a practical tile as it's nearly waterproof, and is suited to the humidity and condensation of a bathroom.
'Typically, porcelain tiles are popular for bathroom walls in both small and larger formats. Stylish and in-keeping with so many current bathroom trends, they are also easy to wipe clean and maintain in years to come,' explains Harriet Goodacre, Tile Consultant at Topps Tiles.
When tiling a bathroom wall, where do I start?
Before tiling a bathroom wall, you need to work out your start point as shown above in the step-by-step. The reason for this is to ensure that as many full tiles as possible are used.
When working out the starting point, if the space in the corner is less than half a tile, move the tile gage half a tile's width to the right of the centre point. This is to allow space for a larger cut tile to be fitted, creating a cleaner finished look.
How far up the wall should I tile?
It can be difficult to know how far up the wall to tile, but you should ideally tile any areas where water is to avoid damp spots. Aside from that practical detail, how far up the wall you tile is a personal preference.
'In walk-in showers, wet rooms or shower rooms, we recommend tiling to the top of the wall,' suggests Hannah Guilbert, Product Marketing Manager at Original Style. 'For the rest of the space, tiling at half height is both pleasing on the eye and a good way to ensure your walls are protected from sink, bath and shower splashes.'
I am the News Editor on Homes and Gardens. I have been working as a homes and interiors journalist for over four years. I first discovered my love of interiors while interning at Harper's Bazaar and Town & Country during my Masters in Magazine Journalism at City, University of London. After graduating I started out as a feature writer for Women's Weekly magazines, before shifting over to online journalism and joining the Ideal Home digital team covering news and features.
I love sewing and knitting and enjoy nothing more on a Saturday afternoon than browsing the haberdashery at Liberty London.