How to grout tiles
Discover how to grout tiles for perfect results when creating a feature wall or stunning backsplash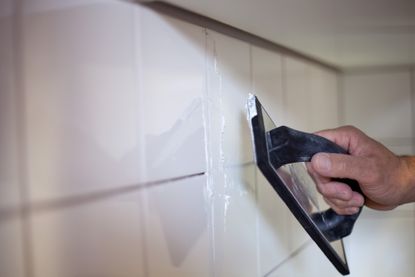 (Image credit: Getty Images)
Sign up to the Homes & Gardens newsletter
Decor Ideas. Project Inspiration. Expert Advice. Delivered to your inbox.
Thank you for signing up to Homes & Gardens. You will receive a verification email shortly.
There was a problem. Please refresh the page and try again.
Learning how to grout tiles is a necessary step when you are tiling a new area, or refreshing grout in a pre-existing one.
A tiled area can give the kitchen or bathroom a fresh new look, updating a tired scheme and adding personality, pattern or color. And sometimes all three. Whether you choose a decorative design to liven up a neutral décor or a simple white rectangular style in a brickwork effect, for best results you want a carefully grouted finish.
Here, we take you through how to grout tiles, in easy steps, so that you can finish tiling a floor or tiling a wall with professional results.
How to grout tiles
For a professional's take on grouting tiles, we asked experts for their advice. Here, they take us through the process, step-by-step. First, you need to ensure you have the right kit. Harriet Goodacre, tile consultant at Topps Tiles advises shopping for the following.
You will need:
Suitable grout for your tiles and location (ask your tile supplier)
A mixing paddle
A clean mixing bucket
A grouting float – this one from Amazon is highly rated
A bucket trowel
A grouting sponge – we like this one from Amazon
Gloves
Goggles
A tile polishing cloth
A wash kit
1. Wait for tile adhesive to set first
'You can begin grouting your tiles once your adhesive has set. With slow-setting adhesive, you tend to have to wait 24 hours before you can grout your tiles whereas fast-setting usually takes up to eight hours to set - but check the instructions carefully for the adhesive you have used,' says Leigh Price, co-director of Real Stone, Tile & Bathroom.
'Make sure the tile joint is clear of any dust, adhesive, spacer pegs, moisture or other debris before commencing grouting,' says David Talbot, head of specification at Craven Dunnill Jackfield. 'If tiles are porous faced, crackle glaze, metallic glaze or similar, check to see if they need to be sealed before grouting.'
Harriet also advises that before grouting, check for potential staining risks by applying grout to an offcut. If discoloration occurs, use a protective sealer.
2. Choose your grout
Grout comes both ready-mixed and in a powdered format which you will need to mix with water in a small bucket, according to the instructions on the bag. Ready-mixed grout can be useful for covering small areas of tiling, but powdered grout is more commonly used to cover larger areas.
'Follow the instructions exactly when mixing your grout with water. If you get it wrong, the grout will be too watery, the color won't be right and it will not set properly,' says Leigh Price.
'Ensure you have enough grout from a single batch for the whole area. Correctly mix enough grout to be used within the grout open time (check correct mixing and open time on the grout packaging),' says David Talbot.
3. Apply grout
'Next, apply the grout with a grout float, which acts like a trowel, to spread the grout into all the joints. Apply diagonally across the tiles (rather than vertically), beginning at the top of the wall and working your way to the bottom, ensuring not to leave any gaps or air bubbles,' says Leigh Price.
'Apply grout with a suitable grout float, working in all directions across the tile joints to ensure that the grout completely fills the joints,' adds David Talbot. 'Check to make sure that all grout lines are completely filled with grouting material. If not add additional grout and after a few minutes wipe over the re-filled area with a clean damp sponge again.'
4. Remove excess grout
'About an hour after application, when the grout has started to stiffen, remove any excess grout left on the tiles with a damp sponge by wiping off, cleaning the sponge and wiping off again. The grout should wipe off quite easily,' says Leigh Price.
'If you are using a textured tile, remove the excess grout as quickly as possible. If you have smooth tiles the excess will wipe off easily but if you have opted for a gritty, textured tile (such as a brick effect) remove the excess grout as soon as you can to avoid the grout setting in to the texture.
'When wiping the excess grout from your tiles, ensure your sponge is not soaking wet, otherwise you will start to wipe the grout out of the joints.'
'Keep cleaning the sponge in clean water at regular time intervals – the cleaner the sponge, the more tile surface grout is removed,' adds David Talbot. 'Once the grout begins to 'bloom' on the surface, wipe the face of the tiles with a circular motion using a clean dry cloth (check manufacturer's instructions on the correct time to buff the tiles). Any excess grout will turn to dust and simply come off the tiles and into the cloth so it is important to use plenty of clean cloths.'
Use this as an opportunity to neaten the grout; you can use your finger to run along the grout lines to create a smooth finish. This will not only look better, but ensure that it is easier to clean grout in future.
How long to leave grout before wiping?
'The time intervals for applying grout, wiping off excess grout and polishing/buffing tiles during the grouting process can vary dramatically dependent upon the temperature, humidity, type of tile being grouted, type of grout being used, width of tile joint and other factors so it is important to start on a small inconspicuous area to assess the likely curing times for each process,' advises says David Talbot, head of specification at Craven Dunnill Jackfield.
Can you grout on top of grout?
You can put new grout on top of old grout. If the original grout is messy or damaged, this is a good way to refresh it. If the old grout sits higher than the tile surface, use a sharp tool to scrape it away a little so that you can create a neat, new finish. Tile grout with mold or mildew should be cleaned with bleach before new grout is applied.
Can you grout with your finger?
You can grout with your finger. First apply the grout with a float, then neaten the grout line by running your finger along the lines. Leave to harden off a little before wiping the excess grout from the tiles' surfaces. After you have wiped, check the lines and again use your finger to create a neat finish.
Sign up to the Homes & Gardens newsletter
Decor Ideas. Project Inspiration. Expert Advice. Delivered to your inbox.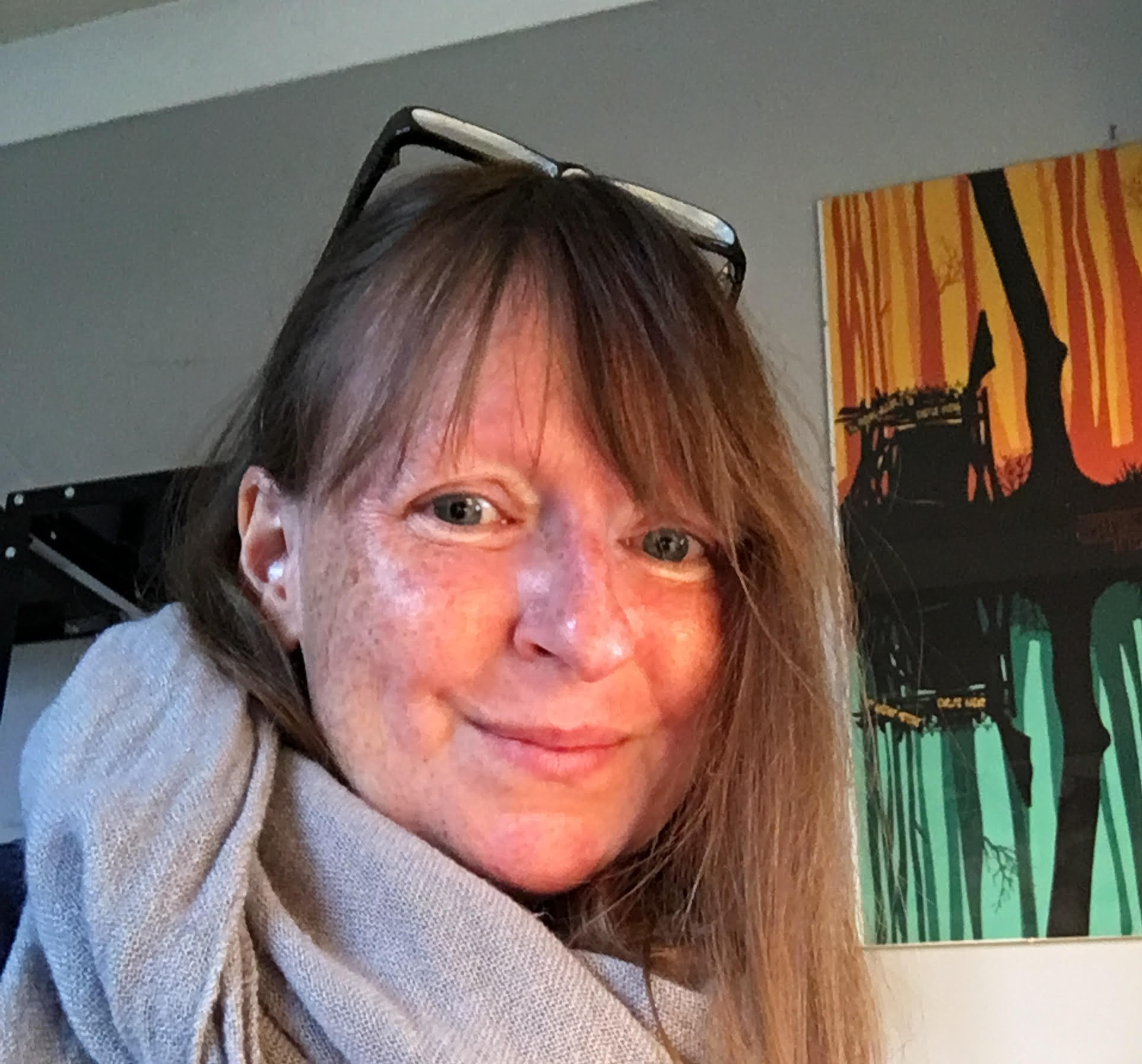 Hayley is an interiors journalist, content provider and copywriter with 26 years experience who has contributed to a wide range of consumer magazines, trade titles, newspapers, blogs and online content. Specialising in kitchens and bathrooms, she has twice won the CEDIA Award for Best Technology feature. Hayley writes for H&G about kitchens, bathrooms, cleaning, DIY and organizing.