How to tile a floor – in easy steps
Learn how to tile a floor with help from the experts and achieve professional-grade results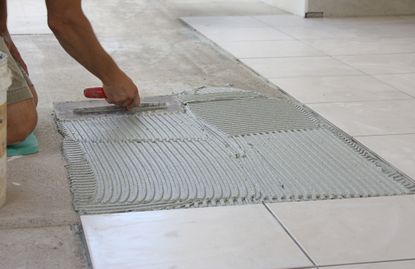 (Image credit: Alamy)
Learning how to tile a floor is surprisingly easy, with the right tools. It is a simple matter of starting the job in a central spot on a level, clean surface and working your way outwards until the majority of the floor is tiled.
Of course, cutting tiles to lay into corners and around edges of rooms is the tricky part, but with this mastered, you can begin to see that laying floor tiles can be a DIY job. Once done, all that's left is to grout tiles and the job is finished, bar a little cleaning up. And when you've mastered laying floor tiles in a simple room, there's nothing to stop you tackling more complicated spaces, whether you want to tile in a shower or around cabinetry for a backsplash, as well as tiling walls.
It's hard not to fall in love with all the gorgeous floor tile ideas emerging right now. From patterned ceramics to contemporary porcelain, on-trend encaustics and natural stone, there's a tile out there to suit all. This guide will take you through the steps to achieving the perfect floor tile refresh, no matter what type of tile has stolen your heart.
How to tile a floor
Tile is a very practical choice as bathroom floor tile ideas and kitchen floor tile ideas, and it also works well in other busy areas such as entryways, mudrooms and sunrooms. We'd also recommend tile in any room that leads into the backyard, especially if you have children running in and out. Tile is just so easy to clean and resistant to stains, spills and sun damage.
Tackling tiling a floor yourself can result in significant savings compared to hiring in professionals, and you'll enjoy the extra satisfaction of learning new skills.
The first task is to get all your tools and materials together, starting with purchasing new tiles.
Metal ruler or tape measure
Pencil or chalk
Long spirit level or laser level
Tile cutter
A bucket
Mixing stick or drill with mixing paddle
Flat trowel
Notched trowel
Tile spacers
Tile pen
A sponge
Goggles and gloves
Grout float
Grout finishing tool
1. Measure for tiles
'Measure your space accurately to work out how many tiles you will need. We recommend allowing 10% for wastage and breakages,' says Amanda Telford, manager at CTD Tiles.
Most tile stockists include a tile calculator on their websites, but don't forget to add in any extra areas you want to tile into, like alcoves and fireplaces.
When you buy the tiles, always to try to buy from the same batch number. This will lessen the chance of color irregularities.
2. Get the right adhesives
When it comes to buying the products required to achieve a firm fix – tile adhesive, silicone (for around the perimeter of your floor tiles) and grout – it's worth consulting your tile stockist, as different floor surfaces and tile materials require specific types. For example, if you are tiling over underfloor heating, you'll need a very flexible adhesive.
Surface suitability and coverage will also be listed on the back of the packaging. Also pay attention to drying times. Fast drying adhesives may not be a great option for novice tilers, who may need a little more wiggle room to correct mistakes before the adhesive sets.
Torn between ready-mixed adhesive and grout, or powdered? Colin Lincoln-Evans, who is head of buying at Tile Mountain has this advice: 'Ready-mixed is typically used for small repair jobs or very small areas in general. It is less cost effective than using a powdered grout so will inflate the cost of the project when used over larger areas.'
3. Prep the floor for tiling
The floor (or substrate) you are tiling must be properly prepared beforehand. In short, it needs to be flat, clean and dry, with absolutely no lumps, cracks or movement.
'Concrete, wood and existing floor tiles make a perfect base for floor tile, as long as they are free of dust and damp and are even,' says John Geraghty, tiling expert at My Job Quote. Use a levelling compound to sort out uneven solid floors, or tile backer board over wooden floors.
If the floor is in any way dusty, vacuum and then prime with diluted PVA adhesive before leaving to dry. Any floor tile that will come into direct contact with water, such as inside a shower, will need a tanking membrane to be applied before tiling.
4. Find your starting point
Before laying floor tiles, the main things you'll need to consider is whether your grout lines will be straight and how the tile will look where it meets the walls and doorways.
Experts recommend starting from the center of the room and doing a dry lay (without adhesive) first. Don't assume your room is perfectly square; finding the center can require several measurements, using the main focal point wall, or the wall that looks straightest, as your lead. If not walls are straight, it is sometimes better to use the room's door threshold to set the line of the tiles.
'From the center, dry lay a row of tiles in the four directions up to the walls, including tile spacers to make sure your joints are even,' explains Harriet Goodacre, tile consultant at Topps Tiles. 'If there is only a narrow piece of tile left when you reach the wall, move your center tile around slightly until there is a gap roughly the size of half a tile around the edge of the whole room – once you're happy, mark the center tile line on the floor with chalk or pencil and a long spirit level. This is your starting point.'
If you can't achieve the half-tile goal around all four walls, focus on the wall that is immediately noticeable as you enter the room. Some people like to screw a wood baton to the floor to help keep the first line of tile neatly aligned – chalk lines will often get buried in adhesive.
5. Lay the first floor tiles
Once you have mixed your tile adhesive in a bucket, using the water to powder ratios stated on the packaging, it's time to get tiling. Start at the position you have marked out, and carefully apply a layer of adhesive where that first few tiles will lay, taking care not to cover your chalk line if you don't have a baton.
Use a flat trowel to smooth the adhesive onto the floor, and then use a notched trowel to gauge out grooves (some tile trowels are 2-in-1), trying not to overlap them. These grooves are designed to achieve a level bed of adhesive.
Place tiles down with conviction, but not too much force, and give them a little wiggle to ensure a firm fix. Larger tile may benefit from a thin layer of adhesive on the back, again with notched grooves.
Now the first tiles are in position, and you no longer need to see the chalk lines on the floor, you can start to lay the adhesive in bigger blocks. Aim to cover around 3 feet square at a time, working towards the rear walls, before moving backwards again towards the room's entrance. Essentially, you are tiling yourself out of the room. The aim is to avoid having to walk on any tile before the adhesive has had time to set.
Don't forget to place spacers between each tile and wipe with a damp cloth to remove any stray adhesive, taking care not to wobble the tile out of position. 'Make sure you check the tile levels regularly with a spirit level. For really large areas, use a laser level as a guide for the edges,' adds experienced tiler Aaron Dallison of AKD Joinery.
If you notice any discrepancies, it's usually possible to carefully lift a tile or two and add or remove some adhesive until you're back on an even keel. Don't forget to use the notching tool if you are reapplying.
6. Make any cuts
When you get to the walls, or fixtures like a hearth or toilet, you will most likely need to cut some tiles. An easy way to do this is to lay the tile that needs cutting squarely on top of the nearest whole tile to the wall or fixture. Next pop another tile on top, this time pushing it right to the wall or fixture. Then take a tile pen and draw a line on the tile to be cut beneath it, using the edge of your top tile as a guide.
'Don't rush when cutting tile and always double check your measurements before you cut. People often start cutting tile only to discover they've measured wrong. Taking a few extra minutes to re-measure can save you wasted tiles and time in the long run,' says Lydia Luxford, Technical Services Manager, Easy Bathrooms.
Next, take the tile with the line on it, and add an 1/8 of an inch to allow for the tile spacer (you can do this literally with the pen or just use your eye) before cutting with a tile cutter. Floor tiles tend to be quite thick, so you may need to invest in an electric tile cutter or a heavy-duty tile cutter. You can also use a circular saw if you buy a tile blade suited to the tile material you're cutting. Always wear protective goggles and gloves when cutting tile.
Do a dry test of your cut tile to check it fits, you may need to sand it down a bit if you're not quite there or try again, or use a tile nipper, before adding adhesive and popping it into place. In an ideal world, your baseboards will be fitted after the tile floor, covering up any imperfect edges.
7. Prepare for grouting
Leave the tile to completely dry before grouting. This is usually at least 24 hours but do check the adhesive packaging for specific guidance.
We have a full guide on the intricacies of grouting but the basics are that you work the grout into the gaps between your tiles with a grout float, picking out any tile spacers that may be protruding as you go (use pliers if necessary). Then use the grout finisher or a rubber spatula to compact the grout in and achieve smooth lines. Wipe away any major clods of grout but leave the final cleaning until the grout is dry to avoid disturbing the wet grout.
8. Clean and seal
Now the grout is dry, wipe over your floor tile with a damp sponge or microfiber mop to remove any last traces of grout. If your tile is porous, for example natural stone, terracotta or encaustic, you will need to coat them with a protective sealant. Some people also choose to seal the grout lines to help prevent staining and discoloring.
Finally, seal around the perimeter of your tiled floor with a flexible sealant that matches the grout (unless it will be hidden by skirting, in which case any color sealant will do). Use a sealant gun to get right into the gap. This will stop any flooding instances from damaging the tile underneath and helps prevent the tile cracking due to expansion or movement.
How can I elevate my floor tile install?
You don't need to spend big to achieve a high-end look when learning how to tile a floor. A little bit of creative thinking can be all it takes to elevate inexpensive tile and make your hard work look truly professional.
'Even something as simple as switching your grout color to a more dynamic shade can be enough to make your tile floor more interesting,' says Adrian Blundell, Production Director at Craven Dunnill Jackfield.
Color-coordinate the grout and tile for a sleek, modular look or go for contrasting colored grout for a little design difference. 'Using contrasting grout color is a particularly effective way to accentuate the pattern of more unusual tile installs like herringbone, brick-effect and broken bond tile,' adds Adrian.
Once you're feeling more confident, consider incorporating border tiles around the edges of the room to give the floor a really neat finish. Installing feature tiles in a rug-style format, perhaps with a border, is another popular way to boost impact.
Sign up to the Homes & Gardens newsletter
Decor Ideas. Project Inspiration. Expert Advice. Delivered to your inbox.
Linda graduated from university with a First in Journalism, Film and Broadcasting. Her career began on a trade title for the kitchen and bathroom industry, and she has worked for Homes & Gardens, and sister-brands Livingetc, Country Homes & Interiors and Ideal Home, since 2006, covering interiors topics, though kitchens and bathrooms are her specialism.