How to remove wall tiles – in five easy steps
Discover how to remove wall tiles and clear the decks ready for a tile refresh with our expert guide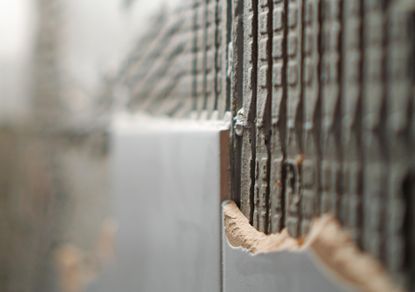 (Image credit: Alamy)
If you are planning a refresh for a kitchen or bathroom, you may need to know how to remove wall tiles. Taking on the task of removing wall tiles yourself isn't as difficult as you might imagine. Messy, yes, and we can't promise your manicure will survive, but it's one of the lower skilled DIY tasks and virtually impossible to get wrong.
For this step-by-step guide to removing wall tiles, we asked tile and DIY experts for their top tips to increase your chances of success; with old, cracked or uneven tiles off, you can then learn how to grout tiles after tiling a wall and create a slick new look.
'Removing tiles is an easy job but there are a few tools and tricks that will ensure the job goes smoothly,' says Anna Forden, head of buying at Walls & Floors. 'If you have a friend who can help clear up behind you as you go, it will the task much quicker and more fun.'
How to remove wall tiles
The ease with which you manage to remove wall tiles depends on how well they were installed in the first instance. If the tiler was cautious with the adhesive, you may find they practically fall off once you get going.
In any event, it tends to be easier to remove wall tiles than remove floor tiles because they are generally thinner and more lightweight, plus you'll have gravity on your side. That done, you can invest in your new kitchen wall tile ideas and bathroom wall tile ideas.
You may well have a few of these items to hand, but we have collated a list of the essentials for removing wall tiles.
You will need:
Safety goggles
Protective gloves
Dust mask
Old cardboard or thick dust sheets
Hammer or mallet
Masonry chisel
Scraper
1. Protect the space
The area directly below the wall tiles will need to be well protected from falling debris. 'Sharp pieces of tile falling from a wall into your bathtub, shower tray or even just the flooring below, can cause irreparable damage,' explains Anna Forden at Walls & Floors. 'Cardboard is pretty good for protecting these spaces from falling tiles. It's worth saving any packaging from the recycling bin in the weeks before you start this task.'
Use dust sheets to protect surfaces further away from the main job site – you'll be surprised by how far dust and dirt will travel as the tiles start tumbling down.
2. Remove the first tile
Once you've donned the appropriate protective wear (don't forget closed-toe shoes), it's time to work out the best starting point. 'The ideal place to begin is with a tile that is already coming loose or has some degree of damage,' says John Geraghty, Tiling expert at My Job Quote.
If you are unable to locate a broken or loose tile, try to loosen a tile or tap one with a chisel until it begins to break. 'Alternatively, use a grout rake to scrape out the grout around the tile until you have a gap wide enough to wedge your chisel,' adds Harriet Goodacre, Tile Consultant at Topps Tiles. 'This is also a good method if you are trying to salvage tiles to reuse.'
One of benefits of beginning with an undamaged tile is that it gives you more control over the start point. If you are right-handed, experts agree that it's best to work from the top-left corner of your tiled area, and move to the right as you work, slowly moving down the wall as each horizontal line of tiles is removed. Left-handed people should work in the opposite direction.
3. Lever tiles off the wall
Once your first tile has been cracked sufficiently to wedge a chisel in, you're in business. 'Insert a chisel between the edges of the tile and the wall, and gently tap with a hammer or mallet until the tile comes away,' advises Abbas Youssefi, director at Porcelain Superstore. 'You might need to chisel in a few different places and use the chisel as a lever to pry the tile away.'
The first tile is always the hardest, but the following tiles should come away fairly easily. The deeper you can wedge the chisel under the tile, the better chance you'll have of getting it off in large chunks. Chipping away at tiny shards of tile is tedious.
If you have help on hand, ask them to try and catch bigger tiles before they fall. This is particularly useful if you are removing wall tiles made from heavy natural stone or large format tiles, which might cause damage to the area below regardless of how well it is covered up.
4. Tidy up the wall
Planning to tile in a shower or right back over the wall you've just worked on? It's worth taking a little time now, while the dust sheets are still on, to scrape off all remaining tile adhesive. Tap off any large chunks with a chisel and mallet and use a tile scraper or sander to smooth down any remaining roughness.
If any plaster has come off the walls with the tiles, you may need to get any holes filled and sanded. A seriously patchy wall will benefit from being re-plastered before you install new tiles.
5. Clean up
Gather up your dust sheets from each corner and carry them outside before emptying the contents into a cardboard box. Even heavy-duty bin bags tend to rip when filled with heavy building waste.
Next use a dust pan and brush to gather up any loose rubble that escaped the dust sheets, and then go over all surfaces with a vacuum cleaner followed by a damp cloth.
How can I remove wall tiles in one piece?
Salvaging tiles to sell or reuse certainly makes sound environmental sense, but it does take learning how to remove wall tiles to a new level, and the job will take a whole lot longer. The style and quality of the tiles you are removing will play a big factor. If they are looking tired, chipped and outdated, and therefore unlikely to be reused, it's really not worth the effort.
'Success largely depends on the tile itself, the adhesive used and the installation method,' explains Abbas Youssefi, director at Porcelain Superstore. 'Larger porcelain tiles are more difficult to remove without breaking, especially if they've been installed correctly using a modern porcelain tile adhesive. However, if you're removing smaller ceramic wall tiles (such as metro tiles) that have been fixed with 'ready-mixed adhesive', there's a good chance you'll be able to remove tiles without damaging them.'
A grout rake is a useful addition to your tile removal toolbox. Use it to scrape the grout away from all the edges of the tile before gently levering it away from the wall. A specialist tile scraper is also worth the extra expense, as it has a wider, flatter head than a chisel.
Sign up to the Homes & Gardens newsletter
Decor Ideas. Project Inspiration. Expert Advice. Delivered to your inbox.
Linda graduated from university with a First in Journalism, Film and Broadcasting. Her career began on a trade title for the kitchen and bathroom industry, and she has worked for Homes & Gardens, and sister-brands Livingetc, Country Homes & Interiors and Ideal Home, since 2006, covering interiors topics, though kitchens and bathrooms are her specialism.