Kitchen wall tile ideas - add gorgeous visual variety to your vertical surfaces
These smart kitchen wall tile ideas offer oodles of inspiration, whether you're looking to tile all over or keep it simple with a backsplash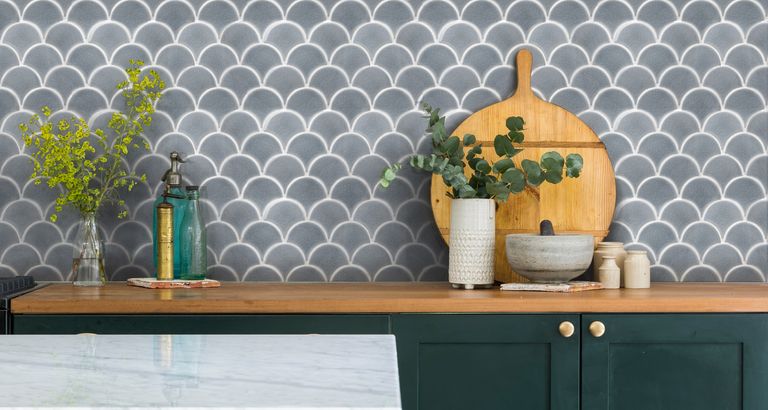 (Image credit: Ca'Pietra)
If you're looking for beautiful kitchen wall tile ideas for your next project, you've come to the right place.
Whether you're keen to re-do your backsplash or tile your entire wall with something new, we have plenty of gorgeous kitchen tile ideas and advice to help you make your final decision.
Kitchen wall tiles provide the perfect decor for a cooking space. Both stylish and practical, there's a tile out there to suit any scheme, whether you favor kitchen ideas that are modern or traditional, patterned or plain, bold or subtle.
What's more, kitchen wall tiles are easy to maintain too, making them the ideal choice for a busy family home.
'Tiles really help to finish off a room,' says Hamish Smith, creative director at Ca' Pietra, 'plus from a practical viewpoint, they're great if you find you're a messy cook!'
'Often when it comes to using tiles in a kitchen, we find that it allows customers to really elevate their design – whether it's a chic marble metro tile to complement their shaker-style kitchen or a penny mosaic that really pops.'
Smart kitchen wall tile ideas
These stylish, practical and beautiful kitchen wall tile ideas will provide all the inspiration you need, whether you are completely remodeling a kitchen or looking for a simple way to update your existing scheme.
1. Introduce subtle pattern
Kitchen wall tile ideas come in all shapes and sizes, patterns, colors and shapes, so when it comes to choosing a style, the experience can be a little overwhelming to say the least.
If you're confident with kitchen color ideas and pattern, you may have a clear vision of what you want, but what if you're unsure and don't want to tire of the tile you choose after a year or so of looking at it on your wall?
If that's the case, try taking a relaxed approach by choosing a plain white tile decorated with a subtle pattern or texture.
Here, these large format wall tiles feature an ultra fine geo print that is almost feminine in form, creating a soft design that won't overpower your space for a timeless kitchen backsplash idea.
2. Scale down with a backsplash
If you're keen to inject some country kitchen ideas into your scheme, you can't go wrong with a backsplash. Usually located on the wall adjacent to your sink and hob, a backsplash provides a wipe clean surface, while adding a dose of color or pattern to an otherwise plain wall.
They're ideal if you have your heart set on a very expensive tile but can't justify the spend, or if you love a pattern but don't want it all over the wall.
Hamish from Ca' Pietra agrees. 'If you're in search of the tiniest bit of your home to tile, a backsplash is a sure-fire bet. They take little time to lay, little cost to source, and still have real stage presence.'
This white kitchen backsplash adds character into a rustic kitchen scheme through its use of charming Delft-stye blue patterns.
3. Wrap the room in subway tile
Subway (or metro) tiles are a super smart option if you're looking for subtle kitchen wall decor ideas. Easy and affordable, it lends an air of no-nonsense to a space, while retaining a truly classic look.
Hang subway kitchen wall tiles on a backsplash or a feature wall, or tile the entire kitchen in simple white subway tiles for an elegant yet traditional vibe.
'My top tip is colored grout,' suggests Rodrigo Moeno Masey, director at Moreno Masey. 'Pair your tiles with a dark grout, or even a bold color - not only is this much more resistant to staining, but it adds a splash of uniqueness and fun.'
4. Add warmth with color
If you have white or neutral colored kitchen cabinet ideas in mind, you can afford to be a little more adventurous than usual with your kitchen wall tile ideas.
Choose a rich pink shade to add instant warmth to a neutral scheme. If you're not keen on tiling the entire wall, go halfway up instead – like an extended backsplash – using simple plain tiles to allow the rich color to dominate.
5. Experiment with shape and tone
Don't forget, not all tiles are square or rectangular. Expand your search to include hexagons, pentagons, mosaics and so on. Once hung, an unusually-shaped tile creates a beautiful pattern just on its own.
You can create a more detailed pattern by selection a range of tiles in a selection of varied shades - natural stone is a great choice here.
6. Bring drama to the space with a feature wall
Love a colorful or boldly patterned tile but worried it may overpower the space?
Treat tiles as you would wallpaper – if you're concerned that your choice of tile might be too much, try it in a small section, perhaps by installing a backsplash with extra height that covers half of the wall above the benchtop, or using the tile on a section of wall, much like a feature wall.
'As well as being ultra-practical and easy to clean, a tiled feature area brings color, pattern and even unusual shapes to these hardworking zones,' explains Hamish from Ca'Pietra.
As this green kitchen tiled wall is beside the window, the natural light ensures the deep color remains vivid thanks to the daylight shining in through the window, which reflects on the glossy surface of the tiles.
7. Soften deep shades
Black and white kitchens are proving to be a popular new trend right now, yet it can be tricky to get the balance of color right in the space without it looking too harsh or funerial.
Here, the large format slate tile provides a practical backsplash, which then continues down the wall either side of the cabinetry to act as a visual buffer for the jet black painted walls and matching furniture.
8. Revamp existing tiles with paint
If you need a temporary fix, want to save on kitchen tile costs or can't find the tiles you love, why not try painting your existing kitchen tiles? Depending on what material they're made from, they can be easily painted in a color (or colors) of your choice.
The majority of paint companies carry a specially formulated primer that you can use on a variety of materials, which you can then follow up with a paint color of your choosing.
'Our all-surface primer, called Intelligent ASP, allows you to use our finishes on a number of surfaces, including ceramic tiles, for an instant refresh,' explains Ruth Mottershead, creative director of Little Greene. 'It provides the perfect surface on just about all walls, tiles and glass for an instant update.'
9. Create a different layout
A subway tile doesn't necessarily have to be hung horizontally. Try experimenting with a variety of different layouts in your kitchen wall tile ideas to create a whole new look.
'You could look at brick-bond, vertical stacking or herringbone,' suggest Ca'Pietra's creative director, Hamish Smith.
'While picking the tile is important, it's also really important to consider the other elements too so that it all comes together beautifully,' he adds.
10. Try a teeny, tiny tile
Mosaics offer a far more delicate touch when decorating a wall, creating simple repetitive patterns around their small individual shapes.
Best reserved for more compact areas like a backsplash, they tend to create a subtle, yet confident look in a kitchen.
Which tiles are best for kitchen walls?
While ceramic or porcelain tiles are always the top choice for kitchens thanks to their durability, you can afford to choose less hardy materials for your wall as the surface won't be subject to as much wear and tear as, say, your kitchen flooring ideas would.
'It's important to consider how much maintenance you want,' advises Hamish from Ca'Pietra. 'You can opt for a range of materials – take marble or encaustic, for example – but remember to seal them first.'
'You will also need to talk a little more care and attention with any natural materials. If you prefer something that's low maintenance, then ceramic or porcelain could be for you.'
What is the best color for kitchen tiles?
Choosing the right color wall tile for your kitchen is no different to choosing the right paint color for the walls.
'To create the illusion of more space when planning small kitchen ideas, select a warm neutral tone that can be used all over to draw in light and bring warmth to the scheme,' advises Ruth from Little Greene.
As you would with a paint sample, it's always advisable to order a sample tile and place it in your kitchen to assess the way the color changes according to the time of day, as well as in natural and artificial light.
Can you paint kitchen wall tiles?
Yes absolutely, but you'll need to paint the tiles in primer first.
'When painting tiles,' advises Helen Shaw, Benjamin Moore's UK director, 'it's essential that the paint is easy to maintain and can resist oil splashes or stains. Eggshell and Satin finishes are easily cleaned, and stains will wash off to ensure a long lasting and fresh look.'
Hello there, I'm Ginevra Benedetti,
Associate Editor on the Homes Content Team at Future.
I've been fortunate enough to have been writing about interiors for the past 16 years on the majority of Britain's monthly interiors titles, such as Ideal Home, Country Homes & Interiors and Style at Home, as well as Livingetc and of course, Homes & Gardens.
This naturally feeds into writing for wonderful websites like HomesandGardens.com and IdealHome.co.uk.
Over the years, I've interviewed some of the most talented designers in the business and I've pretty much written about every area of the home, from shopping and decorating, appliances and home tech, wallpaper and fabric, kitchens and bathrooms, even extensions and conversions.
I never tire about reading or writing about interiors, from classic timeless designs to innovative smart tech - the subject is always evolving, just as our homes do, year after year.