White kitchen backsplash ideas – 10 stylish backdrops for neutral kitchens
Invigorate your white kitchen backsplash ideas with color and pattern, or choose the perfect neutral backsplash for any cooking space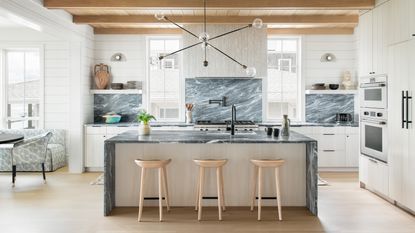 (Image credit: Cortney Bishop Design/Katie Charlotte Photography)
Choosing the right white kitchen backsplash ideas is crucial if you want an otherwise plain, neutral space to feel characterful. For a dark or small kitchen, you may want a backsplash in light-enhancing white, too.
However, there are so many elegant but adventurous backdrops that embrace color, pattern and alternative tile styles – and which add interest and a personal stamp to your white kitchen ideas – that it seems a missed opportunity not to consider them.
'Backsplashes for white kitchens can vary,' says interior designer Anja Michals. 'I like using a variety of materials: ceramics, terracotta tiles such as zellige, and marble slabs for a sleeker, cleaner look.
'Tiles give a sense of texture and can add more texture depending on the layout you choose, and I like to play around with that.'
White kitchen backsplash ideas
Whether you're looking for the ideal material for a white backsplash, or you need more colorful kitchen backsplash ideas that will work with your white cabinets, we asked the experts for their tips on choosing the perfect backdrop to your cooking exploits.
The most obvious choice you might want to consider are kitchen tile ideas that are either rustic and forgiving or easy to clean. However, there are so many more adventurous materials to choose from.
1. Choose marble slab for timeless appeal
'Marble's cool and opulent aesthetic looks beautiful in a range of interiors, and nothing says classic more than a stunning white marble splashback,' says Lee Thornley, founder of Bert & May.
'Marble has a beautiful natural patina and character that will add a soft sense of grandeur when used in white kitchen backsplash ideas, while its natural variations can help prevent the space becoming too uniform.'
To fully appreciate marble's natural characteristics, don't be confined by the width of your sink or stove (particularly if you're looking around the higher end of kitchen tile costs).
In this kitchen by interior designer Lisa Staton, a marble slab covers the entirety of the wall behind the stove. To ensure the effect isn't overwhelming, the other walls do not feature any backsplash at all.
2. Create a colorful focal point in a white kitchen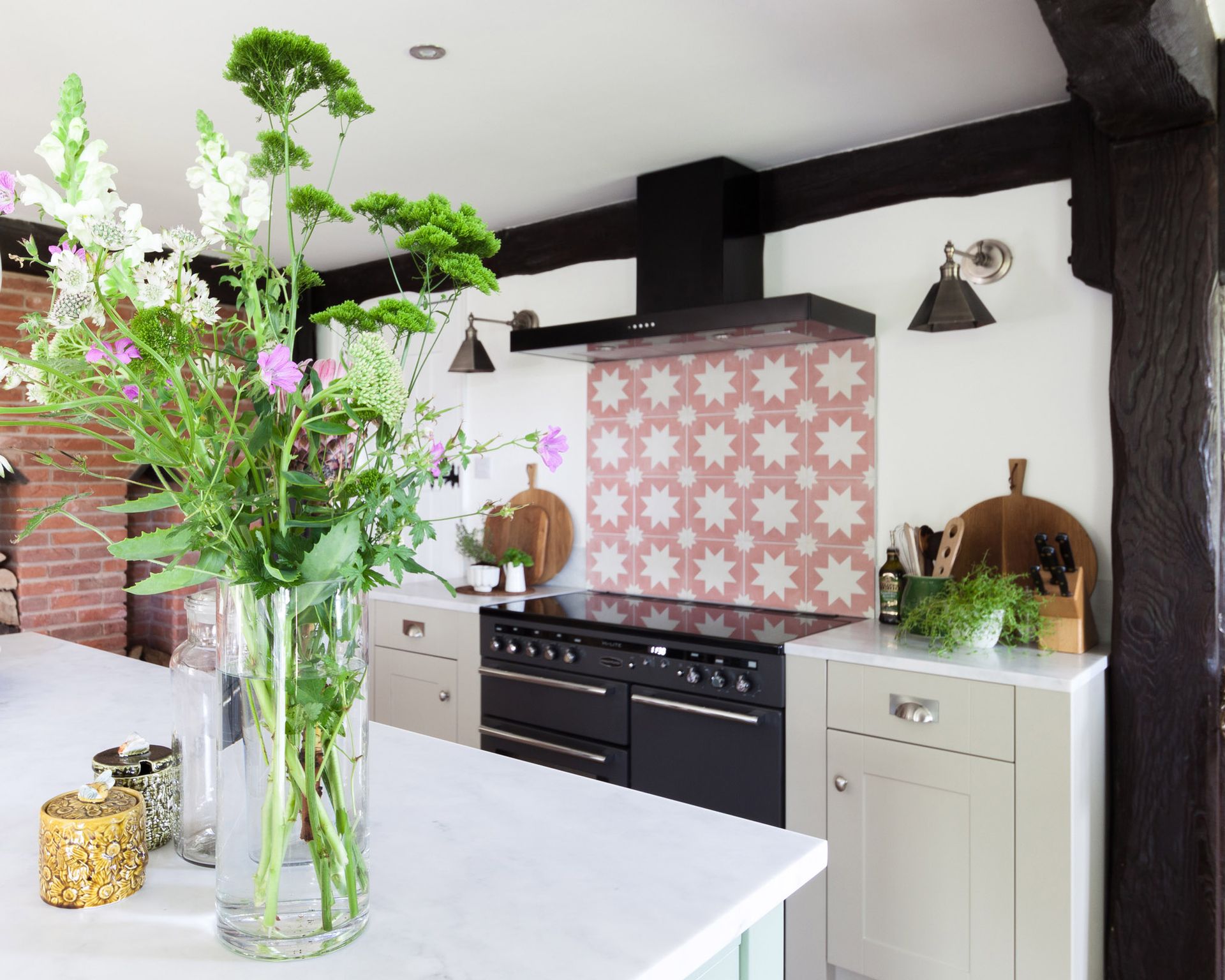 White kitchens don't necessarily need to be matched with white backsplashes.
'Patterned tiles can be used to create a striking focal point in an otherwise neutral, white kitchen scheme,' explains Thornley.
'At Bert & May, we love to use natural pigments in our encaustic patterned tiles, giving a beautifully washed out and glamorously faded aesthetic.'
In this kitchen, Bert & May encaustic tiles in a pink and white pattern pick out the area behind the stove, and offer a colorful contrast to the largely monochrome space.
3. Go all out with wall-to-wall tiling
Where does backsplash tiling end? Is it with your sink? Is it with that one wall?
Waterworks co-founder Barbara Sallick chose to tile all four walls of her Connecticut kitchen. Using 4 by 8 inch white subway-style tiles, Sallick continued her offset pattern well beyond the usual realms of a backsplash, tiling right up to the ceiling.
The result is wall decor for the kitchen that glimmers with a glazed sheen on all sides, and a space that is easy to clean no matter how high those splashes reach.
4. White zellige tiles add texture and character
If you're worried about a black and white kitchen looking a little too pristine, mix it up with a textured tile. 'White tiles are always classic and clean,' says Anja Michals, 'but I love using zellige as it gives an old world feel with each tile different from the next.'
These glazed Moroccan-style terracotta tiles are hand cut, and their uneven nature means they will shimmer irregularly across a backsplash.
'Once it is installed, it has a magical pearlesque quality that quietly shines in any space,' adds Michals.
5. Brushed metal complements modern kitchens
For modern white kitchen ideas where tiling feels just too fussy or, dare we say, 20th century, look to a more metallic solution.
Brushed stainless steel makes for a space-age backsplash that channels a little bit of industrial chic, and is in keeping with the likes of handleless cabinetry and geometrically acute layouts.
In this example, the effect is softened by pairing the backsplash with wooden and marble countertops.
6. Choose a gloss finish to bounce light around the kitchen
White is a great color choice in spaces that you want to feel as light as possible, for example in space-enhancing small white kitchen ideas. Picking kitchen wall tiles with a light-reflecting finish – like a high gloss or glazed tile – will only enhance this feeling of brightness.
'In interior designer Cecilia Halling Howells's kitchen, our Oasis ceramic gloss tiles in white are used to great effect, adding warmth and iridescence to an otherwise all-neutral scheme,' says Grazziella Wilson, who works in marketing and creative at Artisans of Devizes.
'The painted white timber cabinetry and marble work surfaces are effortlessly paired with these rectangular zellige-inspired wall tiles, laid in a brick effect for a touch of industrial chic that works well with the brass lights and wall-mounted pot filler.'
7. White marble works in small formats too
If you're not up for splashing out on one huge marble slab for your backsplash, consider a more budget-friendly way to introduce the material's luxurious connotations when remodeling a kitchen.
'At Bert & May we have recently introduced two new small format white marble tiles that provide a classic style: pared back and simple, with subtle light veining,' says Thornley. 'The beautiful snowy tone of the Calacatta marble has a soft, matt polish that will envelope any room with a sense of pure luxury.'
As seen in this kitchen too, using individual marble tiles can create its own unique effect, as the irregular vein of the marble skips and jumps about the wall. And it's a great way to introduce grey and white kitchen ideas. 'Quarried from natural marble, each tile has its own beautiful intricacies, making each one entirely unique,' explains Thornley.
8. Fill your kitchen with natural textures
'In an all white kitchen, I like to add character,' says Michals, 'so I love adding a zellige tile or a marble that has texture and movement to play against the white and the hardware details.'
In this kitchen, interior designer Cortney Bishop has really looked to maximise texture in a largely white kitchen by filling it with visually enticing natural materials. White horizontal shiplap walls meet vertically paneled white-stained wooden cabinetry, while pale woods are found in the furniture and ceiling.
The star of the show is, however, a stunning green-gray marble that is used as a backsplash but has also been incorporated into this space's kitchen island ideas, making a statement that is not only an injection of color, but a confirmation of nature as this kitchen's muse.
9. Go off-white for a rustic finish
White isn't one color – and different whites can have very different effects in your kitchen. In this traditional white kitchen, designed by The Misfit House, an alcove around the stove is tiled with square terracotta tiles, painted off-white with a subtle blue pattern.
'Whether they are the star of the show or blend into the background, there are plenty of variations so it is important to choose your shade carefully,' says Wilson. 'Bright, sunny spaces can easily absorb a cool white, while rooms that lack plenty of natural light may need a warmer hue.'
The rustic effect of these tiles – emphasized by leaving the earth-toned sides of the tiles exposed – matches perfectly with the kitchen's farmhouse style, brass hardware, and the off-white kitchen color ideas in the walls and cabinetry.
10. Match your backsplash to your countertops
Choosing a backsplash isn't just an individual decision – sometimes you'll want to take its horizontal counterpart into consideration too. Matching your backsplash with your kitchen countertop ideas is a great way to tie a scheme together – particularly in a neutral-leading color scheme where simplicity is likely to be high on the agenda.
Here, an intricately veined gray and white marble runs down from the backsplash, across the work surface below and over to the island for an elegant look.
What is the best backsplash for a white kitchen?
If your walls, countertops and kitchen cabinet colors are predominantly white, your backsplash ideas are a chance to make a statement – either with an injection of color, or with a finish that adds a touch of sparkle.
'Embrace tonal colours by sticking to a similar palette choice – think warmer whites. Or go all out with a pop of pattern,' suggests Wilson.
'Bert & May's glazed tiles are pretty special and work really well as a white kitchen backsplash,' says Thornley. 'The glazed surface is gently reflective and the tiles can create a multifaceted look that shifts with daylight.
'Additionally, due to the eye catching nature of glazed tiles, you only need a few in a space for them to stand out.'
Other than glazed ceramics, marble will add a feeling of luxury, while encaustic or zellige tiles convey a sense of rusticity.
Whichever you choose, be sure that you observe best practice when installing them, by using a professional or researching how to install a backsplash properly yourself.
'The most important thing when choosing white kitchen backsplash ideas is to ensure that everything is properly installed and sealed, to provide the waterproof and cook-proof protection you need,' warns Thornley.
'Ultimately when it comes to the kitchen, you want something that not only looks great but is practical too,' advises Wilson, 'so opt for porcelain or ceramic tiles that are wipe-clean and suitable for areas that may get a little hotter – like behind a hob – or go for pattern, as it will not only create impact but will help to hide any imperfections too.'
What is trending now in kitchen backsplashes?
'Perfectly imperfect tiles,' says Wilson. 'Customers are looking for something a little 'lived-in' when it comes to white tiles – and anything with a Mediterranean influence!'
Rather than specific tile trends, Michals says it is a shift in attitude towards kitchen decor as a whole that is characteristic of contemporary backsplash design.
'The trends I am seeing are clients taking more risks, and not just going with a white subway tile,' says Michals. 'People are playing with materials that are a bit more special, different tile layouts, different sizes and shapes that can add texture, or marble that is more bold.'
A largely white kitchen is a perfect excuse to embrace color, texture and pattern via a backsplash. Consider opting for a colored marble, a patterned tile, or even tiles in irregular shapes – like hexagons or rhomboids – for an on trend look.
Ailis started out at British GQ, where a month of work experience turned into 18 months of working on all sorts of projects, writing about everything from motorsport to interiors, and helping to put together the GQ Food & Drink Awards. She then spent three years at the London Evening Standard, covering restaurants and bars. After a period of freelancing, writing about food, drink and homes for publications including Conde Nast Traveller, Luxury London and Departures, she started at Homes & Gardens as a Digital Writer, allowing her to fully indulge her love of good interior design. She is now a fully fledged food PR but still writes for Homes & Gardens as a contributing editor.