Modern white kitchen ideas – 10 tips for designing contemporary cooking spaces
Light, bright and contemporary, modern white kitchen ideas are an endlessly elegant choice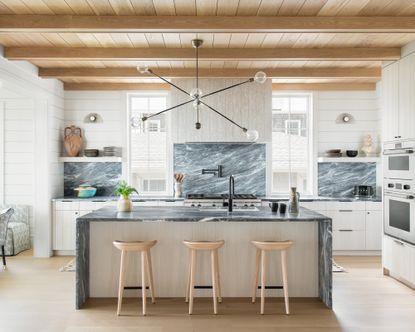 (Image credit: Cortney Bishop Design/Katie Charlotte Photography)
Modern white kitchen ideas are the ultimate design choice for contemporary elegance in your cooking space.
Light, bright, and a perfect pairing with beautiful natural materials, using white as the base for your white kitchen ideas is an ongoing favorite with those who love a clean aesthetic.
The choice to go all white, however, doesn't need to be boring – working out how to style the likes of white cabinetry, worktops and backsplashes with visually intriguing design flourishes will turn a simplistic design into a showstopping one.
Modern white kitchen ideas
From monolithic marble slabs to deftly designed, handle-free cabinets, we've brought together some simply stunning modern kitchen ideas for a contemporary aesthetic, and asked the experts for their tips.
1. Get your white right
White is not just one color – and if you want to make your kitchen feel fresh and modern, picking the right one for your space is key. 'Most homeowners appreciate the benefits of testing paint colors in location but, with whites, it is crucial as they can be altered beyond recognition by light and shadow,' says Ben Hawkswell, senior designer at Roundhouse, the team behind the black and white kitchen ideas shown in this example.
'Here on the cabinets we used Hardwick White by Farrow & Ball, which is a clean off-white that can look like a traditional grey in some lights. But it has chalky undertones that, in a sun-filled room like this, appear much brighter and more contemporary.'
2. Use a shaped tile backsplash to add interest
Choosing crisp, uninterrupted white surfaces will feel modern, but too many will put your kitchen in danger of feeling clinical and lifeless. An on-trend trick in white kitchen backsplash ideas that can help counteract this predicament is the use of shaped, tessellated tiles. Even if you are keen to have a white backsplash to match your cabinets, white shaped tiles – like the picket ones in this example, complete with white grouting – add subtle texture and visual interest.
3. Choose neutral floor tiles
'In terms of trends, we always advise customers to steer clear of 'trends' and go for a classic style in the kitchen area,' says Isabel Fernandez, Director at Quorn Stone. Taking the floor into account with your grey and white kitchen ideas, like in this design by Eggersmann, is important and keeping it neutral is usually best for a white scheme.
'Purchasing a stone or porcelain floor is an investment for the home and one that often takes careful consideration – our advice is to always go neutral in your chosen floor covering for ground floor spaces and instead inject color through paint colors and accessories. A lick of paint is far easier to change in years to come than a different floor!'
4. Add trending grandeur with marble
Marble has made a big comeback in recent years, with its white iterations among the most popular of all. Hugely popular in kitchens, marble can look fabulous in a modern context when simpler patternations are chosen, and it is used in clean-cut forms. In this example, white marble with grey veins is used for the monolithic hood in this kitchen by Amanda Evans. Marble doesn't have to be reserved for grand spaces either – it works just well among small white kitchen ideas.
5. Add texture with natural materials
'White kitchens continue to be hugely popular, despite the reputation that they can be too clinical for a home environment,' says Richard Atkins, Design Director at DesignSpace London. 'There are many ways to 'warm up' the design, one of which is by introducing different materials into the design scheme. Natural materials with texture and/or grains such as wood or stone work particularly well.'
In this example by designer Cortney Bishop, the white wood kitchen cabinet ideas feature a visible grain, which is boosted by the pale wooden beamed ceilings and the beautiful green marble backsplash.
6. Go for very dark or very light wood
If you're thinking about mixing wood in with the white, think carefully about the color you choose, in order to have it feel in keeping with your modern white kitchen ideas.
'A variety of woods work well in a white kitchen scheme, and the most popular of these are oak and walnut,' says Matthew Payne, Kitchen Designer at Harvey Jones. 'However, these create more of a traditional kitchen scheme, so consider using heart ash or wenge – so either a really dark or light wood – to create a more contemporary scheme. Some people choose to incorporate cross sawn pieces and a rough 'riverwashed' effect to create a contemporary finish.'
7. Warm up whites with brass accents
If you're looking to add little pockets of alternative kitchen color ideas to warm up your whites, consider using the gleaming golden hues of brass as an accent in your design, as demonstrated in this space by Life Kitchens.
'Incorporating a variety of finishes and materials will help layer and add texture to a white kitchen,' says Richard Moore, Design Director at Martin Moore. 'Gold or brass fittings bring a touch of warmth to a neutral palette, dark work surfaces achieve a sense of contrast and glass or antiqued glass splashbacks help to reverberate light around the room, creating the illusion of a larger, brighter space.'
8. Simplify your aesthetic with handleless cabinetry
When it comes to kitchen cabinet ideas, following the European style of embracing handleless cupboard doors gives an instantly modern feel to a kitchen. Instead of losing something, the simplicity of this approach (especially when combined with white) can be an elegant detail in itself.
'Where the budget doesn't stretch to large dramatic elements such as marble, an emphasis on little details can make all the difference,' says Atkins. 'For example, a handleless kitchen with white doors combined with metal, colored or wooden trims to add character. These details are often inexpensive but add a sense of drama.'
9. Use pure white to modernize traditional fittings
If going all out with the kitchen remodel ideas is a little beyond your budget and patience, sometimes a lick of paint will do the job. In many cases, repainting existing cabinetry with a pure white will be enough to freshen up your kitchen scheme and make it feel instantly modernized. In this example, panelled cabinets feel fresh thanks to the color choice, while modern angled black handles, a crisp marble worktop and metal-legged stools make the space feel contemporary.
10. Dot your white kitchen with black accents
To avoid your white kitchen feeling one-note, be sure to add in a little drama and contrast. Incorporating black kitchen ideas into the scheme is a great way to add structure and definition. In this kitchen by Claudia Afshar, the black drawer handles and light fittings punctuate the crisp swathe of white with intriguing details.
How can I make my white kitchen more interesting?
Modern-style kitchens that major in white have a reputation for being clinical – and it's one they can live up to if they aren't designed with personality and an eye for interesting details. The most important thing you should do is to ensure that your design holds space for lots of texture to balance any clean white areas.
'When opting for all-white kitchen, incorporating different textures and natural materials, such as wood, granite or tiles helps to prevent the shade becoming too overpowering,' says Graeme Smith, Head of Retail and Commercial Design at Life Kitchens. 'The flooring can help to uplift the room as well – a parquet floor or patterned tiles are effective as the lines break up the floor, giving a sense of depth and creating a feeling of space.'
Is a white kitchen fashionable?
Absolutely. For homeowners with a penchant for modern design, a white kitchen is an excellent fit. As well as creating a light and bright environment – qualities that are desirable across all interior design styles – white's ultimate neutrality is perfect for combining with clean lines and geometric forms. It also makes for a great backdrop for contemporary details, like combining with trending natural materials and warm metallics.
Sign up to the Homes & Gardens newsletter
Decor Ideas. Project Inspiration. Expert Advice. Delivered to your inbox.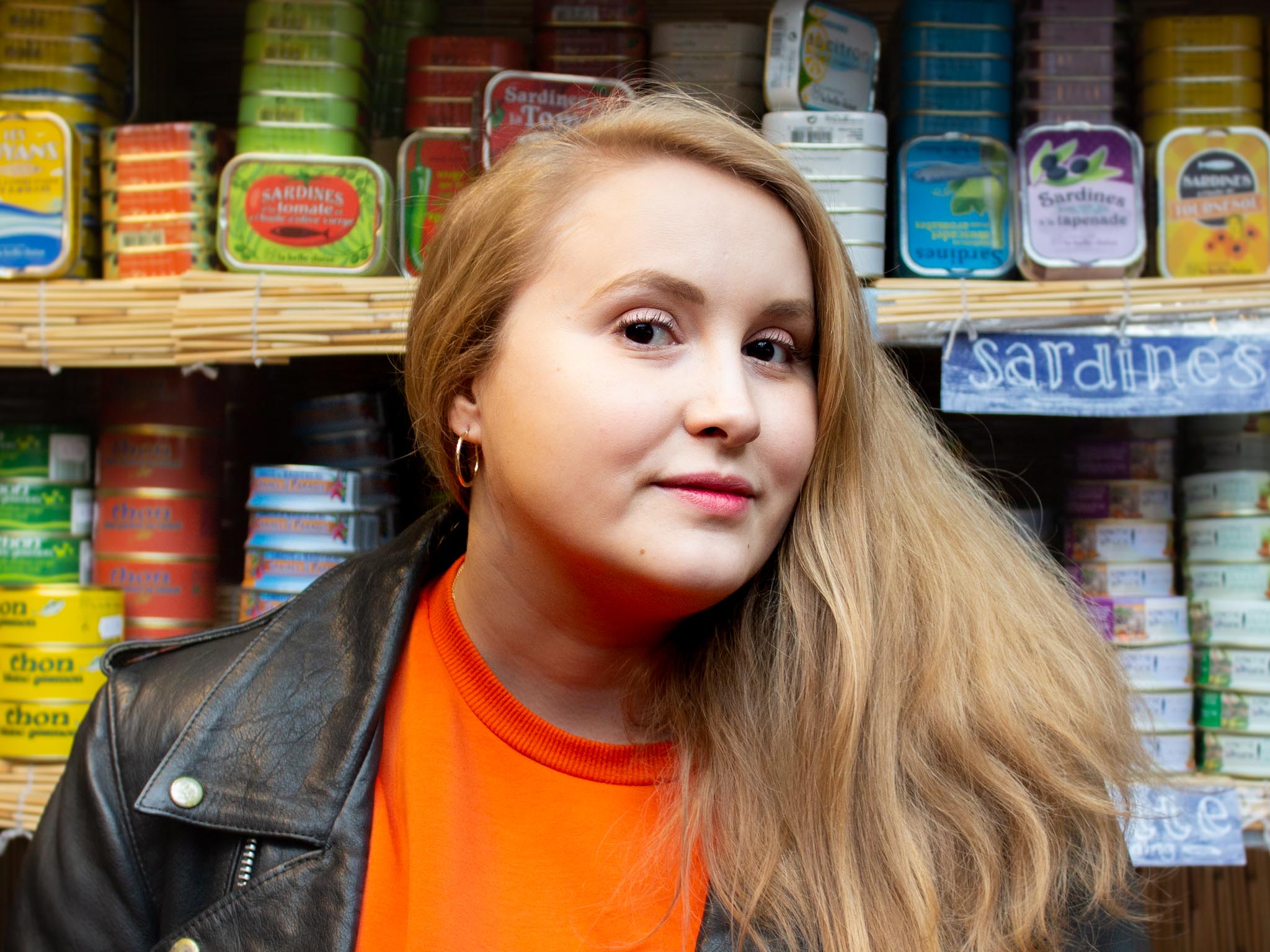 Ailis started out at British GQ, where a month of work experience turned into 18 months of working on all sorts of projects, writing about everything from motorsport to interiors, and helping to put together the GQ Food & Drink Awards. She then spent three years at the London Evening Standard, covering restaurants and bars. After a period of freelancing, writing about food, drink and homes for publications including Conde Nast Traveller, Luxury London and Departures, she started at Homes & Gardens as a Digital Writer, allowing her to fully indulge her love of good interior design. She is now a fully fledged food PR but still writes for Homes & Gardens as a contributing editor.