Small white kitchen ideas – 10 design tips for light and bright kitchens
For brighter cooking spaces that feel bigger, small white kitchen ideas are an elegant solution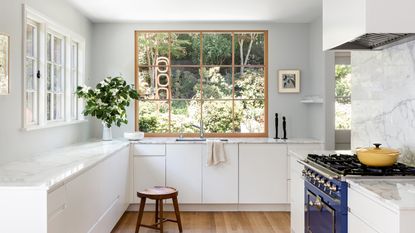 (Image credit: Lisa Staton Interior Design/Haris Kenjar)
Small white kitchen ideas are the perfect solution for those who have big ambitions for their little space.
Choosing white as a base color in your white kitchen ideas is a great way to make a diminutive room feel larger, lighter and more open. White helps to bounce natural light around a space, and banish shadowy corners, which are particularly unhelpful in a room that is primarily functional, but can also be used for entertaining.
Styling a white kitchen to make it feel interesting and homely, however, can be a bit of a challenge. The answer is to think carefully about both your materials and layout to make the most of its design properties.
Small white kitchen ideas
From tips for making your cooking space feel bigger, to ways to warm up your scheme, we asked the experts for their top small white kitchen ideas, and found some inspiring small kitchen ideas that will work in all spaces, no matter their color, too.
1. Use white on the perimeter to make the space feel bigger
'Small details such as the use of materials is key when designing a small kitchen,' says Tom Howley, Design Director at the eponymous kitchen brand. 'Lighter wood finishes and paint colours work well to expand the perceived space of your kitchen.'
White is, of course, a great color to use to make a small space feel larger – but if you're mixing it up with other colors, positioning it correctly is just as important. In the black and white kitchen ideas created by Alexis Hughes here, white is used for the perimeter cupboards to make the area feel more open, while a charcoal grey is employed for the island at the center for character and contrast.
2. Choose a reflective material for your white backsplash
'There are a plethora of smart ways to make your kitchen feel spacious,' adds Howley. 'To keep an open feel choose light paint colors and reflective materials such as bright quartz or a mirrored splashback.'
The light-bouncing abilities of a backsplash are especially effective when it is colored white. In the home of Waterworks Co-Founder Barbara Sallick, the white kitchen backsplash ideas take the form of high-gloss, white subway tiles which are used all over the walls, making for the perfect balance to the darker cabinetry on the lower level.
3. Get your lighting right
'White can be used in design schemes no matter what the size of the space,' says Richard Atkins, Design Director at DesignSpace London. 'It reflects light and allows small areas that lack natural light to appear more spacious.'
'However, the quality of kitchen lighting ideas should be considered in these areas to enhance the warmth. Warm or neutral white options are recommended. Cool white LED lighting can have a blue appearance when shone on a white surface.'
Among the modern white kitchen ideas used in this example are a series of pendant lights over the island, which emit a warm glow.
4. Make good use of space with an island
With smaller kitchens, you'll need to be smart with space – you may think that means you can't include a kitchen island, but it can be quite the opposite.
'Utilize every inch of space from the full height, awkward nooks and the use of islands if you have room,' says Howley. 'Even though an island will take up floor space, it will benefit your kitchen by ensuring more storage, prep space and a place to gather and socialize.'
In this kitchen by Harvey Jones, the grey and white kitchen ideas center around a white island, which works as storage, seating and worktop space, with the white color making it feel unobtrusive.
5. Warm it up with wood
If you don't want to go too wild with the kitchen color ideas, accompanying your white elements, using wood to warm up the space is a fantastic option, as demonstrated in this room by designer Cathie Hong.
'Wood kitchen cabinet ideas contrast very well with the color white, but if you would like to incorporate wood in a subtler sense, then using it as a color accent is really effective,' says Matthew Payne, Kitchen Designer at Harvey Jones. 'Consider having wooden accessories on display, such as chopping boards and knife blocks.'
6. Use large, pale floor tiles
When thinking about kitchen flooring ideas for your white kitchen, keeping things pale should be your first choice for making a small kitchen feel bigger – but you should think carefully about the size of your tiles too.
'A smaller kitchen requires careful thought and consideration to give the illusion of a larger space,' says Isabel Fernandez, Director at Quorn Stone. 'Contrary to belief we often find a larger tile can work well at achieving this. A smaller tile results in lots of grout joints which can enclose the space and detract the eye from the tile.'
'If you choose a complementary grout color, it makes the grout less noticeable which again helps to open the space out.'
7. Keep the eyeline light, bright and open
When it comes to kitchen layout ideas sometimes less is more. If you want to make a small kitchen feel more airy, minimize intrusion around the eyeline – and if possible, ditch the upper cabinets altogether. This is perfect for compact but modern white kitchens.
And it's what designer Lisa Staton did in this Seattle home, where all the storage ideas are contained to below the worktop, behind white, handleless cabinet doors. The walls above are also painted white, apart from a deliberately installed, large window with a white oak frame.
8. Be a space saver with bi-fold doors
Having a smaller space means a great excuse to get creative with your kitchen cabinet ideas and think outside the box when it comes to doors. Painting upper cabinets white will help them feel less intrusive to the eyeline, but using bi-fold doors – like the ones in this kitchen by Harvey Jones – will make them physically less invasive too, as they only extend half as far into your precious open space. For minimal meddling, invest in pocket doors that simply slide the cabinet frame itself.
9. Use warm whites for a cozy farmhouse look
'Most kitchen manufacturers have whites in different tones, finishes and textures in their collections: smooth lacquers and glass in matt or glossy options; wood, laminate and ceramic finishes in various tones and textures of white,' says Atkins.
White kitchens can immediately conjure ideas of borderline-clinical modern kitchens, but choose warmer whites and employ rustic textures, and white can work excellently among farmhouse kitchen ideas. In this kitchen by The Misfit House, a small country-style kitchen is made to feel cozy through the use of off-white, woods, and burnished brass details.
10. Fit tall white cupboards with glass panels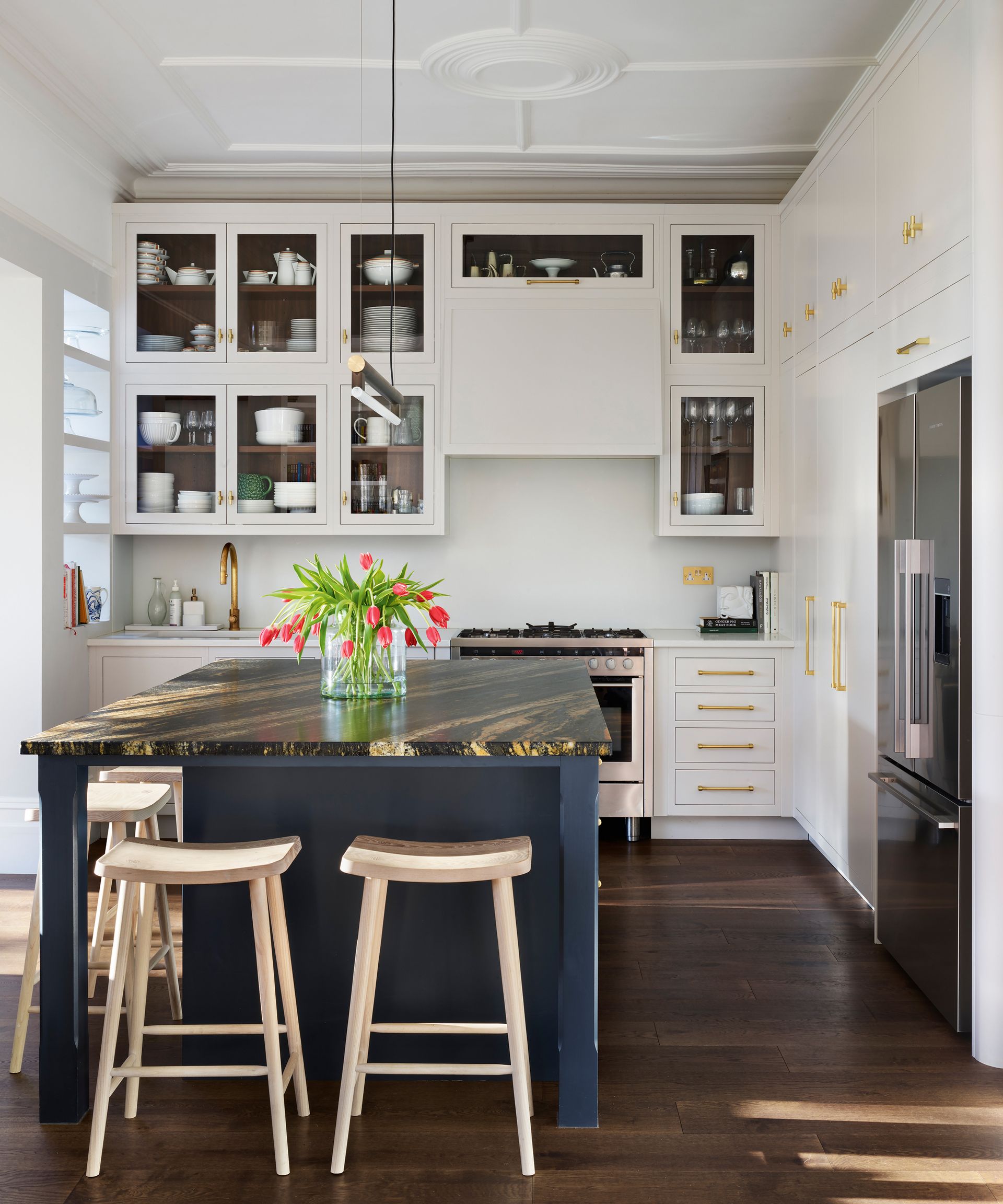 When designing a kitchen in a small space, deciding whether or not to put ceiling-height cabinets in can be a conundrum – on one hand, you want to maximize storage space, but on the other, you don't want the space to feel too closed in. The answer? Paint them white and install glass panels into your doors.
'If you do decide on floor to ceiling cabinets, these should only be fitted with glass door display cabinets,' says Howley. 'This will open up the space in a way that opaque cabinetry will not in a smaller kitchen.'
Should small kitchens be white?
Yes, absolutely. That's not to say they can't be any other color, but if you want to make the space feel more open and airy, using white in abundance is the best call. If you're low on natural light, white or other paler colors will help bounce what you do have around the room. Make it the base for your scheme by using it for a combination of at least three of the walls, backsplash, worktop and cupboards, and interject it with color elsewhere.
What colors go with a white kitchen?
Because white is the ultimate neutral, it can go with pretty much any other color in a kitchen. If you want to keep it simple, pairing it with wood to bring warm brown hues into the mix is an excellent choice, implementing texture into your scheme too – for a more modern combination, consider cooler tones of brown.
Black details are a great way to add structure, while warm metallics are on trend as an accent too. Grey is a fashionable favorite too, working to modernize traditional kitchens or create the ultimate contemporary aesthetic when combined with clean lines.
Ailis started out at British GQ, where a month of work experience turned into 18 months of working on all sorts of projects, writing about everything from motorsport to interiors, and helping to put together the GQ Food & Drink Awards. She then spent three years at the London Evening Standard, covering restaurants and bars. After a period of freelancing, writing about food, drink and homes for publications including Conde Nast Traveller, Luxury London and Departures, she started at Homes & Gardens as a Digital Writer, allowing her to fully indulge her love of good interior design. She is now a fully fledged food PR but still writes for Homes & Gardens as a contributing editor.