How to remove floor tiles – step-by-step
Follow our step-by-step guide to find out how to remove floor tiles like a professional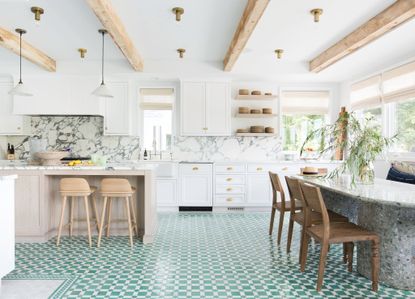 (Image credit: Nicole Cohen)
Discover how to remove floor tiles and put the labor costs you'll save towards some gorgeous new floor tiles.
Before you even think about grouting tiles and how to tile a floor, whichever room it is that you are retiling, it's likely there will be some existing floor tiles to come up.
While it is occasionally possible to tile over tiles, experts advise against cutting corners. 'We'd usually recommend removing existing floor tiles before retiling, to ensure you have a sound and stable base. A fresh installation is almost always the better option,' says Abbas Youssefi, director at Porcelain Superstore.
Use our guide to establish how to remove floor tiles, with plenty of advice from the experts, and decide whether it's a job you can confidently tackle.
How to remove floor tiles
Seeking out new bathroom floor tile ideas or kitchen floor tile ideas is the fun part with a little work to do first. When removing existing floor tiles you will need a few basic tools. The ease with which your floor tiles come up will depend on how well they were installed in the first place, as well as the type of material they are made from. Solid stone tile is heavier and thicker than ceramic tile, for example.
For removing tiles you will almost certainly need some form of leverage tool; such as a masonry chisel, as well as a mallet or rubber hammer. A robust scraper is also useful. We'd always recommend wearing safety goggles, to protect your eyes from flying shards of tile, and we've also listed a few extra items that may prove helpful.
You will need:
Safety goggles
Safety gloves
Dust mask
Scraper
Hammer
Mallet
Masonry chisel – this one from Amazon has a hand guard we have found useful
Dust sheets
1. Prep the space
'Prepare the room by removing any furniture or appliances that may get in the way of the process. It's essential to dress appropriately, as removing floor tiles can cause injury. Ensure you cover your arms and legs, and wear gloves, safety goggles, closed-toe shoes and a dust mask to keep yourself safe,' says John Geraghty, tiling expert at My Job Quote. 'Cover any surfaces that you don't want to get dusty, you can use plastic sheeting or dust sheets to do so.'
It is also worth taping up any doorways into adjacent rooms with masking tape to try and keep the dust contained. Open the windows as wide as possible to help keep the air clear inside the room while you are working.
Also check the baseboards, if applicable. Any that are installed on top of the tiles should ideally be removed before you begin.
2. Get started
The best place to start when deciding how to remove floor tiles is with a tile that is already coming loose, is cracked or damaged. If all the tiles are sound, use your hammer to tap one tile until it has broken enough to get your chisel underneath.
'Situate the chisel under the loose tile to lift the edge and hit the end of the chisel with a mallet to lift the tile from the base,' says John Geraghty. 'Don't worry if the tile does not lift in one piece, it's very common for tiles to break in the process. Continue to remove the tiles with the chisel and mallet until all tiles are dislodged.
3. Consider hiring pro tools
There's no escaping the fact that removing floor tiles is hard work, and will no doubt leave you with aching arms and sore knees the next day. But if no amount of muscle-work and grunt is shifting those tiles, it could be time to call in reinforcements.
'If the tiles have been laid using a modern tile adhesive (from the 1970s onwards) and laid on a cement-based or plywood substrate, then simple hand tools should be sufficient for removing them,' explains Harriet Goodacre, Tile Consultant at Topps Tiles. 'However, if you are attempting to lift floor tiles from solid mortar, it's best to hire specialist equipment such as a hand-held power scraper.'
Power scrapers are fitted with a chisel that hammers back and forth and should make light work of removing floor tiles. 'These tools do vibrate, so you'll need to take regular breaks,' advises Abbas Youssefi, director, Porcelain Superstore. 'You use them in the same way as a manual chisel, but it's a lot quicker and can prove a very wise investment.'
4. Clean up the sub-floor
Once your tiles have all been lifted and carried outside to your skip or rubble sacks, it's time to assess the state of the floor beneath. If you are lucky, any remaining tile adhesive will be easy enough to remove with a chisel, floor scraper or sanding block. It may take all three.
5. Clear up
New tile adhesive will not stick well to dusty surfaces, so the final task is to sweep up all remaining dust, tile fragments and old adhesive from your floor.
Use a dustpan to remove the bulk of the mess, and then follow up with a vacuum cleaner – a heavy-duty vacuum designed for outdoor/garage use is best. Keeping those windows open, of course.
An even sub-floor is essential for achieving beautiful floor tile ideas that are level and won't crack in years to come. If you can't get every scrap of old adhesive up, or the resulting floor just isn't level, experts recommend laying a levelling compound (thin-set mortar), before any new tiles are laid.
Is it possible to remove floor tiles without breaking them?
'It is possible to remove floor tiles without breaking them but it's difficult and there is always a risk of damaging the tiles,' advises Adrian Blundell, Production Director at Craven Dunnill Jackfield.
'There are specialist installers who carry out this work. They will start by removing the grout from around all the tiles so they are not touching and will not break against each other. One tile will then need to be broken to allow access to the underside of the adjacent tile and then the tiles can be carefully prized up one by one.'
While you can attempt it yourself, if the tiles are precious to you, we'd always recommend paying an expert to minimize breakages. Even so, be prepared to lose a fair few tiles in the process.
Sign up to the Homes & Gardens newsletter
Decor Ideas. Project Inspiration. Expert Advice. Delivered to your inbox.
Linda graduated from university with a First in Journalism, Film and Broadcasting. Her career began on a trade title for the kitchen and bathroom industry, and she has worked for Homes & Gardens, and sister-brands Livingetc, Country Homes & Interiors and Ideal Home, since 2006, covering interiors topics, though kitchens and bathrooms are her specialism.