How to tile over tiles – and save time and money
Our step-by-step guide reveals how to nail this simple shortcut, and when it's best avoided…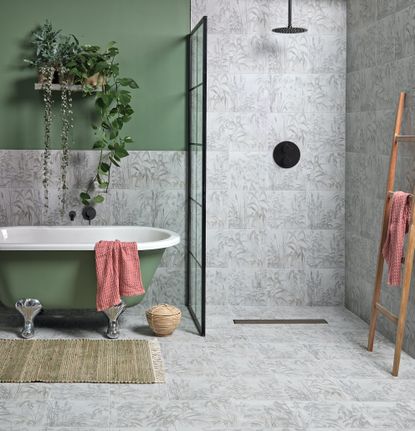 (Image credit: Ca Pietra)
Sign up to the Homes & Gardens newsletter
Decor Ideas. Project Inspiration. Expert Advice. Delivered to your inbox.
Thank you for signing up to Homes & Gardens. You will receive a verification email shortly.
There was a problem. Please refresh the page and try again.
Tiling over existing tiles may sound like cheating but, if the conditions are suitable, it can save so much time and effort. And, once the new tiles are successfully laid, nobody need ever know!
While most professionals recommend removing old tiles before re-tiling and grouting tiles to achieve a sound and stable sub-surface, there are times when tiling straight on top is by far the quickest solution. Leaving you more time to check out dreamy new bathroom tile ideas and kitchen tile ideas.
Tiling over tiles is a job you can absolutely tackle yourself, if you prefer not to get a pro tiler in. Here, we cover all the key steps, with expert tips from those in the know. You can also find more in-depth advice on how to tile a wall and how to tile a floor as well as how to clean kitchen tiles, which will all help boost your tiling knowledge.
How to tile over tiles
Tiling over damaged tiles is always a mistake and will inevitably cause your new tiles to lift off. 'It's essential to check for any cracked tiles or movement,' says Abbas Youssefi, Director, Porcelain Superstore. 'Gently tap each tile with a hammer to ensure they're fully bonded. A hollow sound is a clue they are not. They also need to be flat and level, so use a long spirit level to check.'
Only proceed if you are 100% sure your existing tiles are soundly adhered, completely stable and entirely flat.
You will need:
· Tile cutter
· Grout float
· Grout finishing tool
· Bucket
· Drill with a mixing paddle attachment (or a stick!)
· Notched and straight edge trowel
· Pencil
· Tape measure
· Tile spacers
· Long spirit level
· Sponge
1. Prepare the existing tiles
As well as being flat, level and undamaged, the existing tiles need to be clean, dry and free of dust and grime. Sugar soap diluted in warm water is perfect for this.
Next use a roller to coat the existing tiles with an acrylic primer, like this one from Amazon. Adding some sand into the primer will help key the surface, which is more important on walls than floors because gravity will be against you!
2. Choose suitable tiles
On floors, the main concern when choosing tiles to go on top of tiles is height. Thick tiles, such as natural stone, can potentially add too much height, which may in turn effect the thresholds as you enter the room. 'If the change in floor height makes it difficult to join the tiles to other floors and means you need to alter doors and add steps, not removing the old tiles won't necessarily save you time or money,' adds Daniel O'Toole, tiling expert, PriceYourJob.
On walls, you need to think about how much weight you are adding. Solid walls are less problematic but plaster and plasterboard to tile backer will have a recommended weight limit. For example, skimmed plasterboard can only carry around 20kg of tile and adhesive weight per square metre. Choosing new tiles that are thin and light, for example ceramic, is the best solution.
If your heart is set on heavy tiles, like marble, you will do well to remove the old tiles first.
3. Get the right adhesive
It's important to get adhesive that is suitable for tile-on-tile application. A latex modified or flexible adhesive is recommended. Some adhesives also specify the maximum size of tile that you can use, especially when it comes to tiling on tiled walls.
'Always check on the tub or packet or ask your supply for advice to ensure it is suitable before you buy,' says Daniel O'Toole.
4. Position the new tiles
Just as you would when tiling any surface, start by planning out your starting position. It's worth taking a little time to measure distances from wall-to-wall to ensure you don't end up with thin strips of tile where you meet a corner or edge.
The main difference when positioning tiles on top of existing tiles is to try and overlap the grout lines, rather than sit the same size tile on top of another. Overlapping will provide a better key and help spread the load (on walls).
5. Lay your tiles
Tiling on top of tiles is no different to tiling on any other surface. 'Make sure there is an even spread of adhesive applied with a notched trowel, with the grooves running in one direction, and always use spacers to achieve even grout lines,' recommends Mike Head, Director, Atlas Ceramics.
To set the tile in place, push it firmly into position and then give it a small wiggle to allow the grooves of adhesive to suction the tile down. Once the edge pieces have been cut and all the tiles are down, wipe off any excess grout and leave them to dry for the time recommended on the adhesive instructions. Do not walk on the tiles during this time.
6. Grout the gaps
Again, grouting tile over tile is the same process as regular tiling, using a grout float to get the grout into the gaps and then a finishing tool to neaten the lines, and our complete guide to grouting has the details.
For tiling over tiles in wet rooms or areas that are likely to come in direct contact with water, Martin Winterburn, Manager at Total Tiles, recommends using an epoxy grout. 'It dries harder than a powder grout and won't stain or discolour over time, making it more durable for the surroundings, he says.
Can I tile over existing floor tiles?
Floor tiles are often easier to tile over than wall tiles as you don't have to worry about the extra weight you are adding to the existing tiles. As you'll be tiling wall-to-wall, there are less issues with finishing edges, too.
'If your floor isn't completely flat, you can pour over a layer of self-leveller. This will give you a perfectly flat and stable base to tile onto,' says Abbas Youssefi, Director of Porcelain Superstore. 'You'll need to make sure there's enough clearance between the new level of your floor and door openings, furniture, etc - so your doors don't get stuck!'
Is tiling over tiles a good idea?
It really does depend on each individual situation but if there will be no negative impact on the floor levels, and the surface is sound, it can also be a total no-brainer!
'Tiling over tiles can be a cheaper and quicker route to re-designing your space,' says Mike Head, Director, Atlas Ceramics. 'Although it is essentially a simple process, there are a few areas which you need to check and a couple of extra steps to make sure you have a successful installation. These include rigorous cleaning of the existing tiles, priming and you may also choose to score/scratch the existing tile to allow the adhesive to sink in more satisfactorily.'
Tile over tile can be a bad idea if the perimeter of the tiling is going to be visible, for example on backsplashes or half-tile above a bath. The extra depth that two layers of tile presents is hard to hide and you can't use standard tile trim as they're not deep enough.
Sign up to the Homes & Gardens newsletter
Decor Ideas. Project Inspiration. Expert Advice. Delivered to your inbox.
Linda graduated from university with a First in Journalism, Film and Broadcasting. Her career began on a trade title for the kitchen and bathroom industry, and she has worked for Homes & Gardens, and sister-brands Livingetc, Country Homes & Interiors and Ideal Home, since 2006, covering interiors topics, though kitchens and bathrooms are her specialism.