Cleaning kitchen tiles – how to get your tiles gleaming, according to experts
Keep your cooking space sparkling by cleaning kitchen tiles with these top techniques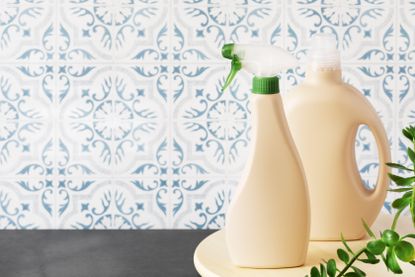 (Image credit: Alamy)
Dirt and grime can easily build up in a busy kitchen, and regularly cleaning kitchen tiles will create a more appealing environment to cook, socialize and entertain in.
Cleaning kitchen tiles not only ensures your cooking zone is aesthetically pleasing, but is also part of a kitchen cleaning and maintenance regime that will allow them to last longer.
'You can maximize your tile longevity by implementing a suitable cleaning and maintenance regime,' says David Talbot, Head of Specification at Craven Dunnill.
'Tiles used on the walls and floor come in many forms, but whichever tiles are used, the cleaning regime must suit the tile type. It is always advisory to trial any cleaning material or processes in inconspicuous areas initially. We would advise never to use abrasive cleaners, scourers, metal pan scrubbers or steam cleaners on ceramic tiles.'
Cleaning kitchen tiles
While different types of kitchen tiles may require specific cleaning requirements, there is a basic cleaning guide you can follow, says Jelina Saliu, Chief Innovation Officer at Safely, the home care and cleaning brand by Kris Jenner. You won't be surprised to know that cleaning with baking soda features.
You will need:
An all-purpose cleaner
Baking soda
A cleaning/scrubbing brush
A mop (for floor tiles)
Reusable paper towel or damp cloth
1. Spray on your cleaner and add baking soda
Spray your backsplash and floor tile generously with your all-purpose cleaner.
Sprinkle some baking soda on top of the cleaner.
2. Work the mixture together
Use a non-abrasive brush to work the mixture in together.
Let the mixture sit for about 30 minutes.
3. Remove the mixture
Remove the mixture with water and a reusable paper towel, or use a mop for ease on floor tiles.
Cleaning kitchen floor tiles
Whether it's the patter of children's feet, wet dog paws, daily family meals, or a fabulous dinner party, the kitchen is the most high-traffic area of any home. So it's essential to look after your tiles to keep it looking spick and span.
Firstly, what should you avoid? 'For floor tiles, cleaning products or degreasing agents that contain wax, sodium silicate or other additives that leave sticky deposits should be avoided as these will create a dirt "key" on the floor,' says Craven Dunnill's David Talbot.
'The regular use of excessively acidic or alkaline cleaning agents should also be avoided for both floor and wall tiles.'
Thankfully, he adds, it's easy to put a regular cleaning routine in place.
He explains: 'Floor tiles are easily kept clean with regular brushing and then mopping using warm water, to which a neutral or nearly neutral sulphate detergent is added.
'As a general guide, the cleaning solution should remain on the floor for at least five to 15 minutes to allow it to emulsify any dirt.
'Afterwards, the solution should be removed with a mob and clean water – it is this "rinsing" operation that removes the dirt, so the use of clean water is essential.
'After rinsing, the floor should be thoroughly dried using suitable methods (e.g. paper towels).'
Cleaning kitchen wall tiles
'The routine cleaning of kitchen wall tiles should be carried out after the removal of any loose dirt or grit,' says David Talbot.
'Lightly wipe off dirt with a dry cloth followed by washing with warm water, to which a neutral sulphate detergent has been added.
'After a final rinse with clean water to remove any cleaning residues, the surface should be given a final wipe down and polished with a clean dry, soft cloth.'
David adds: 'Occasionally, foreign matter may mark the surface of the tiles, if the marks cannot be removed with the normal routine cleaning method, other cleaners should be considered, whichever is chosen, abrasive cleaners such as scourers, metal pan scrubbers and steam cleaners should not be used. If you're looking for a product that offers greener cleaning solutions for ceramic tiles, FILA [available at Amazon] is a wonderful option.'
What is the best way to clean kitchen tiles
'For a general maintenance routine, make sure to remove any dust or dirt before using cleaning products on your tiles, using clean materials like cloths and sponges,' says Amanda Telford, Marketing Manager, CTD Tiles.
'For more high-traffic areas, damp mop your floor at least once a week to decrease wear and erosion from grit and soil.
'We recommend cleaning tiles and grouting regularly as this will prevent staining,' Amanda continues. 'Always use tile cleaners that are appropriate for your tiles, and patch test the cleaning solution before applying, this will make sure the solution won't damage the tiles.'
She adds: 'For an increased layer of protection, invest in protective pads under heavy furniture to create an extra layer between your floor and tiles.'
How to clean different types of kitchen tiles
The finish of the tile and the cleaning task at hand can effect how the tiles need to be cleaned.
Amanda says: 'Alkaline solutions are commonly used on ceramic and porcelain tiles, with mild acids being used on porcelain for tough ingrained stains like oil.'
What home remedy can I use to clean kitchen tiles?
'According to Safely's Jelina Saliu, baking soda can be applied on top of your usual cleaning spray before being washed off with a brush and water for a thoroughly effective clean.
Sign up to the Homes & Gardens newsletter
Decor Ideas. Project Inspiration. Expert Advice. Delivered to your inbox.
Ruth Doherty is an experienced digital writer and editor specializing in interiors, travel and lifestyle. With 20 years of writing for national sites under her belt, she's worked for the likes of Livingetc.com, Standard, Ideal Home, Stylist and Marie Claire as well as Homes & Gardens.