Bathroom backsplash ideas – 10 tips for stylish splashproof surfaces
From trending tiles to marble panels, these bathroom backsplash ideas are perfect for adding style to your sink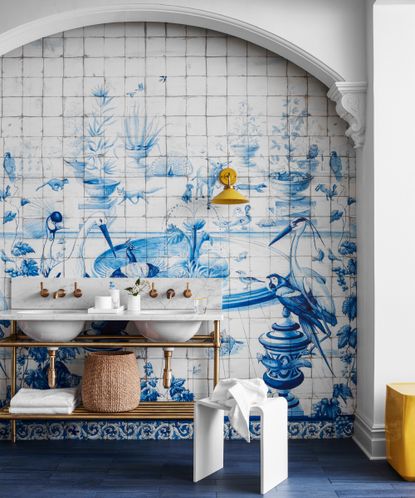 (Image credit: Jake Curtis)
Sign up to the Homes & Gardens newsletter
Decor Ideas. Project Inspiration. Expert Advice. Delivered to your inbox.
Thank you for signing up to Homes & Gardens. You will receive a verification email shortly.
There was a problem. Please refresh the page and try again.
Not only are bathroom backsplash ideas key to keeping your washroom looking great for years to come, they can make for a standout design feature too.
Ensuring your bathroom ideas stay waterproof and easy to clean should be a top priority for anyone planning a redesign of the space, but you should also consider what choosing the right one can add to the aesthetics of your scheme.
'Bathroom backsplashes can completely change the look and feel of your bathroom,' says Lee Thornley, Founder of Bert & May. 'While looking stylish, they are a practical choice to protect walls from water damage.'
Bathroom backsplash ideas
From colorful tiling in quirky layouts to elegant panels of marble and quartz, we found some stunning inspiration for your bathroom backsplash ideas, and asked the experts to share their practical and design tips to creating a beautiful backsplash.
1. Create visual interest with patterned tiles
For bathroom tile ideas that make an immediate visual statement, consider options that are bursting with pattern. Follow the encaustic tile trend and opt for elaborate Mediterranean-style patterns, or add a quaint touch of the English countryside with these oak leaf motif tiles from Ca' Pietra in a fresh blue and white.
'Soft tones and slight variations in shade add an air of faded glamor whether the tiles are used in period or contemporary settings,' advises Thornley.
2. Tile the entire bathroom wall
If you loved going wall-to-wall for your shower tile ideas, don't stop there. While the backsplash behind your sink only really needs to be big enough to catch regular sprinkles, there's no reason why you can't extend a splashproof surface across the entire wall. In this example, the backsplash's painted blue and white tiles extend across the whole of the alcove wall, maximizing waterproofing and allowing them to create a stunning muralistic design too.
3. Go vertical with your vanity surface material
A backsplash can be a standout design feature in a bathroom, but it's also perfectly reasonable to include it as a seamless extension of your existing decor ideas. For a neat and tidy solution, consider a simple extension of the material used for the surface of your vanity unit, like in this design by Richard Felix-Ashman. Here, the backsplash element of the vanity allows for the stunning natural stone to be appreciated from multiple angles. For full coordination, consider drawing a visual parallel with your bathroom floor tile ideas too.
4. Mix things up with a herringbone tile layout
When thinking about how to tile a bathroom wall, one of the first thing you'll need to consider is layout – and there are more options than you might think.
'The way the tiles are laid needs careful planning, as this determines whether the tiles stand out or blend in as well as if they are to become a feature area or simply serve as a practical backdrop,' says Grazziella Wilson, Creative Lead at Ca' Pietra.
'For bathrooms with a cutting-edge look, think about the interlocking herringbone format. Whether you choose a rectangular metro or a long and skinny ceramic, try to leave the edge quite raw for an artisan feel.'
This is exactly the look that has been achieved here with these tiles from Bert & May.
'Herringbone and rectangle tiles can be used to create a backsplash with patterns consisting of short parallel lines,' says Thornley. 'You could arrange the backsplash in a striking zig-zag design or stripes or create your own style.'
5. Emulate natural stone with low maintenance porcelain
One of the biggest mistakes to avoid when buying tiles is not adequately sealing ones that need it – especially when you need them for a waterproof backsplash.
'If you have purchased natural stone, or tiles that require sealing, it is important to ensure you seal them correctly and with the right product for the job,' says Wilson. If you love the natural look but don't want the fuss, consider porcelain tiles that don't need to be sealed and emulate the likes of marble and more, like these Ca' Pietra tiles.
'We sell a selection of wonderful porcelain tiles too, so if you are looking for something super contemporary, or something that emulates the look of natural stone but with little or no maintenance then porcelain could be a great option. Porcelain and ceramic tiles are typically wipe-clean and easy to maintain which is why they are great options for both walls and floors.'
6. Stay classic with white subway tiles
Perfect for a contemporary look with a hint of vintage, the white subway tile trend isn't going anywhere. 'White wall tiles are so incredibly versatile and you can style them as you please. Pretty much anything goes – contemporary, classic and everything in between – so let your imagination and creativity run wild,' says Wilson.
'Metro tiles are usually laid in a brick-bond effect, as this emulates the London Underground or New York subway style, and it works in Art Deco-inspired interiors as much as industrial schemes and cottagecore chic.' In this Manhattan apartment by designer Alexis Hughes, the subway tiles act as a reminder of the city beyond, but are paired with pale powder blues to soften the utilitarian edge.
7. Go all out with glorious marble
For the ultimate luxurious backsplash, it has to be marble. Historically sought-after but on trend right now, the stone is becoming more widely available in more accessible and affordable formats.
'Small format marble tiles create a cool and opulent aesthetic which looks beautiful in a range of bathrooms, from contemporary and minimal to maximalist and opulent,' says Thornley.
Alternatively and if you have the budget, choose a full slab of highly decorative marble as a backsplash and wall cladding, like in this powder room design by Windsor Smith. A costly approach, this makes the most cost effective impact as part of bathroom tile ideas for a small bathroom.
8. Invest in a quartz backsplash
A lesser known alternative to marble that arguably works better for a backsplash is quartz.
'Sometimes known as engineered stone or composite stone, quartz is one of the fastest growing categories of kitchen worktops, due to its technical properties as well as the myriad of designs and finishes available,' explains Jonathan Stanley, Vice President of Marketing UK & EMEA at quartz specialists Caesarstone.
In this example of gray bathroom tile ideas, quartz is used with a concrete-style finish on the jagged edged backsplash. 'Natural quartz is one of nature's hardest materials, which makes the finished countertop extremely durable, and virtually non-porous. Therefore, staining issues found with natural stone is not an issue. Its non-porous properties mean that it never needs sealing.'
9. Add a pop of color
One of the biggest bathroom tile trends of the moment is color – and lots of it. While statement colored bathrooms are growing in popularity, you don't necessarily need to go for wall-to-wall vividity to join in. Tiled backsplashes are a great excuse to inject a pop of color into a neutral bathroom scheme. In this neutral bathroom, a geometrically patterned backsplash in a combination of rosy pink and white brings a simple scheme right up to date.
10. Get a traditional look with sealed wood
The primary purpose of a backsplash is, of course, to prevent the wall behind your basin getting wet. As a result, the most popular materials are those that are easiest to make totally waterproof. If none of the above take your fancy and you're looking for a traditional bathroom style, it is possible to make wood panelling splashproof by ensuring that it is properly sealed. Using sealed beadboard is a popular way to make this look work, used in this example painted green, and brought to a level just above the sink to protect the botanical wallpaper.
What can I use for a bathroom sink backsplash?
The answers to this question are myriad. 'There are many different materials and colors that could be considered depending on the look you are aiming to achieve,' says Thornley.
Tiling is a hugely popular option for backsplashes, but within that umbrella are a number of different tile varieties with advantages and disadvantages. Encaustic tiles and natural stones like marble are great for creating an impactful, on trend aesthetic, but their porous nature means they are more difficult to clean and need to be sealed. Porcelain and ceramic are more forgiving and can be used to imitate other tile styles, but may not achieve the same high end finish you're looking for. Materials like glass, some metals and even well sealed wood can also be used as backsplashes.
What should I use instead of a backsplash?
A backsplash of some description is highly recommended in areas of the bathroom where the wall is likely to be splashed by water. If you don't have a backsplash of some sort behind a sink, water can cause substantial damage to paint and wallpapers over time.
If you don't like the look of a separate backsplash, consider tiling the entirety of the wall behind the sink. As well as making an aesthetic statement, it means you can splash as much as you like and not need to worry about any part of the wall.
Sign up to the Homes & Gardens newsletter
Decor Ideas. Project Inspiration. Expert Advice. Delivered to your inbox.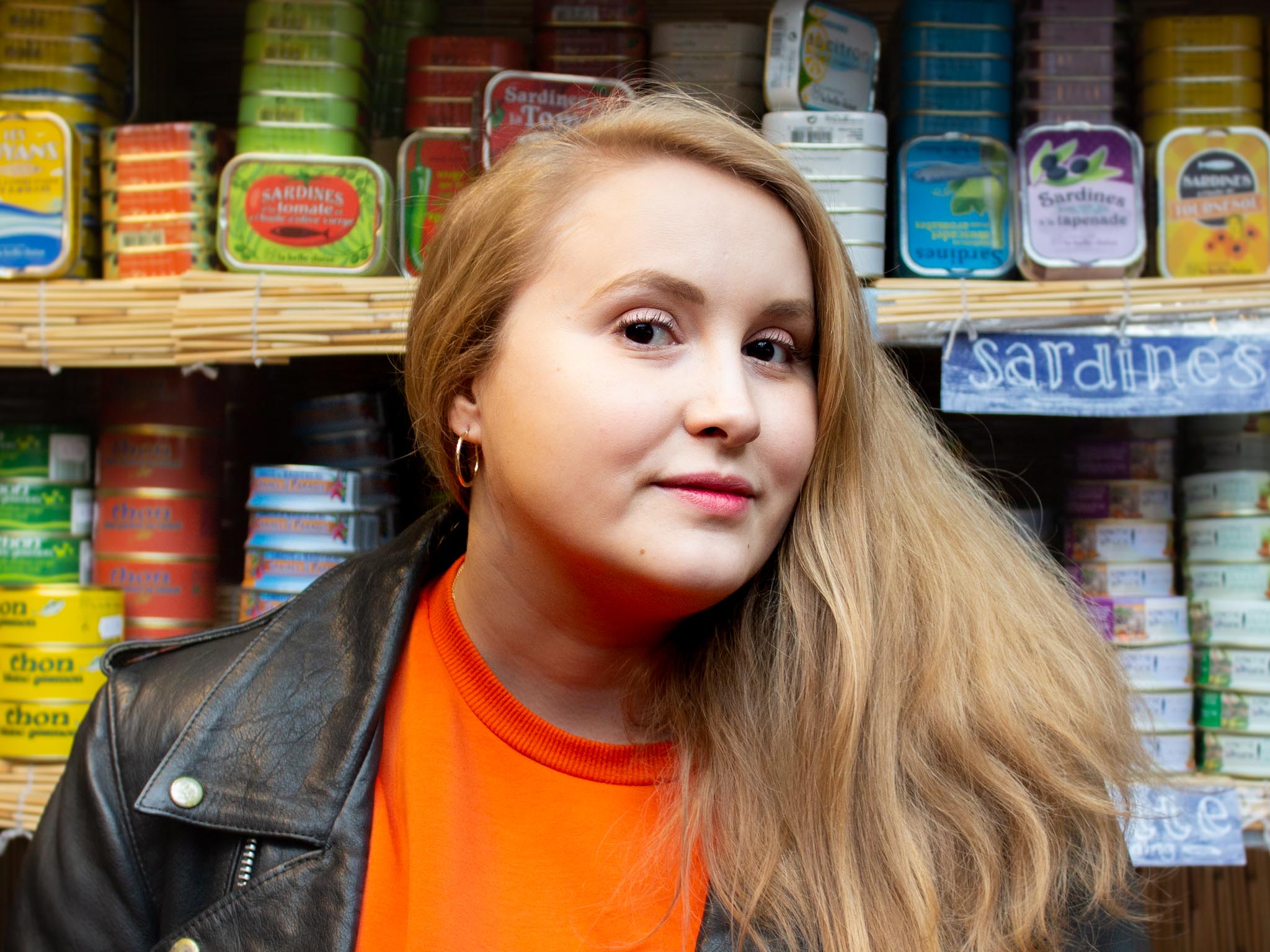 Ailis started out at British GQ, where a month of work experience turned into 18 months of working on all sorts of projects, writing about everything from motorsport to interiors, and helping to put together the GQ Food & Drink Awards. She then spent three years at the London Evening Standard, covering restaurants and bars. After a period of freelancing, writing about food, drink and homes for publications including Conde Nast Traveller, Luxury London and Departures, she started at Homes & Gardens as a Digital Writer, allowing her to fully indulge her love of good interior design. She is now a fully fledged food PR but still writes for Homes & Gardens as a contributing editor.