Decorating shelves – 13 ideas for beautiful arrangements
Put the perfect finishing touches to your interiors with these ideas for decorating shelves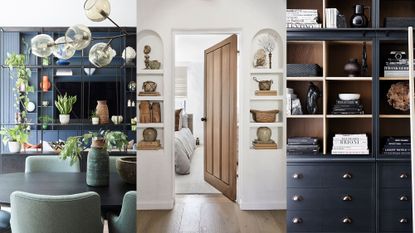 (Image credit: Mary Wadsworth / Julia Dempster / Neptune)
Sign up to the Homes & Gardens newsletter
Decor Ideas. Project Inspiration. Expert Advice. Delivered to your inbox.
Thank you for signing up to Homes & Gardens. You will receive a verification email shortly.
There was a problem. Please refresh the page and try again.
Decorating shelves is a fabulous way to bring personality to your home. Whether they're fixed to the wall or part of a freestanding unit, shelves offer the perfect surface for curating beautiful arrangements to put the finishing touches to any room.
More than just practical storage solutions, open shelves are a lovely decorating device, offering space to get creative and style displays that capture your personal taste and conjure happy memories.
To help you get your shelves looking their best, we've shared an array of inspiring ways to arrange them, from bookshelf ideas to within cabinets, along with some tips from the experts on how to style the perfect shelfie.
Decorating shelves
When it comes to decorating shelves the options are endless. From cherished possessions and family photographs, to decorative antiques, collectibles and items brought back from travels, there are all manner of items that can be arranged to create unique and characterful displays that bring joy and narrative to your interior design.
While there are not strict rules for styling a shelf, there are some key decorating ideas and design principles that can help transform your shelves from cluttered to curated, so we've rounded up some handy advice and ideas to help guide the way.
1. Start with books
If you're wondering where to begin with shelf styling, 'books are an obvious starting point, they bring warmth and interest to any room,' says Simon Temprell, interior design manager at Neptune. Perfect for bringing height and structure to your display, they 'can be arranged traditionally or positioned in small stacks with space for an ornament to sit on top,' he adds.
Once the books are in position, 'layer in small pieces of artwork and decorative objects at different heights, remembering that groups of odd numbers always work better than even.'
2. Arrange in odd numbers
If there's one golden rule the interior designers swear by when it comes to arranging vases, artworks and decorative items on a shelf or your sideboard decor, it's the theory odd numbers. 'Always use uneven numbers and group things in threes or fives – odd numbers help to add balance and are much easier on the eye, explains Emma Deterding, founder and creative director, Kelling Designs.
Sophie Pringle, creative director, Pringle & Pringle echoes this advice when she says, 'living room shelves benefit from mixing things up – incorporate art, add plants, use odd numbers of objects grouped together; start with large pieces and build around that.'
3. Size matters
When selecting objects to decorate your shelves with, choose an array of sizes and heights as this will ensure your display flows say the experts.
'Be sure to use objects and ornaments of different sizes across the shelving so you have movement,' says Emma Deterding. 'Grouping a larger item with a medium and smaller item will not only keep the grouping, but will create a flow for your eyes to travel with.'
4. Create an eye-catching ceramics display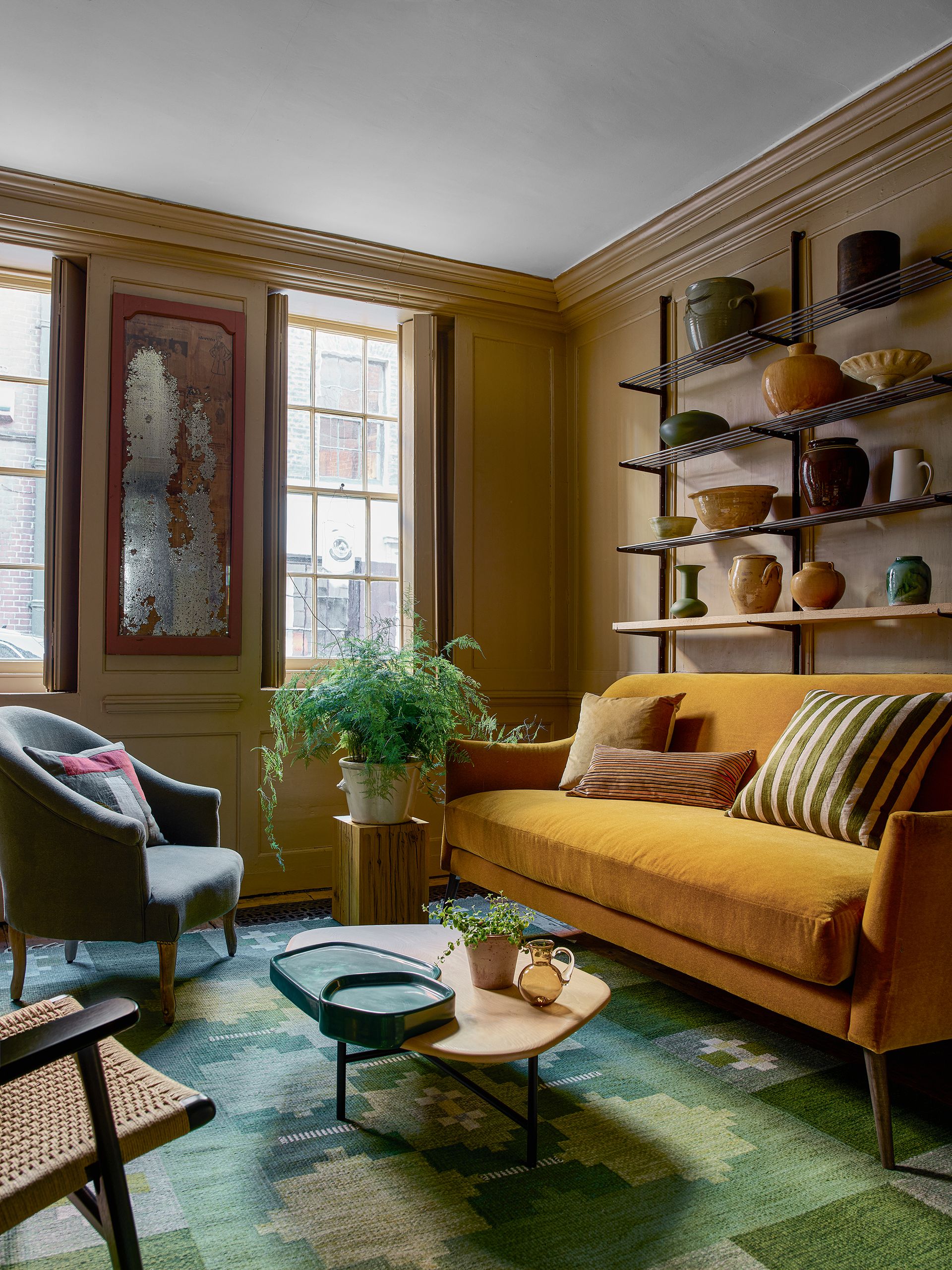 Open shelving is the perfect place to display your favorite decorative objects or ceramic vases. For alternative to hanging a painting, why not create a beautiful focal point on your living room wall by arranging a series of shapely vessels on shelves behind the sofa.
'Open shelving is an excellent way to consolidate all your disparate objects and to keep everything nicely contained rather than scattering it all around the room,' says Simon Temprell.
For wall decor with variation and interest consider pieces with sculptural shapes and interesting surface texture, plus 'try to avoid lots of small objects and instead concentrate on more considered items that have presence and form,' he adds.
5. Keep to a single color palette
Grouping items in a chosen color palette is a good way to keep it looking cohesive and visual pleasing, but take care not make things look too staged advises Simon Temprell.
'You can group by color or by decorative style or material, but make sure that the finished results look cohesive, rather than a different look on each shelf,' says Simon Temprell. 'Try not to get too caught up with symmetry and avoid being too matchy-matchy, you will get better results if you create the impression that the collection has grown organically. You want the shelves to look like your home, not a showroom.'
In her Regency home ceramicist Avril Leigh has created a beautiful shelf display by decorating with blue and white china. A mix of shapes and styles keeps the display varied and interesting, from vintage Spode and Burleigh pieces to contemporary artisan ceramics with abstract designs.
6. Break it up with artwork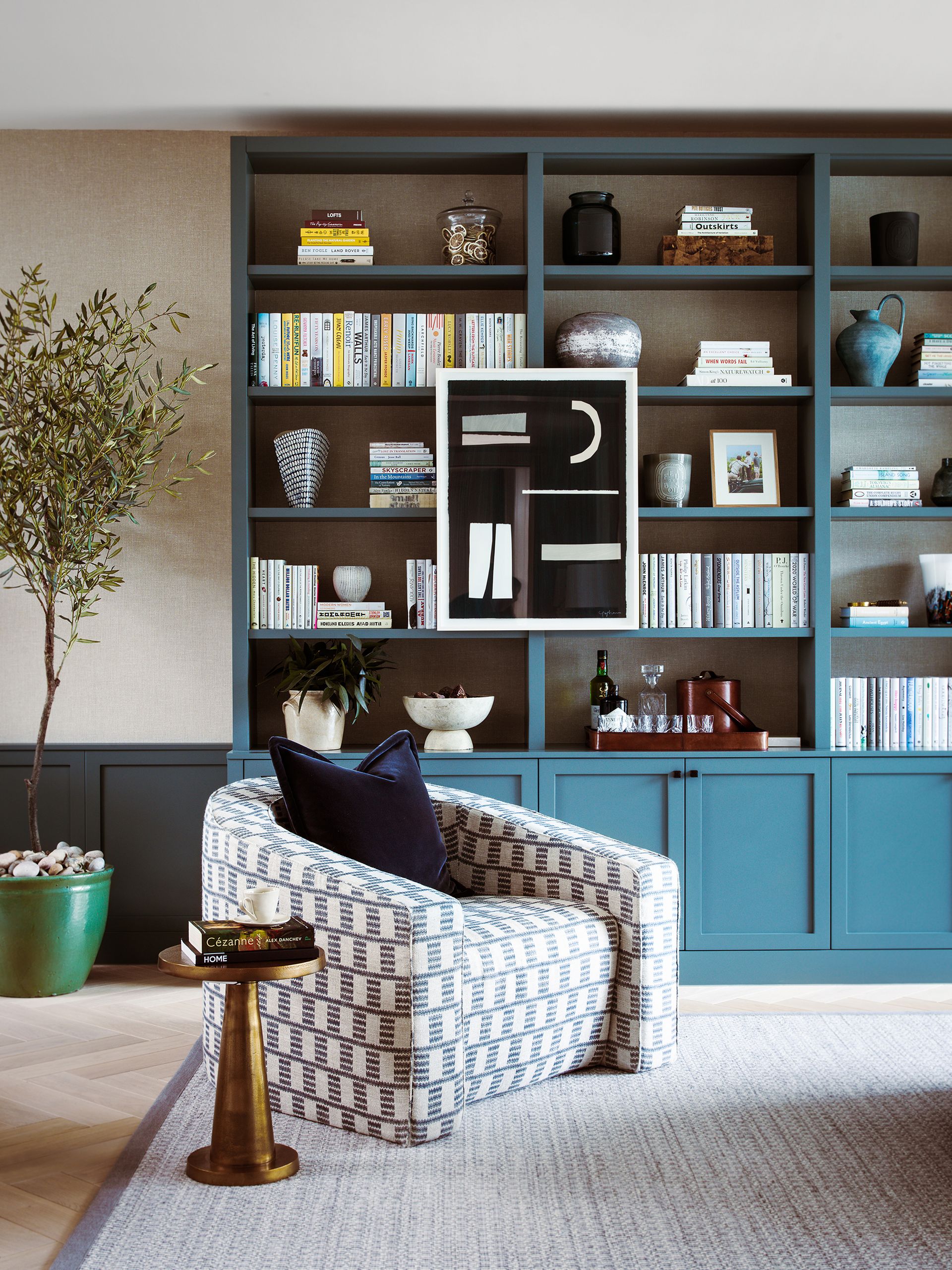 Having bespoke shelving fitted wall-to-wall is a brilliant way to create ample living room storage, but a large expanse of shelving can run the risk of looking cluttered and busy. Hanging a striking artwork from the shelves is a great way to create a visual break, but can also serve as a clever way to conceal less decorative items like cables or electricals.
'Remember art doesn't always need to be hung on the centre of the wall it can rest on top of tables or layered next to sculptures or on bookshelves and joinery,' says Camilla Clarke, creative director at Albion Nord.
7. Decorate alcove shelves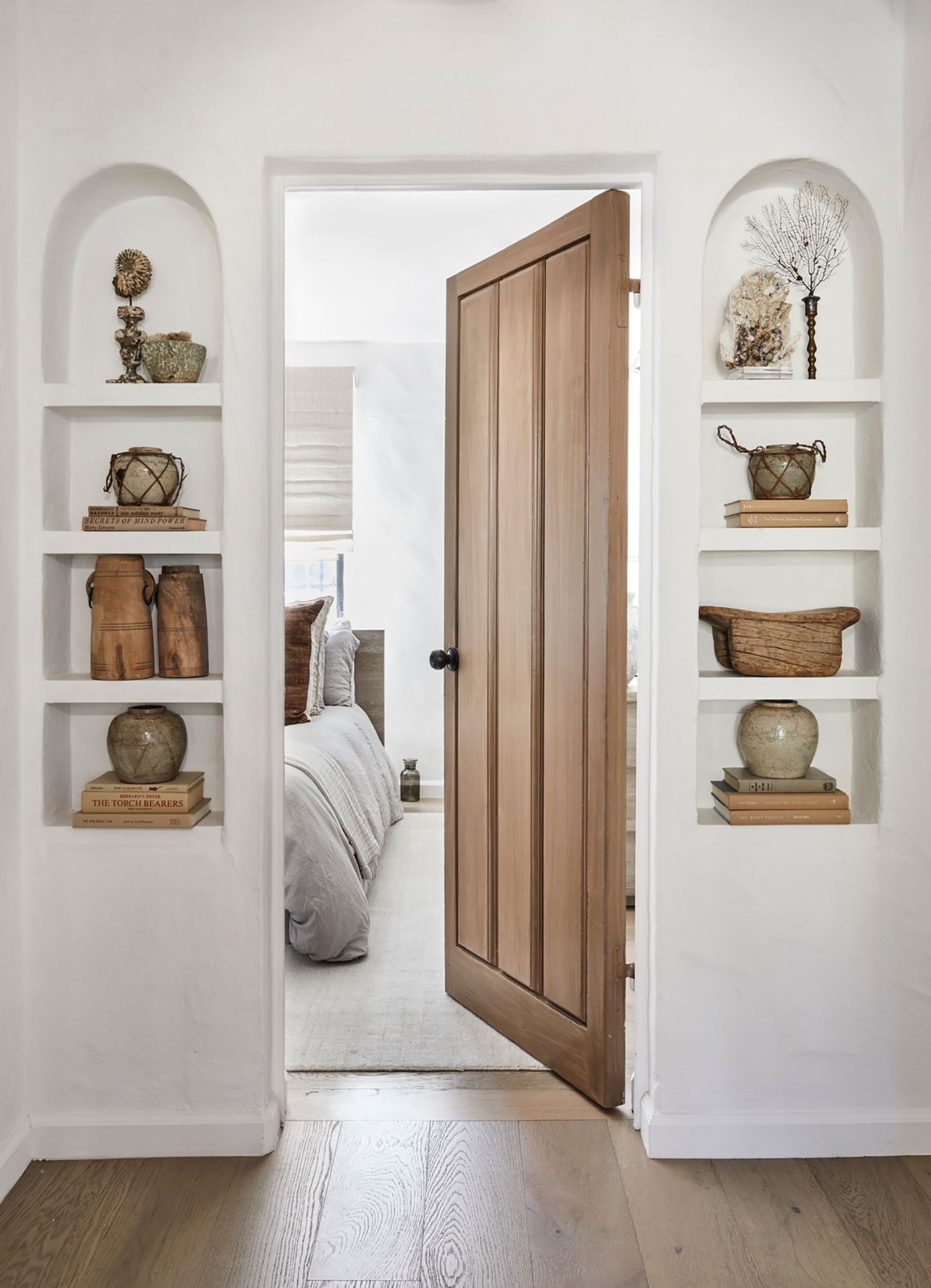 Whether they're part of the existing architecture of your home or built-in, alcoves make a brilliant space to fit shelving and create a decorative display.
Recessed shelving within alcoves offers space to display cherished items, artwork and decorative objects without encroaching on living space, alternatively they can be a lovely way to add interest to landings and hallways, which can sometimes be forgotten when it comes to decor.
When arranging alcove shelves it's important to think about texture, says Julia Dempster. 'I prefer to use contrasting textures, for example, glass next to a textured vase or a wooden vessel to get contrast and I limit the colors to a maximum of three,' says the British interior designer. 'Placing a piece of reflective glass against a raffia bottle or a rough pottery vase makes the items stand out.'
8. Incorporate plants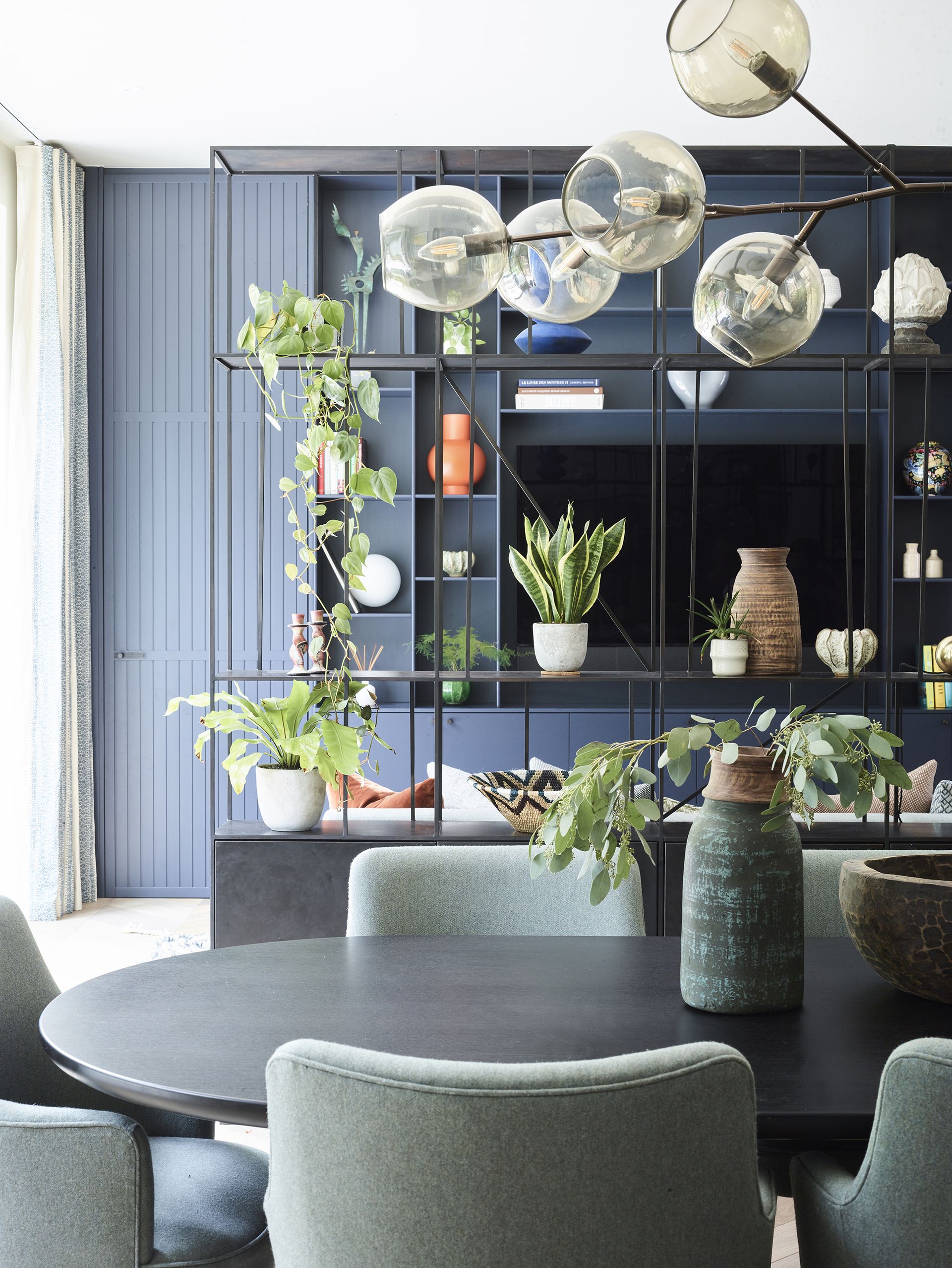 Decorating with plants immediately brings an uplifting feel and is a must for shelf styling say the interior experts. Boasting numerous benefits for our health and wellbeing plants are a quick way to make us feel happier at home but can also be beautifully decorative.
'Plants will bring an element of softness and freshness to any shelf, especially those that trail. Succulents have architectural style and demand very little attention, so they can be useful for filling the gaps where objects feel a little too rigid,' explains Simon Temprell.
If you're looking to decorate open shelves used as a room partition in an open plan living room, then plants make the perfect addition as they soften the harsh angles and bring a touch of color and life while still maintaining an open and airy feel.
9. Bring character to a kitchen
As the busiest room in the house the kitchen makes a great space to decorate with art as you'll be able to appreciate and enjoy it every day. Leaning artwork on a shelf brings a casual feel and allows the artwork to be restyled or swapped for a fresh new look from season-to-season or as and when tastes change. Try antique paintings for a quirky look.
'People are becoming more free and personal with their choices in style but more careful in their choices of materials and longevity,' says Helen Parker, creative director at Devol. 'We have seen people using items that would have been considered not suitable for kitchens ten years ago, things like chandeliers and oil paintings and antiques.'
When stying shelves in your kitchen consider adding wall lights to illuminate the display.
10. Create a memory wall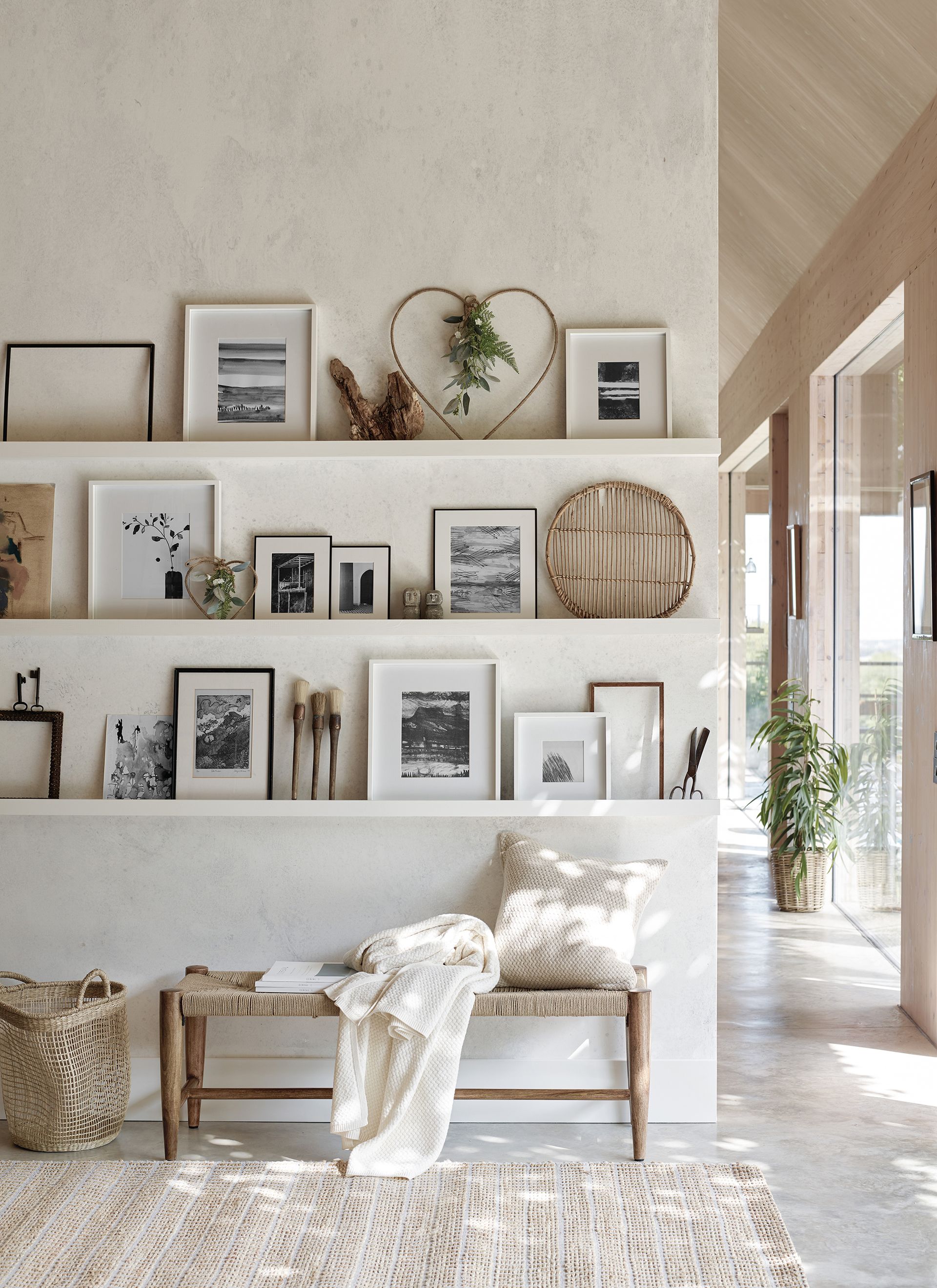 Decorating shelves with family photos and meaningful objects such as items brought back from holidays or heirloom antiques is a lovely way to spark happy memories.
Hanging a gallery wall and achieving the perfect composition can be hard to get right and involves hammering nails into the wall. Alternatively, leaning artwork and possessions on narrow picture shelves is a great way to create a gallery wall effect without committing to a set structure. Instead it gives you plenty of flexibility over the display allowing you to re-style to your heart's content.
11. Less is more
If you're thinking of arranging your shelves don't be tempted to overfill, says Simon Temprell, in fact, 'when styling open shelves it is important to consider the spaces you leave empty just as much as the spaces you fill,' says the interior design manager of Neptune.
Grouping objects with simple silhouettes in small groups and in a monochrome palette will help create a calm atmosphere perfect for a minimalist living room but will also help highlight the beauty and simplicity of each individual piece.
12. Think about layering
If there's one thing the interior designers agree that shelves can't be without its books. 'Books are another element to always include in your shelving too, afterall, books make a house a home,' says Emma Deterding. 'The different colors, textures and prints on the covers will also add eye catching detail - just be sure to group them by colour to create an easy-on-the-eye rainbow effect.
If you have lots of books or a small living room then don't be afraid to layer up artworks and small objects in front, this can be a great way to bring warmth and texture to a living room.
'If you are short on space and your shelves are already crammed full, try adding artwork that can hang in front of the books, treating the bookshelves as wallpaper,' says Simon Temprell.
13. Use color to set off your display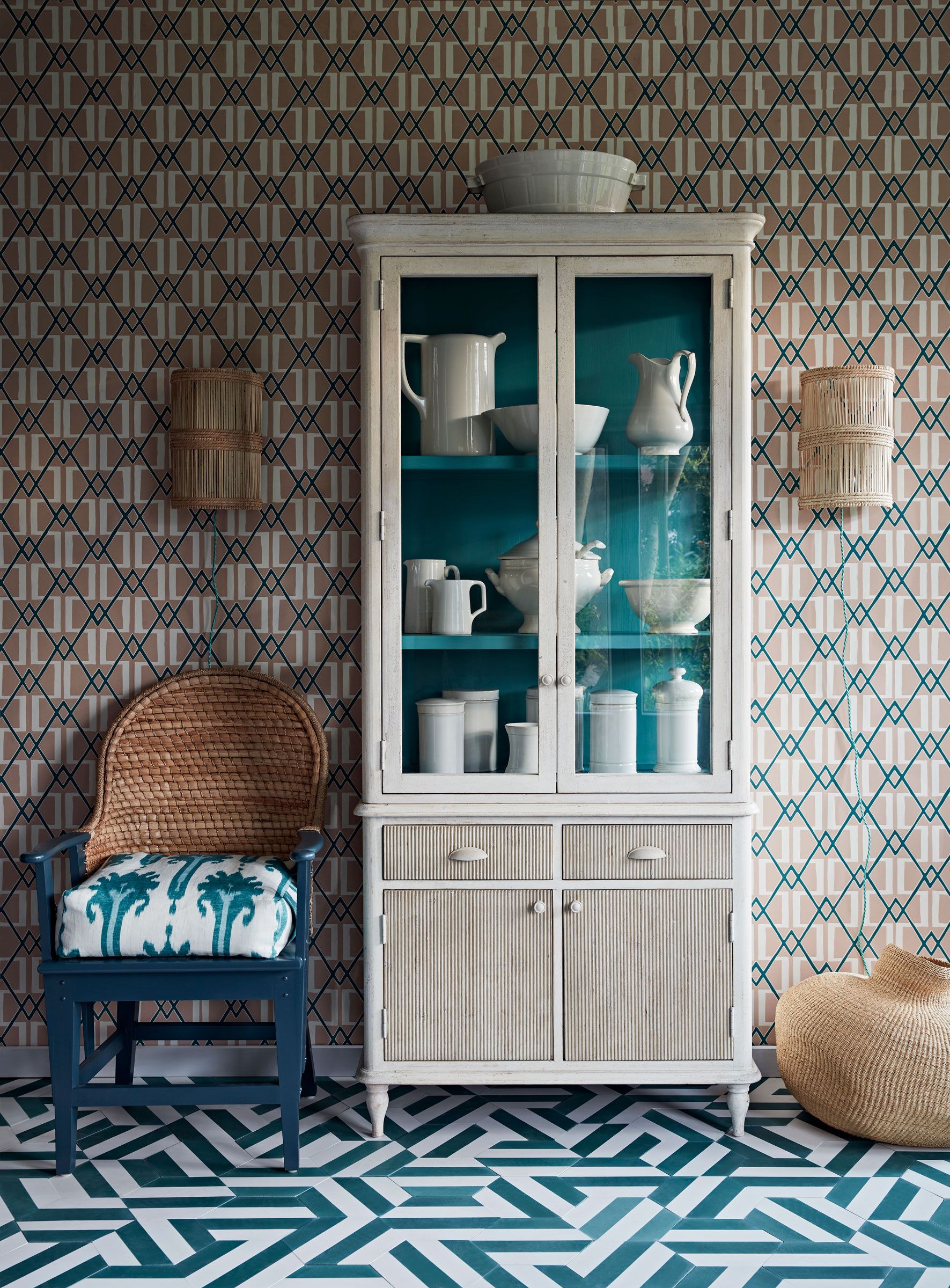 Displaying collectibles over shelves in a glazed cabinet is a lovely way to keep them contained and protected, plus saves on the dusting! Painting the back of a cabinet i a vibrant brilliant way to set off a collection, especially when the pieces a light and have sculptural shapes.
What do you put on shelves to decorate?
When it comes to what to put on your shelves to decorate the options really are endless. 'Think about your finest pottery, vases and ornaments as well as personal items such as photographs, prints and art,' says Emma Deterding, founder and creative director, Kelling Designs. 'The shelving should be filled with items that spark memories that you treasure.'
Books are a must have for many interior designers as they bring a lived in look and are a great starting point for bringing structure to shelves. They can be displayed ina. traditional way or stacked horizontally in piles and used as mini podiums for smaller decorative objects.
Furthermore, 'remember plants and greenery will add life to your shelving, so be sure to include them to bring a sense of the outdoors in and help ground the space,' says Emma Deterding.
Finally, whichever objects you choose, 'when styling shelves, ensure to mix heights and depths of objects,' says Sophie Pringle, creative director, Pringle & Pringle.
'You can own some of the most beautiful pieces, but if you don't style your shelves in an eye-catching way, they can quickly lose any impact they might have had,' she adds.
How do you fill empty shelves?
Are you wondering how to fill empty shelves? Being faced with bare shelves can be daunting, first of all take time to assess the space says Samantha Wilson, interior designer and founder, Collection Noir. 'How many shelves are there and are they at different heights and widths? This is your starting point and will give you the best idea of the potential objects, shapes and sizes you may want to use.'
The next step is gathering all the objects, accessories and personal mementos you may want to feature. 'Try to be creative so you have a variation of sizes, shapes and textures. You may want to include books, boxes, vases, flowers, picture frames, plants and decorative objects to name but a few.' Be sure to select a variety of shapes, textures and sizes to bring rhythm and interest to the display.
From here begin by positioning the larger items such as framed artworks or groups of large books as these will define the structure of the display. 'Start by layering the books on various shelves. If you have a tray, now would be the time to add that too,' says Samantha Wilson.
'Once the large items are in position you can begin layering smaller pieces. Remember, the purpose of your shelf is to display and not to just store, so keep the smaller items to a minimum to avoid cluttering.'
Sign up to the Homes & Gardens newsletter
Decor Ideas. Project Inspiration. Expert Advice. Delivered to your inbox.
Pippa is Content Editor on Homes & Gardens online contributing to Period Living and Country Homes & Interiors print issues. A graduate of Art History and formerly Style Editor at Period Living, she is passionate about architecture, creating decorating content, interior styling and writing about craft and historic homes. She enjoys searching out beautiful images and the latest trends to share with the Homes & Gardens audience. A keen gardener, when she's not writing you'll find her growing flowers on her village allotment for styling projects.