Sideboard decor ideas – 10 buffet styling tips
These chic sideboard decor ideas will show you how to style a chic buffet in your dining room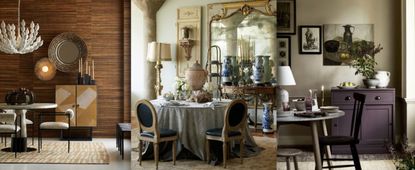 (Image credit: Future)
Sideboard decor ideas can really elevate your entertaining space. As well as offering useful storage space, the sideboard is the perfect spot to display treasures and trinkets, and creates a focal point for artwork and lighting.
If you are gathering dining room ideas, don't just focus on the table – the sideboard really does have a role in your rooms scheme, too.
'Think about how you're going to bring your unique personality into the dining room to help decide how to style a sideboard,' says Ally Dowsing-Reynolds, co-CEO at home décor brand Dowsing & Reynolds.
'Books, art, photos, vases, trinkets, colors and details all provide an opportunity to say something about yourself, and make great talking points at dinner parties.'
Sideboard decor ideas
You can have a lot of fun dressing up your sideboard, and interior experts always relish the job.
'Sideboards are some of our favorite moments to style,' says Studio Ashby. 'Art, lighting, ceramics, beautiful books and trinkets are all chic choices.'
Below, we show you the experts' top sideboard decor ideas to set your dining room apart.
1. Make it pretty yet practical
Your sideboard is the perfect spot for styling decorative objects, but don't forget it can also be used for extra storage. Glazed-fronted sideboards can make for great small dining room ideas – the space will feel less crowded than with solid furniture, plus glass allows you to show off what you're storing – albeit in a chic way.
Louise Wicksteed, Design Director at Sims Hilditch, says: 'We love to use sideboards in dining rooms as this is a great way to use the space. They are perfect for storing crockery, napkins, and cutlery to be used for more formal occasions.'
2. Highlight sideboard decor ideas with lighting
If you are working on lighting a dining room, make space on a sideboard for lamps. This will not only allow you to create soft pools of low light – so welcome in a dining room – but will also illuminate your sideboard decor ideas.
Helen Pett, Design Ambassador at Arteriors London, adds: 'Of course, when entertaining, the additional table space can be used for floral arrangements, beautiful china and glassware and serving platters while still sitting prettily as key part of your décor.'
3. Maximize sideboard decor ideas with a mirror
If you are considering dining room wall ideas that create drama, then an antiqued glass, elaborately framed-mirror is the best find for traditional dining spaces. Plus, decorating with mirrors will double the impact of any sideboard decor ideas you're displaying – especially in smaller or dark spaces. It's a win win.
4. Display art to focus attention on sideboard decor ideas
Art, hung centrally above a sideboard, placed centrally behind a dining table, can create a focal point that frames the entire space.
Whether it's wall-hung or propped on your sideboard, a good general rule of thumb to follow when styling your sideboard is to make the artwork around two-thirds of its width. This gives a visually pleasing proportion while also working to invigorate the space.
5. Employ the overlapping technique
To make your sideboard decor ideas feel curated, don't be afraid for your objects and anchoring pieces to 'overlap'.
Place a lamp slightly in front of your artwork, or let foliage, twigs or flowers spread across the central piece; this will allow the finished look to feel cohesive and interactive, rather than static and flat.
6. Play with height
One of the most important elements of styling sideboard decor is to ensure your display includes objects of varying heights to add interest to the look.
'Playing with heights and layers is essential,' states Jane Rockett of Rockett St George. 'However, this doesn't necessarily mean putting the tallest items in the center of the sideboard. An asymmetrical display looks particularly great when styling a sideboard and allows you to build height and a focal point at just one end.'
Ally at Dowsing Reynolds adds: 'Style an uneven assortment of smaller items alongside tall or oversized items to create height and layers. Piles of books that reflect your interests alongside meaningful sculptures make great focal points.'
If you choose sideboard decor ideas that chime with your dining table decor ideas you will create a neat, coordinated look, too.
7. Group objects in threes
To make sure your sideboard decor ideas don't look higgledy-piggledy, try grouping your objects into threes for a curated finish that's easy on the eye.
The rule of three is a great interior design tip that you can apply to many aspects of your decor scheme, and is certainly the magic number when it comes to styling for a fresh appeal.
'Much like your coffee table or shelves, styling your sideboard decor ideas is an opportunity to be playful and reveal more of your personality within your interior,' says Jane Rockett.
8. Create a tableau
If you're feeling a little overwhelmed at the prospect of styling your sideboard decor ideas, why not create a tableau – which is simply a group of objects that, together, look like they're made for each other?
Just as with coffee table styling, Jane Rockett suggests that 'you shouldn't worry about filling the entire space', while Arteriors' Helen Pett comments: 'We like starting with a nice low-rise sculpted centerpiece and a coffee table book stack for an everyday look.'
You could even simply add a group of candles at varying heights for a stylish and simple look.
9. Add a sculptural piece to anchor your display
Sculptural vases, objets and lamps are a stylish way to make a statement and turn your sideboard decor ideas into an arty showcase that blends form and function – coordinate them to the rest of your scheme and you can pull a larger space together – useful if you are looking for uniting kitchen diner ideas.
'Add ambience and pockets of light with table lamps, and repeat textures, shapes and colors around the room,' suggests Ally Dowsing-Reynolds.
Don't neglect candles as part of your sideboard decor display. Jane Rockett adds: 'For a sideboard in the dining room, candles, candlesticks and vases always look beautiful.'
Louise Wicksteed says: 'When it comes to styling a dining room sideboard, we suggest placing a large candle at either end. Not only does this offer subtle background lighting around the table but also nods to the elegance of the room by providing well thought-out symmetry.'
10. Display your glassware
A sideboard can double up as a drinks cabinet in a dining room, and is ideal for displaying your pretty glassware for after-dinner drinks.
Jane Rockett says: 'A sideboard is the perfect place to curate a mini cocktail bar with a few of your favurite tipples and glassware on display.'
Mix your drinks' display with other pretty artefacts, candles and vases, or an oversized plant for extra wow factor.
How can I decorate my sideboard?
To decorate a sideboard well, there are a few rules to follow that are really useful:
Start with your dining room color scheme, choosing items that reflect the accent shades used within the room – this is particularly useful if you are styling an open-plan kitchen/living room/diner, as it can help to tie the dining zone to the rest of the space.
For a neat look, create a sideboard decor display that's identical at each end – perhaps with matching lamps at either end of the table, and a central vase and picture behind.
Larger items look better than a collection of small trinkets for decorating a sideboard – you want to create impact not dust-collection.
Display fresh flowers, houseplants and convincing faux blooms in a large display that brings organic shape and colors to the space.
Hang art over a sideboard, put wall lights either side or table lamps at each end to draw attention to sideboard decor ideas at night.
What do you put in a sideboard?
Sideboards are really useful for storing everything you might need for dining – from cutlery and china to linen and flatware. You can also usefully store candles, matches, placemats and glassware in a sideboard. When shopping for a sideboard, consider what you will need to store in it – drawers will be more useful for storing candles, cutlery and placemats; cupboards for glassware and china. A combination of both is the most versatile choice.
Ruth Doherty is an experienced digital writer and editor specializing in interiors, travel and lifestyle. With 20 years of writing for national sites under her belt, she's worked for the likes of Livingetc.com, Standard, Ideal Home, Stylist and Marie Claire as well as Homes & Gardens.