Coffee table styling ideas – 10 ways to style a coffee table
These coffee table styling ideas and tips will help you create beautiful, effortless vignettes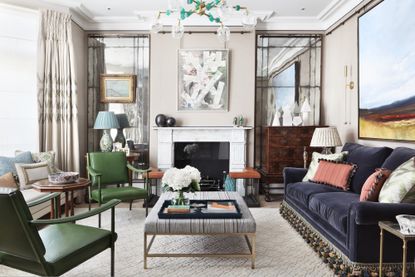 (Image credit: K&H Design)
Coffee table styling is the finishing touch a living room. Often the last piece of furniture to be bought – after seating and storage – coffee tables are often, even unintentionally, the focal point of a living room, so getting the styling just right is a must.
These are the coffee table styling ideas and tips our decorating editors – and key interiors experts – want you to know about. Unsurprisingly, there are some key rules to follow that will ensure your coffee table will look fabulous on top and be functional to boot – adding it to your list of living room ideas will make your space shine.
Coffee table styling – ideas and expert tips
Of course, coffee table styling will have to be able to flex. After all, it might be a space that hosts everything from coffee cups to paperwork. These interior design tips take all this into account.
1. Pare back coffee table styling
It may seem counterintuitive in an article about coffee table styling to tell you not to put too much on a surface, but let's be practical – even the most formal of living rooms, like this beautiful space by Kit Kemp, needs to be functional. This means making any coffee table styling impactful, but leaving plenty of space on the table top for you to put everything on it that you need to during the course of a day.
Plus, as Kit Kemp says, 'It is the surfaces of these generously proportioned coffee tables that make them interesting.' In other words, if your coffee table has a beautiful surface material, you will want to show it off.
Consider incorporating the coffee table book trend for a refined decor option that doesn't take away from the table itself.
2. Use curves to create a contrast
Cortney Bishop's living room styling tips focus on making spaces feel comfortable – and one way to do that is to incorporate a seating plan that centers around a coffee table. Choosing a round coffee table is a clever styling trick – just as with a circular dining table, it encourages sociability in a space.
To boost character, go vintage: 'Vintage is gold. Give the people something to talk about and incorporate something unique that no one else will have,' advises Cortney.
3. Style up a coffee table tray
If your coffee table doubles up as a footstool, as in this room by K&H Design – or if you use it regularly for work and need to spread out paperwork, limiting coffee table styling to a tray that you can easily move on and off is practical – it's a great way to focus the styling at one end or centrally on the coffee table, which boosts its impact.
4. Keep coffee table styling simple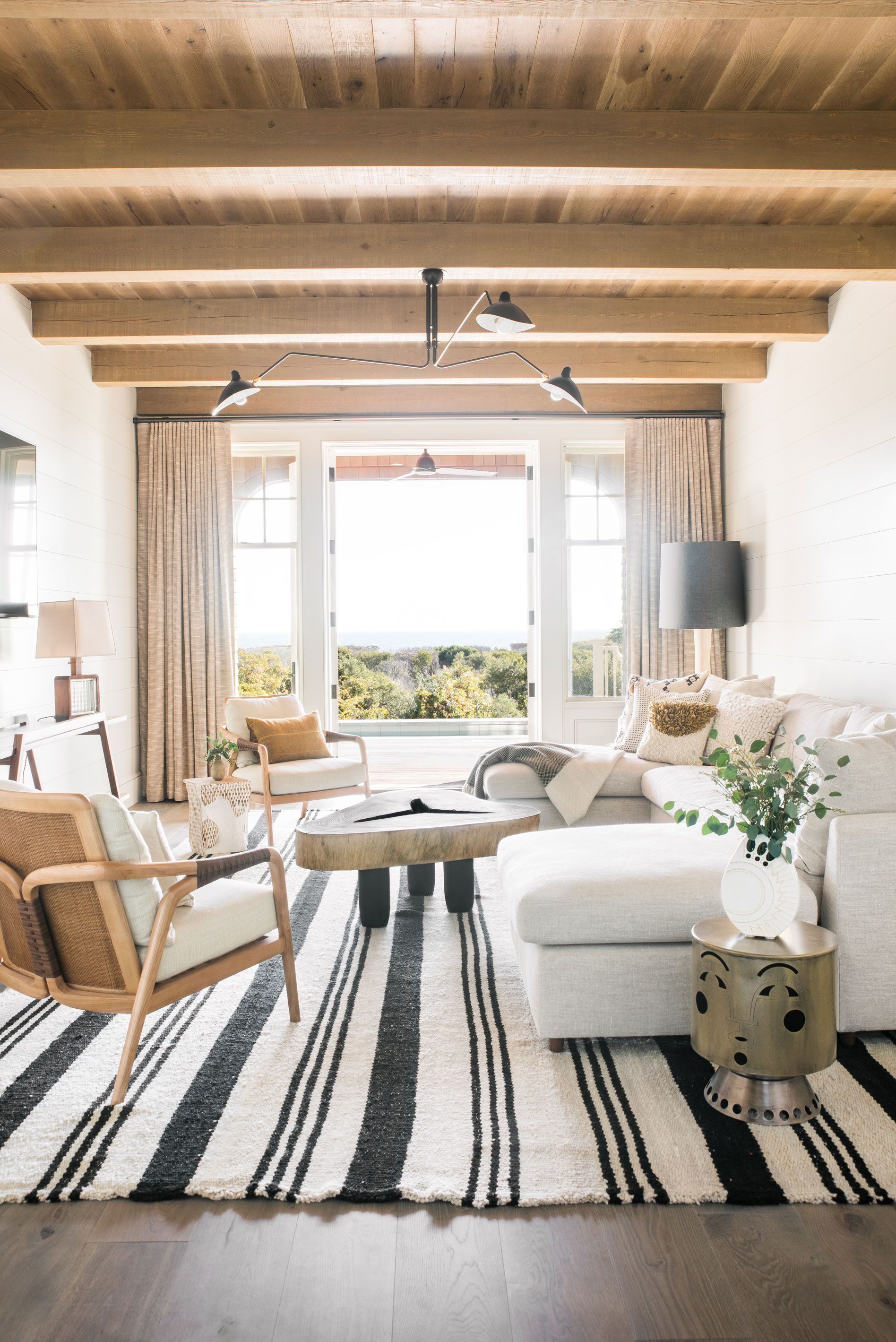 With any room styling, always remember that simplicity is best. We also think better when a coffee table is clutter-free, it helps clear the mind and makes it easier for us to relax.
Use your living room's look or theme to guide or contrast with your coffee table styling – if the feel is busy then keep your table minimalist, or, if the rest of the scheme is pared back in style then use the coffee table to pack a punch – this can still be done on a minimal basis; for example, keep books on a shelf underneath and keepsakes and ornaments on the top, that way you have a clear separation between pieces.
5. Play with levels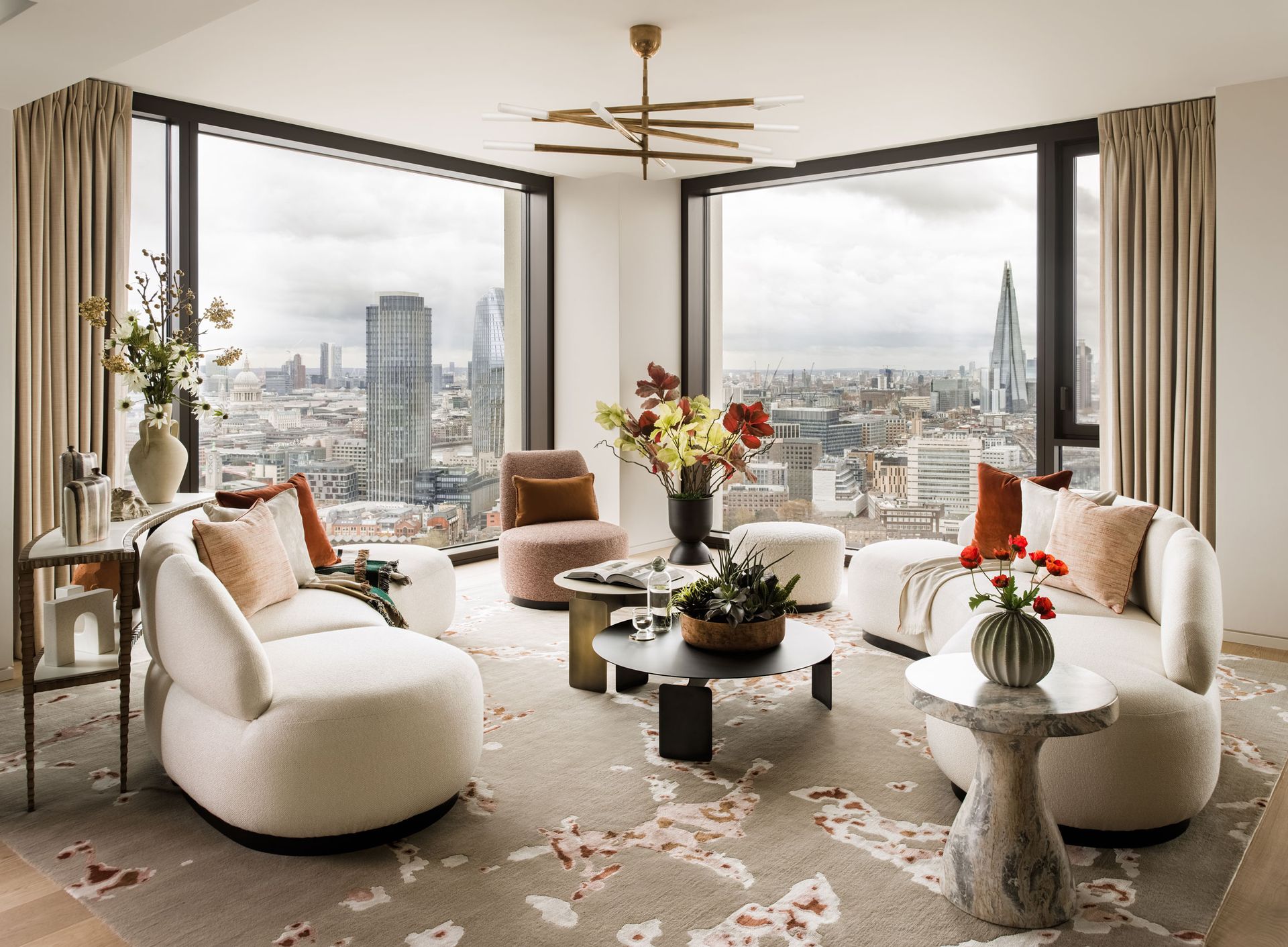 Coffee table styling can help with a room's proportions. So if your living space has low ceilings, it makes sense to pick a coffee table that's purposefully low, too. However, you can boost interest by picking a two-level coffee table design, as in this room designed by Elicyon, where the impact is maximized by a tall floral display on the taller table.
6. Get scale and proportion right
Whether your living room scheme is colorful or oh-so-white, you can still play with scale in interior design on your coffee table. One top tip is to only place pieces on it that won't exceed a third of the height of the actual table, this way you'll get the proportions right. We asked Sue Jones, co-founder and creative director at OKA for her coffee table styling advice:
'This table is so visually interesting that it really doesn't need much styling – just a couple of books or decorative objects do the trick. You don't want to take attention away from the oyster shells underneath the glass top, so stick to the table's palette of neutral colors – we've chosen a pair of curved off-white stoneware vases to add to the organic feel.'
7. Maximize texture and shape
If you love a cohesive scheme then incorporate your coffee table into it seamlessly. Clara Ewart, head of design at London-based interior studio, Kitesgrove explains why:
'Coffee tables work most effectively when they coordinate with the room scheme so they do not appear too dominant within the space. We often choose coffee tables with more neutral tones made from natural materials such as marble and timber. Coffee tables need to be durable as well as providing space for more decorative elements such as books, trays and objets.'
The more minimal you keep the styling in this instance the better – a tray and two different sized bowls that pick up the colors from the cushions and side table are all you need.
8. Use the coffee table to introduce an accent color
We often mention accent color ideas in the form of accessories, but you can also use smaller pieces of furniture in this way too. It's a way of making a style statement and it works particularly well in a modern setting that has a minimalist feel, as Jen and Mar from London based design studio, Interior Fox explain:
'Black finishes work especially well against a neutral background, working as an accent color while acting as an anchor to the overall scheme. From the coffee table taking center stage, through to the lighting and accessories.
'Play around with the height and shape of the items you choose to display, this will help the surface feel more dynamic. Our top tip: keep it simple. Introduce greenery, a favorite scented candle and a small stack of coffee table magazines for a look that feels both stylish and relaxed.'
9. Go for a bold statement
Two coffee table styling tips in one here – starting with the rule of three. Visually divide up your coffee table into three sections, now, you can either place items into each section, or only use two and leave one end free.
Coffee table styling tip number two: have one bold statement piece in one of your sections – this could be a striking vase full of blooms, an ornament or a stack of books, but it needs to be the largest and tallest item. Then, have a smaller display of something else – a stack of books with a paperweight or a scented candle on for example – it's lovely to use something that has meaning or brings back happy memories.
10. Introduce fabric, color and pattern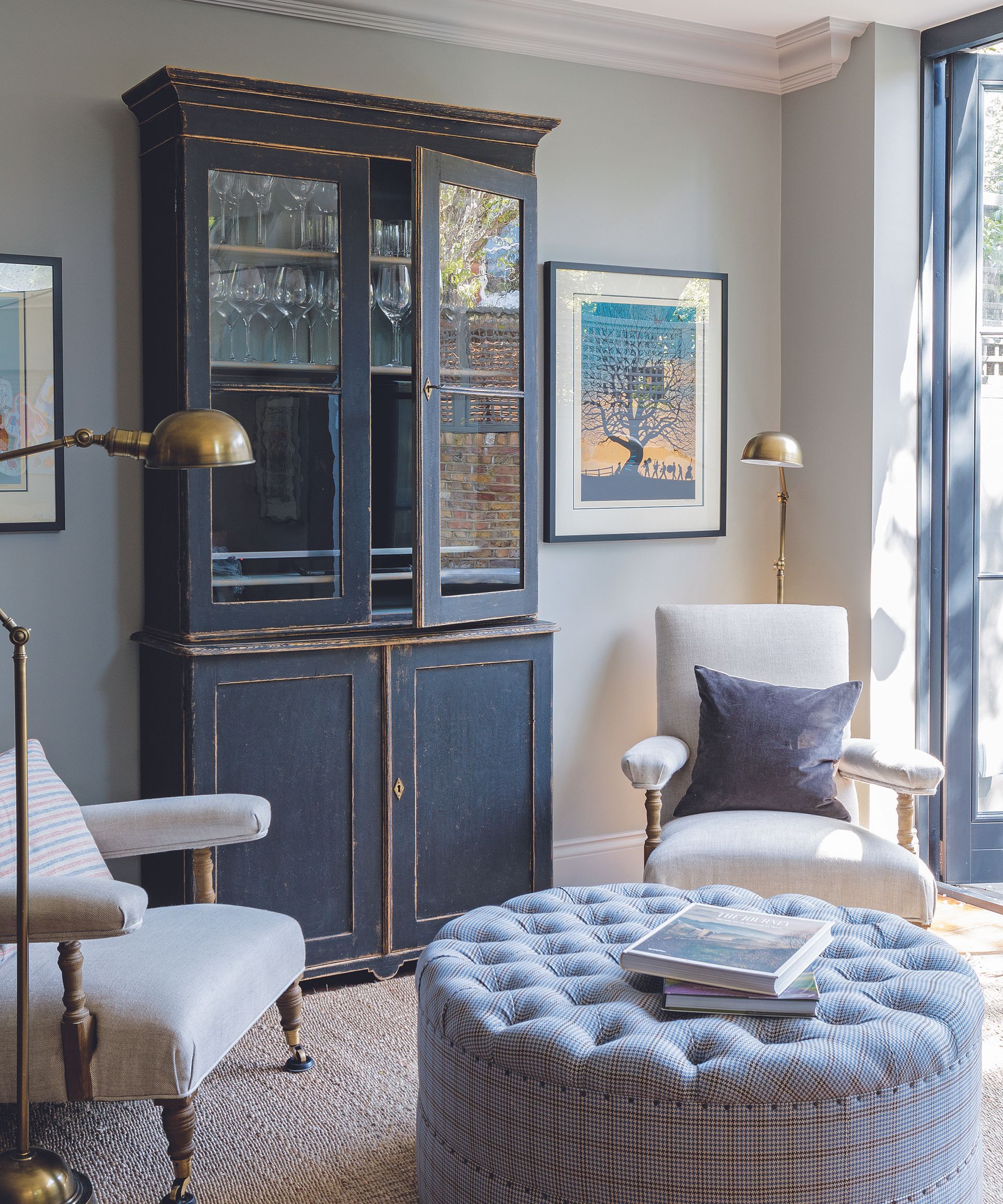 Coffee table styling needn't stop at the pieces you display on top – it can extend to the materials used to make it. This might be a marble top – or perhaps you want to use a footstool to soften a space. Choose a curvaceous shape, a pretty fabric and an unusual texture, such as this buttoned top, and you have an eye-catching centerpiece for your room.
How can I make my coffee table look nice?
'Coffee table styling is the finishing touch a living room,' says Camilla Clarke of interior design agency Albion Nord. She shares her top four tricks when styling a coffee table:
Play with scale, display larger items like big coffee table books, backgammon boards with smaller bowls or books.
Avoid lots of small items that can make a coffee table look cluttered.
However beautiful the arrangement, practicality is very important, make sure there is enough space to put everyday things down like a cup of coffee, reading book or to put your feet up on.
Make sure it feels relaxed and useable rather than staged or untouchable, include pieces that you use and love.
How to style a coffee table with a shelf
How you style a coffee table with a shelf will largely come down to how busy your room is – but, as a general rule, you want to avoid having a very cluttered shelf and top for your coffee table as it will make your living room feel messy. Instead, opt to keep clutter below the table top on the shelf, and keep a neat grouping of items on the top.
How to style a round coffee table
Styling a round coffee table is a little trickier than styling a square or rectangular coffee table. One way to do so is by placing the items you want to display on a tray – round or square – and placing those on to the center of the coffee table. Another is to group three items into a triangle – often called the 'stylist's triangle'. Pick on taller item, one smaller item and one that sits around the middle of the two in height. This will help create a natural arrangement.
What is the number 1 coffee maker?
The best coffee maker, according to our team of reviewers, is the Breville BES990BSS The Oracle Touch.
Sophie has been an interior stylist and journalist for over 20 years and has worked for many of the main interior magazines during that time, both in-house and as a freelancer. On the side, as well as being the News Editor for indie magazine, 91, she trained to be a florist in 2019 and launched The Prettiest Posy where she curates beautiful flowers for modern weddings and events. For H&G, she writes features about interior design – and is known for having an eye for a beautiful room.