How to be happier at home – 10 mood-boosting interior design ideas
Discover how to be happier at home with these stimulating tips from the experts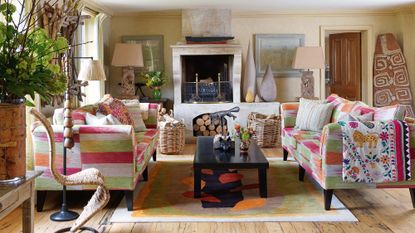 (Image credit: Kit Kemp / Simon Brown)
Being happier at home has never been more important. With many of us spending more time in our homes than ever before it's essential that they are places that make us feel good.
Studies have found that our surroundings can have a huge effect on how we think and feel so it is important to make our living spaces and interior design choices conducive to positive thinking.
How to be happier at home – 10 easy steps
'If you want positive personal change of any sort, you must first address your environment,' says Michelle Ogundehin in her book Happy Inside. 'We all need homes that support, rather than undermine, our wellbeing.'
In a world that seems to be spinning faster than ever, it's more important than ever to have safe spaces to relax in. 'For all our advanced technology and supposed sophistication, we are at heart primal, emotional beings, which means that to feel centred, healthy and happy, we also need to feel safe, secure and protected. It is therefore increasingly essential that our homes support us, as nurturing, sensory, tactile retreats, not so much as insulation from contemporary life, but strengthening us, body and soul, to deal with it.'
But having a happy home won't just have a positive effect on your own wellbeing, a happy home can also nurture and support happy and fulfilling relationships and, through the materials, home ideas and interior design trends you chose, you can also play a role in caring for the planet.
1. Embrace mood-boosting colors for a happy home
Cheerful, mood-boosting colors will bring an optimism and energy to any space, but are particularly suited to busy everyday spaces such as kitchens, living rooms and hallways.
'With more of us spending an increased amount of time at home, our homes are becoming spaces to relax and retreat, but also a place where we want to surround ourselves with joy, colors and patterns that make us happy,' says Ruth Mottershead, creative director of Little Greene.
While the popularity of the color has been revived in recent times, the hue itself isn't new – the color yellow is one of the oldest shades in history, dating back to ancient Egypt. 'Yellow room ideas provide positivity to a space. It is a color that makes us feel uplifted, happy, energized and invited.'
'Yellow paint colors have an inherent brightness, freshness and warmth that makes them an ever-popular color to use around the home, creating a feeling of warmth and coziness, it is sunshine in your home.
2. Create multi-functional spaces
The past few years has highlighted the need for our homes to be increasingly versatile and multifunctional. Whether it's for working, entertaining or relaxing – the home needs to be a place that can satisfy the multiple needs of everyone who lives in them.
Open plan kitchen ideas and living spaces that have been cleverly zoned with islands and moveable furniture – as well as the addition of multifunctional furniture – can all play a part in making our spaces work harder for the family.
'From an interior design angle, open-plan spaces allow you to unify the details, textures and materials across the entire room to achieve really impressive results,' says Jamee Kong of DesignSpace London.
3. Bring the outside in – and improve sleep
Mental health is a big topic of discussion at the moment and it's important to take time for self-care. An easy way to improve your mood and help reduce anxiety is to fill your home with plants. Plus, indoor gardening is a mindful activity which can help you de-stress at home, especially while the garden is in its winter slumber.
Not getting enough sleep can have a huge impact on many aspects of life, from our health to our work abilities to our social lives. Whether you struggle to drift off or are easily disturbed in the night, keeping a potted Aloe Vera plant beside your bed could help you see the night through, as it produces oxygen at night to combat insomnia and improve overall sleep quality.
4. Introduce handcrafted elements
Choosing handcrafted furniture, fabrics and accessories can make a real difference to the feel of your home. With a charm inimitable by factory produced items, pieces crafted by hand can help bring character and a unique feel to space. Loved for her happy, stylish interiors, Kit Kemp is a big advocate of decorating with handcrafted pieces.
'I like to think small, I don't like to think big. I like to talk to craftspeople as much as anything else. If you make a basket and you make the same design 10 times it comes out in 10 different ways. It's never the same twice and I love that individuality of craftsmanship,' she says.
5. Create a memory wall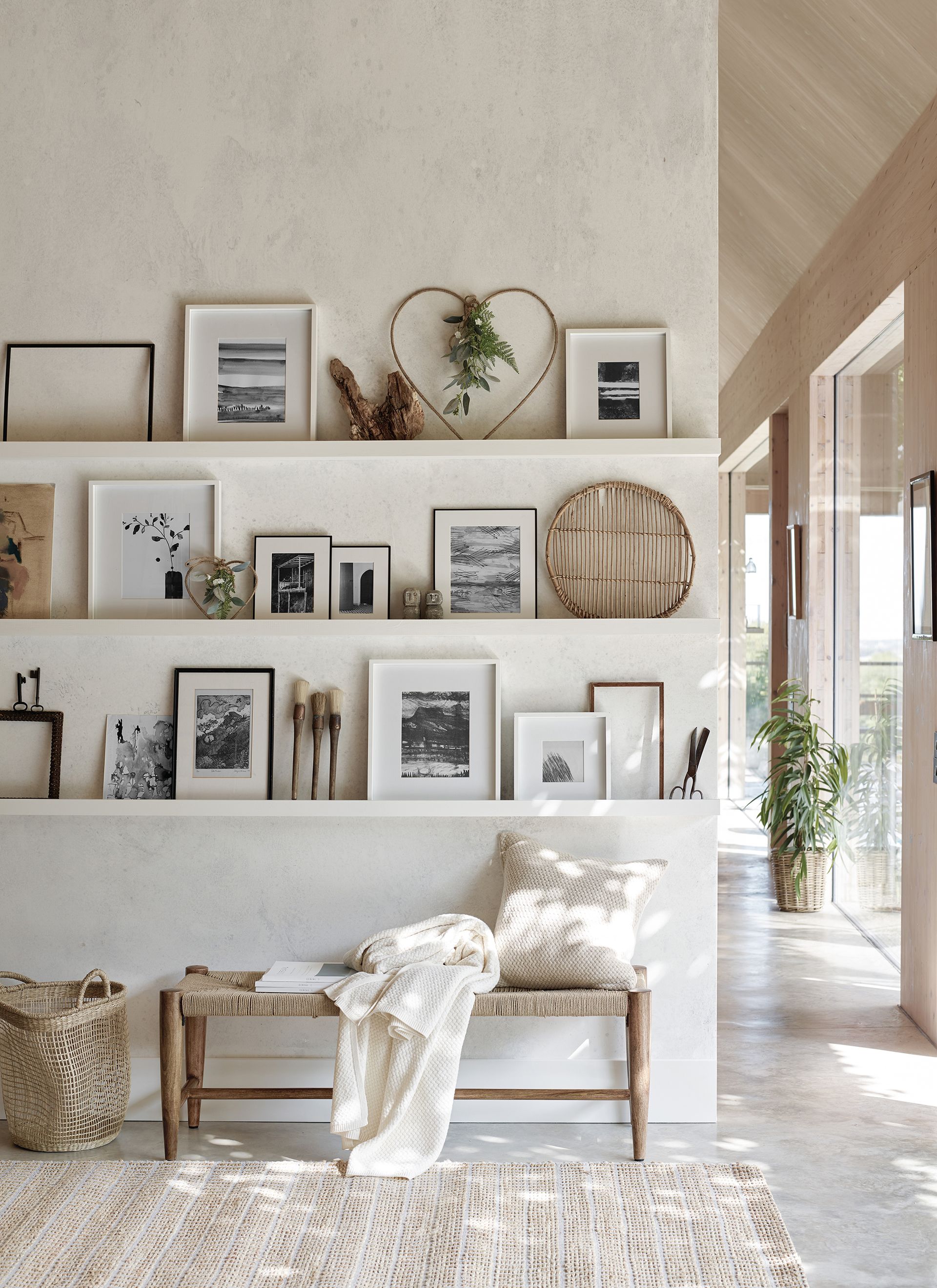 One important way to make a happier home is to fill it with items that conjure happy memories. From modern artwork and intricate wallpaper to decorative decals and treasured plate collections, it's clear that you should let your walls do the talking.
'A memory wall is a lovely way to display pictures or special photos,' says Chrissie Rucker, founder of The White Company. 'When deciding what to put on a memory or feature wall, my instinct is to be drawn to what reflects the place, people and their distinctiveness.'
6. Make it entirely personal
Stamping your personal style on a space is a guaranteed way to make you happy. You could try painting woodwork in bespoke patterns to spark joy at every turn, as block-printer and designer Molly Mahon has done in her home.
'I think it's good not to worry too much,' she says of her relaxed approach to decorating. 'My fireplace was a huge, heavy grey stone surround that I found terribly dreary, eventually after a year or so of looking at it – I painted it to reflect my personality. The color and design has really lifted this fireplace.'
7. Choose eco-friendly paints
While good lighting, layout and furniture ideas are all key factors in creating a happier home, it's important not to overlook the decorating materials, particularly paint ideas, as these can have a big impact on your health and the environment.
'Choosing the right eco-friendly paint is just one way you can minimize the impact of your home on the environment – and your health – whilst at the same time creating beautiful rooms and adding your personal style,' says Cathryn Sanders, head of creative at Earthborn paints.
'Many conventional paints and household products including cleaning products, carpets contain harmful chemicals, which are released into the environment. These are called Volatile Organic Compounds (VOCs), some of which contribute to either long-term or short-term health issues. It is therefore important to minimize exposure by opting for eco-friendly alternatives. '
8. Cut through the clutter with plenty of storage
The benefits of a decluttered space for health and wellbeing is well documented, and one popular way of doing this in the kitchen with a concealed kitchen larder. Getting a brilliant system in place will also mean that everything is always to hand so that you – and those members of the family who can never find what's in front of their noses – can access what you need swiftly.
In order to sort everything, you first need to clear it all out to see what you're working with. 'Kitchen pantries are becoming more and more important, with healthy living vital to our everyday life and organization crucial to keeping our minds clear,' says Ella Jade, Co-founder of ROOBBA.
9. Choose multi-functional furniture
These days our homes need to be more versatile than ever. Choosing flexible furniture is a great way to get the most out of every inch of your home.
Embracing small dining room ideas means a compact room needn't be a barrier to creating a mood-boosting dining area.
It's so much easier for small spaces to feel dark and dreary, so if you're dealing with a diminutive dining room, banish the shadows by keeping things light. If you're seriously renovating, consider getting as much light in as possible by installing the largest windows you can. It is a guaranteed mood-booster.
With any dining room, there's a good chance you won't need it to serve at its full capacity for every meal time. Opting for an extendable table means you can use it at its smaller size for day-to-day meals, and make it longer when entertaining guests.
10. Create a cozy mood with ambient lighting
Getting your lighting ideas right is crucial to making your space feel welcoming, relaxing and atmospheric from day into night. Factoring in plenty of soft, warm lighting will help set the mood for relaxation.
The best lighting schemes can are often use to highlight architectural features, provide dramatic decorative effects, create illusions of space and define zones in open plan areas. In fact, lighting is one of the most useful design tools that can be used to enhance your home.
Lighting creates mood, and it needs to be versatile so that it works on a dull day just as well as it does for an evening party. Therefore, 'adding dimmers to each light is the best way to create a gentle atmosphere whilst still allowing for the practicality of great task lighting when required,' explains Sheena Lawrence, co-founder of Jim Lawrence.
How can I make my home happier?
There are many ways to be happier at home from looking at the fundamentals, like architecture layout and lighting ideas to interior design, right through to the items we fill our homes with and how we display them. We asked the experts for their advice on how to be happier at home:
Harness the power of color
'Without a doubt, the color of your space will affect your mood and influence how you feel. Choose colors that make you happy, inspiring drive and creativity, allowing you to stay positive,' says Helen of Benjamin Moore.
'Colors that help us feel close to nature are a perfect choice for forming an atmosphere that soothes the mind whilst encouraging creativity. Soft, muted hues such as dusky lilac or sage green are tranquil in nature whilst also having a connection to botanicals and nature that help relax our brains and entice creative thinking.'
De-clutter, de-clutter, de-clutter
Another key consideration that comes up over and over again when speaking with interior designers and stylists alike is the power of good storage ideas on the mindset. 'Clutter is the arch-enemy of the restful home,' says Michelle Ogundehin.
'A calm home is an organized home – and this makes such a difference to how we feel,' says Chrissie Rucker founder of The White Company .
'Beautiful, calm spaces need to be tidy and clutter free and for this we need well organised cupboards and for everything we own, to have its place. It's important to de-clutter regularly, re-home things we don't love or use regularly and throw out anything that's broken.'
Fill your home with things you love
Lastly, but by no means least be confident and decorate in a way that reflects your personality and passions.
'Decorate in the moment; if you find something you love make a place for it, you never know what's around the corner and the main thing is to make your home as joyful as you can,' says Molly Mahon.
How can I make my house more cheerful?
There are many ways to instantly make your home feel more cheerful, even on a relatively small budget. For instance, the use of color will have a distinctive impact on the look and feel of a space. Painting your home in a mood-boosting color palette is a simple and easy update.
'The colors you choose to surround yourself with are key to determining how a space will make you feel. We detect the effects of color even when it's a subtle neutral or used as a backdrop for other furnishings and textiles,' says Ruth Mottershead of Little Greene. 'Paint colors have a dramatic impact on the atmosphere of a space, with warm and cooler colors evoking very different moods.'
Sign up to the Homes & Gardens newsletter
Decor Ideas. Project Inspiration. Expert Advice. Delivered to your inbox.
Pippa is Content Editor on Homes & Gardens online contributing to Period Living and Country Homes & Interiors print issues. A graduate of Art History and formerly Style Editor at Period Living, she is passionate about architecture, creating decorating content, interior styling and writing about craft and historic homes. She enjoys searching out beautiful images and the latest trends to share with the Homes & Gardens audience. A keen gardener, when she's not writing you'll find her growing flowers on her village allotment for styling projects.