Yellow room ideas – 28 guaranteed ways to turn up the heat
Warm colors bring joy to decorative spaces. Be inspired by these sunny shades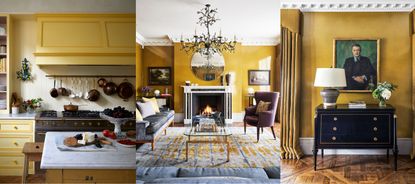 (Image credit: Future)
Sign up to the Homes & Gardens newsletter
Decor Ideas. Project Inspiration. Expert Advice. Delivered to your inbox.
Thank you for signing up to Homes & Gardens. You will receive a verification email shortly.
There was a problem. Please refresh the page and try again.
If you love the thought of yellow room ideas, but haven't had the courage to decorate in this sunny palette, these inspiring schemes may well convince you. Warm colors are having something of a revival, so perhaps now is the time to decorate 'sunny side up'.
From yellow living rooms to mudrooms in this exuberant color, these rooms all have something in common, however much yellow they have in them: they are warm and welcoming.
While the popularity of decorating with yellow has been revived in recent times, the hue itself isn't new – the color yellow is one of the oldest shades in history.
Farrow & Ball's color consultant Joa Studholme notes that we are embracing stronger shades when decorating our homes. These include the range of hues from reds and pinks to oranges and yellows found on the warm half of the color wheel. Much research has been done into how colors affect our mood. Yellow inspires optimism, creating a summery feel; team it with charcoal and black for modern look.
Below is our selection of favorite yellow room ideas for inspiration.
Yellow room ideas
While yellow room ideas may appeal, you can of course decorate with yellow in a more subtle way, through accent colors. In all of its forms, yellow has been declared one of the best colors to make a room feel happy by paint experts.
'Current trends show a real shift towards brighter colors with a clean-cut finish,' says Sue Kim, senior color designer at Valspar. 'When choosing room color ideas, don't forget to look beyond the walls – consider the ceiling, skirting, window frames and mouldings and how they can be brought into the scheme.'
1. Layer yellow for a welcoming entryway
Yellow room ideas are wonderful if you are looking for entryway color ideas, but consider muted tones that won't overwhelm what is a busy, sometimes cluttered space.
'Quince is a particularly versatile and adaptable shade, finding natural matches with all manner of contrasting shades. It's also just as happy to exist in harmony with other bold yellow tones, such as Saffron and Olive,' says Rebecca Elderfield, Product and Services Director at Neptune. See our collection of yellow hallway ideas for more inspiration.
2. Reverse a classic yellow and blue combination
'Yellow and blue is a classic color combination for rooms,' says Lucy Searle, Editor in Chief of Homes & Gardens. 'While it is often used in pastel shades and in floral designs to create a traditional, pretty finish that can't be beaten, it can also be used in strong pairings to create a more contemporary feel. I'm intrigued by the spaces above, where a contemporary blue and yellow mix is reversed from one room to the next.'
3. Hang subtly patterned yellow wallpaper in hallways
For a more traditional finish for a hallway or entryway, choose a subtly patterned yellow wallpaper for your walls. And, if you are looking for yellow room ideas that have an old world appeal, combine yellow with warm or dark-toned woods in antique furniture, as in this space by Henriette von Stockhausen of VSP Interiors.
'I find that antiques have a timeless quality that is difficult to achieve with most modern pieces, and the depth that they give to a scheme provide unparalleled comfort. However, often it is the juxtaposition of old and new that creates that certain special energy,' says Henriette.
4. Pick a beige-yellow for an elegant living room
'Rooms such as home libraries where you like to linger deserve the more leisurely touch when it comes to color choices, so having a shade which is measured and easy going offers calm and contented vibes,' says stylist and art director Sara Bird. 'Go for mid-tone yellows that offer warm and uplifting notes throughout the day and that mature with age come night-time.'
'We recently painted our sitting room in Pollen by Atelier Ellis, using the same color across the ceiling, woodwork and walls. The room is drenched in this muted, earthy yellow making it warm and inviting without feeling overbearing,' says Lou Graham, Co-Owner of Graham & Green.
5. Combine yellow and green in the new muted shades
'Yellow room ideas' needn't mean all over yellow. You can use tones of mustard yellow in your home to provide a clever mix of brightness and warmth. Fantastic mixed with beige-pink walls, warm wood furniture, this earthy shade looks great with an additional contrast color such as green. In fact, next to yellow and blue, yellow and green room ideas are amongst the most popular pairings.
6. Add zingy yellows as surprising accents
Add a pinch of the unexpected. Be brave enough to introduce a bold element of surprise – sometimes the successful use of yellow relies on less, not more.
Decorator Suzy Hoodless used this technique with her own yellow living room ideas, where she painted the architrave between the library and sitting room in a near neon yellow to create definition between the two spaces.
'A powerful shock of a bold or unexpected hue instantly saves a space from being too polite,' says Suzy. 'I particularly like to paint woodwork in an unexpected color, together with quieter tones and lively patterns on cushions or upholstery, it results in things that perhaps shouldn't really go together but somehow they do.'
7. Give a classic yellow room idea a contemporary twist
This deep yellow is a classic choice for an elegant living room, but you can give a traditional living room a more modern appeal by choosing a gloss finish for your wallpaper.
Teaming the yellow with grey tempers the bold wall color, while the addition of a mulberry accent color adds balance and a hit of drama.
8. Add yellow in details
If yellow room ideas are appealing but you want to add this sunny shade in splashes rather than swathes, one way to do so is with accessories. Just as interior designer Suzy Hoodless painted the entrance to her living room in a citrus yellow, here, interior stylist and art director Kate French added a touch of yellow in woodwork and accessories. 'There's something alluring about a room that's bursting with color,' she says. 'Draw attention to an architectural detail by painting it yellow, a perfect way to break up the pattern.'
9. Choose yellow for a stand-out contemporary kitchen
Grey is the versatile and much-loved neutral and teamed with soft camomile and primrose yellows can create a gentle but energizing feel to a room that works with any style. Here, citrus hues draw to eye and add a bright summery lift, while an intricate white and grey marble backsplash gives this room a gentle exoticism.
10. Add yellow to brighten up a pantry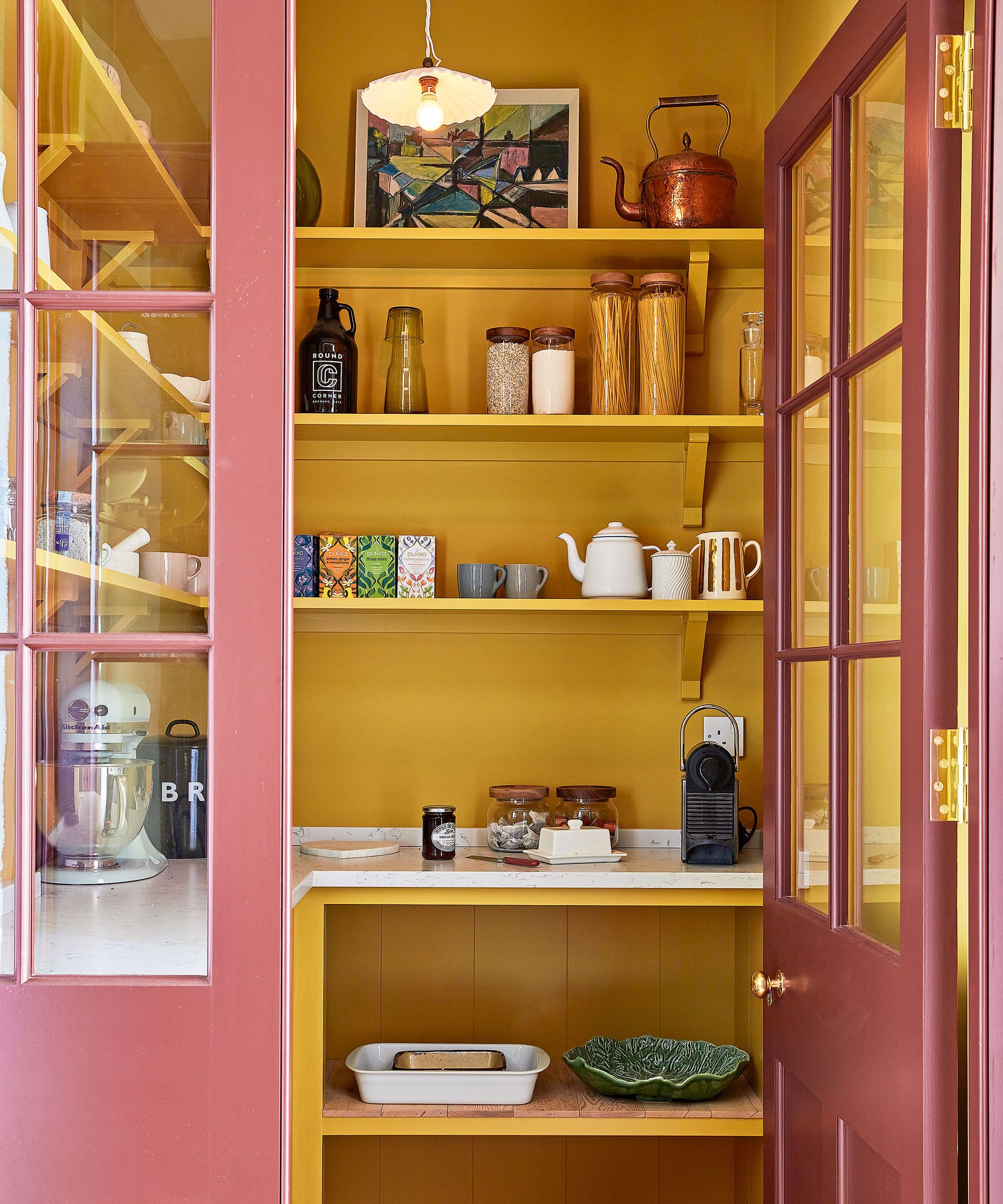 Rich turmeric has a Seventies feel and pairs beautifully with warm woods or jewel shades, and are perfect for pantry ideas, which can, of course, be much more exuberant than your kitchen color ideas.
'Ochre hues are ideal for adding a burst of intense golden warmth. A palette of rich mustard with deeper shades creates a well balanced look,' says Laura O'Connell, product manager, Thomas Sanderson.
11. Pick cooler yellows for a traditional feel
This beautiful three-toned yellow kitchen belongs to cook and author Skye McAlpine and is a masterclass in how to get this color right in more traditional spaces. Inspired by the 1950s kitchen in the house Skye and her husband rent in Venice, the city where Skye grew up and returns to regularly, it shows how even hard surfaces like kitchen cabinets can combine comfort with patina.
12. Choose monotone yellow room ideas for guest rooms
If you are looking for yellow bedroom ideas, remember that they are perfect for creating warmth in cool spaces. With this classic scheme in superb sunshine yellows, interior designer Veere Grenney provides a masterclass on how to brighten a north-facing room. It features wallpaper, bed curtains and valances in Belvedere in Straw, with curtains in Verandah, also in Straw, both from the designer's collections.
13. Embrace a bright yellow for a dark bedroom
Lighter yellow room ideas are wonderful for enhancing a space, making it feel bigger and brighter.
'I love all colors. When you open the door, even if the room isn't filled with sunlight, color can alter your mood dramatically and that should never be underestimated. Sunshine isn't always a guarantee, so I like to add a touch of yellow to brighten up our schemes,' says Kit Kemp, co-founder, Firmdale Hotels.
14. Let yellow dominate darker schemes
Despite yellow in this dark blue bedroom only appearing in as an accent shade, it is the dominant color in the scheme, showing its power. The effect of this splash of vibrant color would be less effective if the ceiling were painted white; instead, its punchy nature is maximized by the room's cocooning color scheme.
15. Choose yellow for cheery kids' rooms
While yellow is a natural choice for kids' room ideas, it's worth bearing in mind that it is an energizing shade that inspires activity rather than rest.
However, its space-enhancing, neutral tones shouldn't be ignored, especially in shared bedrooms, which make a great choice. For success, choose buttery tones rather than zingy ones, and take down the lively-levels with a hit of darker colors, such as navy. In combination, these colors are a dream.
16. Balance yellow in a bathroom with monochromes
Symbolizing energy and optimism, yellow bathroom ideas are becoming more popular, both in sanitaryware, tiles and, more traditionally, wall colors. Muted yellows with a hint of grey in them will give you an elegant finish that is ideal for a grown-up bathroom; you may want to leave brighter yellows for family or kids' bathrooms.
17. Give large bathrooms a hit of yellow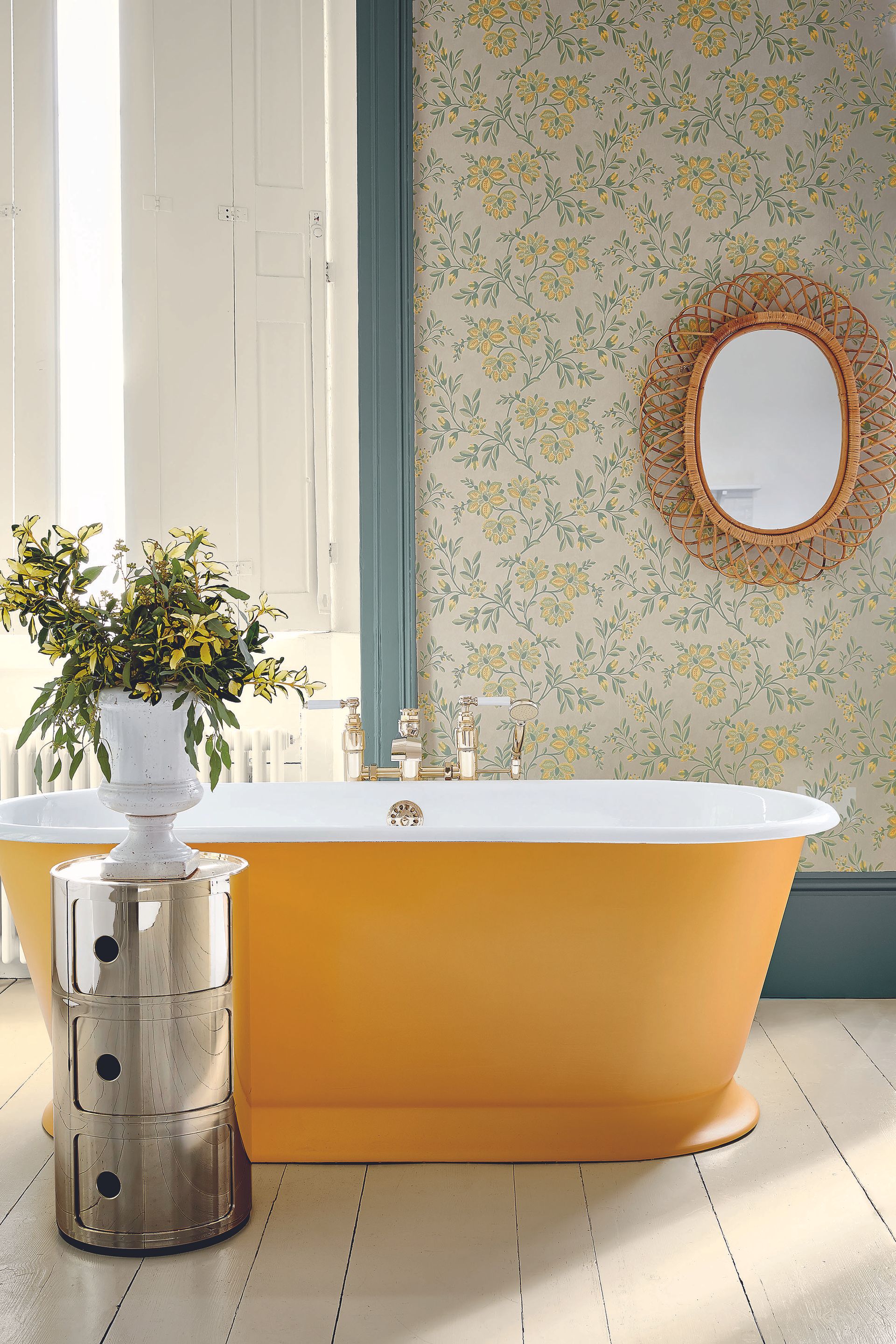 In large bathrooms, bright yellow does have a place, and we are seeing boldly colored sanitaryware becoming more popular as we embrace bright colors in unexpected places more readily.
'You can paint the exterior of some baths to suit your scheme,' advises Jennifer Ebert, digital editor of Homes & Gardens. 'However, if you want a safer yellow room ideas, brightly colored towels can give you that much-needed hit of color.'
18. Brighten up a powder room with yellow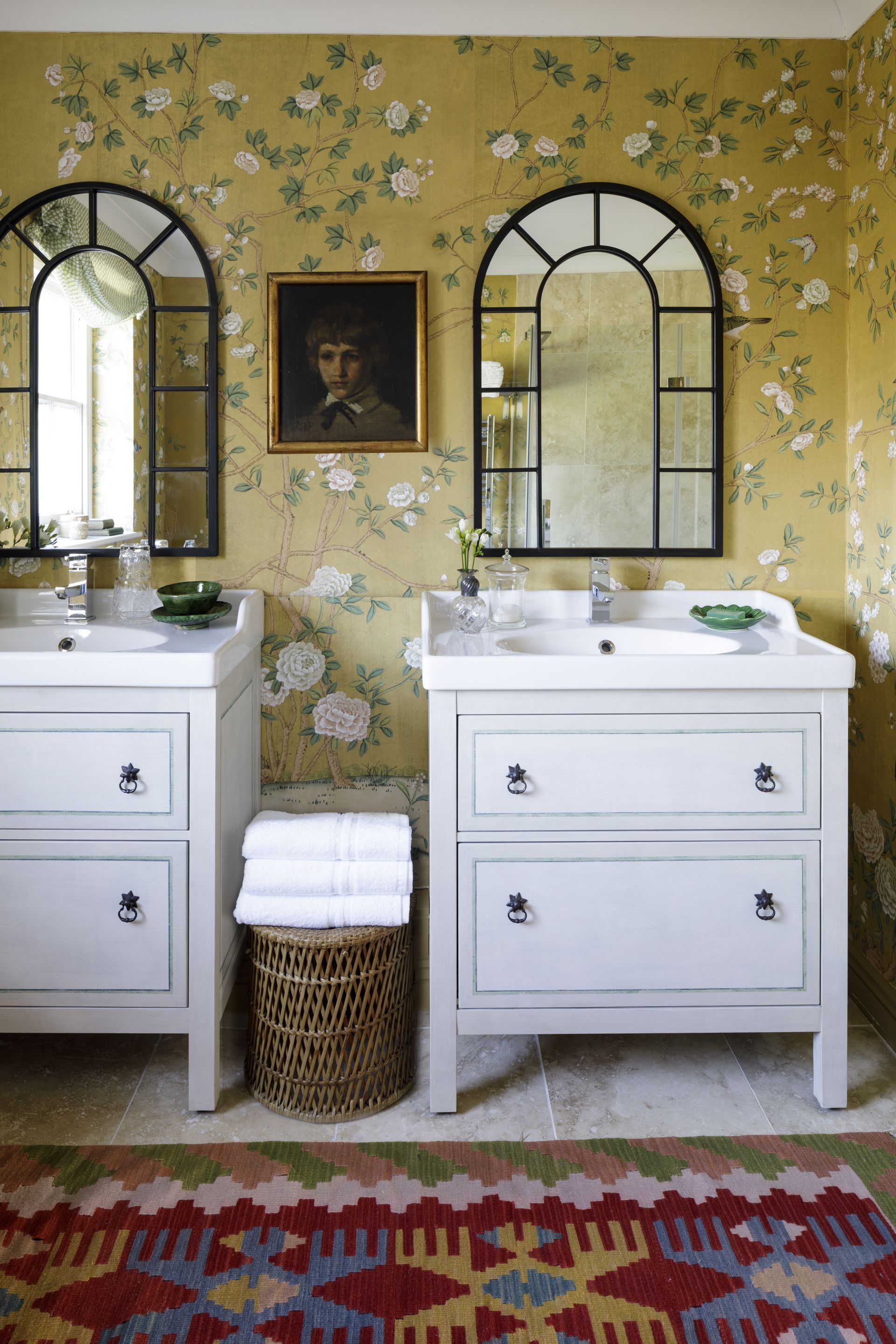 Powder room ideas can be bolder and more adventurous than in just about any other space in your home. In fact, we think brightly colored powder room wall decor is de rigueur. This is certainly the place to indulge in yellow room ideas, and we love this elegant approach by interior designer Henriette von Stockhausen.
19. Put yellow on a ceiling to make a small space sunny
In a really small space, adventurous ceiling ideas can make a room that's limited on decorating choices feel really special.
'The fifth wall is a great way to add layering and a three-dimensional aspect to the design of a space, says Elnaz Namaki, creative director, Elnaz Namaki Studio.
20. Bring yellow into a laundry room or mudroom
Looking for fun laundry room ideas or mudroom ideas? A splash of bold yellow can make all the difference.
'Don't shy away from color or pattern in your laundry room, if anything, this is one place to really embrace it,' says interior designer Kathleen Walsh.
21. Bring zest to a utility room
Yellow is a colour that induces creativity. What better place to use it in its brightest, zingiest form than a flower or utility room? Interior design team Salvesen Graham created this joyous space, which is painted in Little Greene's Mister David Intelligent matt emulsion, with open scalloped shelves to soften the utilitarian nature of the room.
The finishing touch is the pretty, skirted storage, fashioned from a repurposed bed hanging sewn with white linen tea towels.
21. Balance summery yellows with patterned fabrics
Yellow walls are the perfect choice for an all-year-round living room scheme. Achieve seasonal balance by ensuring that the colors of contrasting upholstery, furnishings and flooring work for both halves of the year.
Include natural textured flooring, fabrics in summery neutrals and stripes with weaves in ochres, burgundy and olive hues. This bench has been upholstered in Knole in Tapestry from Madeaux, with a cushion in its Berber Stripe in Saffron. The walls are in Little Greene's Mister David.
22. Paint a bookshelf in yellow
Yellow walls can be a bold statement, for a more subtle approach to decorating with yellow consider limiting the shade to furniture and woodwork.
'If yellow walls might be too much for you, introduce it into smaller areas such as kitchen cabinetry, window and door woodwork, the inside of a wardrobe or by painting a favourite piece of furniture, ' says Dominic Myland, owner of Mylands Paints.
23. Introduce yellow accents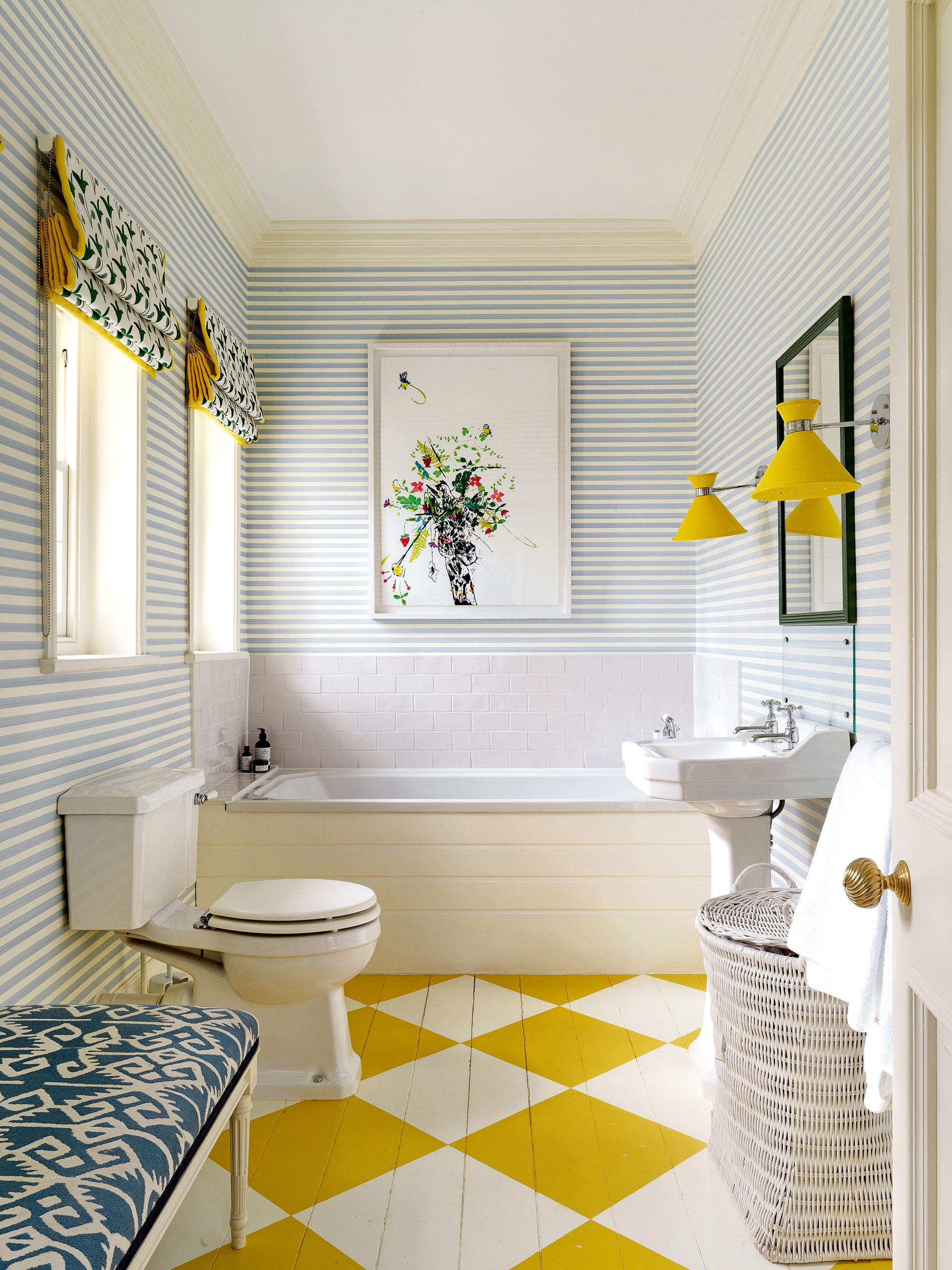 Playful scale and pattern are at the heart of this uplifting bathroom design by Salvesen Graham.
A yellow palette is used judiciously lining a pair of Roman blinds, with a pair of mid-century wall lights and a statement chequerboard paint-effect floor with wallpaper in Closet Stripe by Farrow & Ball.
24. Paint a kitchen island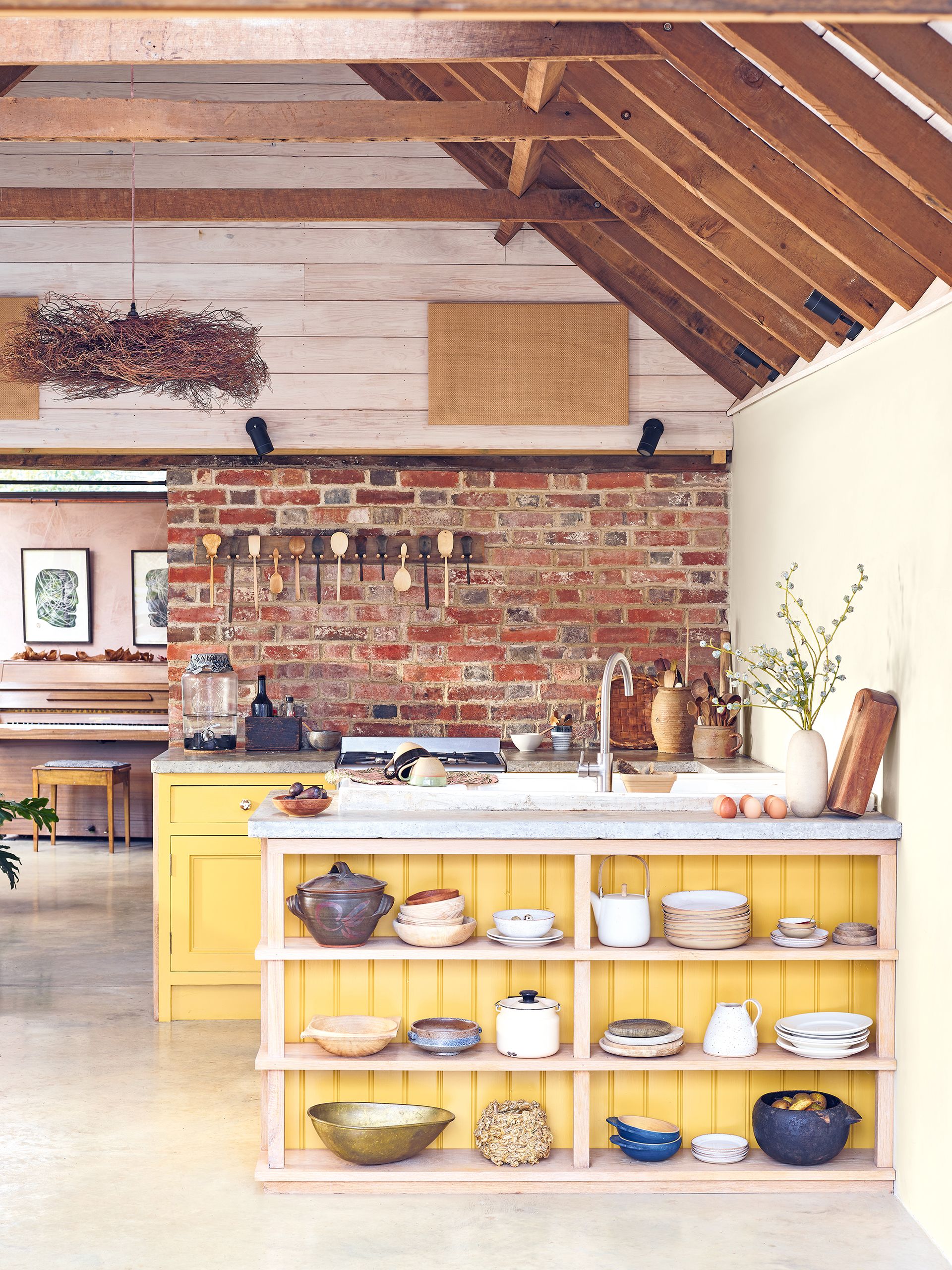 Painting a kitchen island yellow is a quick and easy way to breathe new life into a kitchen which will bring an uplifting pop of color without dominating the space.
This sunflower paint from Sanderson is part of a collection that has been developed by Morris & Co to complement its iconic prints. A gently sunny hue, it contrasts beautifully with the grain of the period panelling, textured brick and warm oak beams.
25. Create a serene living space with ditsy florals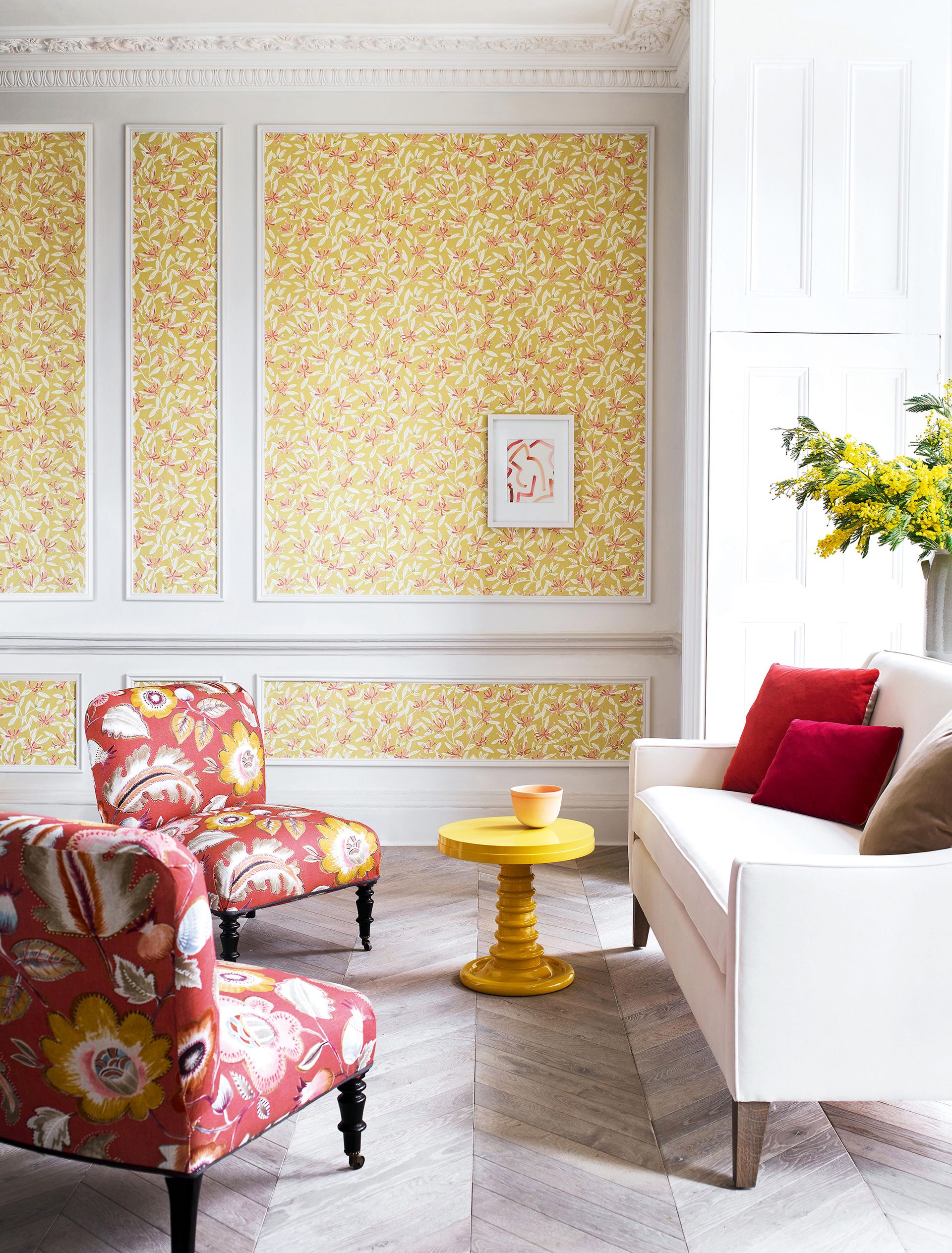 Yellow wallpapers in small-scale floral prints are a fabulous way to bring a feeling of serenity and happiness to living rooms. Featuring a delicate honeysuckle design in a golden hue, this Nerissa paper by Jane Churchill brings the beauty of nature and a summer glow into the space.
Keep the look light with white woodwork and upholstery in a combination of neutrals and large-scale florals and finish the scheme by adding in a yellow side table and golden fresh flowers.
26. Wallpaper with elegant florals
Sunshine yellow shades and rose motifs make for a romantic combination on wallpapers and are a brilliant way to bring an elegant feel to bedrooms, living rooms or dining rooms.
Cinda's Roses in Sunshine from Lucinda Rogers for Lewis & Wood, is a traditional wallpaper design with a contemporary twist. Its rich yellow backdrop has that soothing end-of-the-day quality that is neither too bright nor too loud - great for yellow dining room ideas.
27. Highlight a window alcove
Color blocking the inset to a window with yellow creates a dynamic effect that not only brings warmth but offers an eye-catching focus to a room.
Painted in Mustard Jar Breatheasy coloured emulsion by Crown, this warm paint hue was developed with the mid-century trend in mind and is made from a deep greyed-yellow that has got the depth of an old gold.
'This cheery color imbues the room with optimism and is perfect for bringing a sense of positivity into the home,' says Justyna Korczynska, senior designer at Crown. 'Yellow is also very soothing, particularly when paired with cool, calming tones such as greys and pale, muted blues. The color creates a sense of calm with a feeling of well-being and restfulness.'
28. Think about the light
When it comes to deciding where and how much yellow to use in a room, consider the light in the space and its orientation advises Dominic Myland, owner of Myland Paints.
'As with any pigment, natural light will affect how your color choice looks in a room so I'd always recommend painting a sample onto the different walls in a room so you can see how it will look in different lights throughout the day.'
'For a north-facing room, yellows and yellow- based off-whites will imbue the room with warmth and counterbalance a cool light,' he adds.
How do you make a yellow room look good?
The key to making a yellow room look good is choosing exactly the right shade. This is determined by how much natural daylight the room gets and whether that light is cool or warm. Small windows and a north- or east-facing orientation will generally mean the room will be darker, so you need to go for either warm-toned pale yellows to make them feel bigger and brighter, or warm-toned mustard yellows for an inviting appeal. For bright, airy, warm rooms, you can afford to go for yellows with a hint of grey in them or much cooler pastel shades.
Which color is best with yellow?
Yellow goes best with blue and green, though it is also a great match for grey, white and even black. We also love to pair yellow with jewel shades, such as ruby.
Sign up to the Homes & Gardens newsletter
Decor Ideas. Project Inspiration. Expert Advice. Delivered to your inbox.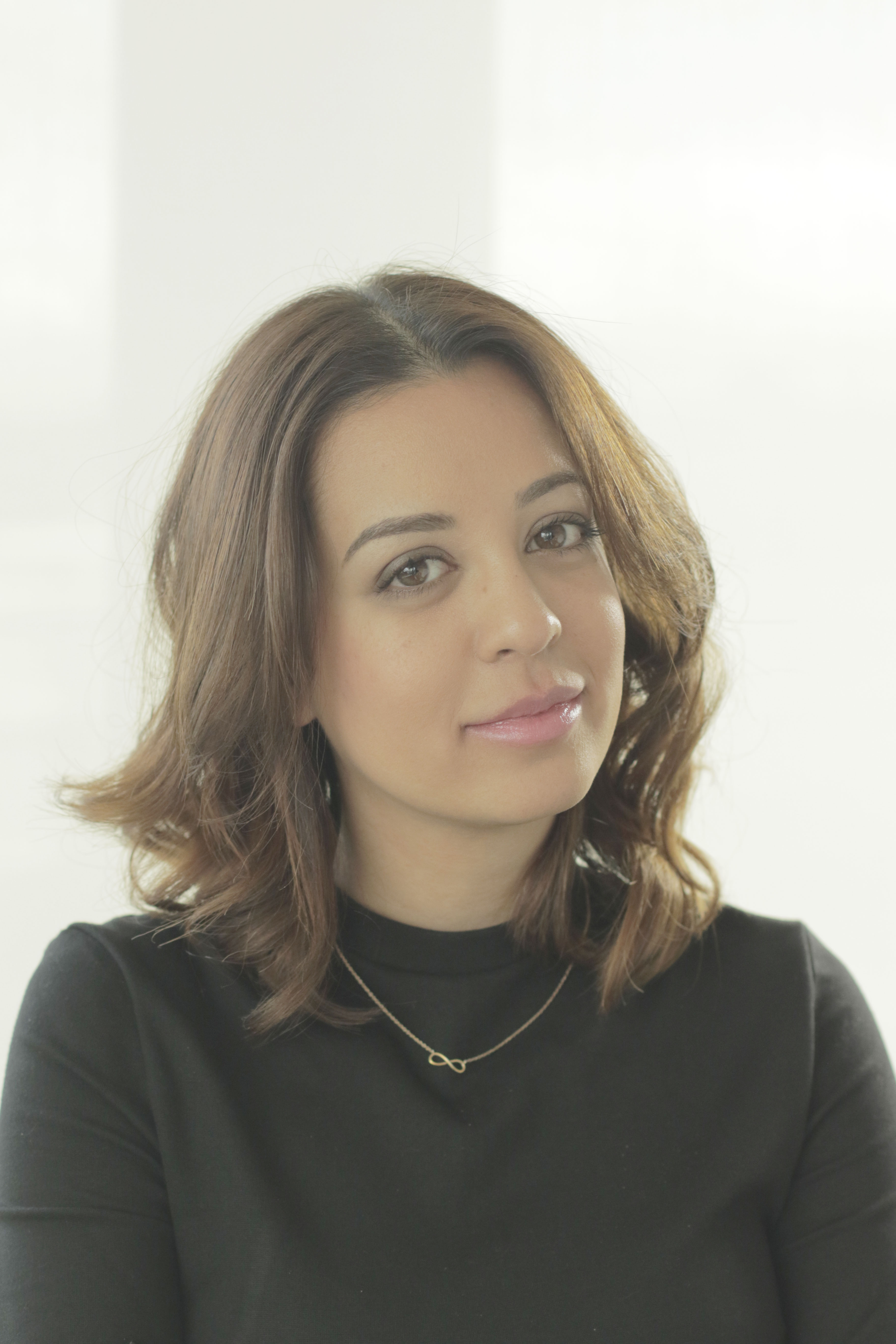 Jennifer is the Digital Editor at Homes & Gardens. Having worked in the interiors industry for a number of years, spanning many publications, she now hones her digital prowess on the 'best interiors website' in the world. Multi-skilled, Jennifer has worked in PR and marketing, and the occasional dabble in the social media, commercial and e-commerce space. Over the years, she has written about every area of the home, from compiling design houses from some of the best interior designers in the world to sourcing celebrity homes, reviewing appliances and even the odd news story or two.