Laundry room ideas – design and decor inspiration for dedicated washday spaces
Discover our favorite laundry room ideas for a stylish, yet functional, approach to washday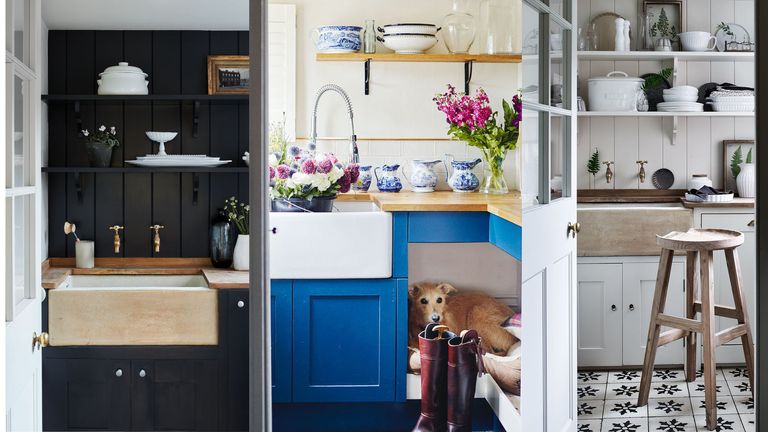 (Image credit: Farrow and Ball/Brent Darby/Nordic House)
If space allows, these laundry room ideas make a welcome addition to a property that you are guaranteed not to regret. Not only do laundry rooms provide a dedicated space for efficient laundering, but they can also provide a unique set of design requirements that are super fun to play around with.
When it comes to laundry room ideas, thinking like the most organized version of yourself is a great place to start. A combination of space-enhancing storage solutions and carefully considering how you will move within the space (particularly when it's full of laundry, as opposed to when everything is neatly folded and tidied into cupboards) are key to creating a space that's efficient and ergonomic. Once you've made choices based on the functionality of a space, you can start to think about decor. 
Whether you're gutting an existing laundry room and starting over, have gained a laundry room by way of an extension, or want to overhaul a tired space on a budget, our design ideas provide plenty of inspiration.
See: Kitchen ideas – decor and decorating ideas for all kitchens 
1. Incorporate on-trend tones into your laundry room 
If there is a kitchen interiors trend that you love, but are not prepared to commit to in such a large space, consider the laundry room a perfect canvas. After all, given its inevitably smaller dimensions, you will find yourself spending significantly less money making changes as trends come and go.
Here, cabinetry finished in Farrow & Ball's French Gray creates country charm likely to be in keeping with the rest of your home, while satisfying our love for the sage green interiors trend.
2.  Achieve rustic charm by combining textures 
If a rustic country kitchen is what your heart desires, consider combining different textures and materials to achieve a unique look.
Here, a bare brick wall and concrete backsplash add an industrial feel to the space, while the use of shiplap paneling on the ceiling with traditional white cabinetry ensures there is still plenty of country appeal.
Recreate the look with Neptune. 
3. Consider open shelving for a space that looks lived in
If your laundry room must also function as a pantry, or provide additional storage for kitchen essentials, open shelving is an option worth considering.
Not only does it serve a functional purpose, but it also achieves a homely, lived-in feel. Just ensure you are displaying your finest crockery. 
Shop similar accessories at Nordic House. 
4. Let your laundry room double up as a mudroom
If you don't have space to justify a room dedicated solely to laundry, consider other ways of ensuring your space is functional.
Here a handy storage solution allows this stylish country laundry room to double up as a space for storing outdoor shoes. Louise Wicksteed, Design Director at Sims Hilditch advised, 'in terms of decor, we recommend a stone flooring that will be easily cleaned should any spillages or leaks occur.'
Find more inspiration, with help from Sims Hilditch.
5. Choose an all-white scheme to make a small space look and feel bigger 
A white scheme is a lovely option for a laundry room that feels fresh, clean, and organized. Plus, if you are working with a small space, a bright white will make your laundry room feel larger and lighter with minimal effort. 
Mandy Oestreich from Marloe Interiors offered the following advice: 'for our Cotswold Country Home clients, we opted for a balanced mix of old and new to redesign their Laundry Room. Black bronze knobs contrast beautifully against the white painted shaker style cabinets whilst the light-colored quartz worktop completes the look - creating a classic and timeless space.'
6. Flood your laundry room with light 
If you're incorporating a laundry room into your home as part of an extension, consider designing a space that backs straight onto your outside space.
Not only is this beautiful space flooded with natural light, making it a spot even those who loathe laundry might enjoy spending time, it is also extremely practical. Rather than relying on a tumble dryer, this space provides easy access to the garden where you can allow laundry to air dry.
Achieve a similar finish with flooring from Lifestyle Floors. Pictured above is their Dawn Herringbone finish.
7. Choose complementary shades for connecting spaces 
If you are designing a laundry room that connects directly to a kitchen, or dining area, consider opting for shades that complement one another to achieve a cohesive finish.
Here, a laundry room with a cream finish works perfectly in conjunction with an on-trend, deep, dark, and atmospheric kitchen scheme. These complementary shades ensure cohesion within the space, without looking too matchy.
Try Berry Alloc for a similar wood floor finish.
8. Invest in a traditional airer
Victorian airers are super-practical, of course, but they are wonderful for adding a touch of rustic charm to your laundry room, too. Use them to dry and air larger items, such as towels and bedlinen – and hang decorative items too to make your laundry room feel more lived in.
Room designed by Martin Moore.
9.  Invest in custom carpentry for a high-end finish 
Working with a carpenter is key to achieving a bespoke finish that not only suits your specific laundry room requirements but also makes the most of the space you have available.
This clever corner seat adds a cozy cottage feel to this laundry room while allowing it to double up as a functional mudroom. Plus, we are convinced that each of the deep benches could be used for storage.
Find these gorgeous Eclipse Eleanor Vinyl Floor Tiles at Carpetright.
10. Maximize the vertical space available  
Another of our favorite design ideas for those working with small laundry room spaces is to maximize vertical space.
Here wall to ceiling cabinets ensures plenty of storage potential, while a drying rack suspended from the ceiling can be drawn up and down as necessary.
Pairing a deep shade of maroon with terracotta tiles and dark woods provides this small place with plenty of character.
Discover Louise Roe Home for more laundry room inspiration.
11. Consider a dark shade for a stylish laundry room  
This stunning laundry room proves that the dark and atmospheric interiors trend works just as well in small spaces as it does in large, lust-worthy kitchens.
Opting for a dark feature wall that comprises paintwork, cabinetry and paneling adds plenty of character while ensuring the small space does not feel overwhelmed.
Recreate the look with the shade Railings from Farrow & Ball.
12. Consider adding a fun feature to your laundry room
If you are tempted by patterned floor tiles or a bold paint palette, but cannot commit to something a little more out there in any other room of the house, consider giving it a go in the laundry room.
Kristen Nix, Director of Kristen Nix Interiors provided the following insight: 'designing a laundry room is an opportunity to play with color and have fun with tile. We wanted this laundry room to be fun – so we ran the tile on the diagonal and pulled in the blue in the cabinet paint. We papered the ceiling and walls which helped make the space feel finished and special.'
Find more inspiration at Kristen Nix Interiors, @kristennixinteriors.
13. Keep it simple with a stylish grey scheme
If bold shades, prints, and patterns are not for you, a trusty shade of grey is always a safe bet. Plus, this classic tone is guaranteed to stand the test of time.
Here grey paint adds a modern and sophisticated feel to the space, white shaker style cabinetry and wicker storage baskets ensure this laundry room still has plenty of storage potential.
Recreate the look with Neptune.
14. Make your space work for you
Ultimately, what is most important when designing a laundry room is ensuring that the space works for you. Whether that means retractable washing lines, built-in ironing boards, or cozy corners designed for dogs, as above, the options are endless.
 15. Zone your space to maximize efficiency 
If you are lucky enough to be blessed with a laundry room that can be zoned, consider it an option that maximizes efficiency and organization.
We are picturing one area equipped with appliances and designed for washing and drying laundry and another set up for folding and ironing clothes to perfection.
Find more inspiration at AMA Studio Interiors, @amastudiointeriors.