Laundry room ideas – 23 luxurious looks for your laundry room
Discover our favorite laundry room ideas for a stylish, yet functional, approach to washing your clothes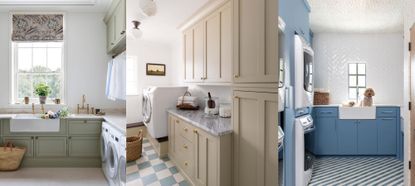 (Image credit: Alex James / Sarah Shields / Kristen Nix)
Sign up to the Homes & Gardens newsletter
Decor Ideas. Project Inspiration. Expert Advice. Delivered to your inbox.
Thank you for signing up to Homes & Gardens. You will receive a verification email shortly.
There was a problem. Please refresh the page and try again.
Laundry room ideas was once a fairly limited design category. You stored the washer and dryer in a hall closet, in the basement, or if you were lucky, in a dedicated utility room off the kitchen somewhere. But these days, high-style, high-function laundry rooms are a must-have, and the design options have expanded to meet demand. Not only do today's laundry rooms provide a dedicated space for efficient laundering, but they also provide a unique set of design requirements that offer plenty of opportunity for creativity.
In this space, practicalities still take precedence, so when it comes to designing a laundry room, thinking like the most organized version of yourself is always a great place to start. A combination of space-enhancing storage solutions and carefully considering how you will move within the space (particularly when it's full of laundry, as opposed to when everything is neatly folded and tidied into cupboards) are key to creating a space that's efficient and ergonomic.
Once you've made choices based on the functionality of a space, you can start to think about aesthetics, and work out how organizing your laundry room can make the space not just pleasing to look at but to use too.
Laundry room ideas
Whether you're overhauling an existing laundry room and looking at laundry room makeovers for inspiration, are gaining a laundry area by planning a home addition, or want to move the laundry upstairs where it's more convenient, our laundry room decor ideas and designs are sure to provide plenty of inspiration.
1. Embrace a colorful laundry room design
This pretty in pink, Martin Moore laundry room design has been painted in a beautiful Pale Ochre shade, establishing an inviting, colorful design that truly transforms the feel of this functional space in the home.
Pink room ideas are not for everyone, but a smaller space such as a laundry room is a great place to be more adventurous and impactful with color and pattern – ideal for small laundry room ideas, too.
Featuring a combination of open and closed storage, and a union of different textures and materials, such as the fabric curtain, wooden paneling and tiles, the design feels playful yet incredibly practical, and shows how embracing just the one color for your room color ideas, in this case, decorating with pink, can create a wonderfully stylish effect.
2. Incorporate on-trend tones into your laundry room ideas
If there are kitchen trends that you love, but are not prepared to commit to in such a large space, consider your laundry room the perfect test-canvas. After all, given its inevitably smaller dimensions, you will find yourself spending significantly less money making changes as trends come and go.
Here, London design duo Stephenson Wright finished cabinetry in Farrow & Ball's French Gray to create country charm.
3. Add wallpaper to put the fun in function
Let's face it: laundry is a chore, which is even more of a reason to make your utility room ideas as beautiful as possible.
Chicago-based designer Kristin Challacombe brought in a bold floral wallpaper to add sophisticated style to a workhorse space. 'With four young kids living in this home, there's always laundry to do, so I wanted to make the space beautiful," Challacombe says. "The wallpaper is Clarke & Clarke, and we pulled out the rich, blue color of the palm trees for the custom cabinetry.'
A black-and-white mosaic tile on the floor adds contrast, creating a room that's as stylish as it is sensible.
4. Add an island for easy folding
If you have the space for it, consider adding a small kitchen island or kitchen cart to your laundry room like designer Whittney Parkinson did, above. It creates a smart spot for folding towels or rolling towels, to help fold fitted sheets and clothes.
Having an island, or at least ample counter space, also gives you a place to pretreat clothes or to lay delicates flat to dry, as well as proving convenient for tasks such as washing stuffed animals or cleaning bath toys. For a bonus, choose an island with storage underneath to house laundry baskets or cleaning supplies.
5. Let your laundry room double up as a mudroom
If you don't have space to justify a room dedicated solely to laundry, consider other ways of ensuring your space is functional, and think about combining your laundry with mudroom ideas.
Here, a handy mudroom storage solution allows this stylish country laundry room to double up as a space for stashing outdoor shoes.
Louise Wicksteed, design director at Sims Hilditch advises: 'In terms of decor, we recommend a stone flooring that will be easily cleaned should any spillages or leaks occur.'
6. Choose an all-white scheme to make a small space look and feel bigger
A white laundry room scheme is a lovely option for a space that feels fresh, clean and organized. Plus, if you are looking for small laundry room ideas, a bright white will make your space feel larger and lighter with minimal effort. Complement a white scheme with good lighting and checking laundry symbols on your items will never be difficult to do.
Mandy Oestreich from Marloe Interiors offers the following advice: 'For our Cotswold country home clients, we opted for a balanced mix of old and new to redesign their laundry room.
'Black bronze knobs contrast beautifully against the white painted shaker style cabinets, whilst the light-colored quartz worktop completes the look – creating a classic and timeless space.'
7. Double your efficiency with tandem washer-dryers
Utah-based designers The Fox Group realized every large family's dream with this laundry room idea: double washer-dryers. The stacking configuration means that the extra capacity doesn't take up extra floor space, so you can borrow this idea even if you don't have an oversized laundry room.
Think about the capacity of washing machines and dryers if you're buying new models. If you're undertaking tasks such as washing a down comforter, tumble drying a duvet, or washing a weighted blanket, this is crucial and without a machine of sufficient size, you won't be able to do these jobs in a home appliance.
Other design ideas we love about this space include the checkerboard floor, the oversized farmhouse utility sink, and enclosed cabinetry, and the built-in laundry room shelving idea that makes cleaning up easier.
8. Flood your laundry room with light
If you're incorporating a laundry room into your home as part of an addition or extension, consider designing a space that backs straight onto your outside space.
Not only is this beautiful space flooded with natural light, making it a spot even those who loathe laundry might enjoy spending time, it is also extremely practical. Rather than relying on a tumble dryer, it provides easy access to the garden where you can allow laundry to air dry.
Achieve a similar finish with flooring from Lifestyle Floors. Pictured above is their Dawn Herringbone finish.
9. Choose complementary shades for connecting spaces
If you are designing a laundry room that connects directly to a kitchen, or dining area, consider opting for shades that complement your kitchen color scheme to achieve a cohesive finish.
Here, a laundry room with a cream finish works perfectly in conjunction with an on-trend, deep, dark and atmospheric kitchen scheme. These complementary shades ensure cohesion within the space, without looking too matchy.
Berry Alloc has a similar wood floor finish.
10. Invest in a traditional drying rack
Drying racks, also called airers, are super-practical when the tumble dryer temperature guide forbids even use of the delicate setting on a dryer. But they are wonderful for adding a touch of rustic charm to your laundry room ideas, too.
Use them for towels and bedlinens as well as to dry a comforter – and hang decorative items too, for laundry room decor ideas that will make the scheme feel more lived in.
This super stylish laundry room scheme was designed by Martin Moore.
11. Choose custom carpentry for a high-end finish
Working with a carpenter is key to achieving a bespoke finish that not only suits your specific requirements, but also allows you to incorporate customized laundry room storage ideas, to make the most of the space you have available.
Look to fit tall laundry closet ideas to hang items such as clothes that are airing or to store an ironing board; and smaller laundry room cabinet ideas for keeping washing powders and cleaning kit out of sight. This clever corner seat adds a cozy cottage feel to this laundry room while allowing it to double up as a functional mudroom. Plus, each of the deep benches can be used for lift-up storage.
12. Maximize the vertical space available
Another of our favorite design tips when it comes to small laundry room ideas is to maximize vertical space, like designers Stephenson Wright did in their client's home, above.
Here, wall to ceiling cabinets ensure plenty of storage potential for detergents and ready for using bleach in laundry, as well as a convenient spot for stashing laundry baskets.
The soothing shade of gray gives this functional spot a relaxing feel.
13. Consider a dark shade for a stylish laundry room
This stunning laundry room proves that the moody interiors trend works just as well in small spaces as it does in large, lust-worthy black and white kitchens.
Opting for a dark feature wall that comprises paintwork, cabinetry and paneling adds plenty of character while ensuring the small space does not feel overwhelmed.
You can recreate the look with the shade Railings from Farrow & Ball.
14. Put your laundry on a pedestal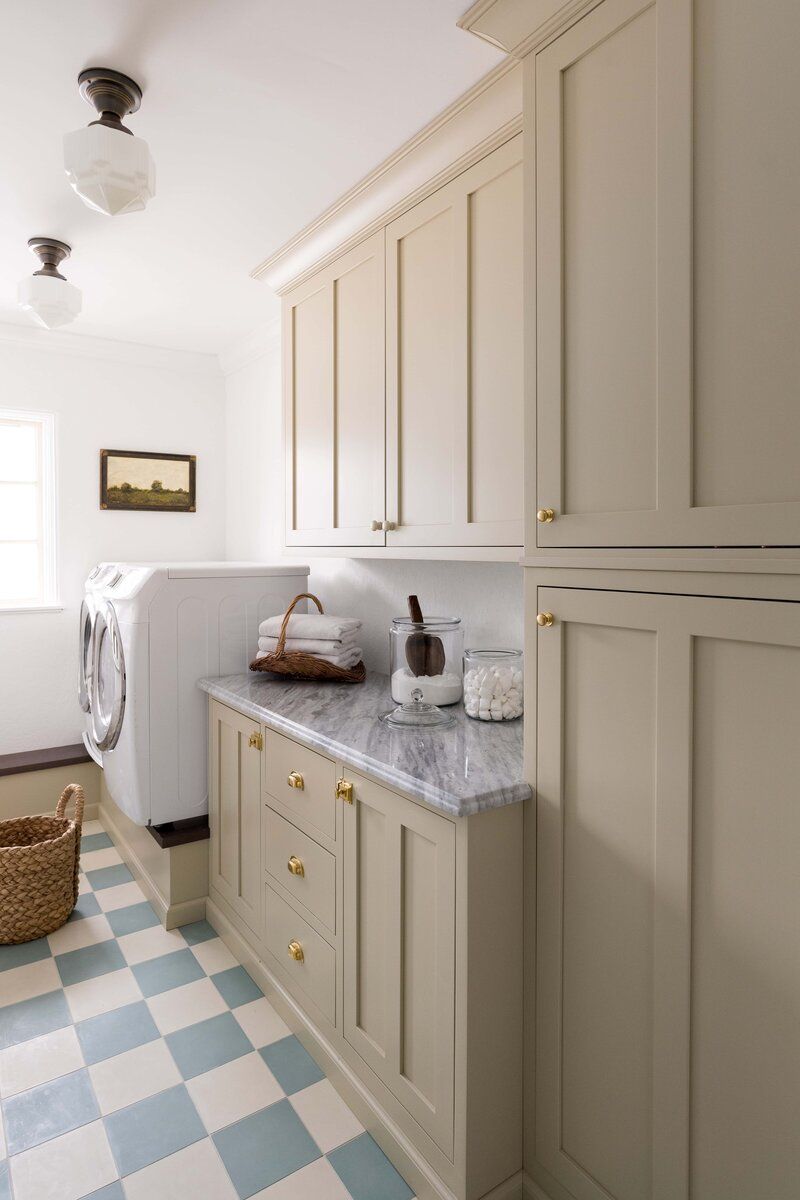 A pedestal washer and dryer is a convenience you won't want to live without once you try it. It essentially eliminates the need to bend over when you're changing the laundry or cleaning a washing machine, making the whole process easier.
While most top washer-dryer brands sell pedestals for their machines, the look isn't necessarily elevated. Instead, try a custom-built pedestal that matches your laundry room cabinets, like designer Whittney Parkinson created for a lucky client.
15. Consider adding a fun feature to your laundry room
If you are tempted by patterned kitchen flooring or a bold paint palette but cannot commit to something a little more out there in any other room of the house, consider giving it a go in your laundry room ideas.
Kristen Nix, director of Kristen Nix Interiors, provides the following insight: 'Designing a laundry room is an opportunity to play with color and have fun with tiles.
'We wanted this laundry room to be fun – so we ran the tile on the diagonal and pulled in the blue in the cabinet paint. We papered the ceiling and walls, which helped make the space feel finished and special.'
16. Keep it simple with a stylish gray scheme
If bold shades, prints, and patterns are not for you, a trusty shade of gray is always a safe bet. Plus, this classic tone is guaranteed to stand the test of time.
Here, gray paint adds a modern and sophisticated feel to the space, while white shaker style cabinetry and wicker storage baskets ensure this laundry room still has plenty of storage potential.
17. Make your space work for you
Ultimately, what is most important when designing a laundry room is ensuring that the space works for you.
Whether that means retractable washing lines, built-in ironing boards, drawers for appliance instructions and a guide to laundry symbols, or cozy corners designed for dogs, as above, the options are endless.
18. Zone your space to maximize efficiency
If you are lucky enough to be blessed with a laundry room that can be zoned, consider it an option that maximizes efficiency.
Zoning is the perfect way to layout a laundry room. We are picturing one area equipped with appliances which is designed for washing and drying laundry, and another set up for folding and ironing clothes to perfection.
19. Make a feature of your laundry room cabinetry
Laundry room shelving and cabinetry doesn't have to be all about practicality. In fact, it's an ideal way to bring in decorative touches that help make the space charming as well as useful. Stick to displaying a selection of smaller objects and pictures to give the room a more airy feel.
The space behind the sink is ideal – particularly if vases are part of the mix so they're near the faucet. In this location, bespoke build-in shelving is a sensible option to keep the contents securely in place above the sink. The lovely marble laundry room countertop idea adds a sense of sophistication to the playful cabinetry.
20. Consider the layout of your laundry room
When trying to make the most of limited space in which you're undertaking tasks such as washing bed sheets and washing woollen blankets take time to consider the natural flow through rooms, recommends Victoria Wormsley of French-Brooks Interiors.
'Think about how people are going to pass through the space and ask if you really need each and every door (but be aware that some will need to be retained for fire regulations, particularly when it comes to kitchens and utility areas). Where possible, remove doors and architraves to improve the flow.'
21. Opt for a deep sink
A deep butler sink is practical for tasks such as washing whites that can't go into the machine and other handwashing tasks; if possible, place it beneath a window so you can enjoy your garden while standing at it.
Keep the sink close to the washing machine, too, as it will make plumbing – and transferring laundry – easier. And install a run of countertops on either side if you have the space. A pretty blind will add a touch of color and softness as a finishing touch.
22. Pay attention to flooring
A low-maintenance, durable floor is a key feature in a laundry room. Natural stone retains heat in the winter and is cool in summer. Wood-effect ceramic floors give the beauty of timber but are more practical and hard-wearing. As to whether you continue the bathroom floor into the utility, this is dependent on whether you are looking to unify the space or create a statement room in its own right. Patterned floors can delineate the space and provide wow factor when glimpsed through a glass or open door.
23. Be bold with color
Laundry and utility rooms are really receptive to bold decorating styles. Strong colors and patterns can work well in a smaller space – perhaps matching the accent color used within the main kitchen. Also consider echoing the kitchen cabinet design but in a different finish to achieve good continuity and flow between spaces, particularly if there is open or glazed access between the two. Speaking of glazing, the best laundry rooms are naturally lit – it improves the ambience when spending time within the room and is valuable when performing tasks such as ironing. Always aim to include a window or skylight if you're planning a laundry room in a new extension.
What are the best laundry room cabinet ideas?
Cabinets are a natural part of a thoughtful laundry room design. They allow for all-important laundry room storage, while also closing the door on visible clutter.
Laundry room cabinet ideas range from simple to complex, and affordable to high end. Wherever you fall on the spectrum, here are a few ideas we love, from easy to more involved.
Consider laundry room shelving
Laundry room shelving provides an easy alternative to cabinetry, since it's quick to install and readily available. While shelves don't hide away clutter the same way cabinets do, you can still create an orderly space with items like matching storage baskets, pretty glass jars, and a label maker.
Add a kitchen cabinet above a washer dryer
If you need laundry room cabinetry but aren't planning a full renovation any time soon, a simple off-the-shelf kitchen wall cabinet is a more than adequate stand in. Most big box home improvement stores offer unfinished wood cabinets, so you can give yours a custom look with a few coats of paint and fun hardware. Have the cabinet mounted above the washer dryer.
Go custom
If you're investing in a complete laundry room overhaul, custom cabinetry is the way to go. With custom, you'll get cabinets that are built to your needs and the size and function of your room. Plus, you'll be able to order them in virtually any color you choose, so you can tie in to a fun wallpaper, your kitchen cabinets, or another room in your home. Find a cabinet maker that specializes in laundry room design, or work with an interior designer to ensure you maximize the function of the cabinets. Extras like drying racks, laundry basket storage, and pedestal stands can make a world of difference in how well your laundry room serves you and your family.
Sign up to the Homes & Gardens newsletter
Decor Ideas. Project Inspiration. Expert Advice. Delivered to your inbox.
Emily first (temporarily) joined the Real Homes team while interning on her summer break from university. After graduating, she worked on several publications before joining Real Homes as Staff Writer full time in mid-2018. She left the brand in 2020 to join the police force but continues to write for Homes & Gardens about interiors.