Styling a shelf – 10 expert tips for a pretty vignette
Use our shelf styling guide to create beautiful shelving displays throughout your home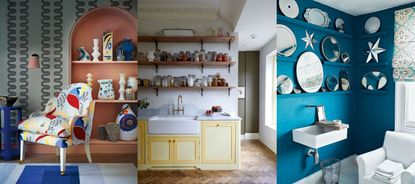 (Image credit: Jon Day Photography, Paul Massey, Tom Leighton)
Styling a shelf can often be a daunting task. When faced with an empty space full of styling opportunities, sometimes it can be hard to know where to start.
Shelves are an integral part of any home, from providing practical storage, to creating an area for you to house and display your favored objects and accessories that express your style and identity.
When styling a shelf, think carefully about the types of objects you want to display and what they mean to you, as well as how you want your shelf to work practically in a space.
Whether you're using a shelf for bookshelf ideas, for functional storage, or to arrange decorative artwork and ornaments, you want your shelf styling to add visual interest and character to a room.
Styling a shelf – become an expert in shelf styling with our top 10 tips
There are, of course, many ways to style a shelf, so we have collected our top styling ideas to provide you with some inspiration. Bear in mind that we are not offering tips on organizing a bookshelf; these tips focus on the aesthetics of shelf styling.
1. Coordinate with your existing decor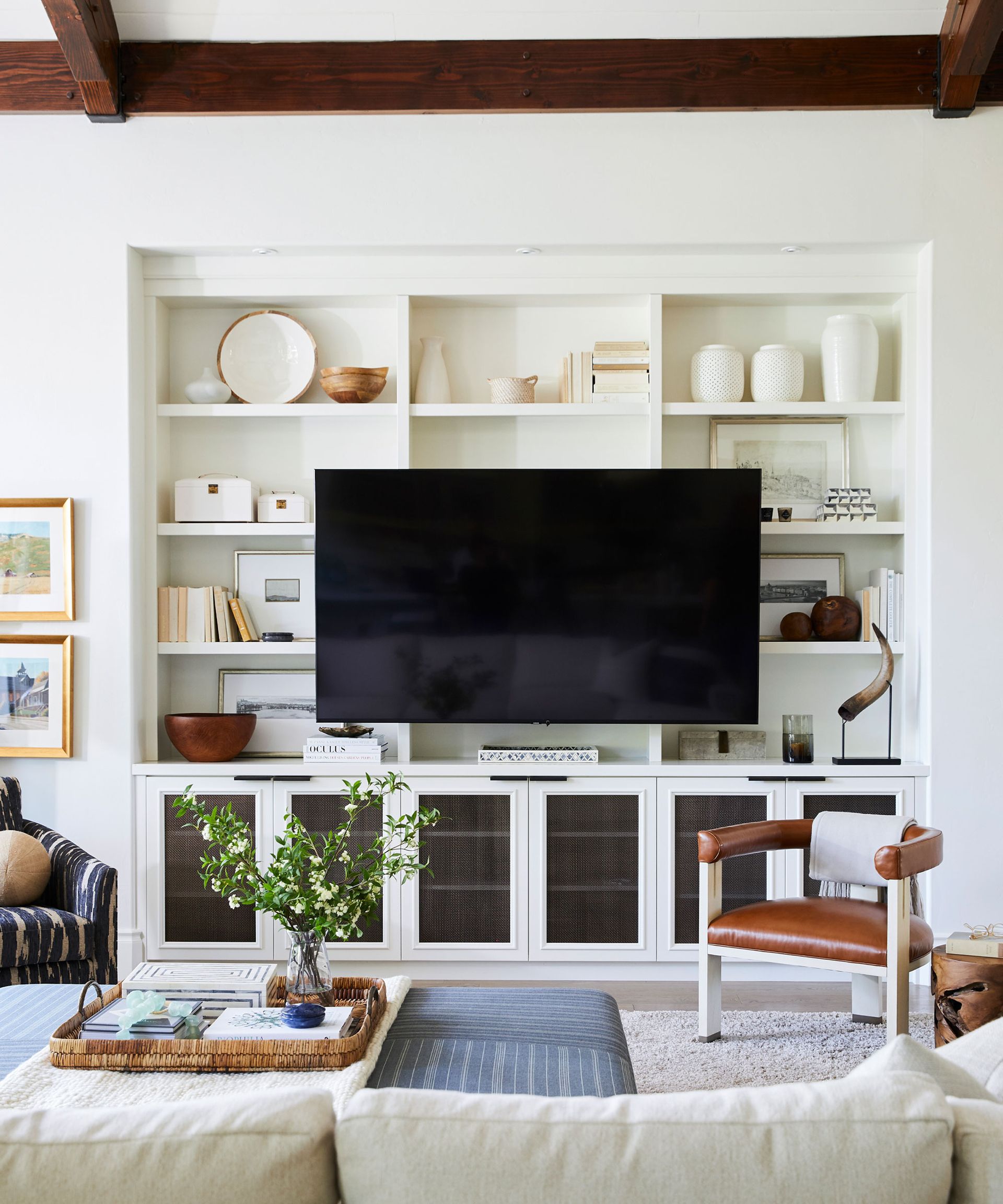 Styling a shelf with objects that mirror the textures, color palette and materials already present in your scheme can create a cohesive, united look in your space.
In this relaxed living room, designed by Jessica Bennett of Alice Lane Interior Design , the room embraces a soft, neutral look, filled with comforting textures, natural materials and earthy colors. The large shelving and media unit is filled with beautiful decorative objects and books that coordinate with the room, elevating the design and relaxed look.
2. Style with symmetry
Symmetry in interior design can be used across the home, and if you have an abundance of shelving in a room, whether that be in a study, home library or living room space, styling the shelves symmetrically can create a sense of balance and calm.
In this cozy reading the room, the shelves are mainly used for the storage and display of books. However, by keeping two shelves free and styling them with the matching decorative vases, both an element of contrast and a calming focal point is created within the library of books.
3. Embrace minimalism
'It can be very tempting to overcrowd and fill a shelf with an abundance of items, and in many spaces, this maximalist look can work wonderfully, however, styling a shelf with minimalism in mind allows for key decorative pieces to be fully appreciated - and is also a great option for smaller spaces,' says Jennifer Ebert, Homes & Gardens' Digital Editor.
In this kitchen, designed by Kimberley Harrison Interiors, the warming wooden shelves have been elegantly decorated with glassware and a few select ornaments. The result creates a calming, spacious display where every item can be easily viewed and taken off the shelf if needed.
4. Add an artistic touch
Using a shelf as a platform for a curated collection of artwork and decorative ornaments can create a unique display area in a room.
The painted, built-in arched shelving unit in this living room, filled with eye-catching artistic designs, creates a mini gallery and artistic viewing space within the home.
Experimenting with paint ideas when styling a shelf can add a dynamic element of color to a room, as well as beautifully complement your chosen ornamental, artistic designs.
5. Keep things balanced
When styling a shelf, considering the layout and placement of your objects will create a harmonious and balanced design that is visually appealing.
Lou Graham, Co-Owner of Graham & Green states 'creating beautiful shelves all comes down to layering objects of different heights, widths, and shape'.
Instead of grouping items together by size or similarity, playing with scale and creating a varied layout by mixing different objects will create an appealing and diverse shelf design.
6. Prioritize practicality
For many of us, shelving in the home provides a functional surface area to store everyday objects.
In this kitchen, the three wooden, wall-mounted shelves make the most out of an empty wall space above the beautiful yellow cabinets. Styled with practical glass storage jars, the jars are easy to grab and allow for you to quickly see the inside contents.
The styling of the jars on these kitchen shelves is both practical and decorative, with the varying heights, colors and textures creating a point of visual interest in the room, ideal for kitchen shelving ideas.
7. Create contrast
If you want to add an element of contrast to a space, styling a shelf using different colors, textures and materials to those used for the main decor scheme can create a unique design feature in the room.
In this living room, the snug, alcove bookshelf is decorated with books in bright, eye-catching colors, establishing a striking contrast with the natural, earthy tones and materials used throughout the rest of the room. For living room bookshelf ideas, this styling idea not only creates a colorful zoned space, but also gives prominence to the book collection.
8. Give your objects the space they deserve
From family heirlooms, to photographs and objects collected on travels away from home, styling a shelf that gives space to your most meaningful, prized possessions will ensure that they a fully respected and appreciated by all.
The colorful shelving unit in this living room provides a spacious platform where both large and small decorative objects can shine. Instead of being lost with many other items, each object has the space to stand out and be taken in by onlookers.
9. Create a striking, decorative display
Being bold and creative when styling a shelf can create unique decor ideas for rooms throughout the home.
When considering wall decor ideas, using multiple shelving units and styling them to create a striking, decorative display area can transform the look of a space.
Why have one bathroom mirror when you can have 17? The beautiful mirrors in this bathroom space have been arranged to create a truly unique, stand-out mirror wall. Using the painted blue, sleek shelves as a podium for mirrors of varied heights, shapes and styles creates a dramatic design feature in this bathroom space - great for bathroom shelf ideas.
10. Style with an eclectic mix of objects and accessories
'When styling a shelf in your home, ultimately, you want to use an eclectic mix of objects and accessories to create a personal space that reflects your identity,' says Homes & Gardens' Editor in Chief Lucy Searle.
Having a display of varied items, from plants to books, ornaments and candles, your shelf can tell a story of your style and personality.
Of course, our tastes and styles can change, so editing your collection of objects and swapping out items over time will ensure you shelf remains fresh and meaningful.
How do your arrange items on a shelf?
When working with a mix of different items when styling a shelf, ensuring that there are varying heights and shapes on each level will ensure for a balanced design that is pleasing on the eye.
If you're arranging items such as books, grouping them together by color and size can create a streamlined, tidy look – our how to style a bookcase has more guidance.
Leaving enough space on a shelf and between other wall mounted shelves will also ensure that your shelf design doesn't feel too cluttered or overwhelming.
Elizabeth Krueger, Founder of Elizabeth Krueger Design states, 'once you start placing your items on shelves and get to a point where you feel good about what you've added — walk away (and then come back). Walking away and coming back into a space allows you to experience the overall feel of the room — if it inspires you, you're job is complete - if something feels off, get back to moving things around.'
Overall, factors to consider when arranging items on a shelf are, size, color, placement and variety.
How can I make my shelf more interesting?
Shelf styling is all about being creative and displaying items that spark joy and conversation.
From the integration of new books, to decorating with fresh flowers and plants, editing your shelf over time so your styling remains interesting and current is key.
'If you're looking to fill out your shelves with items you have at home rather than purchasing new pieces, shop your own home by laying everything you have out on your kitchen table and then get busy grouping', says Elizabeth Krueger.
Changing up your shelf designs doesn't mean you have to keep buying new objects and decorative pieces however, simply removing your items and organizing them in a fresh, new way can make your shelf feel re-energized.
Sign up to the Homes & Gardens newsletter
Decor Ideas. Project Inspiration. Expert Advice. Delivered to your inbox.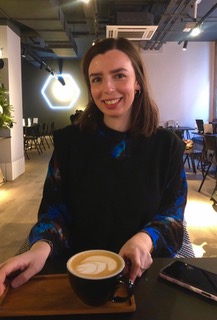 Zara joined Homes & Gardens in February 2022 as a Content Editor. After studying English Literature at University, she worked as an Ecommerce Website Editor, Content Writer and Buying Intern at multiple independent businesses within the luxury retail and lifestyle sectors. Her role at Homes & Gardens unites her love, experience and passion for the world of design and desire to create inspiring written content. She enjoys nothing more than discovering new trends, brands and products, whether that be in fashion, interior design or lifestyle.