10 alcove shelf ideas – chic design options and styling strategies
Be inspired by alcove shelf ideas that will create a beautiful display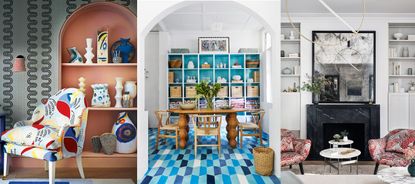 (Image credit: Future)
Alcove shelf ideas can capitalize on these niches within a room. They provide a place for a display of decorative objects or to store items in style, or for a combination of the two.
Adding shelves is a favorite among alcove ideas because it exploits the space they provide without concealing these architectural features. And with a beautiful selection of items on display, attention is drawn to these pleasing recesses.
Both the shelves selected and what's on show can add to the appeal of a room, and we've collected alcove shelf ideas as a starting point for your own design.
Alcove shelf ideas
An alcove is the perfect location to realize bookshelf ideas and elevate the room with carefully curated displays. Be inspired by these alcove shelf ideas.
1. Opt for freestanding shelves
Think both freestanding and fitted alcove shelf ideas – they can be equally stylish. 'A sitting room alcove is the perfect place for shelving, but you don't have to go to great measures to install built-in living room bookshelf ideas,' says Sue Jones, co-founder of OKA.
'Instead, try choosing a statement bookshelf, such as OKA's Versailles Ashmolean design; this will not only make a feature of what would otherwise be a sparse space, but, in the case of the mirrored Versailles, will show off your favorite ornaments and books from all their best angles.'
2. Choose a monochromatic scheme for impact
Create a theme for an alcove shelf like this striking monochromatic display. 'Make it interesting by choosing a mixture of white, off white and black ornaments and vases, some with patterns and prints for a decorative touch. Vary the sizes, too, for extra interest,' says Jennifer Ebert, digital editor, Homes & Gardens.
3. Go for an all-encompassing paint scheme
Consider the color of alcove shelf ideas. 'Paint alcove shelving in the same color as the rest of your walls to create a cohesive as well as contemporary look,' says Lucy Searle, global editor in chief, Homes & Gardens.
'Don't overload your shelves, either. Keep displays well spaced so they remain a decorative feature.'
4. Use wooden shelves for added character
'Incorporating alcove shelving is an effective design feature to creative depth for styling and layering the space combined with practical storage,' says Katie Lion, senior interior designer at Kitesgrove.
'This allows for hints of contrast in color or material, as can be seen in the wooden shelves that add warmth and character alongside a more neutral backdrop. These punctuate the shelving design and lead your eye across the space.'
5. Think outside of the box – with a box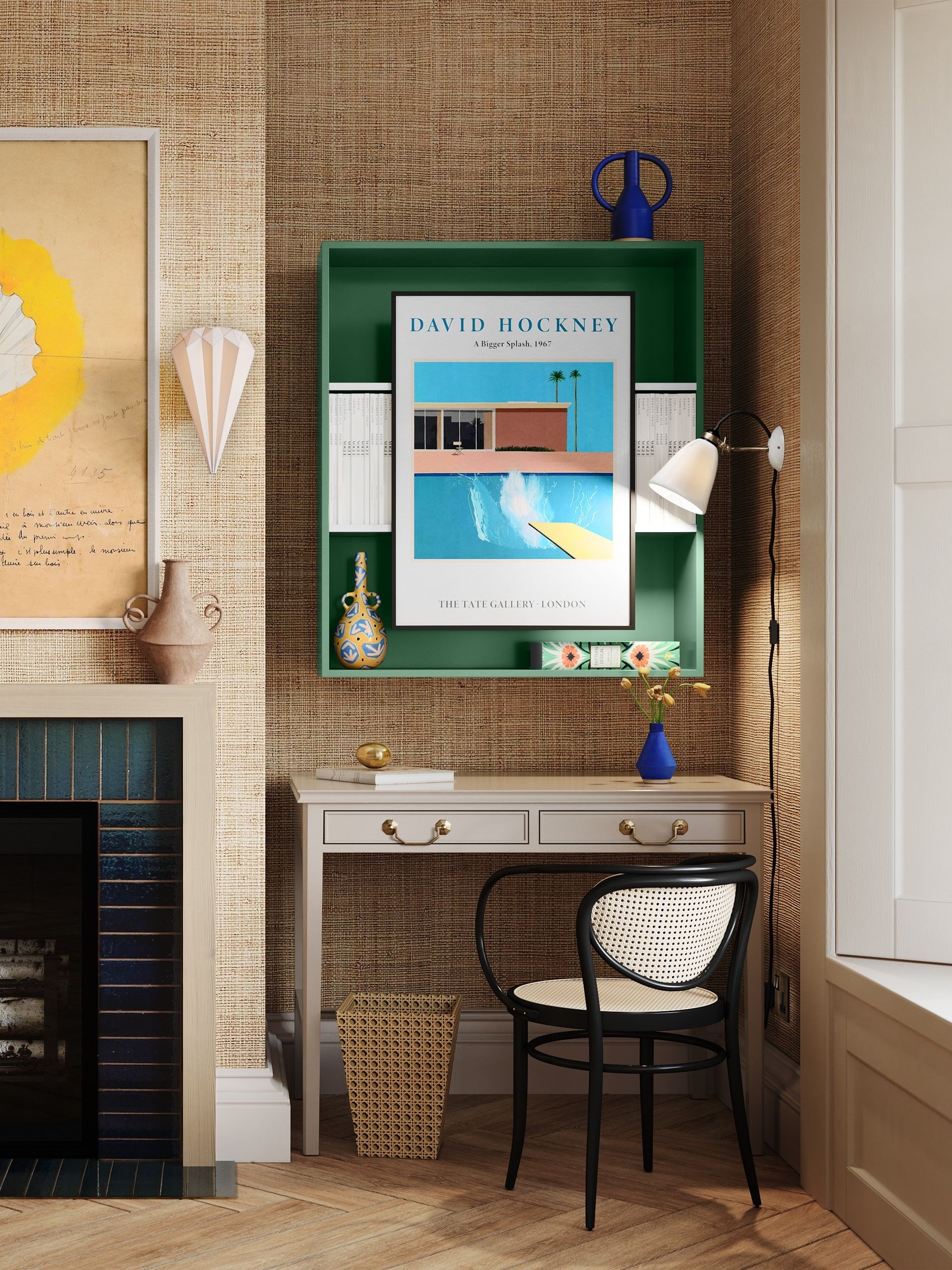 'This really is a genius idea, there's so much to love about it: the clever use of the alcove as an office space, the box shelving and of course, the print within it! Painting it in a color makes a feature of it and one that we can all take ideas from,' says Lucy Searle, global editor in chief, Homes & Gardens.
6. Give alcove shelves a double use
Custom alcove shelf ideas can fulfill precise storage requirements. 'At TR Studio we design lots of bespoke pieces for our client projects and the need for extra and discreet storage is something that comes up time and time again,' says Tom Rutt, founder. 'We have designed numerous built-in, cleverly recessed storage and bespoke joinery within alcoves. In our project NCH House we created beautiful bespoke alcove shelving in a rich chocolate oak.
'Upon first view, the shelves look to have been designed purposely deep, but they double as drawers which helped keep the period property clear and minimal. We very carefully tailored the shelving depth so that, as the shelves ascend higher up towards the ceiling, the shelving decreases in height to lighten them visually. The lower shelving being deeper allowed us to create practical, internal storage using a drop-down front panel, whilst the more inaccessible, higher shelves simply display objects.'
7. Go dark to dramatic effect
'Before choosing a color combination for your kitchen shelving ideas, consider what you plan to display on your alcove shelving,' says Andy Greenall, head of design at Paint & Paper Library. 'For a harmonious and calm feel, opt for a tonal color that coordinates with your walls and the items you will be displaying.
'For a more dynamic feel, choose a strongly contrasting color. The deep, dark Beyond Blue works fantastically as a dramatic almost black backdrop to draw the eye to a display of white porcelain.'
8. Add texture with shiplap
'The ultimate in form and function, built-in living room shelving for an alcove provides space for storage and display,' advises George Miller, home designer at Neptune. 'If the room in question has a particular look or theme, try reflecting this in the pieces you choose for your shelves.
'Playing with height and scale, and grouping items in threes, will also help you to create coherence rather than chaos, without compromising on personality. And if your alcove shelving is in the sitting room, why not create a small-scale library in reaching distance of your favorite living room sofa or armchair.'
9. Make a feature of your alcove shelves
'Embrace the alcoves in a period home by maximizing space and creating clever uses. Centering the bed in front of the chimney allows you to not only use each side as a bedside table, but a decorative feature, additional storage ideas and even a dressing table,' say Jen & Mar co-founders of Interior Fox.
10. Add alcove shelves to a bathroom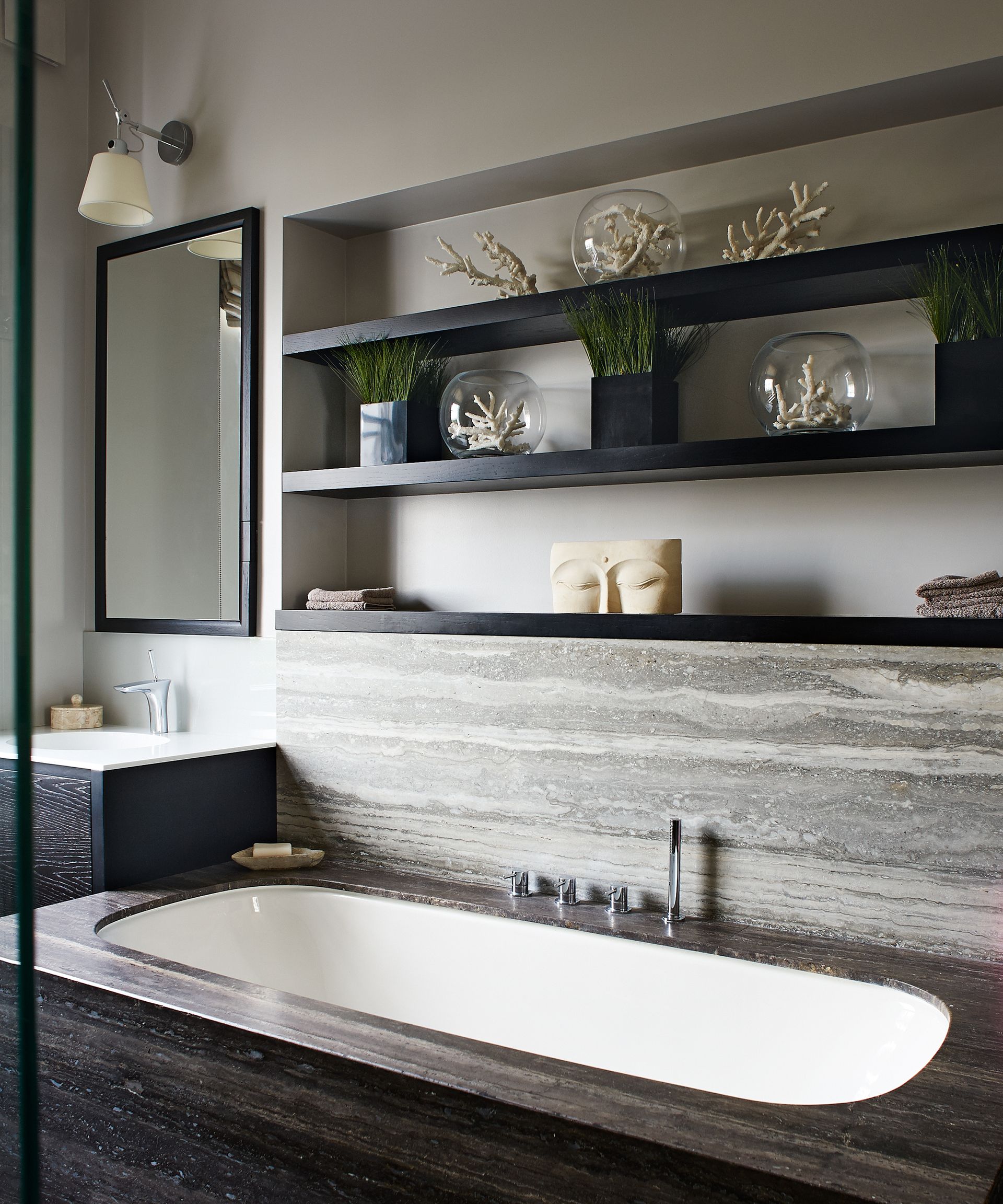 'Some bathrooms, especially in older properties, will have alcoves, but if yours doesn't, you can create one when you remodel. It's really useful to incorporate bathroom shelf ideas in this space as it gives you have extra space for lotions, potions and an area for displaying your favorite pieces,' says Jennifer Ebert, digital editor, Homes & Gardens.
What material is used for alcove shelves?
Wood can be a good choice for alcove shelves. It can be matched to other woods in the room, but can also be stained or painted. Finishing alcove shelves in the same paint color as the alcove creates a contemporary finish, while a contrasting color makes them stand out.
What height should alcove shelves be?
The height of alcove shelves will depend on whether they take up the entire alcove or there's other storage below them such as a cupboard in the living room, or a nightstand in the bedroom.
Plan the shelf heights according to what will be displayed or stored on them. Large hardback books, artwork or vases require good height, whereas book storage for novels means shelves can be closer together if you need to fit maximum numbers.
Sign up to the Homes & Gardens newsletter
Decor Ideas. Project Inspiration. Expert Advice. Delivered to your inbox.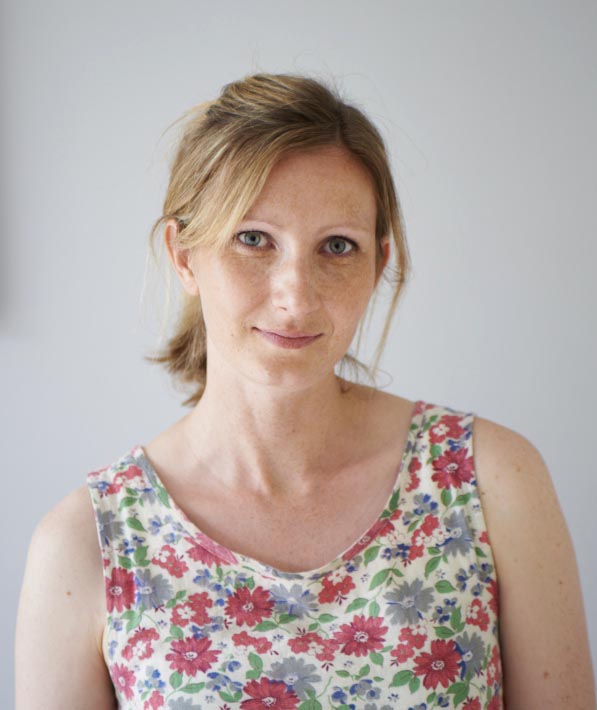 Sophie has been an interior stylist and journalist for over 20 years and has worked for many of the main interior magazines during that time, both in-house and as a freelancer. On the side, as well as being the News Editor for indie magazine, 91, she trained to be a florist in 2019 and launched The Prettiest Posy where she curates beautiful flowers for modern weddings and events. For H&G, she writes features about interior design – and is known for having an eye for a beautiful room.