How big should a dining table be compared to the room? Designers on getting it right – and wrong
Proportion is everything when it comes to choosing the right-sized dining table. This is what professionals say about how big yours should be compared to the space it's in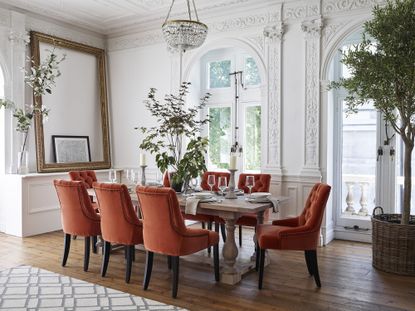 (Image credit: Neptune)
It's important to know how big a dining table should be compared to the room it's in. Too small, and it will look out of place, making the space feel unwelcoming. Too large, and it will make the room feel crowded, cluttered and difficult to move around in.
When you are looking for dining room ideas, the table is, without doubt, the central decorative feature. And while its material, finish and shape will all have a profound effect on how the room feels, its size in proportion to the room is what can make it feel out of place – or simply perfect.
Let's start with the math to work out the perfect dining table size: measure your room's length and width. Let's say it's 14ft x 10ft. Now minus 6 from each of these measurements. This gives us 8ft x 4ft, which will be the perfect size for your dining table. Any larger and there won't be enough clearance to push back chairs, any smaller and it might just look too small.
However, there are some other considerations to take into account. We asked design experts for their advice on working out your dining room table's size, to the inch.
How to measure for a dining table
'When it comes to choosing the right table for your dining room, it's essential to get your measurements right, as the wrong size can completely alter how your space looks, and how comfortable it is to use. Anything too big will leave the room feeling cramped, while a table that's too small will make it feel empty and uninviting,' says Sue Jones, OKA's co-founder.
Other than doing the math above, these are what designers suggest you should consider when working out how big should a dining table be compared to the room.
1. Calculate your available floor space
What you put in a dining room besides the table will affect how big your dining table is compared to the room. Consider how much room you need for dining room storage ideas, a buffet perhaps, extra seating, perhaps even a home bar. This will give you a feel for how much room you actually have.
'The dining table should be approximately one-third of the dining space. Depending on the size of the room, it could be less; however, the dining table should be the focal point of the room without overwhelming the space,' advises interior designer Tracy Morris.
'If the room is on the smaller side but you need to seat a lot of people, you might want to forgo having a buffet or console table and get the largest table you can fit,' says Amy Forshew of Proximity Interior Design.
2. Consider the seating plan and clearance for chairs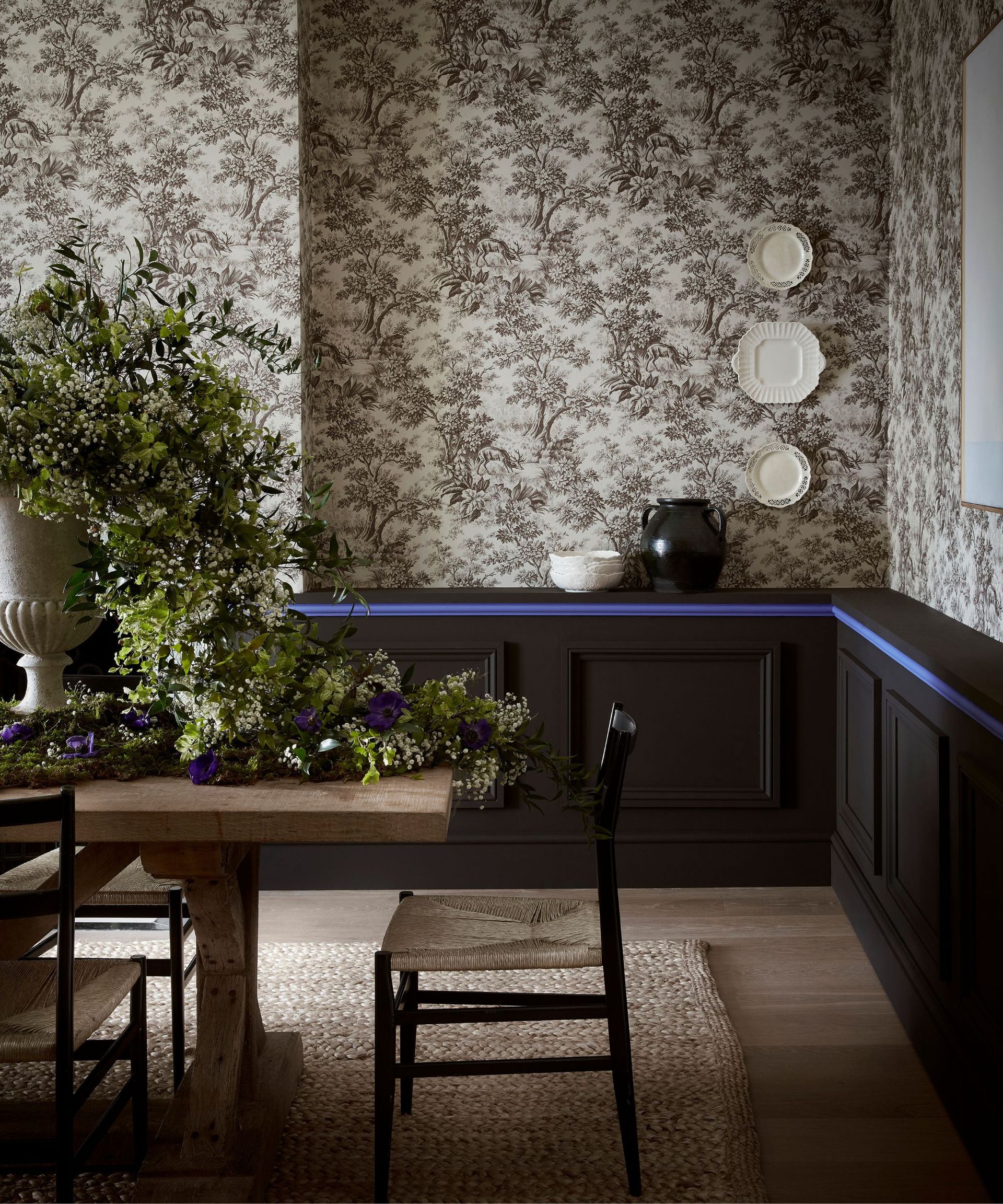 It's not just your table size that needs to be factored in. How many people do you need to seat regularly will affect not only how large the table is but the clearance needed behind the chairs when they are pulled in and out.
'An ideal minimum clearance between the table and wall (or object behind) is three feet,' says Noelle Parks of Noelle Interiors. 'The depth of a typical rectangle dining table ranges from 36in wide to 42in wide. Lengthwise, a general rule of thumb for table size versus number of chairs is 8ft long for an eight-person table, 6ft long for a six person table, and so on.'
'Start by thinking about how many people you can physically seat in the space,' advises OKA's Sue Jones. 'It's important to leave enough room around the table and between each chair, so I'd recommend factoring a distance of at least 30in between the wall and the dining table, and roughly 24in between each seat. This will ensure everyone can relax, eat and move around comfortably, while also keeping the table in proportion with the rest of the room.'
3. Factor in walkways
Thoroughfares and walkways are particularly important factors if you are finding the right size dining table for a kitchen diner or open-plan space,
'A dining table should fill the room proportionately with focus on walkways around the table,' says Michael Sandsmark of Design West Interiors. 'The table should not be too large and still leave ample room for walking around a guest that might be seated.'
4. How will you use the room?
A dining room is, of course, about being sociable, as much as it is about being functional. So, consider the usage of the room and how you want it to feel. What is its main purpose?
'The size of a dining room table relative to the room in general is important. However, it is more important to consider the size relative to the guests around the table. Is this a dining environment where you expect guests to have table wide conversations or is this an environment where guests will chat mostly with their neighbors? This, more than the size of the room, is paramount in determining the ideal size for a dining table,' says interior designer Phillip Thomas.
'Personally, I have seen that smaller dining rooms can afford to be dominated by a table which is large in relation to the overall space, leaving little room to move around the chairs. It helps to create a really cozy and intimate setting and these rooms can be decorated to great effect,' says Amanda Huber, Owner, Dining Chair Co.
'You want to allow 3 feet of space minimum, but if you have a big room then fill it with the table. The scale of the table can add drama to the space,' says Emma Sims Hilditch of Sims Hilditch.
5. Think about the dining table's positioning
'The decision as to whether the table will sit in the center of a room or needs to be to one side will determine the table size, too,' says Amanda Huber of Dining Chair Co. 'It's very much dependent on how you intend to use the dining area and how many people you'd be looking to seat at any one time.'
'When placing a dining table in the room, always make sure the table, light fixture, and entrance of the room are in line and center with one another. Following this rule will allow for ample space on all sides of the table,' says Malka Helft, Think Chic Interiors.
'Ultimately, if the table is in the center of the room then the main thing to avoid is having too much space around it so that the table looks like it's floating in the middle of nowhere,' continues Amanda Huber. 'There should be a minimum of 3 feet from the table side to the wall or other furniture to allow the chairs to be pulled in and out. This should increase to 5 to 6 feet to allow people to walk behind the chairs when pulled out. If the table is to one side, then the use of banquette seating or dining benches can really help reduce the space required on the other side to allow for free movement around the space.'
6. Consider the room's ceiling height
Don't just think width and length of your dining room when choosing a table size, think height, too.
'The dining table's size can really depend on the ceiling height of the room as higher ceilings make a room feel larger,' says Amy Forshew of Proximity Interior Design.
Amanda Huber, Owner, Dining Chair Co, expands: 'With a larger room that has plenty of light, a dining table with a smaller footprint that helps to keep the space open and airy would suit best. It'll keep the space flowing and allow it to feel more spacious, but with the right dining room lighting scheme and dimmer controls, you can easily change the mood and atmosphere with the flick of a few switches.'
How wide should a dining table be?
To be comfortable, a dining table should be at least 36 to 40in wide. This allows for place settings either side and enough room for dishes to sit between.
How wide is too wide for a dining table?
A dining table that's over 45 to 50in wide is too wide. Much over 4ft and it becomes impossible to reach across the table comfortably or two hear what the person opposite you is saying at a lively dinner party.
Sign up to the Homes & Gardens newsletter
Decor Ideas. Project Inspiration. Expert Advice. Delivered to your inbox.
Pippa is Content Editor on Homes & Gardens online contributing to Period Living and Country Homes & Interiors print issues. A graduate of Art History and formerly Style Editor at Period Living, she is passionate about architecture, creating decorating content, interior styling and writing about craft and historic homes. She enjoys searching out beautiful images and the latest trends to share with the Homes & Gardens audience. A keen gardener, when she's not writing you'll find her growing flowers on her village allotment for styling projects.