What to put in a dining room besides a table? 9 essentials interior designers always include
Wondering what to put in a dining room besides a table? Here interior designers share their key pieces for creating the perfect dining space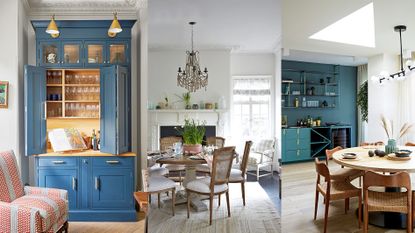 (Image credit: James Merrell / May Wadsworth )
Sign up to the Homes & Gardens newsletter
Decor Ideas. Project Inspiration. Expert Advice. Delivered to your inbox.
Thank you for signing up to Homes & Gardens. You will receive a verification email shortly.
There was a problem. Please refresh the page and try again.
What to put in a dining room besides a table is an important question to ask if you're embarking on a new dining room design, and one that interior designers always tackle head-on when designing entertaining spaces.
While thoughts often turn immediately to the all-important dining table, there are lots of other dining room ideas that should be considered when it comes to the perfect dining space, from seating and dining room storage ideas to dining room lighting.
To help you answer the question 'what to put in a dining room besides a table' we asked interior designers for their advice on the key elements to creating the perfect space.
What to put in a dining room besides a table?
There are no rules when it comes to what you put in a dining room besides a table. Which pieces you include depends on the desired functionality and the size of the room. So, before answering this question you must first examine what you need from the space, and with many dining rooms serving as multi-functional spaces, there's much to consider.
'The dining room has evolved in many ways, especially in open-plan spaces. From coming together for family dinners, to working from home or helping children with school work, it's become as multi-functional as the rest of our homes,' says Amanda Huber, owner of Dining Chair Co.
'For those who do have a dedicated and more traditional dining room however, keeping this a defined space that is flexible is the key, working for casual family dinners through to more formal dinner parties.'
'When starting the design process, consider what the room's main function is. Do you want to create a smart and formal space, or one that doubles up as a desk and workspace? These decisions will dictate the furniture, colors and layout,' adds Sarah Vanrenen of Vanrenen GW Designs.
So, whether you're looking to create a modern dining room which serves as an extension of your living space, or a space reserved for formal gatherings, these handy tips from leading interior designers on what to put in a dining room besides a table will help inspire you.
1. Add a console table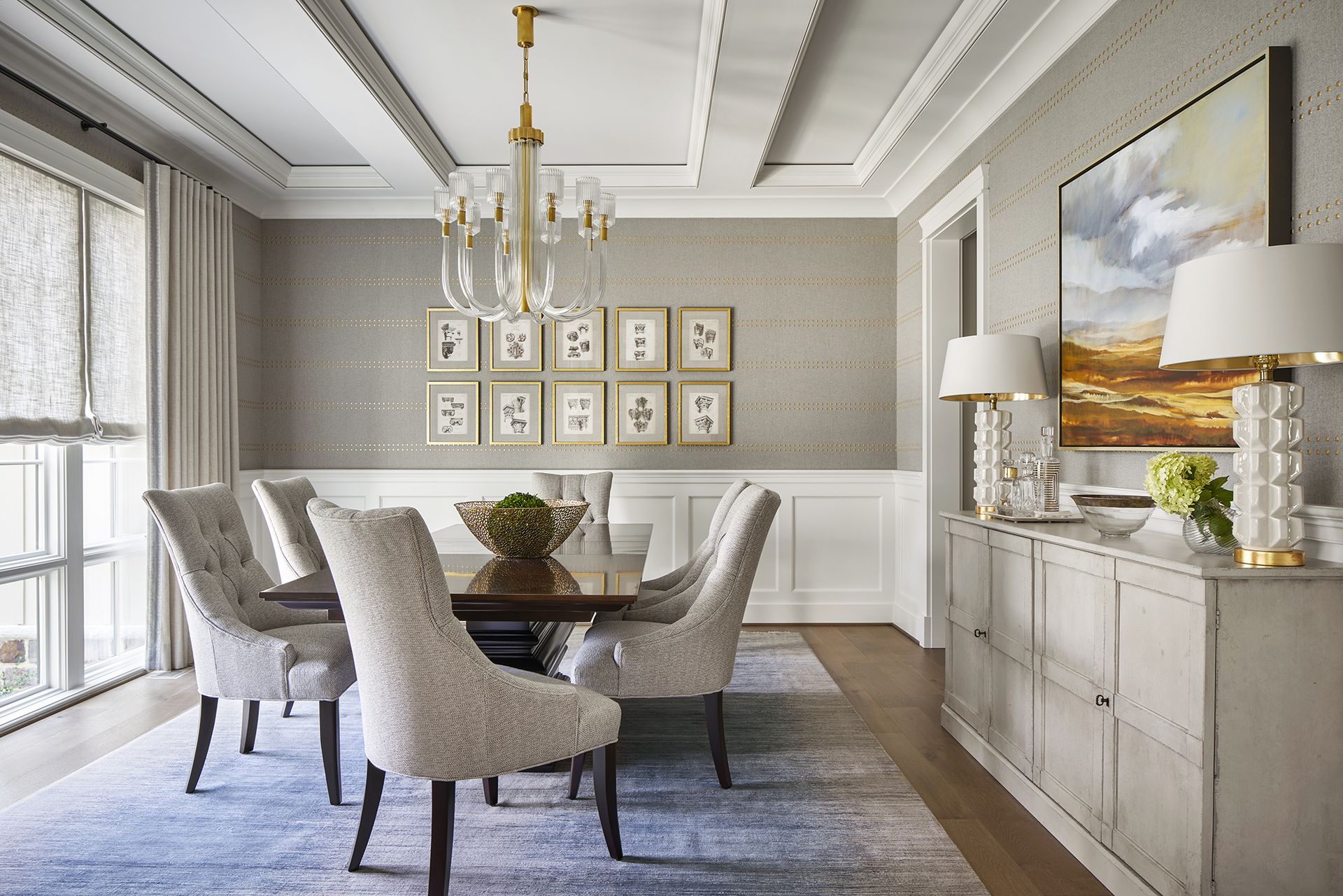 When we asked interior designers what they put in a dining room besides a dining table the multifunctional credenza or console table was an item that came up time and time again.
As well as offering a surface to serve food, it can double as a dining room storage idea for serving dishes, or as a drinks cabinet. Plus, when not in use you can style a console table with table lamps to give a warm glow or with decorative objects to create a display.
'Dining rooms are being utilized for so much more than dining. Tables are being used for work and study. Add a buffet to allow for additional dish storage (or to store a printer!) and serving food,' advises interior designer Tracy Morris.
Interior designer Judy Pickett of Design Lines Signature agrees suggesting that, 'if space allows, adding a buffet or serving piece is always a smart way to add dimension to the room, but also offers such flexibility to be able to serve out of the space.'
If you have a traditional dining room Louise Wicksteed, design director at Sims Hilditch suggests that, 'an antique side table is a nice addition. It can be styled with a paired of elegant table lamps and a round mirror on the wall above. This not only looks great, but can make a room appear larger too.'
2. Fit a cabinet or dresser
Continuing the theme of storage, interior designer Anne Hepfer suggests a cabinet makes a wonderful addition to a dining room.
'For extra storage and a look of elegance, you can add a china cabinet or a small dresser. This can be easily styled with candles, fresh flowers, and lamps for a moody setting.'
While open dressers have a lovely traditional feel, cabinets with closed doors or glazed doors prevent the need for constant dusting, plus, 'glass door cabinets work well for homeowners wanting to display their dishes,' says interior design Noelle Parks of Noelle Interiors.
There are plenty of freestanding cabinets and dressers available, alternatively, fitting alcoves with bespoke cabinets makes a perfect small dining room idea.
3. Go for upholstered dining chairs
Seating is an integral part of a dining room design and 'what kind of dining chairs are best?' is another key question to address during the design process. The seating you choose will depend on the atmosphere you want to create and ultimately what you find most comfortable.
For those looking for a formal setting with a sense of occasion that you don't get from a kitchen diner, you can't go wrong with upholstered dining chairs suggests Simon Temprell of Neptune. 'Upholstered dining chairs are more luxurious, and they bring a feeling of softness and warmth into a space.'
'In terms of seating, traditionally, upholstered dining chairs are the go-to, but upholstered dining benches have also grown in popularity creating a slightly less formal set-up,' Amanda Huber of Dining Chair Co. 'The joy of upholstered chairs and benches is that once you've picked the shape and design of the chair or bench itself, you can then get creative with your fabric choices.'
4. Try benches for a casual atmosphere
When it comes to seating for a kitchen diner ideas, benches are a good way to evoke a more casual feel.
'If you have an open plan kitchen/dining room, then relaxed bench seating paired with a wooden table is a great idea, suggests Louise Wicksteed, design director of Sims Hilditch. 'A kitchen/dining room should be a social space that is designed to encourage people to spend time there, and comfortable bench seating does just that.'
5. Think about lighting
Dining room lighting ideas are a key part of any interior, but are particularly important in dining rooms where having plenty of ambient lighting is vital for creating atmosphere.
'Using layered lighting is a great way to make a dining space feel cozy. Oversized overhead lighting paired with table and wall lights allow the ambience in the room to be altered as required, creating a soft and inviting space throughout the day,' says Louise Wicksteed.
Similarly, when asked what to put in a dining room besides a table, designer Anne Hepfer suggested 'a fabulous light fixture to anchor the room.' Michael Sandsmark of Design West Interiors advises that, 'credenzas complemented with sconces for ambient lighting are a must for any cozy dining room.'
6. Add a bar
'Introducing a home bar idea within a dining room not only creates the perfect opportunity for after-dinner drinks, but on a more practical level it adds useful storage to conceal the less decorative and more habitually used tableware and practical accessories,' says Clara Ewart, head of design at Kitesgrove.
Here, Kitesgrove fitted a bespoke bar area complete with a wine fridge and have made a feature of it with a saturated, eye-catching teal which makes a fabulous backdrop for brass barware.
Alternatively, if you don't have space for a bespoke, fitted bar area, consider a flexible bar cart idea which can easily be repositioned throughout the room or stored elsewhere and wheeled into the space for serving cocktails and aperitifs.
7. Bring glamor with a mirror
Mirrors are wonderful dining room wall ideas. Not only does decorating with mirrors add a touch of glamor, it helps reflect daylight, making rooms feel larger, plus they amplify the warm glow of candles after dark creating a fabulously cozy atmosphere.
'A large mirror adds a certain elegance to a formal dining space, like the one pictured,' says Louise Wicksteed, design director at Sims Hilditch. 'Here, a round mirror adds a nice contrast to the space, offsetting the sharper edges of the panelling and the large adjacent window. This brings a softness to the dining room, making it a welcoming space.'
8. Style the table with flowers or a seasonal display
Dining tables can be dominating features in a room and it can be hard to know what to do with them when they aren't in use. This is where dining table decor ideas come in. Decorating with flowers or styling a seasonal centerpiece on the table, or even hanging above it, can make for a wonderful focal point.
'I like to use over-scaled floral designs to anchor a dining table that isn't in use – particularly in an open-plan setting where a large empty surface can create a hollow in the room,' says Natalia Miyar, founder, Natalia Miyar Atelier.
For a lovely fall table decor idea why not create an arrangement of pumpkins, gourds and candles as done here by Oka?
9. Add lounge seating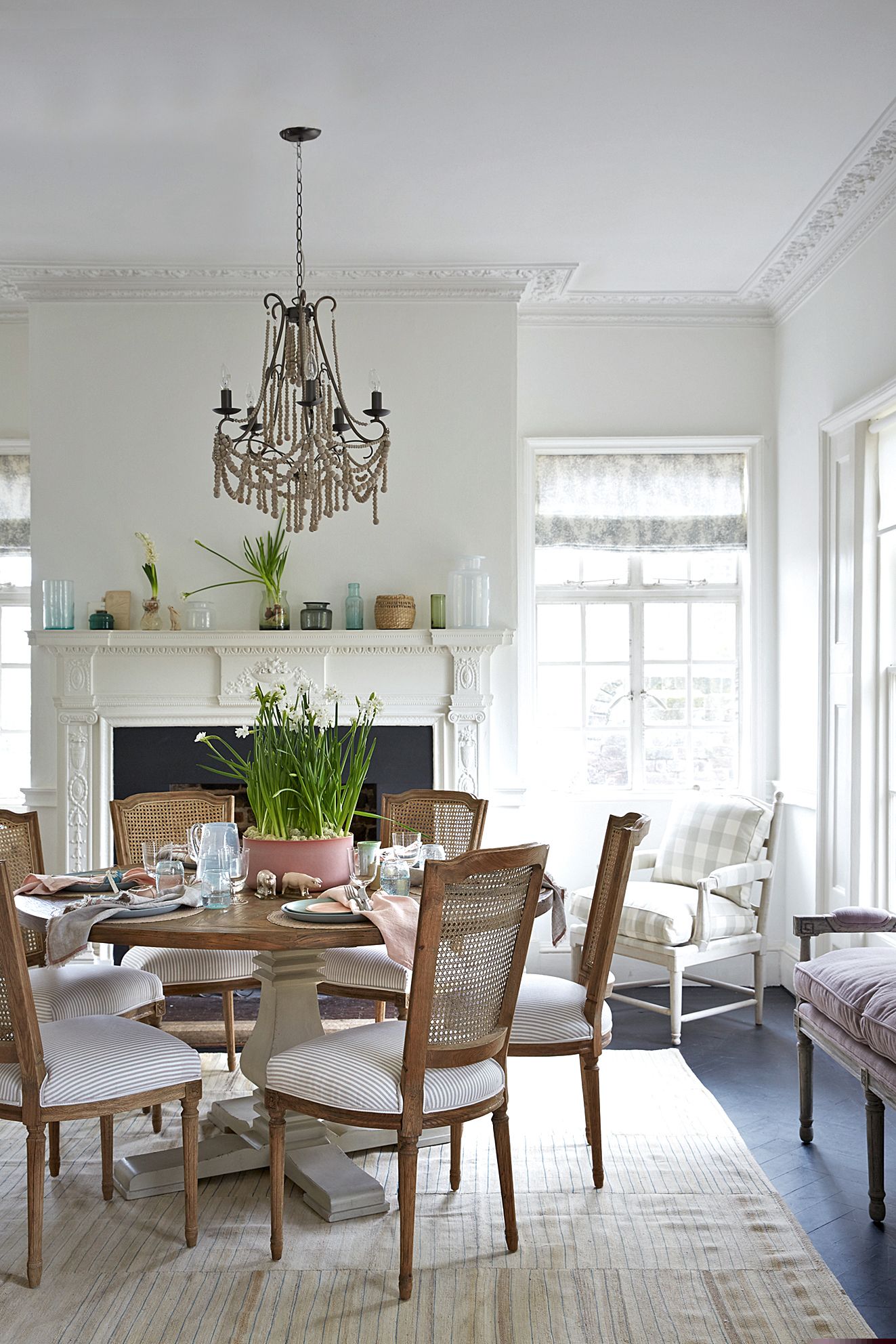 If space allows, consider adding lounge seating or on-trend banquette seating ideas where guests can relax, suggests interior designer Phillip Thomas when asked what to put in a dining room besides a table.
'Dining rooms have the challenge that they do often only serve one purpose: dining. In my dining rooms, I try to create an environment where dining is just one of the many activities that can occur in that space. I like to build banquettes around the perimeter to create a lounge-like environment that can be attractive and useful during cocktail parties.
'I also like to create dining tables that can vary in size and shape. This can allow you to create a table that can serve not only for dining but also for other purposes, such as buffet or display,' adds Phillip.
Which dining table shape is best?
The best shape dining table is round, for small homes, and oval, for larger homes. This is because in losing the corners, you gain more floor space that will make moving around the room easier, and in the case of small homes, can make them feel larger, too. Both also encourage sociability since everyone is facing everyone else. Both these shapes do, however, mean less tabletop storage, so if you don't have a buffet or countertop on which to conveniently store all those serving dishes for second helpings or self-service, you may want to consider a small extra serving table – or swapping to a square or rectangular table.
Sign up to the Homes & Gardens newsletter
Decor Ideas. Project Inspiration. Expert Advice. Delivered to your inbox.
Pippa is Content Editor on Homes & Gardens online contributing to Period Living and Country Homes & Interiors print issues. A graduate of Art History and formerly Style Editor at Period Living, she is passionate about architecture, creating decorating content, interior styling and writing about craft and historic homes. She enjoys searching out beautiful images and the latest trends to share with the Homes & Gardens audience. A keen gardener, when she's not writing you'll find her growing flowers on her village allotment for styling projects.