Decorating with flowers – 10 pretty ways to brighten your home with blooms
Whether for a special occasion or just because, decorating with flowers is an easy way to add color, scent and style to a space. These flower decorating ideas are amongst the prettiest we've seen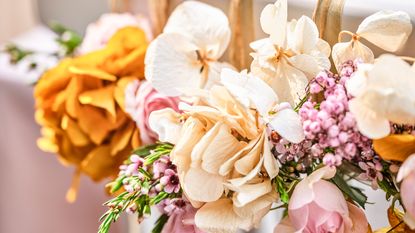 (Image credit: Image credit: Future/Photography: Dan Duchars, Emma Lee; Styling: Sara Bird)
Decorating with flowers has to be one of the simplest ways of making a room – indoors or out – feel special and look pretty. And if you choose beautifully scented blooms, they will announce their presence as soon as you enter the room.
That said, while we encourage you to consider flower bed ideas that have blooms perfect for cutting, there are lots of clever ways to cheat it, too. Below, we bring you our favorite flower decorating ideas, real and fake.
Decorating with flowers
Create a gorgeous setting for entertaining, inside and out, with these beautiful flower decorating ideas.
1. Create a floral pendant for over a dining table
You can transform a lampshade frame into a beautiful hanging arrangement with fresh and dried flowers – and hang your floral pendant inside or out.
1. To begin, remove the bulb holder in the frame with wire cutters, then completely cover the wire sections with moss using florist wire to hold in place.
2. To create the floral base make a small bunch with 4 or 5 stems – no larger than 10cm in length - and wire horizontally in place. With alternative posies facing slightly up or down, gradually layer up and work around the rim, covering the wire each time and build the arrangement, filling with different floral posies.
3. Finally, add ribbon from which to hang the pendant.
Tip: Use woody stemmed flowers such as rose, waxflower and eucalyptus. These will dry beautifully for a long lasting display.
2. Plant up a bench of blooms
This is a wonderfully easy idea that can be used outdoors where you want to decorate with flowers but maybe don't have a dug border in which to plant them. And, of course, you can easily translate it into a flower decorating idea indoors, too.
All you need? A collection of vintage containers, unusual pots or simply a selection of planters painted in coordinating colors.
3. Make a flower napkin tie – in minutes
Of course, you can use a real bloom, but for a flower decorating idea that's a take-me-home party favor, tie a tissue paper blossom around a napkin. We used colored tissue paper (a couple of shades), plus used ribbon, string and craft scissors
1. Measure and cut several layers of tissue to around 20cm square.
2. Create a 1cm fold at the bottom of the layers of tissue paper. As if you were creating a fan, turn over and repeat on the other side. Continue until all of the paper is folded, concertina-style.
3. Cut the folded tissue in half to create two sections then layer-up, then place them on top of each other.
4. Tie the tissue paper together in the middle with a piece of string, then cut off the corners at each end to create soft, rounded edges.
5. Start to separate the tissue by delicately fanning out the individual tissue layers.
6. Finally, thread through some ribbon through the string loop and tie onto a napkin
Tip: Use a chopstick or straw to separate the tissue if tricky to manipulate.
4. Make a table centerpiece – dried flowers can work too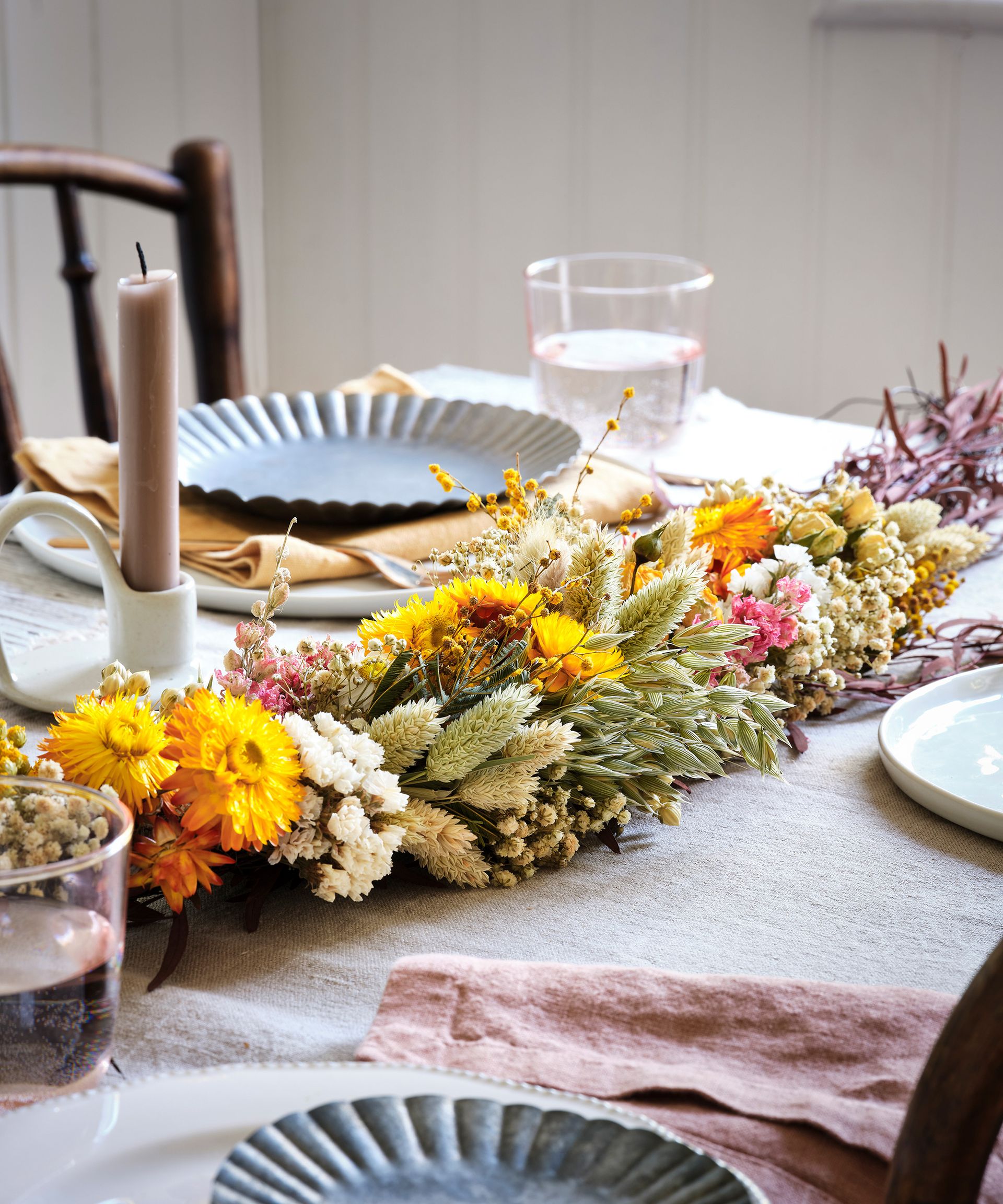 Dried flower arrangements are having a moment. We created this one with rose buds, mimosa, flax, matricaria, daisies, helichrysum, broom, delphiniums, poppy heads, phalaris, bunny tails, eucalyptus, gypsophila, oat stems and statice. This is how.
1. Cut the flower stems to 10cm and fix groups of the same flower together with florist wire.
2. Take one length of the garland and wire in eucaplytus stems.
3. Push a group of flowers into the garland at a time, starting at one end and working towards the other, holding each section in place with florist wire.
4. Finish the garland with three groups of flowers pushed in the opposite way to hide the wiring.
5. Decorate lanterns with flowers and ribbon
Use real flowers or add a paper posy to a lantern for a pop of summery color.
1. For a paper flower, take three lengths of tissue, each measuring slightly different widths – try 2cm, 3cm and 4cm. Fold these up along the length to create a square shape.
2. Fold the square in half along the folds then, leaving a half centimeter border, cut a half petal shape. Unfold.
3. Take a pencil and starting with the smallest tissue width, wind around the pencil. When at the end, tape on the next size up and continue winding before taping off the last piece.
4. Push off the end of the pencil and thread covered florist wire down the central hole. Tie a few knots and pull back through the flower to create a stem.
5. Gather a few of these together with some dried flowers and tie off in a posy with more covered florists wire, Secure to the lamp top with ribbon.
Tip: Try different colored tissue to alternate the petal shades.
6. Make a special occasion beautiful with decorated chairs
Create a simple yet striking chair decoration from ribbon and flower stems.
1. Take a length of covered wreath wire and wind it around the top rail of a chair – we chose to do a wide blanket stitch around the chair for stability. keep the tension tight to create a good grip for the flowers.
2. Repeat the process with ribbon to cover the wire, then attach a few lengths of ribbon at either end to drape elegantly.
3. Snip flowers and foliage to a neat size to fit along the rail and push in behind the wire. We used garden flowers with strong or woody stems such as rose and preserved and dried flowers for longevity. Keep layering along the chair rail until you reach your desired finish.
Tip: As the fresh flowers tire, replace as needs be with new stems to last over the summer months.
7. Fashion a garland from paper flowers
Trim a gazebo or garden room with a pretty paper garland for year-round appeal.
1. To begin, cut out leaf and blossom shapes from paper and tissue. We cut ours freehand, but for ease try a leaf and flower paper punch, available from all good craft suppliers.
2. Using a sewing machine, thread up with green cotton and arrange a few leaves in front of the sewing foot, at the leaf base. Slowly start the sewing machine, pushing the paper through under the needle to catch into the stitch. Dot flowers and blossom along the length as needs be and continue until the desired length is reached.
3. To hang, either drape from garden canes outside or arrange around a window from branches.
Tip: We added trailing ivy for extra natural leafiness.
8. Make a pretty fabric cachepot
The perfect use for cherished fabric leftovers, these pretty pot cuffs jazz-up old jam jars in an instant.
1. Measure the height and circumference of the jar and add 2cm to each measurement. Cut a piece of fabric to this size. Repeat with a complementary fabric, taking 2cm off the height.
2. Take each of the fabrics, wrong side facing, and press a 1cm hem on the longer sides with iron-on fabric bonding tape. Turn over and position the narrow band on top of the wider one, sandwiching more tape in between, then iron to bond them together.
3. Fold the fabrics into a tube with the short edges meeting, right sides together, and press a 1cm hem together with more tape to secure the edges. Turn right side out and place over your jar.
9. Combine flowers and houseplants for a verdant table
When it comes to flower decorating ideas, say au revoir to formal installations and give fresh, seasonal stems the space and freedom to cascade, tumble and spread wildly – embracing a variety of heights and shapes for effortless volume and untamed gorgeousness.
Then, combine them with pretty potted houseplants to boost the greenery on the table so that it feels as much like a plant display as a table centerpiece.
10. Use clever tricks to boost flower decorating ideas
These are the tricks to use to make decorating with flowers easier, and more long-lived.
With fresh flowers, the trick is to condition them to make them last longer. Cut the stems a few inches up the ends, plunge in fresh water with some preservative, and keep in a cool (not cold) room to bring the flowers out without going over.
Choose woody or strong-stemmed blooms for longevity.
Preserved and dried stems will give a framework on which fresh flowers can dry, keeping shape while they age. Dried flowers are 'dried' by removal of water, while preserved flowers are treated with silica or borax to make them long lasting. Preserved flowers keep their shape and color and are slightly more robust than dried.
Cheat! Paper, preserved and dried flowers help to make fresh flower arrangements last longer.
Is it okay to decorate with fake flowers?
It is okay to decorate with fake flowers. Fake flowers have had a bit of a rebirth in popularity recently and that's largely down to how realistic they look. However, a room only decorated with fake flowers will not look (or smell) nearly as good as one decorated with real flowers – or a combination of real and fake.
How do you decorate with flowers?
There are so many ways to decorate with flowers – but these are some our favorites:
An unstructured posy of flowers in a vase, with blooms cut from your own flower beds is unbeatable.
A wreath of flowers on the front door, over a fireplace or suspended horizontally above a dining table is perfect for a special occasion.
A simple posy of flowers tied to the back of a dining table is a wonderful way of decorating with flowers for summer garden parties and special occasions, such as weddings.
A single, pretty bloom tied around a napkin is a lovely place setting – another idea is to fold lavender sprigs into a napkin so that the scent is released when the diner opens it.
Sign up to the Homes & Gardens newsletter
Decor Ideas. Project Inspiration. Expert Advice. Delivered to your inbox.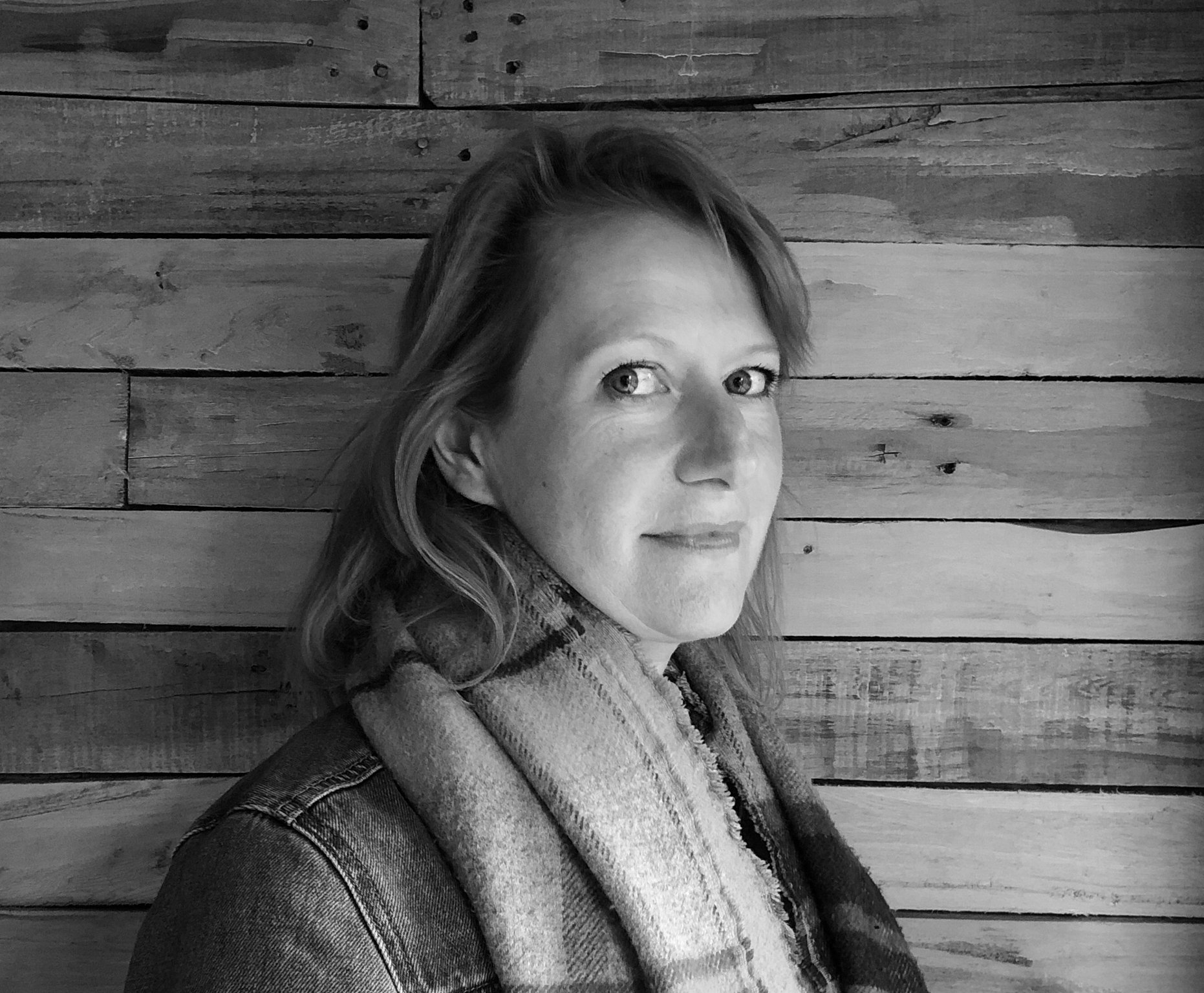 Creative Director, Stylist, speaker, published author of books Home for the Soul and Gardens for the Soul and Style Editor at Future, Sara has been creating commercial and editorial images and content for favorite interiors and lifestyle brands for over 25 years, including Country Homes, Ideal Home and Homes & Gardens.