Decorating with dried flowers – 12 pretty arrangements
Join the petal preservation society with these stunning ideas for decorating with dried flowers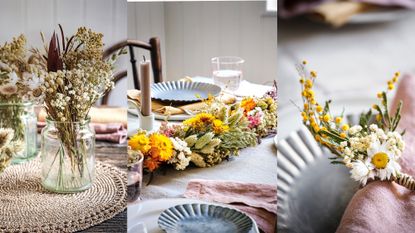 (Image credit: Future)
Decorating with dried flowers is a lovely way to bring the beauty of nature into your home all year round.
Popular during Victorian times, decorating with dried flowers has made a big come back in recent years as a way to connect with nature, and makes a fabulous alternative to fresh flowers.
There's no denying that fresh floral bouquets can bring a room to life, but they do have a limited lifespan. Dried flowers, on the other hand, are everlasting and will bring joy to interiors month after month without having to be continually refreshed, making them a far more sustainable way of decorating with flowers.
There are plenty of ways to display dried flowers such as strawflowers, and seedheads throughout your home. To help get you inspired we've rounded up our favorite creative ideas along with some tips on how to create them.
Decorating with dried flowers – where to start
If you're keen on decorating with dried flowers there are blooms you can buy ready dried, but there's something even more special about collecting the ingredients for your display from your own garden.
An age-old craft, drying flowers is a great way to preserve beautiful blooms from the garden and is easy to do at home with our step by step guide on how to dry flowers. You could even preserve a wedding bouquet as a precious keepsake.
'Drying flowers is a lovely way to make treasured flowers last for years and will keep happy memories of summer alive throughout the seasons,' says Melanie Griffiths, editor at Period Living magazine.
Pressing flowers is another brilliant way to preserve flowers for decorating. By learning how to press flowers you will be able to create beautiful artworks to display throughout your home.
1. Fill a jam jar
Jam jars, produce pots and even charity shop glass oddments make low-key but lovely holders for hand-tied posies.
We used daisies, bunny tails, eucalyptus, flax, gypsophila, oats, broom and phalaris for variety and texture.
Gradually add stems of flowers to one hand, starting with longer stems for the middle. Add two or three of the same stem at a time, twisting the posy to maintain equal flowers and create a rounded feel.
Tie off with some florist wire and snip the ends so the posy fits perfectly into the jar.
2. Create a pretty table centrepiece
One up from fresh flowers, this dried flower garland is a fabulous fall table decor idea which can be used time and again.
We used rose buds, mimosa, flax, matricaria, daisies, helichrysum, broom, delphiniums, poppy heads, phalaris, bunny tails, eucalyptus, gypsophila, oat stems and statice.
Cut all the flowers to a length of 10cm and fix together groups of the same flower with florist wire. Take a length of garland and wire in some eucaplytus stems. Starting at one end, push a group of flowers into the garland and secure in place with florist wire. Gradually build up with flowers, mixing up for fullness.
Finish with three groups of flowers pushed in the opposite way to hide the wiring.
3. Hang a wreath
This dried wreath is perfect for brining cheer to a plain wall, but would also make a lovely Easter wreath.
To make it, begin with a ready-made grapevine wreath. Arrange the stems and flowers in separate groups – we used mimosa, eucalyptus, oats, bunny tails, delphinium, gypsophila and helichrysum.
Start laying the first group of flowers along the front of the wreath at the base, with stems facing down. Secure in place with covered florist wire. Repeat with the next group of flowers, making sure the heads cover the wire. Continue until the centre is reached then repeat the other way.
Finish and cover the last stems with helichrysum flower heads
4. Create a pretty posy for a vase
This colorful dried flower posy would look great display in a simple vase or makes a pretty and lasting gift idea.
Separate the stems into groups – we used oats, bunny tails, delphinium, gypsophilia, grasses, daisies, statice, rosebuds and helichrysum.
Start with the flatter stems in one hand, keep these longer and to the rear of the arrangement, then add in neater stems in slightly shorter lengths, keeping the stems straight and pointing down.
Gradually fill in with rounded flowers, covering the stems. Secure with florist wire, keeping the stems long but trim to neaten. Wrap the stems with ribbon and finish with a bow.
5. Make a floral napkin ring
A beautiful dining table decor idea, this dried flower napkin ring is the perfect way to pretty-up place settings.
We used mimosa, daisies, bunny tails and gypsophila. Take a length of covered florist wire and wind in a circle a few times to make the ring base, then wind the wire over on itself around the ring to support the structure.
Pinch together a small group of flowers, snipping off long stems.
Place along the edge of the wire then wrap and secure them in place with more covered wire. Snip off the ends of the wire for a neat finish.
6. Decorate a mantelpiece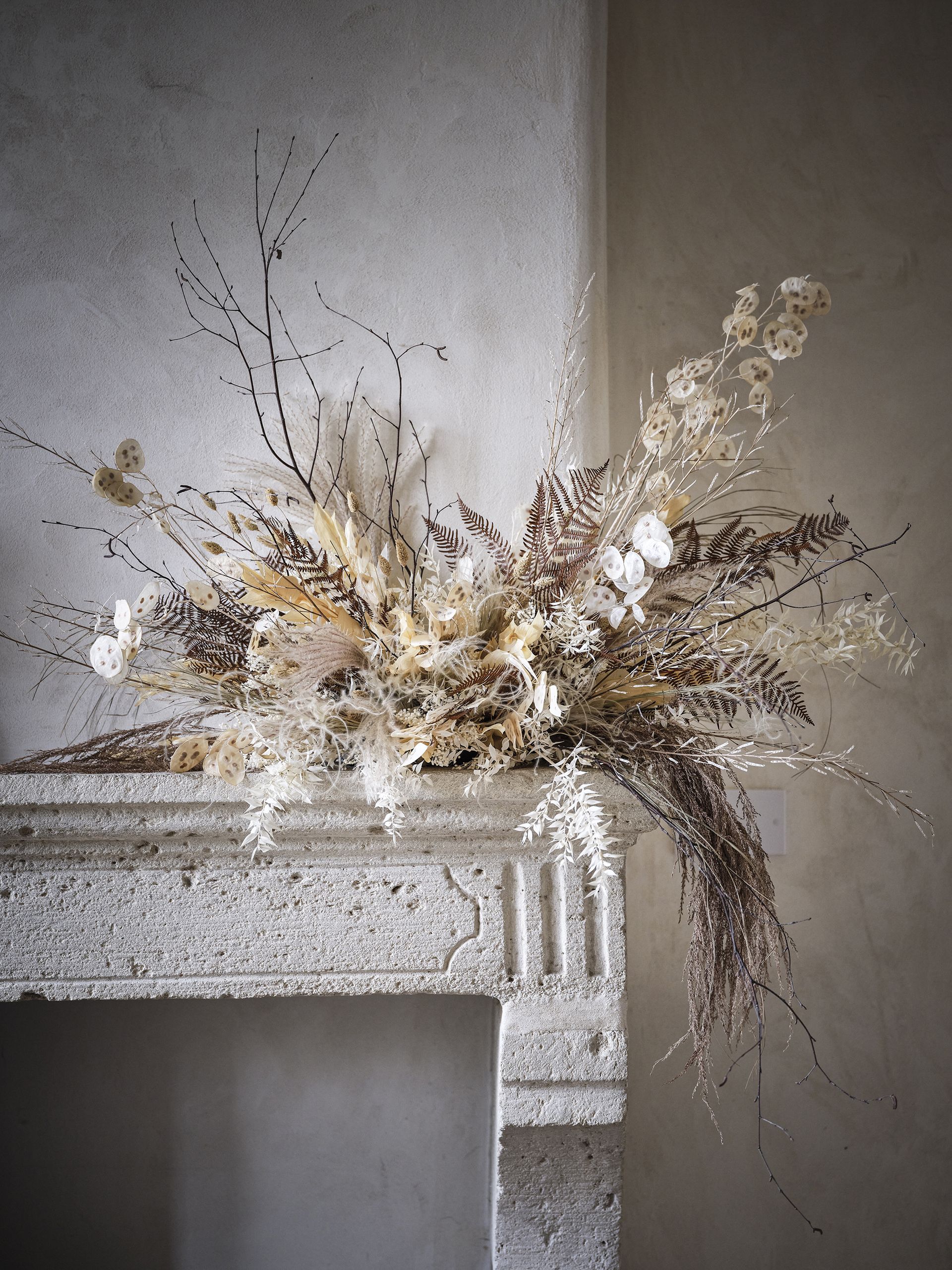 Dried flower arrangements make beautiful mantel decor ideas, helping to create a focal point of your fireplace.
Created by Star + The Rose, this bespoke arrangement featuring sculptural twigs, honesty, ruscus and ferns, makes a lovely fall mantel decor idea, with its emphasis on muted tones and sculptural shapes rather than summer brights.
7. Adorn a mirror
Crowning a mirror with a dried flower arrangement is a lovely way to bring a pretty, feminine touch to a dressing table or a guest bedroom. Created by Layla Robinson, this display was designed to 'combine a vibrant, textural wild feel of nature and flowers, with a faded classic style of glamour and opulence,' says the floral designer.
'It features foraged birch, bracken, and traveller's joy, strawflowers in shades of peach, apricot, and cream, lady's mantle, honesty,' says Layla. She also used ornamental grasses such as bunny tails, quaking grass, and miscanthus sinensis, 'and for a pop of color, acid yellow billies buttons, and purple xeranthemum annuum.'
8. Showcase arrangements in a decorative dome
Displaying dried flowers in domes is a lovely way to keep arrangements looking their best.
Measure the chosen flowers against the size of the dome – we used poppy heads, bunny tails, daisies and mimosa – leaving a few centimetres gap between the flower heads and the glass.
Shape a piece of dry oasis to fit in the base. Cover the sides by winding around raffia and stick to the dome base with double-sided tape. Taking the tallest flowers first, push into the oasis starting at the centre.
Add the flowers and grasses in a gradually shorter style around them. Cover the remainder of the oasis block with shorter stems of mimosa flowers and foliage.
9. Display dried flowers in vintage jugs
If you love decorating with antiques then why not display a dried bouquet in a vintage jug? Using vintage pieces is a brilliant way to create a quirky display and would look lovely on a mantelpiece or used as a table centerpiece in a cottage kitchen.
Featuring dainty honesty, colorful strawflowers and sculptural grasses, this arrangement by Dot & Dandelion really sings when set against a dark backdrop.
When decorating with dried flowers be careful to place them out of direct sunlight. 'If exposed to too much light the colors of the flowers will fade,' says Flicky Wallace, owner of floral studio Dot & Dandelion.
10. Display and dry fragrant herbs and flowers
If you're planning to dry your own home-grown herbs and flowers then why not make a beautiful display at the same time by tying bunches to a wreath to create a scented display?
Cut herbs and flowers and group into bundles. Tie with twine and then secure into place on a wreath, hanging each bundle an equal distance apart. Hang the whole wreath with plaited twine or rope tied to four sides.
To finish add ribbons to the bundles and weave in flowers into the wreath frame to create a pretty display.
'To dry flowers and get the best results you want to dry them in bunches of stems around 5-10 – no bigger otherwise the flowers in the middle will rot,' says Flicky Wallace of floral studio Dot & Dandelion.
11. Decorate the fireplace
Whether in a dining room or living room, decorating with dried flowers is a brilliant way to create a focal point of a fireplace for when guests come to visit. Teaming a wreath and a mantel garland together will really make an impact.
If you have a neutral living room, consider dried flower arrangements that feature just one flower to keep the space feeling calm such as these sculptural dried teasels – for a pop of color add a simple ribbon. Wonderfully sculptural, the teasels will cast beautiful shadows in the candlelight – but be sure to place your candles where they won't set the the arrangements alight!
12. Display single stems
When it comes to decorating with dried flowers there's no need to have a large bouquet, single stems can look just as stylish.
You could try one large sculptural stem of dried hog weed, or alternatively, 'try individual stems in a collection of collected or salvaged pots, bottles, and jars along a mantle or in the center of a table,' suggests floral designer, Layla Robinson.
How do you decorate with dried flowers?
There are lots of ways to decorate with dried flowers. Grouped together in a posy, dried flowers are a fabulous way to pretty up shelves or a coffee table, or you could display single stems in a series of vases or vintage bottles.
Using dried flowers to make a garland is a lovely way to decorate a mantlepiece, plus would make the perfect table centerpiece, you could use it to adorn a mirror, too.
For a beautiful statement display you could even, 'hang small bunches from a twisty horizontal branch, that is suspended from the ceiling,' suggests floral designer Layla Robinson.
'Dried flowers have a beautiful texture and architectural structure, as well as being wonderfully long lived,' says Layla Robinson of their appeal.
How do you display pressed dried flowers?
Pressed dried flowers are perfect for framing and displaying as botanical wall art. A series of pressed dried flowers mounted and framed in the same way and displayed in a grid would make a beautiful feature in a bedroom, helping to bring the beauty and calm of the outside into the home.
'If you want to create a gallery wall, then I'd always advise laying your frames out on the floor to create the layout, says Helen Armon-Jones, founder at The Art Buyer. 'This will allow you to move pieces around until you find the layout that works best for you, and will avoid you creating many holes in the wall. Ultimately, the key is to create a relaxing room, allowing space and room to breathe around artworks and furniture,'
Alternatively, framed pressed flowers would look lovely displayed singularly resting on a mantel or used for decorating shelves.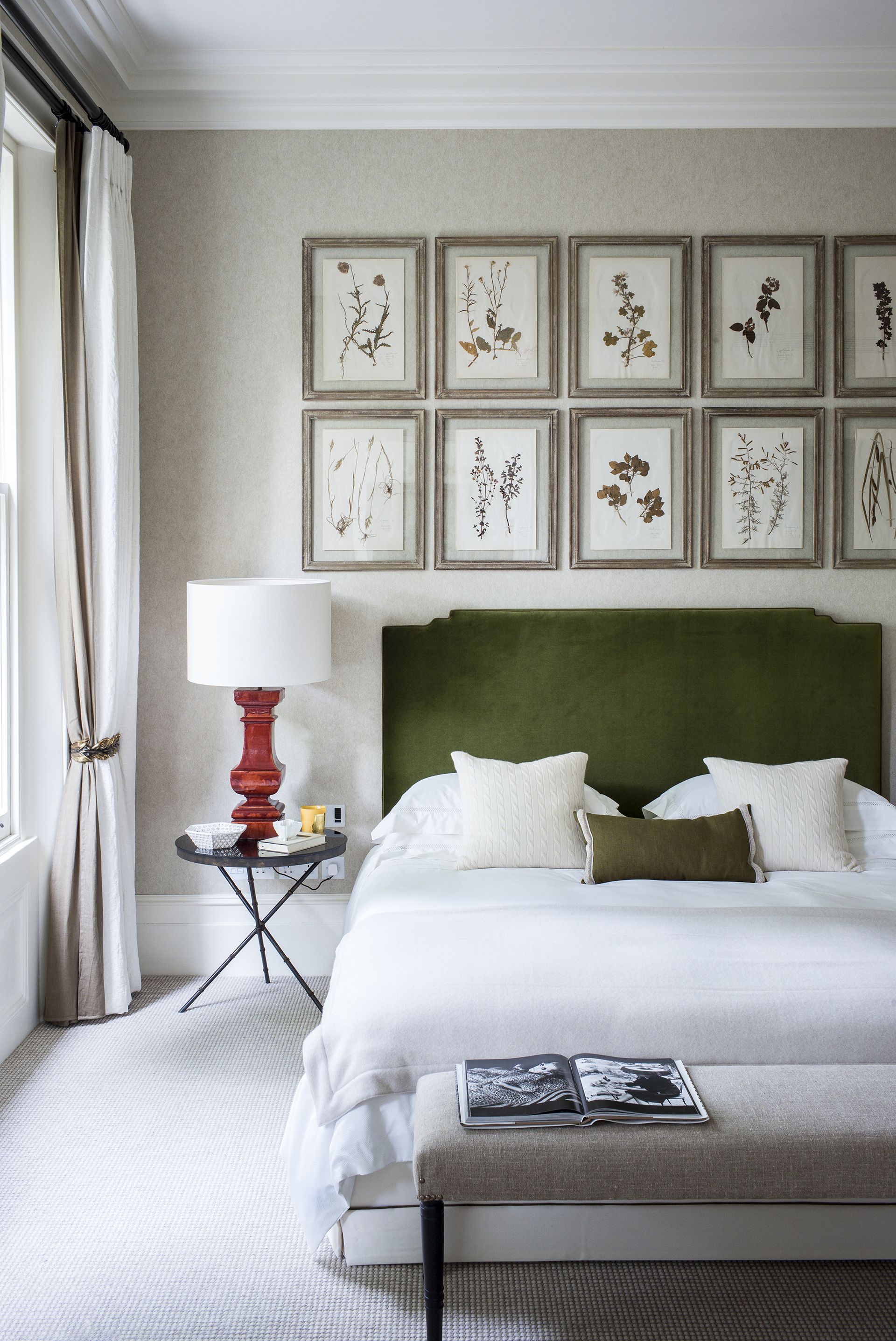 Sign up to the Homes & Gardens newsletter
Decor Ideas. Project Inspiration. Expert Advice. Delivered to your inbox.
Pippa is Content Editor on Homes & Gardens online contributing to Period Living and Country Homes & Interiors print issues. A graduate of Art History and formerly Style Editor at Period Living, she is passionate about architecture, creating decorating content, interior styling and writing about craft and historic homes. She enjoys searching out beautiful images and the latest trends to share with the Homes & Gardens audience. A keen gardener, when she's not writing you'll find her growing flowers on her village allotment for styling projects.