How to press flowers – a step by step guide
This traditional craft is making a comeback with a modern twist – find out how to press flowers to decorate your home in a unique way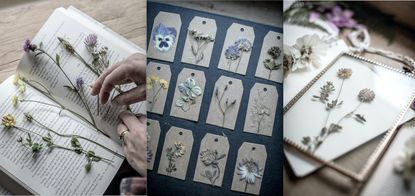 (Image credit: Claire Holland/Paper Thin Moon)
Pressing flowers is an age-old craft that can be enjoyed by everyone – from children to design sophisticates. Floral displays and dried-flower arrangements have seen a huge resurgence, as we seek new ways to connect with nature and bring the beauty of the outdoors into our homes – and the next new-old trend is flower pressing, which is making a welcome return to our interior design schemes.
'It's not just a vase of freshly picked blooms or a conventional display of everlasting flowers stuck into florist's foam,' says Andréa Childs, Editor of Country Homes & Interiors magazine. 'From flower clouds suspended above a dining table to DIY living spring wreaths, creating exciting and innovative displays is a way to channel our creativity in simple, mindful ways that help to bring calm to our senses and harmony to our home.'
We spoke to designer Claire Holland to discover the secrets of how to press flowers.
How to press flowers
Pressing flowers between the pages of a book, or in a flower press, is a traditional way to preserve the delicate beauty of blooms – especially wild flowers that quickly wilt once picked. They can be a memento of a walk and a way to note the shift of the seasons through their changing flowers. And the mindful focus of pressing or displaying your preserved blooms can be surprisingly relaxing.
Designer Claire Holland of Paper Thin Moon began pressing flowers as a child, and she rediscovered her love of the craft after having children of her own.
'It's always best to press flowers (particularly wild ones) as soon as you've picked them – the fresher the better,' explains Claire. 'I take a small notebook out and about with me, so I can press them on the go, then I transfer them to a larger book when I get home.
'I put blotting paper either side of the flowers to avoid damaging the pages and leave them for at least two weeks before opening them up again. It's such a wonderful surprise to see how they've turned out.'
Follow Claire's step-by-step instructions for how to press flowers, below. Things you might need to press your flowers include a book and some blotting paper. We've found some specialized blotting paper for flower pressing at Amazon. Plus, she share's her tips for picking the best blooms in every season.
1. Prepare for picking
'Flowers, particularly wild flowers, will wilt quickly once picked – particularly on warmer days. They are unusable once too far gone, so if you know you are going out looking for flowers to press, try taking a plastic, lidded tube with you and keeping them in there until you get home. I got mine from a florist,' Claire says.
Alternatively, wrap the picked flowers in kitchen towel or fabric soaked in water.
2. Revive any wilted flowers
'Most flowers can be revived by cutting the stems on an angle and putting them into slightly water for a while,' says Claire.
'If they are very wilted, they can be put in water and left in a cool place or outside until they perk up.'
For best results, press flowers as soon after picking as possible. But make sure they are completely dry first to avoid damaging the delicate petals.
'Lay flowers out on kitchen paper to dry and blot with absorbent paper to remove excess moisture,' says Claire.
3. How to press flowers in a book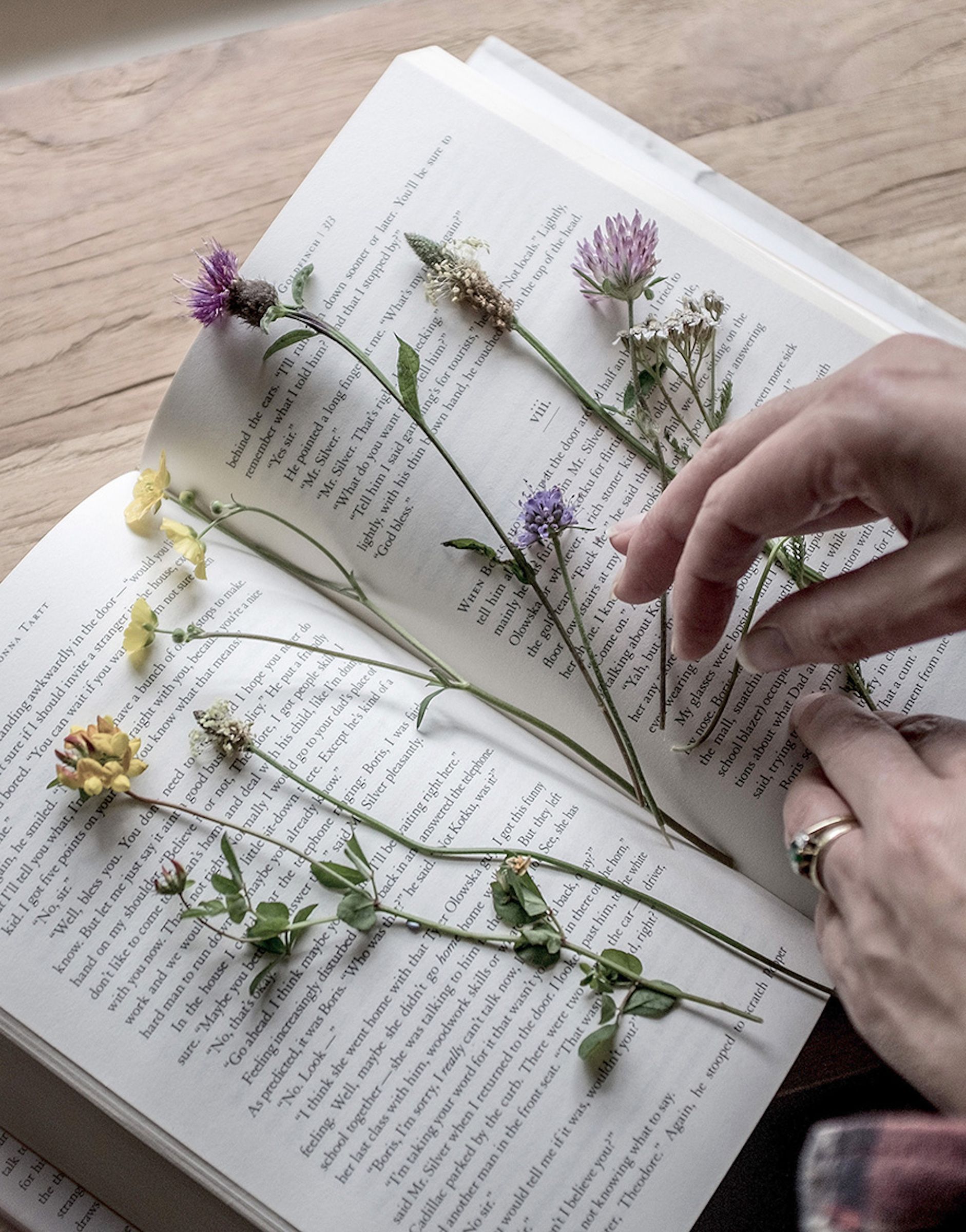 You can buy flower presses made of two pieces of wood that you place flowers between, then screw together to flatten the blooms. But if you're looking for the simplest method of how to press flowers, pull out a book.
Choose a book with pages large enough to place your flowers and stems between.
'You can use blotting paper to protect the pages of the book but it's not necessary,' says Claire. 'Try to wait for at least two weeks before opening the book, as the flowers and leaves can stick to the pages and tear if they are not fully dry.'
To speed up the process, you can place the book under a pile of heavier ones. Otherwise, just return it to your bookshelf until you're ready to look at your pressed flowers.
4. Displaying your pressed flowers
You could leave your pressed flowers in a book to be chanced upon next time you pick it up to read. But if you'd prefer trophy flowers rather than hidden treasures, you can display your pressed flowers in a number of ways.
Glue them to gift tags to make personalised presents; display them in a frame; put them in a locket or piece of jewellery; or even cover in resin to make a pendant or paperweight.
You can buy Claire's pressed flower artworks and prints at Paper Thin Moon.
What flowers are best for pressing?
'Flowers with a simple shape work particularly well for pressing,' says Claire Holland. 'Look for buttercups, clover, red campion and stitchwort. Bell-shaped flowers also press well.'
Can I press leaves as well as flowers?
Yes, you can press leaves as well as flowers. 'Some leaves press beautifully,' says Claire, who recommends the leaves from clematis, elder and cyclamen as some of her favorites.
Pick fresh or newly fallen leaves, as dry leaves will crumble when pressed. Leaves also tend to curl quickly once taken out of the book, so stick them down on paper to preserve their shape.
Sign up to the Homes & Gardens newsletter
Decor Ideas. Project Inspiration. Expert Advice. Delivered to your inbox.
Andrea has been immersed in the world of homes, interiors and lifestyle since her first job in journalism, on Ideal Home. She went from women's magazine Options to Frank. From there it was on to the launch of Red magazine, where she stayed for 10 years and became Assistant Editor. She then shifted into freelancing, and spent 14 years writing for everyone from The Telegraph to The Sunday Times, Livingetc, Stylist and Woman & Home. She was then offered the job as Editor on Country Homes & Interiors, and now combines that role with writing for sister title homesandgardens.com.