22 fall table decor ideas – for a stunning seasonal tablescape
Our beautiful fall table decor ideas will have you layering up warm colors, seasonal decorations and embracing the bounty of the natural world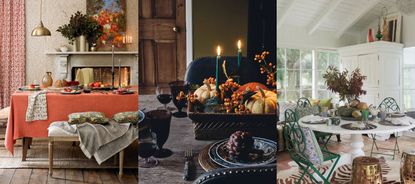 (Image credit: Future / David Brittain | OKA | Jane Beiles)
Fall table decor ideas are key to making your autumnal hibernation feel as atmospheric as the changing leaves, especially if they are beautiful enough to last from the first days of fall right up to the festive holidays.
Fall decor ideas are all about bringing the outside in, just without the chilly breeze. Incorporating the colors, scents and textures of the natural world as it drifts from green and lush to orange and crisp will make dining table decor ideas, both small and large, feel perfectly at one with the seasons.
From cozy layered linens and candles to eye-catching foliage displays and dried flowers, ensure your dining table is dressed to impress this fall.
Create the perfect fall table this cozy season with our inspiring ideas
As the days become shorter and the nights longer, and we spend more time inside of our homes, decorating ideas such as fall table decor will only help to make your space feel more cozy, homey and inviting throughout the colder months; elevating those everyday meals at the table as well as creating a perfect place to sit and entertain with friends and family.
1. Create an eye-catching centerpiece
A beautiful centerpiece can really be the perfect final flourish for dining table decoration.
From tall vases of fall foliage, inspired by outdoor fall decor ideas, to candles, pumpkins and more – the options really are endless.
In this dining room by designer, Joanna Buchanan, the snug round table has been beautifully elevated by a elegant mix of stylish fall table decor. The raised bowl of different colored pumpkins and vase of red and green stems work in harmony to create an eye-catching centerpiece that perfectly reflects the season.
She says of the design, 'to me, a beautiful fall table has a lot of layers, texture, and interest. In this space, the green pumpkin is totally natural. I really like finding those pumpkins with a lot of surface pattern and texture as they can add more natural character to the table – a smooth orange one isn't going to cut it for me.'
Designer Joanna Buchanan developed an unmistakable vision for luxury, color, texture and pattern not only from her 20 years in the fashion retail business, but also through her Hong Kong childhood, adult years in Europe and extensive travel throughout India. Her website includes lines of luxe, seasonal accessories, holiday décor and gifts.
2. Opt for a layered tablescape filled with beautiful contrast
If you're unsure on what decorations to choose for your fall table decor – why not embrace a more is more approach? Perfect if maximalist decor ideas are your chosen style.
We adore this beautiful tablescape design, showcasing a mix of tall candles in a pretty palette of fall tones, elegant vases filled with fall foliage and small pumpkins, the mix of colors, textures and shapes work as one to create a truly stand-out seasonal design.
3. Embrace a bright and colorful fall table
Fall table decor is likely to be inspired by your outdoor fall decor ideas, but, just like outside, even the smallest of touches can make an impact.
'When Thanksgiving approaches, I look forward to feathering my nest with wool, velvet and suede. Transitioning a home from summer to fall should be a subtle refresh, rather than a total redesign, which would get exhausting to undertake every season.
'I like to make small yet impactful updates with color. There is such luxury in harvest-inspired hues like cranberry and pumpkin, hunter greens and earthy browns. Accenting with warm metallic is a good way to add a bit of glamor as well,' says Anne Hepfer, founder and principal designer at Anne Hepfer and author of Mood.
Following the completion of a graduate degree in Interior Architecture and Design from Parsons School of Design, Anne joined top Manhattan firm Daniel Romualdez Architects, managing projects for celebrities and high profile individuals in New York City and The Hamptons. In 2003, she launched her own design firm in Manhattan prior to moving to Toronto, where she now oversees a design team that manages residential projects for clients throughout North America.
4. Create a centerpiece with gourds and berries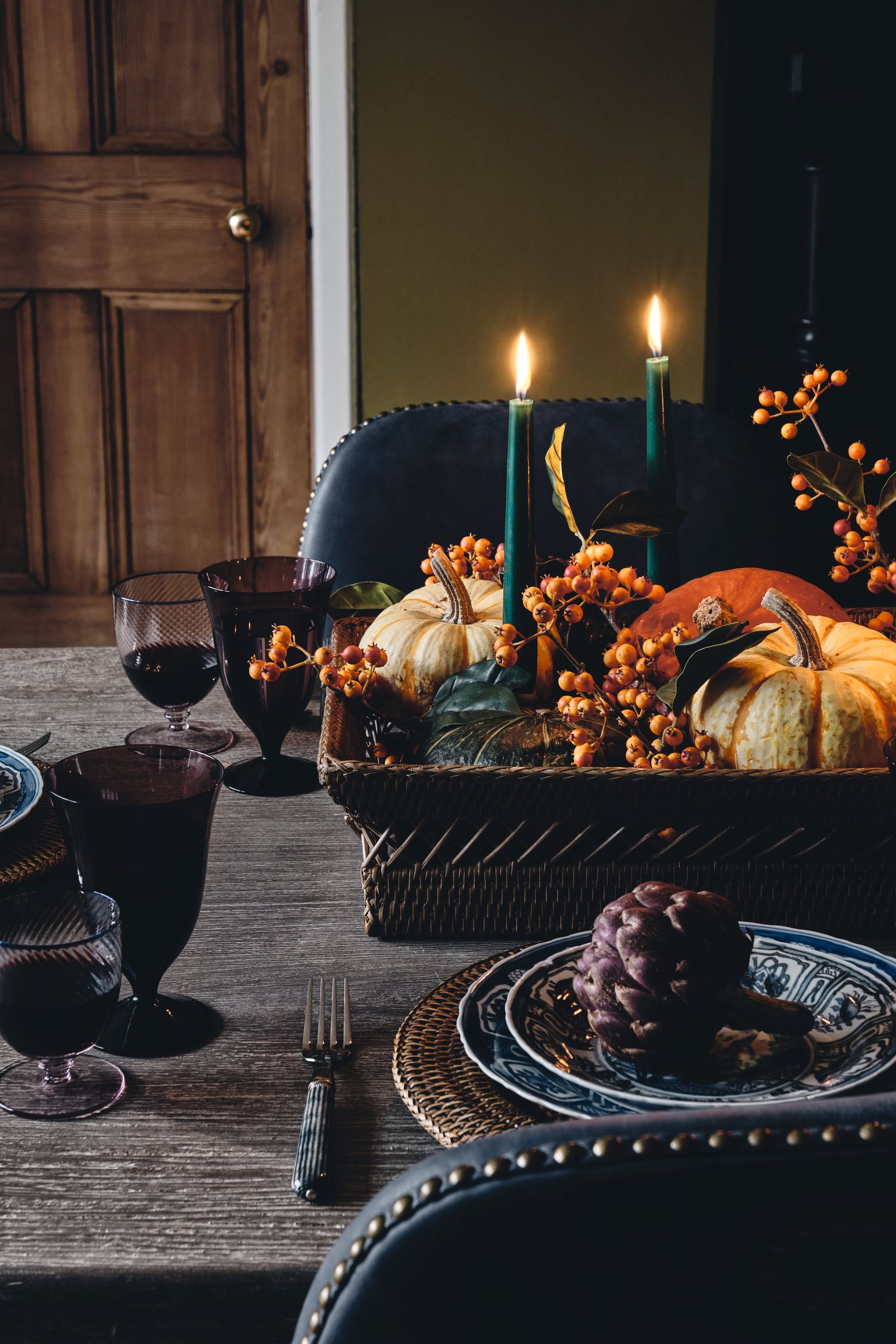 No carve pumpkin ideas make for wonderful fall table decor ideas, but they're most impactful when combined with other decorative seasonal vegetables.
'When it comes to fall table decorations, I prefer a slightly pared back look that still brings plenty of drama. I use pumpkins and gourds to create a really lovely centerpiece; try to choose different colors and sizes to give your display a sense of scale, and mix in lots of fall berries. Don't forget to add plenty of candles to create a cozy atmosphere,' says Sue Jones, co-founder of OKA.
Sue Jones is the Co-Founder and Creative Director of British design brand, OKA. Founded in 1999 with Lady Annabel Astor and Lucinda Waterhouse, the brand has over two decades of collections and 13 experiential stores in the UK and three in the US.
5. Look to the colors of nature for inspiration
Fall color schemes throughout the rest of your home can be easily reflected on your fall table, simply by using decorative layering. And if you want to set a table for impact, you'll know that layering is all.
'When dressing your dining table for an fall feast, layer your linens to create a sumptuous, textural effect. Colored linen runners in dark forest greens or earthy browns with contrasting napkins will set the tone for your color scheme.
'Consider the use of brass or bronze cutlery, organic wooden bowls stacked with fruit and lots of candlelight. Try not to make your table feel too formal, fall is all about the outdoors so use chunky crockery and hand-blown glassware for an artisanal feel,' says Simon Temprell, interior design manager at Neptune.
6. Opt for a terracotta color scheme
Terracotta decor is wonderful on a fall table, bathing a room instantly in inviting warmth. And it's best amplified by natural textures.
'Fall is as much about textures as it is the colors. Rattan is a wonderful material that's really versatile and it's ideal for this season – source rattan glassware and table mats and team it with earthenware plates for added authenticity,' says Andrea Childs, editor, Country Homes & Interiors.
7. Dusky pinks and greenery offer a elegant, earthy feel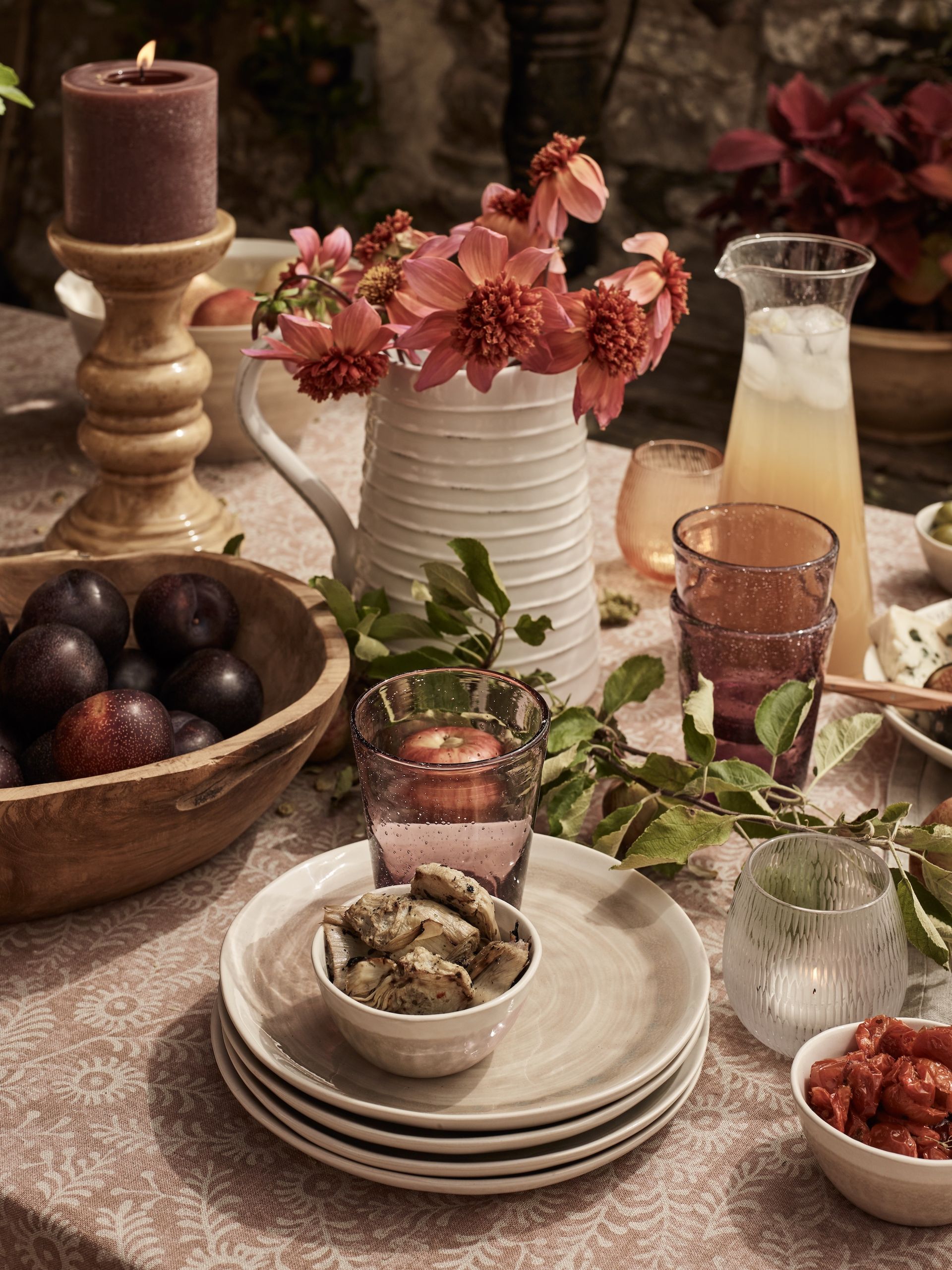 Choosing fall flowers for pots is such an easy way of making your table look fall-ready.
'The fall season is all about abundance and it is so easy to bring the outdoors inside at this time of the year. Foraging for branches and leaves, berries and gourds is a cost-free way to introduce fall colors into your fall table.
'You don't have to be an expert at flower arranging, branches can be dropped into a vase (the bigger the branches, the more dramatic your freestyle display) and left to fall naturally,' says Simon Temprell, interior design manager at Neptune.
8. Choose rustic natural materials and colors
We love new fall trends, but when considering color, look to the natural outdoor fall decor for inspiration. 'When creating a tablescape inspired by autumn, it is important to consider color and texture,' says interior designer Emma Sims-Hilditch. 'We recommend using napkins in natural materials like linen which reflect autumnal colors such as mossy greens, burnt oranges and even smoky blues.'
In this relaxed table setting, a burnt orange linen throw pulls in colors from the room's leather armchair and brick fireplace, while a yellow cushion and earthy brown ornaments create a subtle tonal effect with the colors of autumn leaves.
'Changing up your color scheme can help usher in a new season, without going overboard or too 'on-theme'', adds interior designer Cindy Rinfret.
Cindy Rinfret, principal designer of Rinfret, Ltd. has been creating iconic interior design and defining true "Classic Greenwich Style" for thirty years. Best known for her luxurious yet comfortable design aesthetic, Cindy is an internationally renowned designer, with high-profile clients.
9. Remember to add special decorative touches
'Amber glassware is having a resurgence and it's ideal for a fall table – the glow when candlelight catches it will help to create a cozy feel. Use black as an accent for a more contemporary look and consider a terracotta runner for an earthy base,' says Jennifer Ebert, digital editor, Homes & Gardens.
Jen is the Deputy Editor (Digital) of Homes & Gardens online. Before starting this position, she had completed various interior design courses at KLC Design School, as well as working across Ideal Home, LivingEtc, 25 Beautiful Homes and Country Homes & Interiors as an interiors writer.
10. Decorate with seasonal foliage
Don't just leave the leaves to your fall wreath ideas – put them front and center of your table displays too. 'Seasonal foliage is a perfect and inexpensive option for a table centerpiece,' says Sims-Hilditch. 'We love taking inspiration from our natural surroundings and gathering plants for fall color is the ideal way to celebrate the change of season. It is also a nice way to add elements of warmth and homeliness to what might otherwise have been a slightly stark or more formal setting.'
In this example, seasonal leaves are used as accents on the dining table's fabric runner, and on the buffet. 'You could arrange autumnal flowers as a statement centerpiece on your coffee or dining table, or perhaps split them into a few small vases to create a nice symmetry,' suggests Sims-Hilditch.
11. Consider scented decor for atmosphere
Moving from the dining room to your living room fall decor, consider making your table displays smell as good as they look. 'When making your house smell like fall, it's about creating an atmosphere,' says designer Cindy Rinfret. 'Fall is about the colors and scents – think burnt orange, mossy green, russet, but also pine, cinnamon and musk.'
To bring autumnal scents into your display, find natural sources or include some of the best reed diffusers to blend them together. 'Styling a coffee table is a great opportunity to create seasonal displays which can easily be updated every few months,' says Sims-Hilditch.
'A selection of naturally scented diffusers paired with collections of branches, ferns and pine cone decorations help to bring the outside in. The array of pleasing textures and scents target all the senses, bringing to mind a warming autumnal evening and helping to immerse the inhabitants in the aesthetic.'
12. Layer linens for a warming, cozy effect
If your cozy fall porch ideas haven't quite warmed you up enough, ensure your fall table decor gets the job done by the time you reach the kitchen. 'A tablecloth instantly gives the effect of warmth and homeliness, something which has been so important this last year,' says interior and tableware designer Birdie Fortescue.
'Then why not add a coordinating printed napkin and placemat? It is the perfect time to follow the trend of subtly mixing patterns.'
Layering up textured and patterned table linens like in this example will give the sensation of being all wrapped up from the cold.
13. Light up your table with candles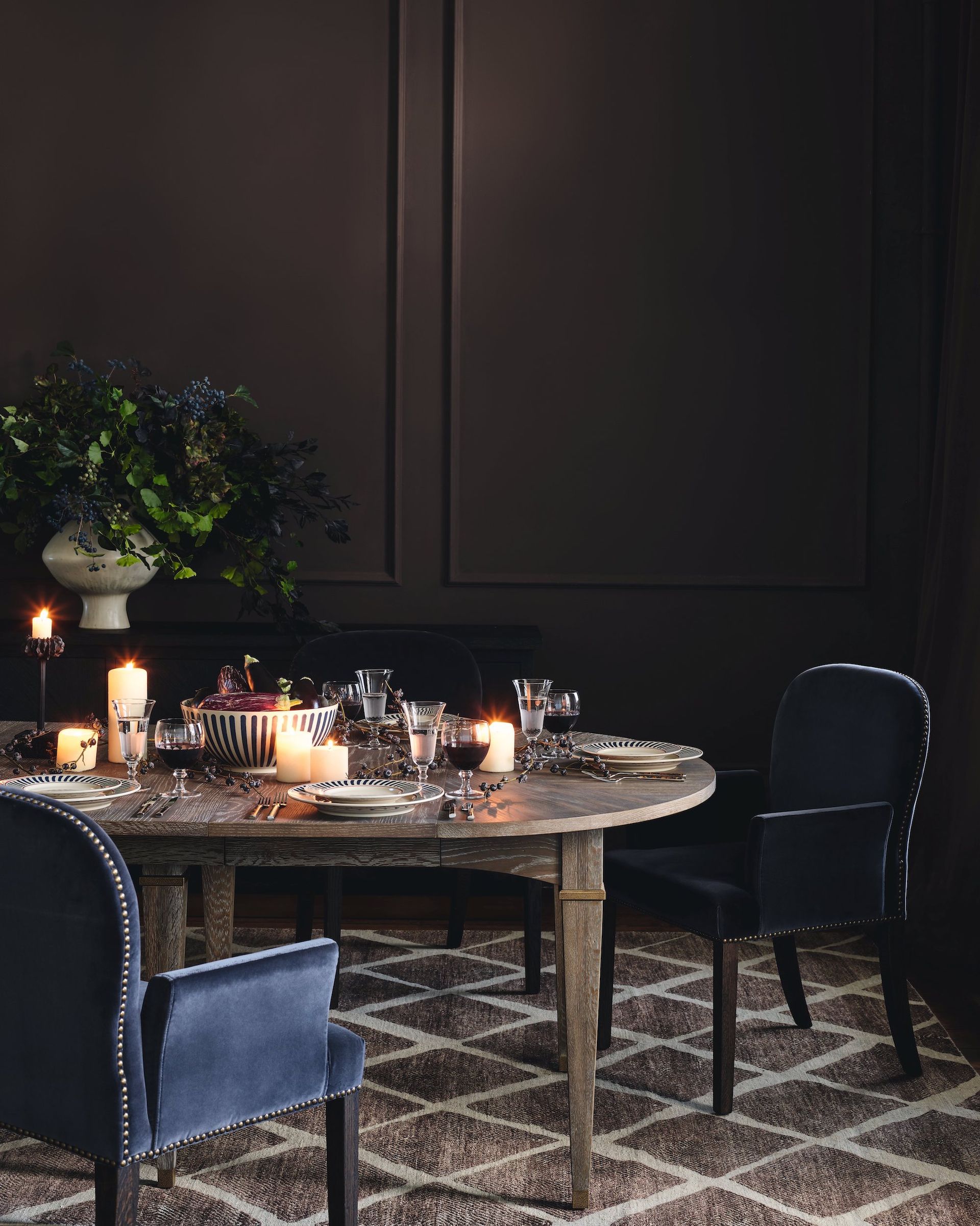 Fall evenings are the perfect time to bring out your best candles, and let them bring a warming atmosphere to your meals or downtime. 'For dinners, I would minimize the flowers and add an array of candlesticks in tonal colors, preferably in glass, with colored candles to finish the look,' says Birdie Fortescue.
Looking for farmhouse decor ideas? At this farmhouse dining table, a series of candles at a range of heights run the length of a low-level, forest floor-inspired display put together from moss, twigs and pine cones.
'While I love working with fall palettes – the colors at this time of year are so vibrant – you don't have to stick to the traditionally bright oranges and greens to bring a seasonal touch to your tabletop. A more minimal approach will give your display a really elegant feel; for example, crockery in deep blue tones pairs beautifully with warm, earthy browns, giving a subtle nod to the season. For a finishing touch, bring in candles for a cozy glow, plus a scattering of faux wild berries in complementary colors,' says Sue Jones from OKA.
14. Color match your florals with your linen
When putting together fall color schemes, you'll want to consider a range of complementary colors. It's important, however, that individual hues come in pairs at least, so think about color matching your natural displays to your autumnal linens.
'Napkins and placemats with a shaped edge can be a great way to bring a fun element to a tablescape,' says Birdie Fortescue. 'Pick out the colors of your linens in the floral arrangements for a cohesive look. Early season dahlias in rich reds and autumnal ochres can look very effective.'
In this example, orange-pink roses pair with the floral seat cushions and napkins, while the purple foliage makes for a deeper pairing with the gray tablecloth.
15. Keep a wooden table bare for a warming, rustic look
For a pared-back approach to fall table decor ideas, ditch the tablecloth altogether. 'If you have a table with a pretty patina, leave it bare for a twist on a traditional winter setting and build up interest with decorative linens and accessories,' suggests Birdie Fortescue.
This will instantly help create a modern approach to rusticity, as shown in this dinner party set-up, where visual interest comes from the layered place settings in natural materials, and the relaxed pine centerpiece.
'For an opulent touch use silver candlesticks and clear glass vases to contrast with the texture of the table,' says Fortescue.
16. Decorate with dried flowers
If florals are a decor favorite in your home all year round, the waning temperatures of autumn can make it tricky to find fresh flowers that fit the mood. Luckily, the trend for dried flower arrangements means you can have the best of both worlds, embracing the color of summer while acknowledging that those days have passed.
In this example, dried flowers have been displayed in simple, traditional vases, which you can mirror in fall mantel ideas.
We explore decorating with dried flowers further in our dedicated piece.
17. Embrace the harvest with leaves and more
While fall signals the close of summer's bounty, it brings with it a whole new roster of treats. Embrace the harvest feeling by filling your tablescapes with everything from fall leaves to foodie favorites.
'It's the perfect time of year to grab some architectural branches or include pops of color with bright red berries,' adds interior designer Cindy Rinfret. 'Fill huge urns with red berries and place them in a corner to anchor the room and create another moment in the space, or pull out some oversized glass hurricanes in autumnal colors and fill them with organic materials – like cinnamon or pinecones – to zhush up a coffee table.'
18. Go all out with your most special tableware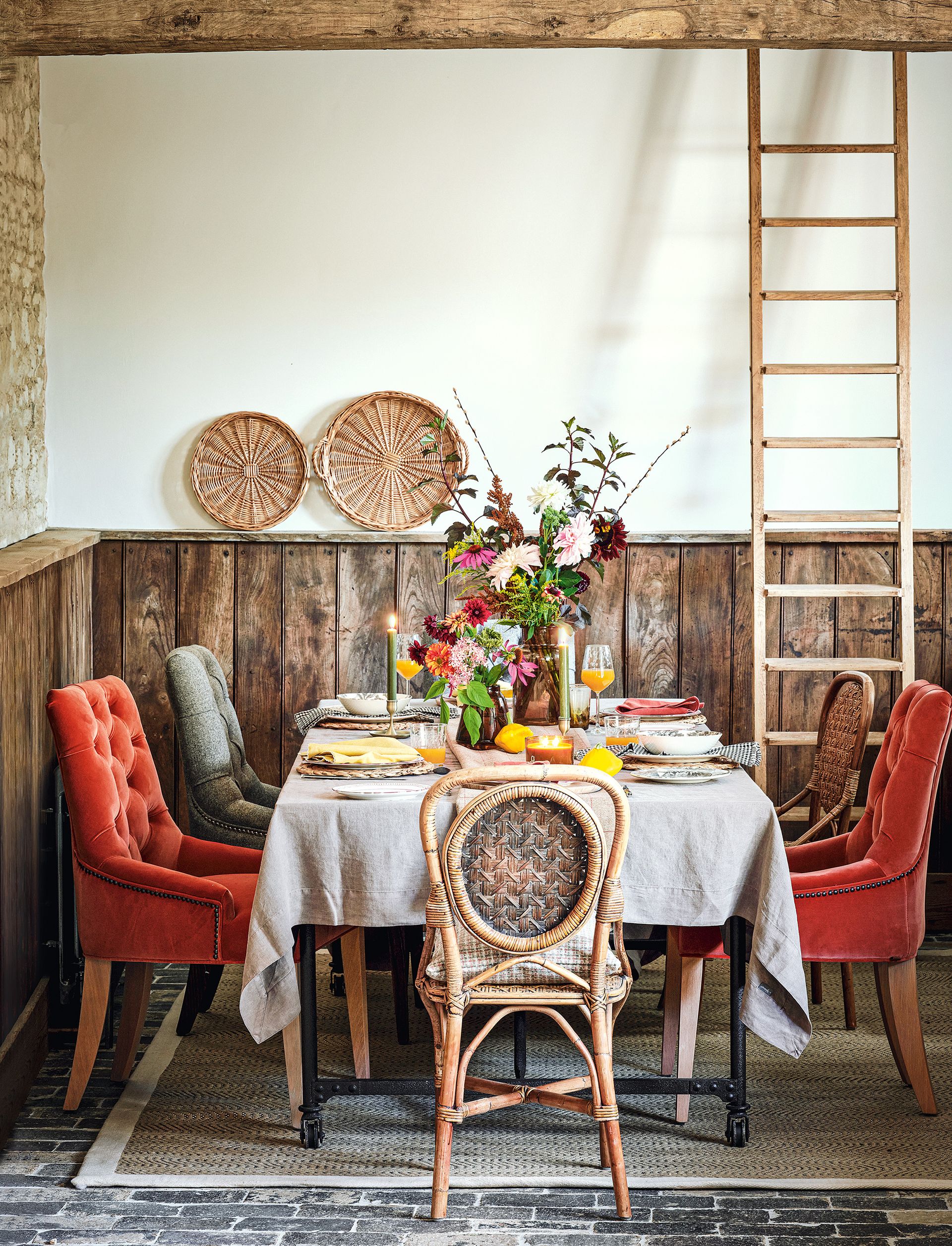 You're likely to be spending a lot more time inside in the coming months, but that's no reason not to throw yourself a party. 'When entertaining, go ahead and pull out the good stuff,' says Cindy Rinfret. 'Heavier pieces make more sense in the colder months as they can feel cozy and luxurious, whereas you want light and airy in the warmer months.'
These dining room ideas include lots of natural texture to make a real inviting occasion of staying in. 'A fun themed plate is another great nod to the holidays,' adds Rinfret. 'I have a set of pheasant painted plates I break out every year when the leaves start to turn.'
19. Embrace a calming, neutral color scheme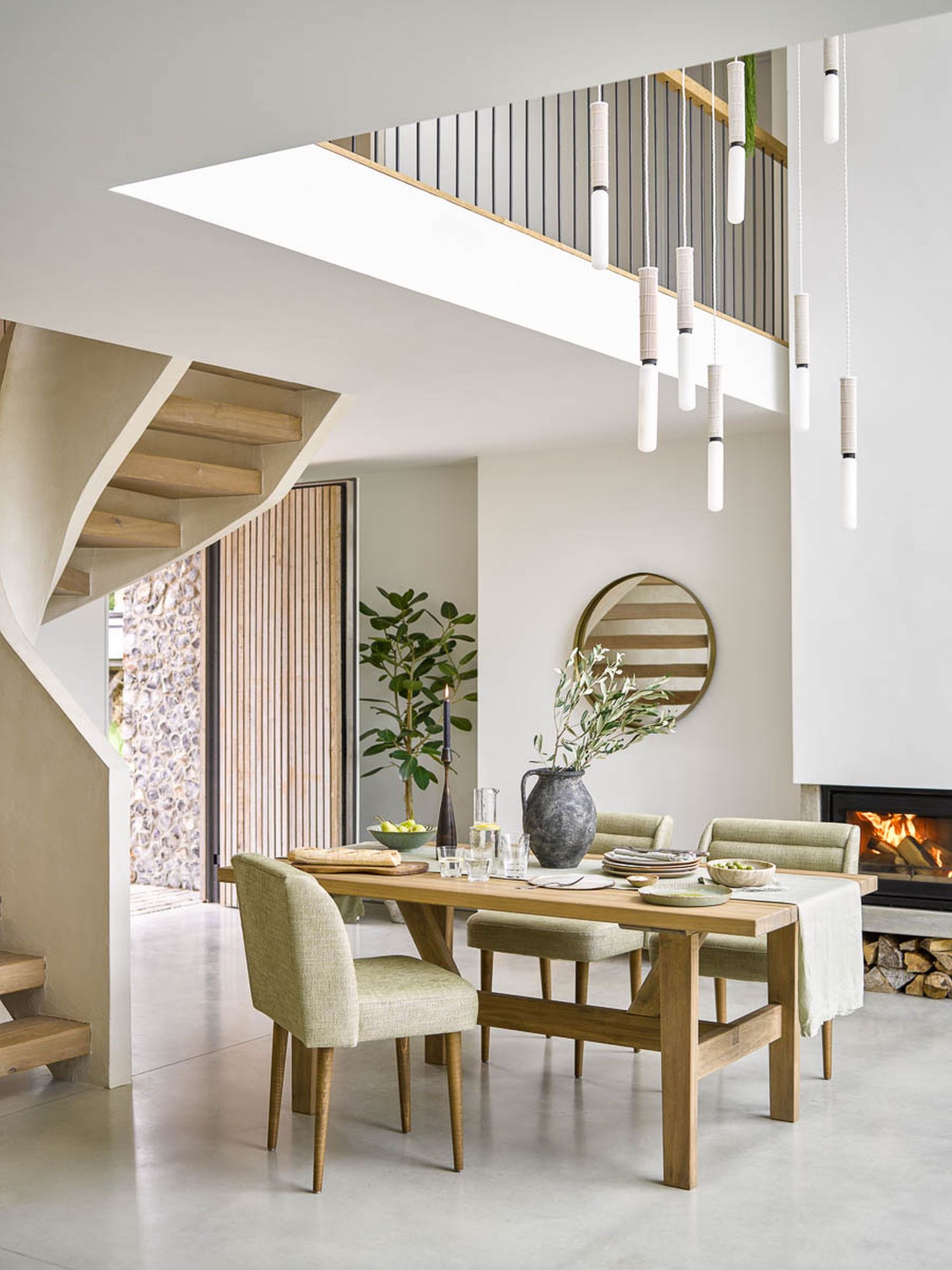 'There is something so peaceful, almost spa like about a white and neutral scheme as opposed to the traditional fall colors we usually see. It is crucial to use warm white and natural elements and do pile on texture – a soft sheepskin rug or a diaphanous drape at a window can truly transform a room. Dress with natural materials, such as weathered wood, slubby linen, cozy sheepskins or marbled slate all of which connect us back to nature,' says Mark Winstanley, chief creative officer at The White Company.
20. Amber glassware will add a warm glow to the table
'The finishing touches are just as important as the color scheme you choose. This simply tied napkin with string and a foliage sprig is the perfect styling trick. You could use rosemary, olive or eucalyptus and a velvet ribbon would give a luxury finish at a dinner party,' says Lucy Searle, global editor in chief, Homes & Gardens.
Lucy Searle has written about interiors, property and gardens for over 30 years, starting within the interiors departments of women's magazines before switching to interiors-only titles in the mid-1990s. In 2018, Lucy took on the role of Global Editor in Chief for Realhomes.com, taking the site from a small magazine add-on to a global success. She was asked to repeat that success at Homes & Gardens, where she has also taken on the editorship of the magazine, which is the UK's oldest interiors magazine at 103 years old. Lucy is a serial renovator and also owns rental properties in the UK and Europe, so brings first-hand knowledge to the subjects she oversees.
21. Create a sculptural foliage display with a fall branch
'The trick to creating a sophisticated fall tablescape is to focus on more naturally sourced elements. A stunning solid wood dining table is perfect for this time of year. Rather than covering this with a tablecloth, consider a table runner which allows the table's natural wooden knots to remain in view. Partner with linen napkins in a contrasting colour – burnt orange works particularly well, giving an fall feel,' says Teresa Buck, head of brand creative at The Cotswold Company.
'Utilize large branches and foliage, foraged from your backyard or woodland as a table centerpiece. There is plenty of foliage to be found adorned with red or orange berries at this time of year. Showcase these in a chunky ceramic vase, or with a crackle glaze effect to evoke the feeling of fall leaves.
'Finally, add a few final decorative touches; these miniature pumpkin ornaments work extremely well. Opting for neutral or dark shades, rather than bright orange to keep things understated.'
22. If fall colors aren't your thing keep things light, bright and white
'To create a dining room theme that is fall like but not over the top with traditional berry and rusty tones, introduce softer sage and camel hues. Calmer, muted tones will fashion a scheme that nods subtly to the season without using overpowering deep purples or burnt orange.
Consider matching your linens and tabletop accessories to the color of your seating to produce a look that is pulled-together and well-presented. An easy addition is, of course, the right bouquet in the centre of the table, perhaps mixing dried flowers with the more traditional fall tones,' says Patricia Gibbons, design team at Sofa.com.
Shop fall decor for you table