Halloween table decor ideas – 11 centerpiece and tablescaping tricks
Sprinkle both spook and style onto your Halloween table decor with these stunning ideas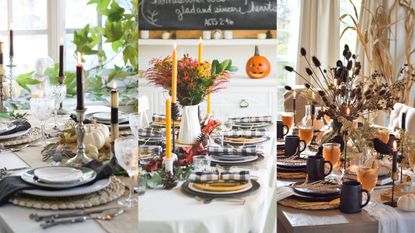 (Image credit: Unsplash/Libby Penner)
For a ghoulish gathering, ensuring your Halloween table decor sets a sinister but stylish scene is essential for a fright night to remember.
From dinner parties to cocktail soirees, filling your dining, coffee and side tables with Halloween decorating ideas is an excellent way to make sure your spooky theme is carried consistently throughout the home – with varying levels of subtlety.
The dining table is a space where you can really wave your magic wand and create an immersive experience for your guests, but don't forget to include tricks and treats on your smaller spaces too.
Halloween table decor
Whether you're looking for simple schemes with a hint of hubble bubble, or terrifying tablescapes that still major in style, we've gathered some stunning inspiration and expert advice to make your Halloween table decor come to life.
1. Give guests a ghoulish welcome with entry table decor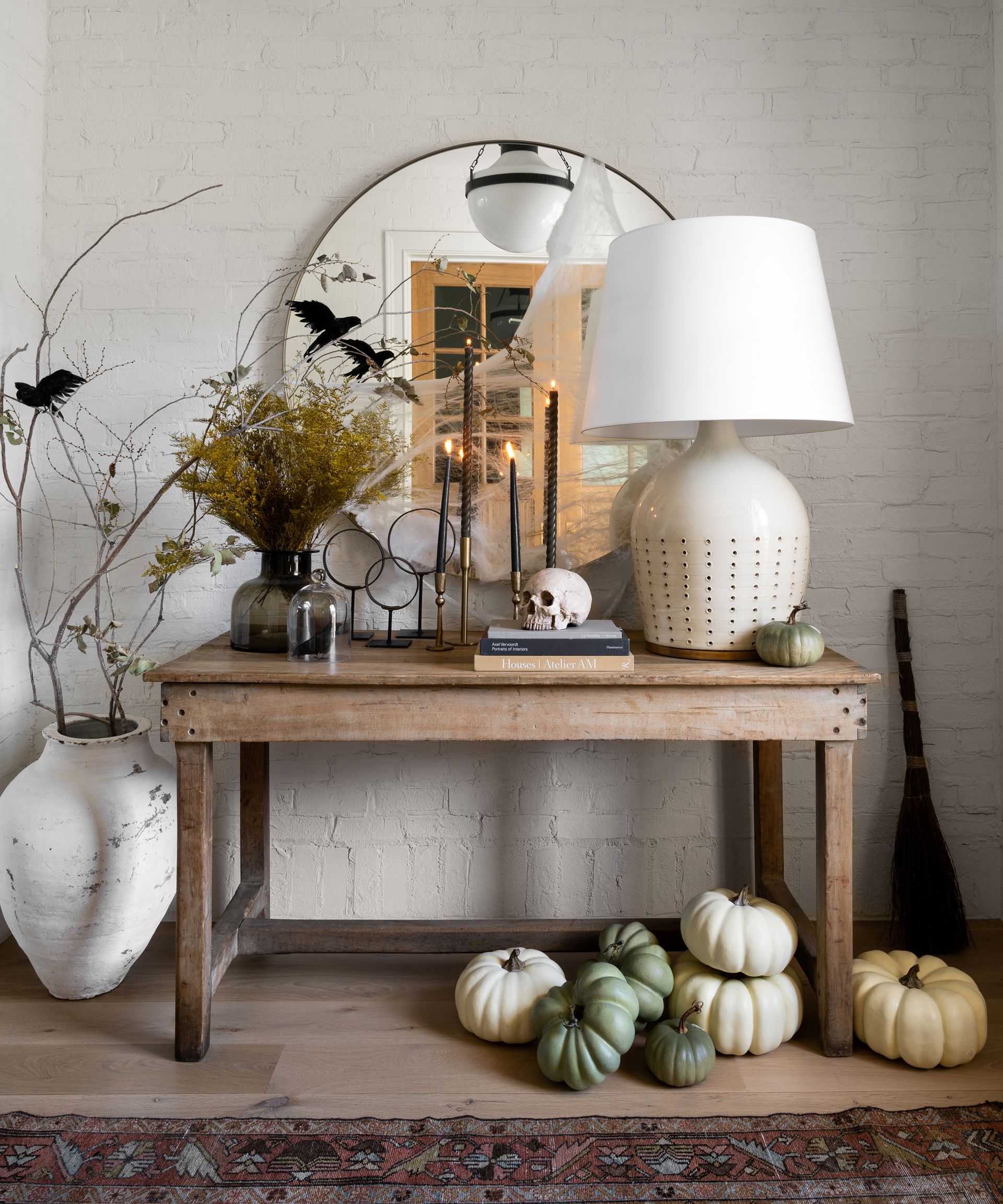 Your outdoor halloween decor might be the first spook your guests get on arrival, but be sure to continue the chills indoors. Give your entry table decor ideas a ghoulish twist by mixing in Halloween ornaments and decorations in and among your usual display. In this example by interior designer Shea McGee (opens in new tab), a skull sits upon a pile of books; black candles are swapped in for the season; a cobweb is draped across the mirror and crows adorn the dried branches in the floor urn. To create a sense of continuity, borrow accents from your fall porch ideas to hint at the changing natural world.
2. Create a creepy (but cozy) atmosphere with candles
While you may find yourself getting caught up in choosing a pattern for your pumpkin carving ideas, remember that it's the ominous glow of candlelight that really make a Jack O'Lantern so atmospheric. Be sure to get out your best candles for your Halloween-themed tables to create a creepy but mainly cozy atmosphere around the home. In this tablescape put together by Piglet In Bed (opens in new tab) and Olive & Co (opens in new tab), candles of varying heights and in autumnal colors are at the heart of the dinner table.
'Set the mood with some low-level, warm lighting to give your tablescape the atmosphere it deserves,' says Jessica Hanley, Founder of Piglet In Bed. 'For hosting guests, it's a great idea to fit the lights in your dining area with dimmer switches, turning it down after guests have eaten for some atmospheric, moody after-dinner drinks. You can also take control of your atmosphere with some fun additions like candles and fairy lights across the table.'
3. Nestle miniature pumpkins among your table decor
While pumpkins are a favorite among wider fall decor ideas too, they still top the list of unmissable elements of Halloween decor. While a large carved Jack O'Lantern might be a little unwieldy for your dining or coffee tables, miniature pumpkins are a perfect match for low level decor. Nestle them among displays of more organic autumnal items for a natural look, or dot them down the length of the dining table to create an informal runner.
4. Theme a scheme around your favorite horror movie
Watching scary movies is a Halloween must – so why not turn a viewing party for one of your favorites into a themed event, decor and all?
'When putting my Halloween tablescape together, I was inspired by the classic Hitchcock horror film, The Birds,' says Instagrammer Stephanie Campbell of @onassisandclaire (opens in new tab). 'I imagined birds causing havoc on a field of pumpkins and corn, all about to be harvested before they started attacking our dinner party. As a result, leaves of corn are organically tossed about the table, while the corn's flower tassels adorn each place setting.'
Campbell used foraged, dried thistles and Autumn Goldenrod in laboratory beakers to finish the cinematic look. For further continuity throughout the house, consider carrying your chosen movie theme through to the Halloween door decor and window decor too.
5. Think beyond orange with multicolored pumpkins
Orange may be the color that immediately comes to mind when picking up a pumpkin, but there is actually a whole world of multicolored gourds out there – including varieties that may fit even more seamlessly into your fall color scheme. The blue-grey and white pumpkins shown in this side table display create a tonal scheme in combination with the black wall, and are perfect for use in a neutral scheme. For more vibrant looks, consider green pumpkins and pale pink varieties as well as striped options – if you want something really out there, get a little messy with some pumpkin painting ideas.
6. Use seasonal florals for your centerpiece
Natural materials are a growing trend in interior decor so, this Halloween, look to your fall planter ideas for centerpiece inspiration.
'Keep your centerpiece simple and classic with a nice vase and a bunch of seasonal flowers for a chic look this autumn,' says Hanley. This really is enough to impress your guests and won't overcrowd the rest of the table.'
'Seasonal winter flowers like honeysuckle or roses make the perfect impact and bring a burst of nature in from the outdoors. You might even want to use conkers and pumpkins to accessories your table in the lead up to Halloween.'
7. Dot creepy crawlies around your dining table
Looking to give your guests a little mid-feast fright? Add a touch of unexpected peril to your dining table decor ideas by letting creepy crawlies run riot over your tablescape – fake ones, of course. Unnerving but ultimately elegant spiders in glittering metallic tones roam this breakfast room display put together by blogger Fabiana Reese (opens in new tab). For full on fright, consider allowing spiders of different sizes to make their way through the display, or perching bats and crows among your higher level floral displays.
8. Add drama with a statement tablecloth
When putting together a tablescape, be sure to be on theme from bottom to top. 'Get your base right,' says Hanley. 'A decorative tablecloth gives your table a put-together feel, while natural fibres like linen maintain that semi-effortless look.'
Using a statement patterned tablecloth will instantly communicate the sense of a special occasion – and its print doesn't necessarily need to be Halloween themed to feel spooky. This black and white tablecloth from Summerill & Bishop (opens in new tab)'s collaboration with Claridge's (opens in new tab) is stylish all year round, but makes for a dramatic base for a quirky and fun Halloween theme – just finish with candles and miniature pumpkins for a sophisticated look.
9. Keep Halloween chic in black and white
Beyond the tablecloth, following a monochrome palette for your Halloween table decor is a great way to stay both seasonally on theme and perennially chic. In this example, it gives both a fashionable and spooky edge to a rustic tablescape, featuring a gingham tablecloth, black napkins, a white vase filled with dried flowers and black and white mismatched candlesticks. Embrace no-carve pumpkin ideas too by getting out your paintbrush and redecorating miniature pumpkins with black and white paint to fit into your scheme.
10. Ensure your guests get treats as well as tricks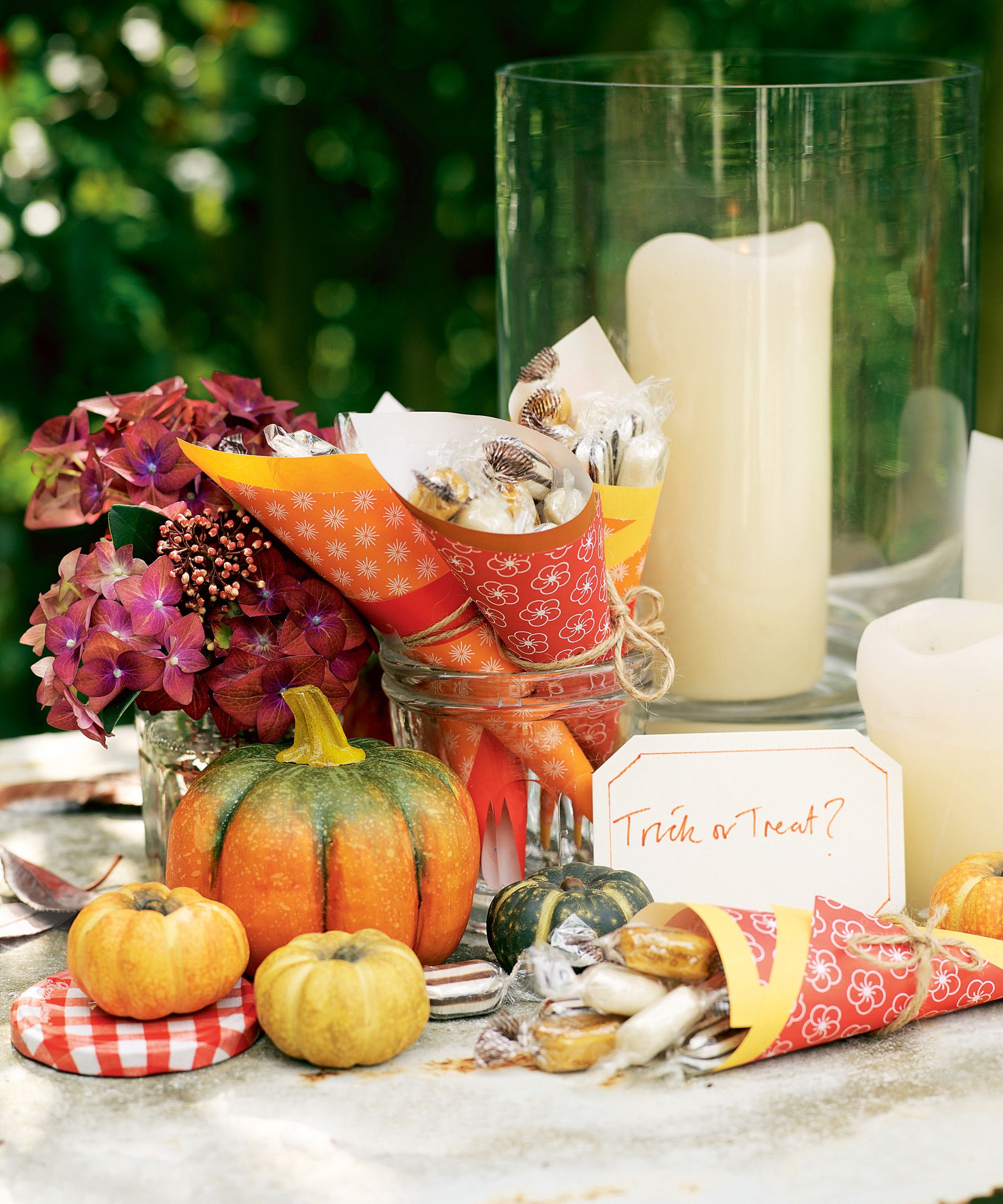 Trick or treat? Make sure your table includes an abundance of both. 'Leave some picky bits on your table like bowls of nuts, crisps or even Halloween-themed chocolates and cupcakes,' says Hanley. 'This will make guests feel welcome and give your room a lived-in feel that stops the tablescape from looking too overdramatic. Besides, who doesn't like picking at yummy treats when they come home from the cold?'
In this example, wrapped candies are piled into simple paper cones, tied with string and bedecked with patterns – perfect for placing at each table setting.
11. Use faux cobwebs as a table runner
Blending the stylish with the spooky is about keeping all the traditional elements of a beautifully decorated table, but adding something a little uncanny. Table runners are great for making a scheme at a long dining table feel coherent from end to end – but instead of a traditional fabric runner, consider stretching fake cobwebs along the center of your table instead, like in this example by Amanda S Gluck, Founder of Fashionable Hostess (opens in new tab).
How do I decorate a table for Halloween?
First of all, it's a good idea to decide just how much of a fright you want to give your guests. Bedecking your table with faux cobwebs, spiders, skulls and gurning Jack O'Lanterns is one way to go, but it is also possible to create a Halloween atmosphere with a thoughtful, simple scheme and just a few little surprises.
A monochrome scheme of black and white – interspersed with the occasional tonal neutral – will create a dramatic but stylish effect, especially with a few metallics thrown in. From there, you can warm it up with rusty oranges, and include miniature pumpkins in all sorts of colors, create a creepy atmosphere with candles, and add a spooky ornament or two.
What can I use as a centerpiece for a Halloween dining table?
For circular tables, a centerpiece is a great way to bring focus to a dining room tablescape – and on Halloween, you can really go all out. As ever, seasonal florals are an excellent choice – fall favorites include dahlias, marigolds and rudbeckias, all of which can be found in orange tones to compliment a pumpkin-laden display.
Filling vases with dried flowers and branches is not only on trend, but also fits in perfectly with a ghoulish scheme. Instead of a vase, find out how to make a pumpkin planter and display your florals in a very on-theme container.
If you're putting together a long table, consider ditching the single centerpiece for a low-level runner display. Drape cobwebs from one end to the other and dot pumpkins, candles, and numerous small vases filled with dried flowers down the center.
Ailis started out at British GQ, where a month of work experience turned into 18 months of working on all sorts of projects, writing about everything from motorsport to interiors, and helping to put together the GQ Food & Drink Awards. She then spent three years at the London Evening Standard, covering restaurants and bars. After a period of freelancing, writing about food, drink and homes for publications including Conde Nast Traveller, Luxury London and Departures, she started at Homes & Gardens as a Digital Writer, allowing her to fully indulge her love of good interior design. She is now a fully fledged food PR but still writes for Homes & Gardens as a contributing editor.