Halloween porch decor – 9 ways to create a spooky scene
Get set for All Hallows Eve with Halloween porch decor ideas that range from festive to frightful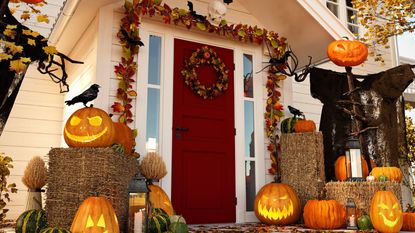 (Image credit: Alamy)
Halloween porch decor is a must for anyone hoping to frighten up their front yard. The porch is a prime piece of real estate for creating a spooky scene, and there are plenty of ways to go about it.
For simple Halloween decorating ideas, you can add Halloween-themed touches to your existing front porch ideas, and in particular, your fall porch ideas, which are easily tweaked. Or, you can go all out by turning your porch into a scene straight from a horror movie. Somewhere in the middle? That works, too.
Whichever direction you prefer for your outdoor Halloween decor, we've got an idea for it, below.
Halloween front porch decor
Dig out the skeletons and polish up the pumpkin carver, it's time to set up the spookiest front steps on the block with our favorite Halloween front porch decor.
1. Go for a monochrome Halloween look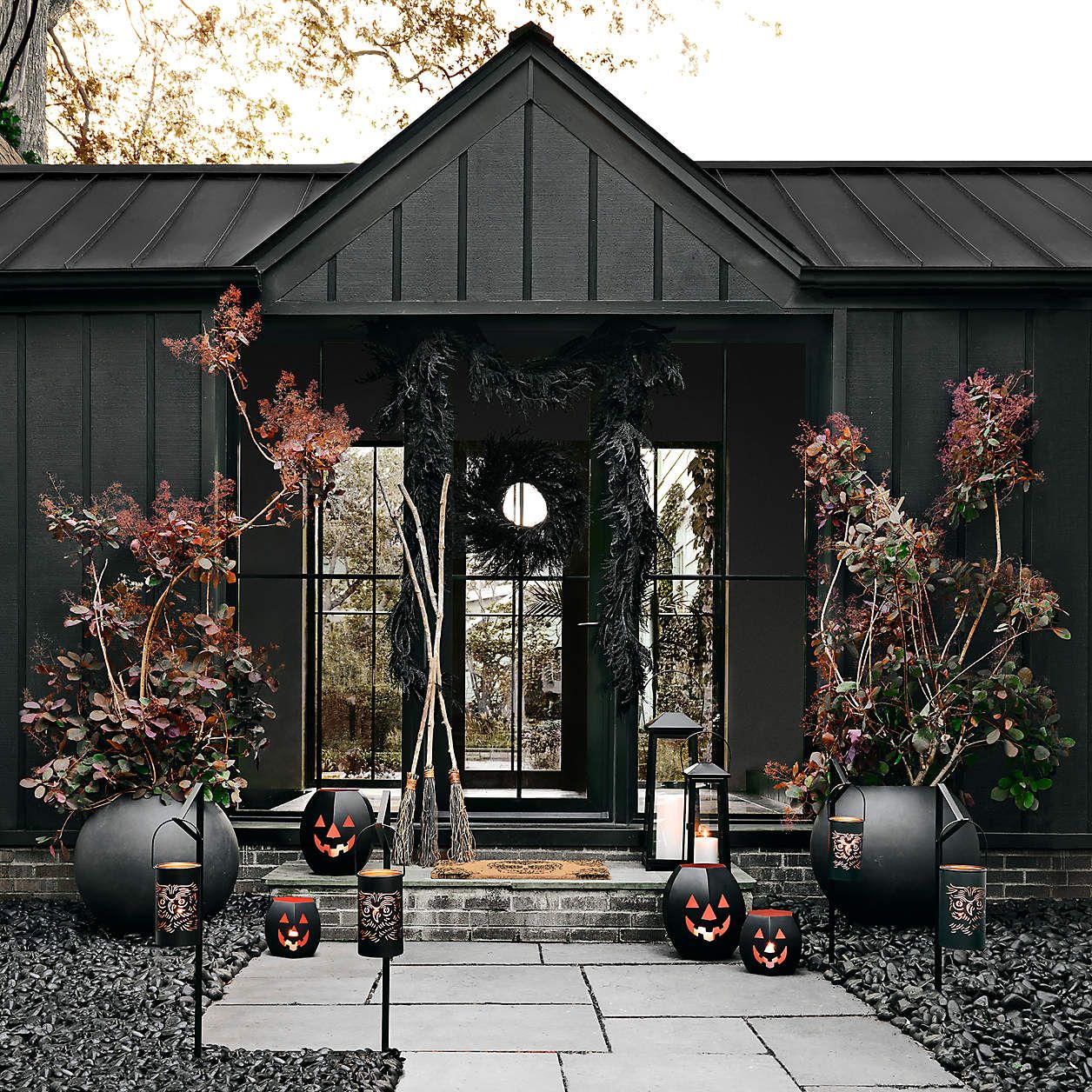 Traditional Halloween porch decor calls for orange and black, but if you prefer an elevated front porch look even when decorating for a holiday, go for a monochromatic color scheme.
All black decorations are subtly scary, especially if your home's exterior is a dark color, because your visitors may not even notice them all until they're standing a few feet away.
'Going monochrome with your decor is actually incredible easy,' says Pippa Blenkinsop, Homes & Gardens' content editor and photo stylist. 'You can elevate simple craft-store decorations with a can of spray paint. Use black chalkboard spray paint for a matte look, or go glam and paint your decor in a shade of metallic gold or copper.'
2. Layer your fall porch for Halloween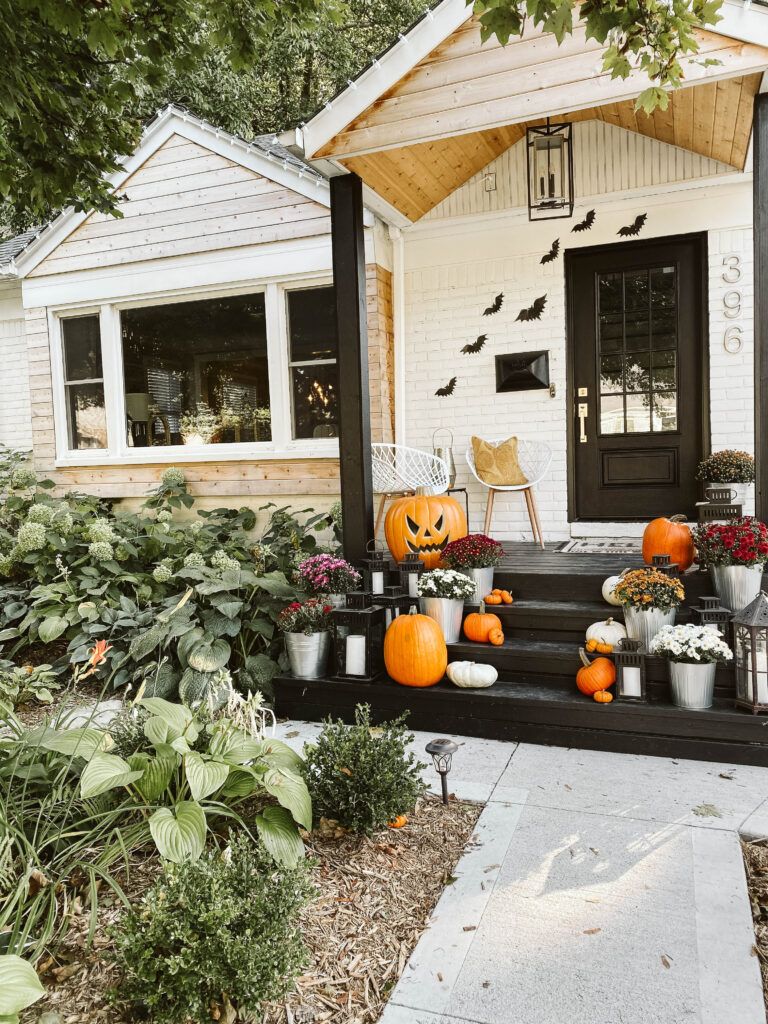 Don't get rid of that pretty autumnal scene on your front steps as soon as October hits. Instead, layer a few Halloween-themed items into your fall porch display. Think: a Jack-o-Lantern or two (test your pumpkin carving ideas on a faux pumpkin, or go for easy no-carve pumpkin ideas by painting a real pumpkin to preserve it until Halloween), a DIY pumpkin planter, and a colony of bats making way to the front door. Make sure you know when to put pumpkins out, however, to make sure they do not shrivel up before the big event.
3. Turn on the fright lights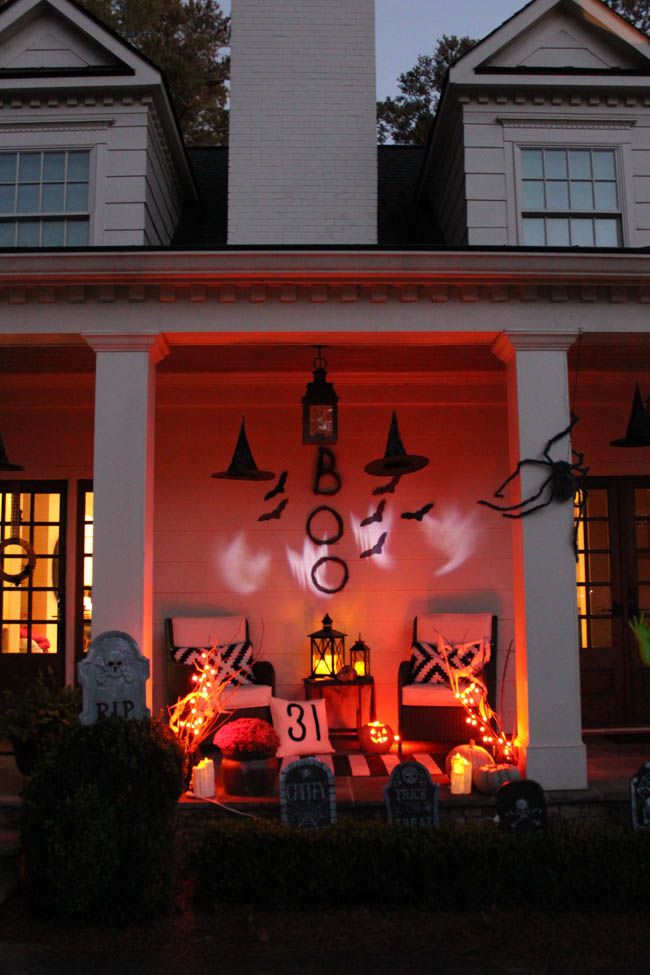 'Regardless of whether you're using lighting in your living room or as part of a holiday decorating scheme, it plays a huge part in creating ambience, so don't forget about it when decorating your front porch for Halloween,' says Lucy Searle, Homes & Gardens editor-in-chief.
In fact, creating a creepy front porch can be as simple as switching up your front porch lighting. Orange lightbulbs cast an eerie glow, while prop flickering lightbulbs give off haunted house vibes.
Prefer something that won't frighten trick-or-treaters? Install a light projector that shines a ghoulish image onto the front of your house.
4. Choose chic, not scary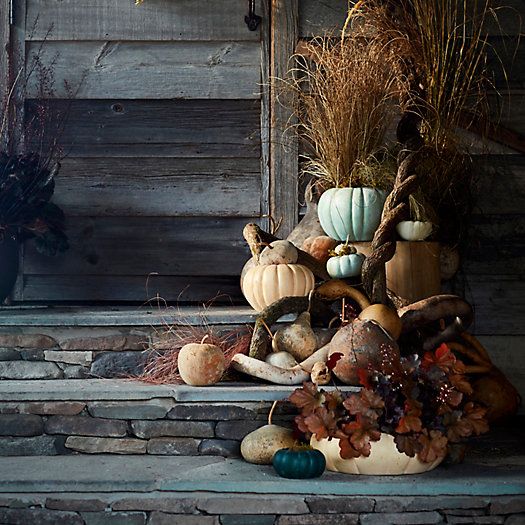 No need to sacrifice your personal style when decorating for Halloween. This pumpkin-strewn Halloween porch setup evokes a frightful feeling with a combination of moody colors, textures, and shapes. What it lacks? Obvious motifs or decorations, which lends the setup some sophistication, too.
5. Add a spooky wreath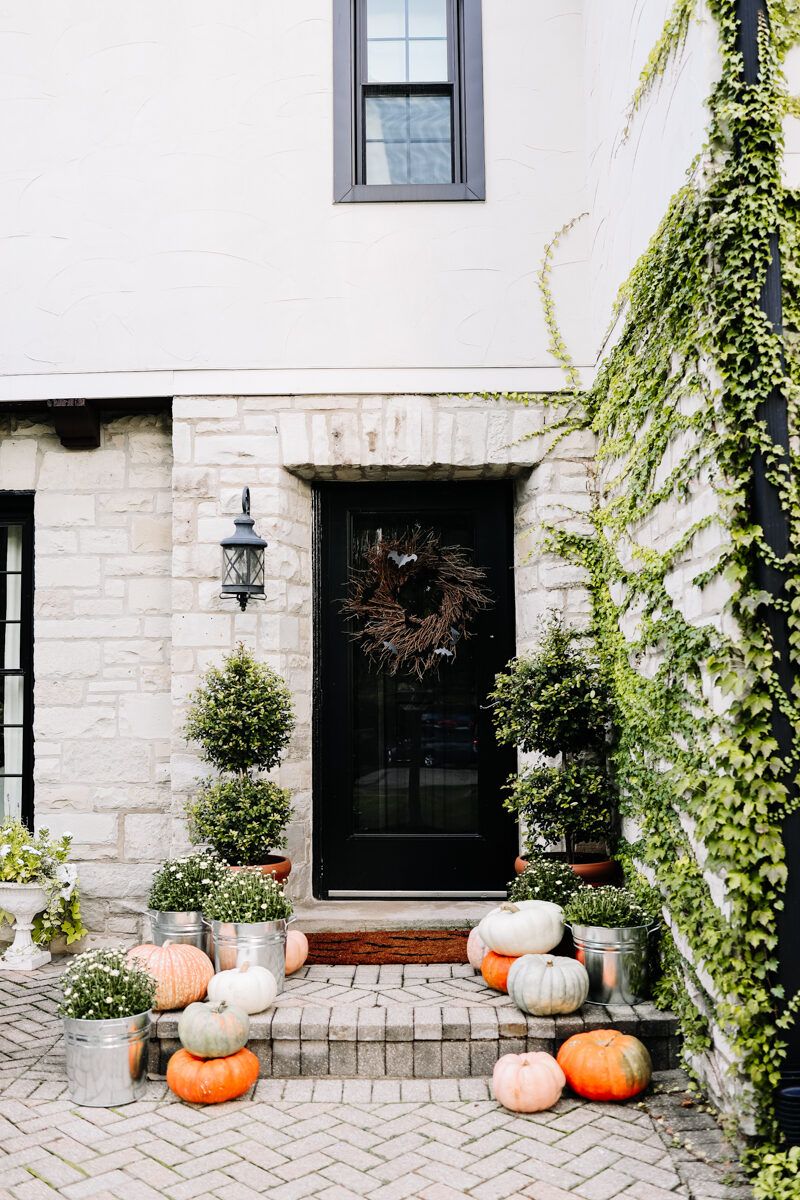 For the simplest Halloween porch styling, all you need is to make a Halloween wreath. Above, stylist Danielle Moss hung a bat-bedazzled black wreath to give her Halloween door decor a subtle spook.
6. Set up spine-chilling surveillance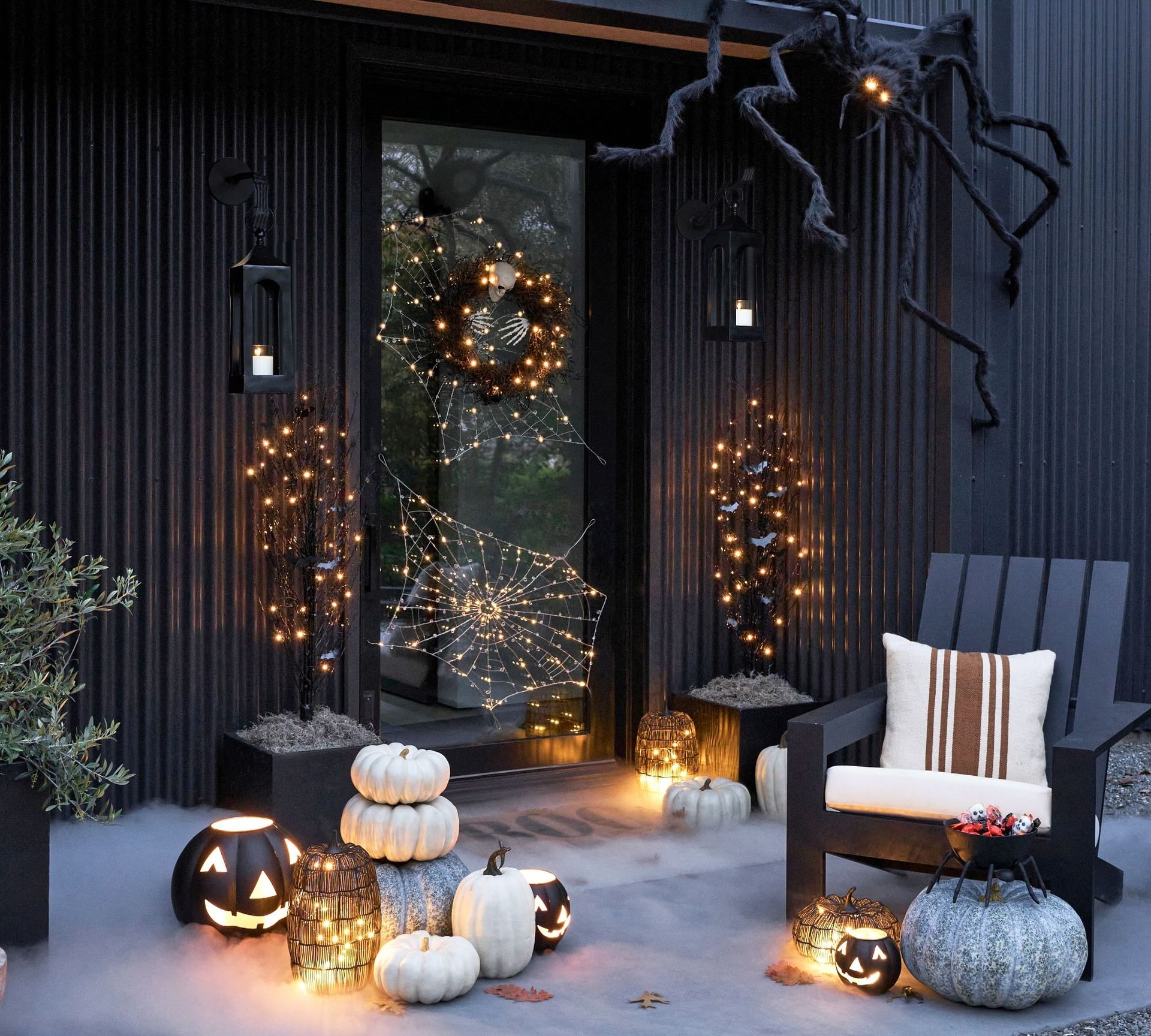 Arachnophobes can skip right past this creepy Halloween porch idea. The extra large hanging spider looks like it's about to pounce on whoever walks through the front door. If you're up for this creepy crawly look, add lit-up cobwebs to finish it off.
Amazon sells this Halloween spiders' web pack, with spiders included.
7. Set up a skeleton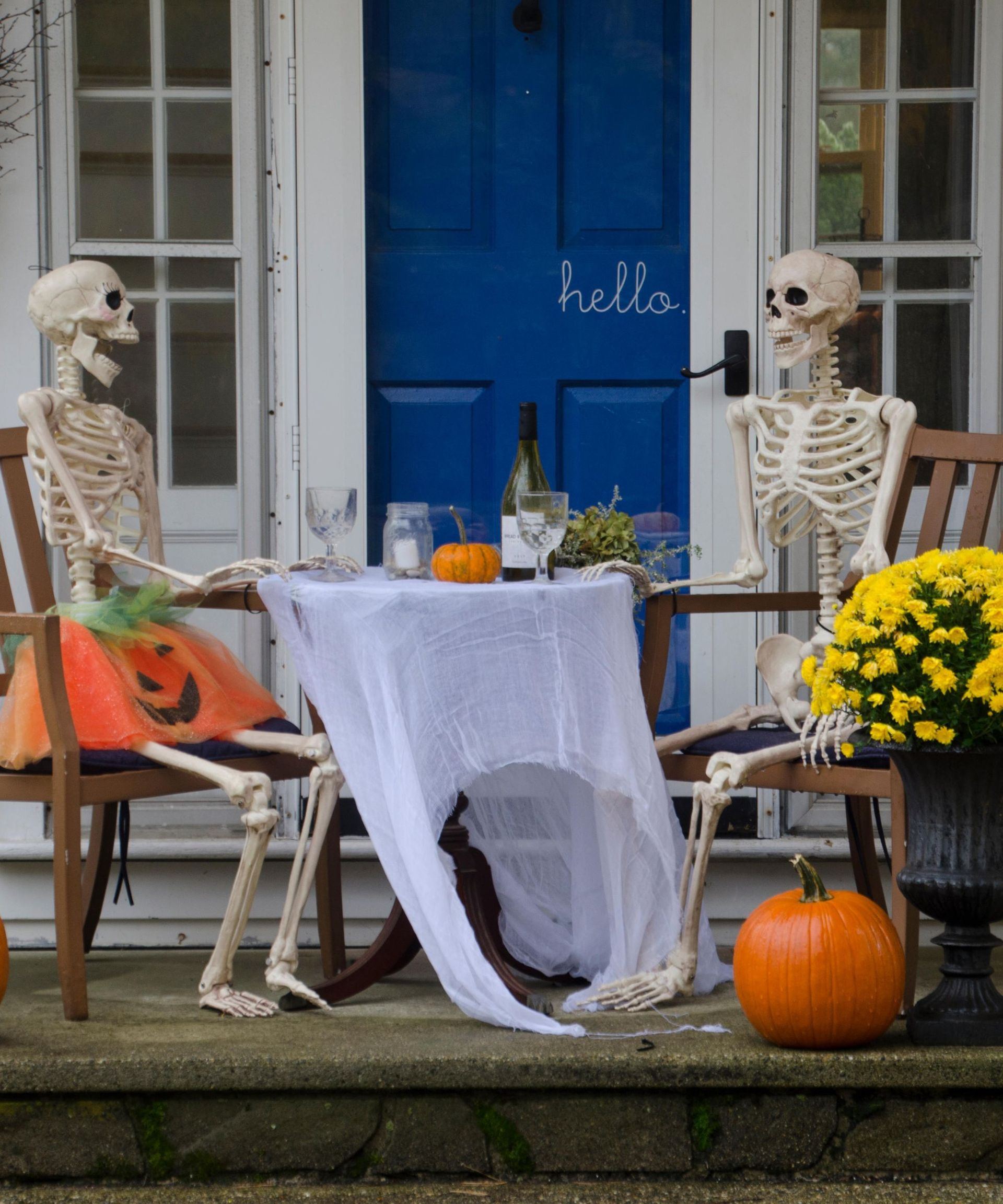 Host a ghoulish get together on the porch by setting skeletons on your front porch furniture. If you don't have furniture on your porch year-round, have them take a seat on the front steps, a bale of hay, or an overturned whiskey barrel planter.
8. Hang witches hats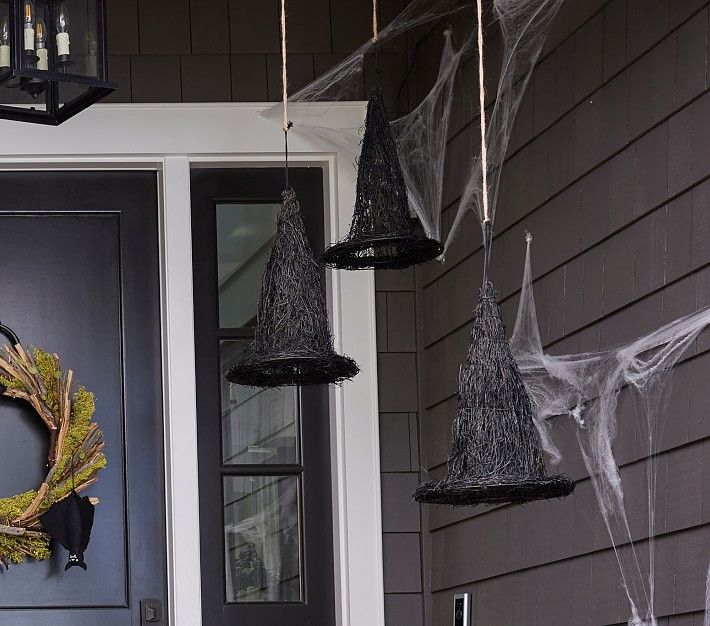 If you have a small front porch space to work with, consider adding hanging decor elements, like the witches hats above, which free up the limited floor space around the front door.
9. Take a cue from vignette styling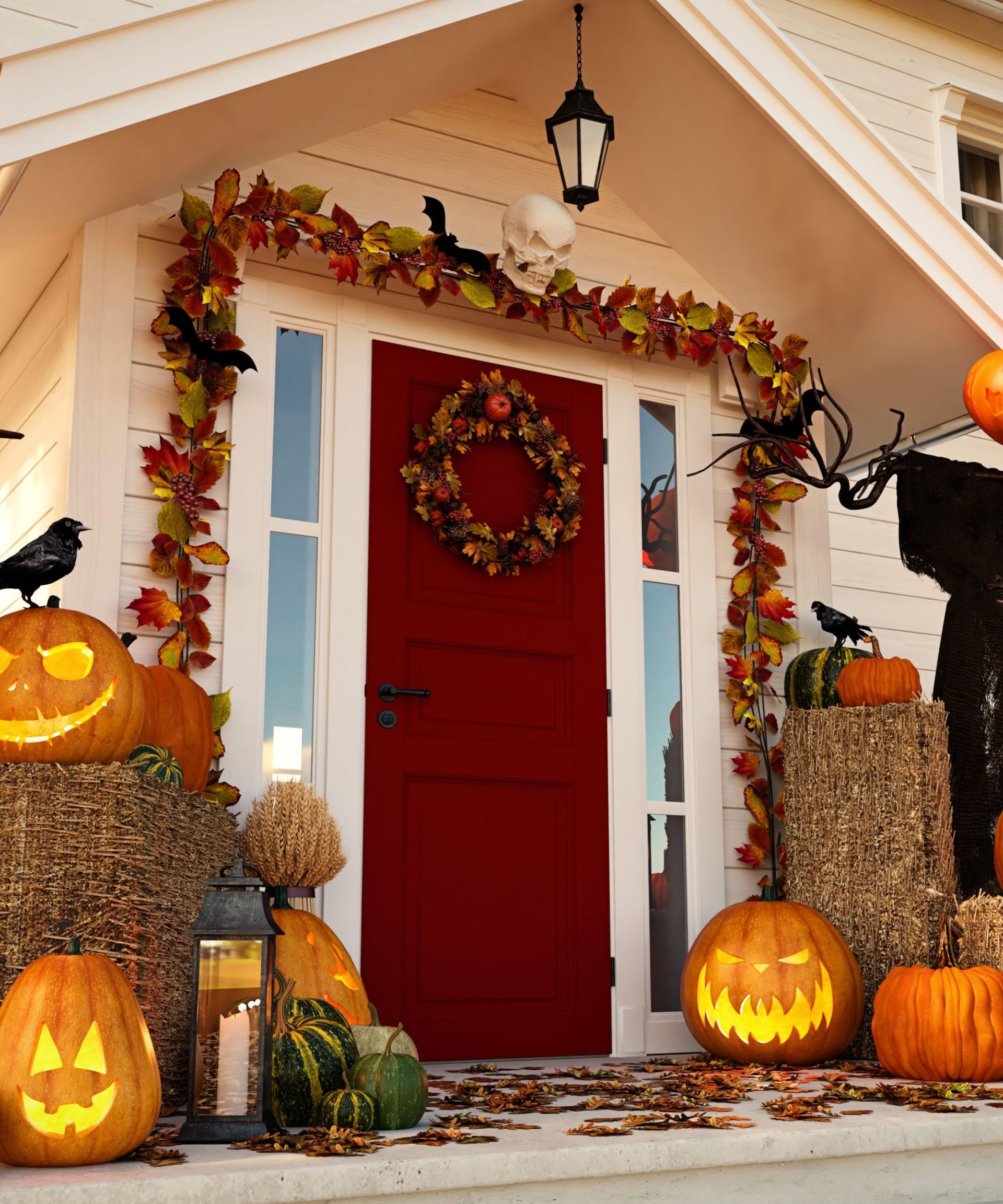 'If you want to go big with your Halloween decor and create the most visual impact, take a cue from vignette styling and think about your decorations in three layers,' suggests Jen Ebert, Digital Editor, Homes & Gardens.
Her formula? The first layer should be the decor you set on the ground, so things like pumpkins and lanterns. The next layer is made up of items that are a bit taller, like mid-height planters, or small statuettes. The final layer should draw the eye upwards, such as a wreath or a garland around the door, or decorations that hang from the porch ceiling.
How do you decorate a small front porch for Halloween?
If you're porch is small but your Halloween decorating ambitions are anything but, try some small front porch ideas like:
Use a light projector to cast a spooky shape onto your front porch. Amazon sells this Halloween projector, which has Christmas, St Patrick's Day and July 4th decs, too.
Change out the lightbulbs in your porch lighting or front yard lighting to orange or purple versions.
Use hanging Halloween porch decor that doesn't take up floor space. You'll be able to leave your entryway clear while still creating a festive ambience.
What do people put on porches and in doorways for Halloween?
Thinking about what to put on your porch or hang on the door for Halloween? You'll find endless options to get creative, but there are a few motifs and characters that tend to scream Halloween.
For the front porch, pumpkins and Jack-o-lanterns are a must. Mix them in with mums for a fall-themed look, or add skulls to the setup to elevate the fright factor. Witches, ghosts, and skeletons can also make an appearance.
If you have patio furniture on your front porch, set a full-size skeleton on a rocker to make neighbors do a double-take, or lean a witches broom in the corner by the front door.
Skeletons are also a popular choice for hanging on the front door, and you should be able to find plenty of ready-to-hang versions. Halloween wreaths are another common choice, and you'll find options that range from subtle to spooky. If you prefer to decorate around the door instead, go for a Halloween-themed garland.
Executive Editor, Homes & Gardens
Kaitlin Madden Armon is a writer and editor covering all things home. Her work has appeared in Real Homes, Architectural Digest, Martha Stewart Living, Refinery29, Modern Luxury Interiors, Wayfair, The Design Network, and lots more. She graduated from Northeastern University with a degree in journalism and currently lives in Connecticut with her husband, three kids, and black lab.