Halloween door decor ideas – 15 spookily stylish designs
Spook your neighbors, scare trick or treaters, and be horribly elegant with Halloween door decor ideas that are as fabulous as they are frightening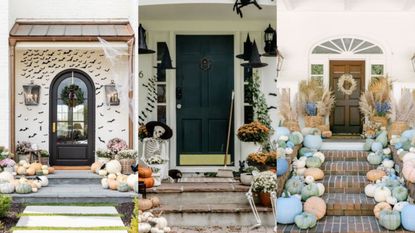 (Image credit: Shea McGee / Lianne Carey / Stephanie Hoey Interiors/Kelli Boyd Photography )
It's where trick-or-treaters will be knocking, so you'll want your Halloween door decor ideas to be frightful, fabulous and a focal point.
Pumpkins and lanterns on your porch are a given, but there are myriad ways to dress them up to make them unique, fun and stylish. Be sure to scare your guests at eye level too, with door wraps and wreaths, as well as cobweb garlands and hanging decorations.
Halloween door decor ideas
From petrifyingly perfect pumpkins to floating witching hats, we've gathered together some spookily stylish Halloween door ideas and asked decorating experts for their tips on creating an eerie entrance to your home that complements your other outdoor Halloween decor.
1. Choose dried flowers to skip from fall to Halloween
Making a Halloween wreath is the obvious choice for your front door.
'Gathering at home has definitely been the theme of this year so we wanted to take that into the holiday season. We pulled this all together with items that were found locally,' says Stephanie L Hoey, owner and lead designer at Stephanie Hoey Interiors.
'All of the floral elements were either dried or natural items that almost anyone could get, and then the décor was either handmade or sourced locally here in Savannah. We thought the hand painted pumpkins would be something nice for people to be able to do at home with just a few supplies,'
2. Create a spooky welcome with faux crows
Lure trick or treaters towards the front door at Halloween with a spooky planter.
'For this design, we wanted to provide both the charm and spookiness of Halloween without letting it get too scary. Our clients had young children so didn't want it to be too spooky, so we therefore decided to go with the sculptural Manzanita branches with crows and some moss to provide some moodiness without being too scary. The pumpkins and Halloween colors provided a traditional backdrop to complement the home and also soften the look,' says Melissa Gerstle, principal landscape designer at Melissa Gerstle Design.
3. Let the pumpkins lead the way
Looking for easy no-carve pumpkin ideas to lead up to your front door at Halloween?
'Adorn each step up to your front door with pumpkins, mix the sizes and if the classic orange is too well, orange, then add in some pastel painted pumpkins to create a softer look,' says Lucy Searle, global editor in chief, Homes & Gardens.
'If you have a spare corner on your front porch or a folly in your backyard, then create a Halloween display with gourds and pumpkins. Use different sizes for visual variety and team with weathered garden pots and candles for an authentic feel,' says Andrea Childs, editor, Country Homes & Interiors.
4. Opt for extra creepiness with ghosts and a witch!
Weaving string lights into your Halloween door decor will create a soft glow, but don't forget that it gets super dark in fall really quickly, so you'll want other lit decorations either side, too.
'Conjure up all the spookiness in one place with these fabulous Halloween door decor ideas: there are creepy ghosts, skeletal hands, pumpkins, candles and a witch looking out to scare off unwelcome guests and the big bonus is that they all add light too,' says Jennifer Ebert, digital editor, Homes & Gardens.
Amazon has plenty of ghost lights to buy.
5. Set the scene with Halloween bunting
'A quick fix for those last minute decor ideas is to invest in Halloween bunting, sprinkle it with some fake web and hang it next to skeleton or two,' says Jennifer Ebert, digital editor, Homes & Gardens.
6. Make an impact with a plethora of pumpkins
If you really want to show off your pumpkin carving ideas, go for not one pumpkin, but many this year. This display shows how you can never have too many pumpkins, with dozens in a range of colors and sizes, carved and uncarved spilling down the stairs outside this front door.
If you're worried about wastage, just be sure to bring them inside before they start to go bad, and give them a second life in your kitchen. 'Rather than throwing away that gorgeous vegetable inside, our top tip is to really get into the spirit and make some pumpkin inspired food,' says Vicki Thompson, Design Consultant at So Lets Party. 'This will ensure that you not only decorate, but create a full on autumnal experience too!' Pumpkin pie party in the first week of November, anyone?
7. Go faux for long lasting pumpkin decor
If learning how to carve a pumpkin isn't high up on your priority list right now, bring the 'trick or treat' spirit into your front door decor by investing in some faux pumpkins. There's no need to worry about them going bad before the big night – in fact, you can pretty much guarantee they'll look just as good next year too. If you like to keep it traditional with your outdoor fall decor ideas, choose naturally colored pumpkins like these by Grandin Road, or jazz things up with patterned, colored or metallic versions.
8. Join the magic circle with a wreath
Who says Halloween door decor has to be outside? Be sure to give your fall wreath ideas indoors a spooky twist in time for Halloween, too.
'Wreaths are a great way to create an entrance and to really personalize your theme,' says Thompson, who also has lots of tips on how to make a Halloween wreath. 'Either add to a shop bought wreath, with details that are based around your own style, or start from scratch…
'Lots of craft shops have a range of details to help with this. For example, you could start with a garland of autumnal flowers, and then add some spiders. This could be built up even further, according to your own Halloween theme.'
9. Soften a Halloween scheme with pastels
If you're stuck for Halloween porch decor, think about channeling the lighter side of Halloween this year. 'When it comes to decorating our front door for fall, I like to start with a more neutral fall look base and then layer on Halloween door decor come October,' says interior designer Shea McGee. 'A while back at the McGee home, we started with a mixture of pastel pumpkins and florals and added in bats, crows, webs, and skulls for a spooky addition.'
While fall color schemes are traditionally bursting with vibrant oranges and reds, a pastel scheme can make for a surprising and stylish alternative.
'While you don't need to incorporate bright colors to make your space feel Halloween-ready, sticking to a palette is still helpful in creating a cohesive look,' says McGee. 'Whether you like more traditional Halloween colors of orange and black or want to go for a minimal, muted look, start with a jumping-off point and build your decor around that.'
10. Light it up with candles
Don't just leave the candles to your Halloween table decor – adding them to your entrance can create an atmospheric welcome for trick-or-treaters.
'I love autumn and it has always been my favorite season,' says designer Josh Young. 'When we purchased our historic townhouse in the heart of Washington, D.C. I knew I wanted to create a dramatic and fun element to our entry to help welcome the season.'
Like Young, find the best candles for the job and light them up. 'We selected a bunch of various pumpkins, guards, and heirloom pumpkins of various sizes to line our staircase. Incorporating hurricane candle holders on some of the steps really helped create a moody, and inviting atmosphere. It's oddly enough become a popular spot for tourists visiting our Capitol Hill neighborhood and has certainly gained some love via Instagram.'
11. Build on an autumnal display
Is Halloween just one night? Or is it an entire season? If you're undecided, plan your Halloween door decor as an adaptation of your fall porch ideas. That way you'll have a design that will work all season long, but plan to add just a couple of spookier additions – like skeletons in your seating area – over Halloween week.
'One of the best ways to celebrate the arrival of a new season is by decorating your front porch,' says Kelly Lambert, Senior Merchant of Seasonal Decor at Grandin Road. 'During the Halloween season, nothing is more festive than a spooky decorated porch, ready for trick-or-treaters. A statement wreath makes a front door feel inviting, and serves as the centerpiece of the look. Then, simply fill your planters with faux autumn urn fillers, and lay down a door mat with a fall graphic or autumn sentiment. To finish the look, pile on the pumpkins!'
12. Dangle floating witch hats for a porch roof
When planning your Halloween door decor, think about using all the levels at your disposal. If your porch has a roof, use it to suspend spooky decor, as demonstrated in this example by lifestyle blogger Lianne Carey.
'Halloween is such a fun time as a parent,' says Carey. 'We love to combine a little bit of spooky and fun with our fall porch, in just the right amounts. The floating witch hats are my favorite touch, along with lanterns to illuminate the path at night.'
Carey's front door hosts quirky ideas from top to bottom, including spiders crawling over the roof supports, tonal pumpkins on the floor and a severed skeleton to greet guests.
13. Use spooky lanterns as containers
To surprise your guests and modernize your decor, consider using traditional Halloween door decor elements and giving them an unexpected twist. These spooky black metal lanterns instantly transport you to 19th century candlelit nights – but instead of using them solely for candles, consider filling their glass cases with organic autumnal decor like in this example. Pile up vibrant leaves, pine cones and miniature gourds for a daytime look instead. Other twists on tradition include making pumpkin planters for autumnal flowers.
14. Weave a web across your windows with a giant spider
Got any arachnophobes in the neighborhood? They might want to look away now. Going oversized with your decorations is a great way to deliver a fright from afar. This example is sure to achieve just that, with a huge spider crawling over the front door and the web it has apparently just woven trailing across the house's front windows. Think about bringing your door and Halloween window decor schemes together under one theme for a cohesive and authentically spooky design.
15. Let nature do its thing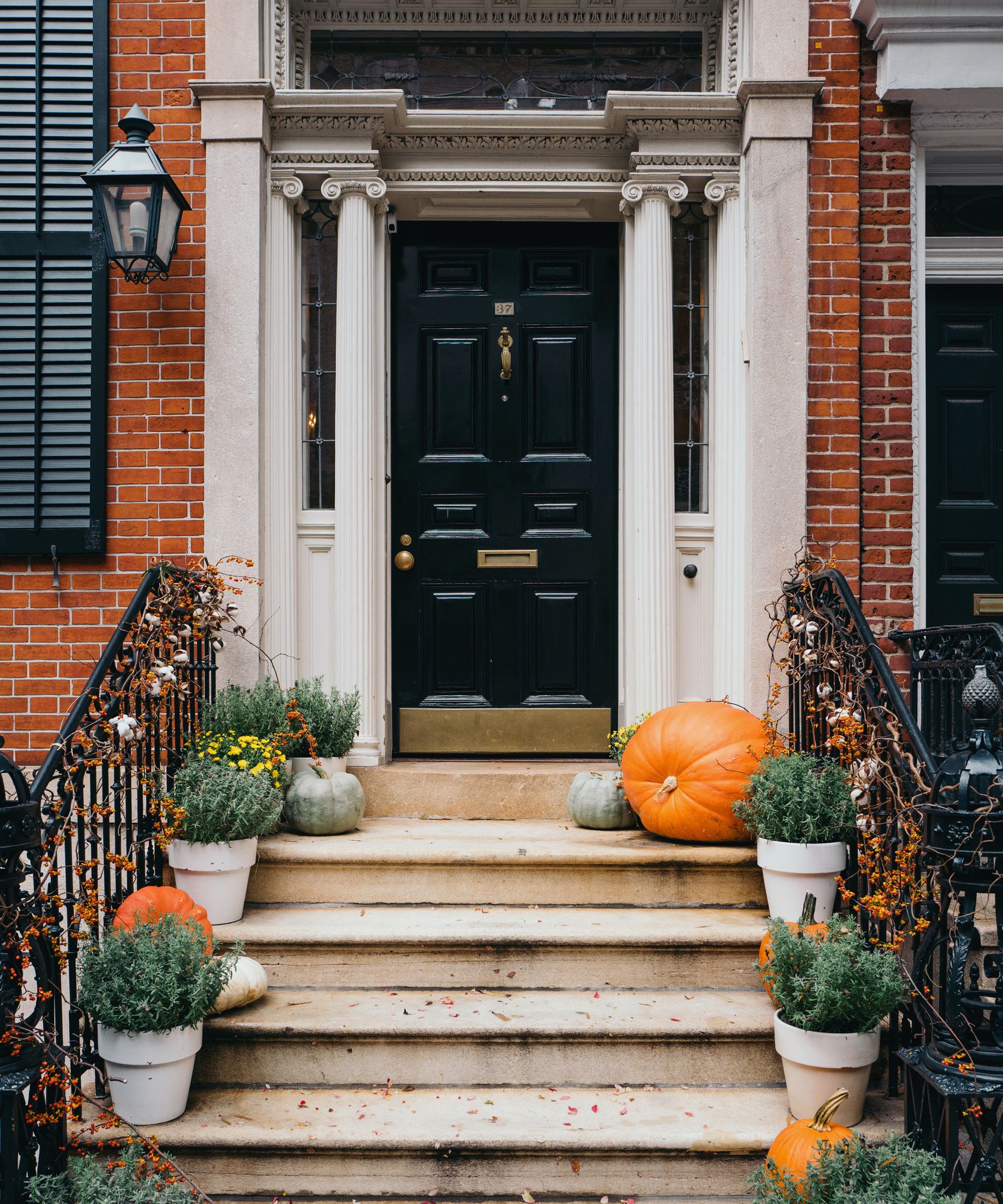 If all-out ghoulish isn't really your style, take a subtler approach to Halloween door decor by focusing on an all-natural scheme. In this example, pumpkins ranging from miniature to mammoth line the staircase, interspersed with fall planter ideas. This low-key design is elevated by the details: the railings are interwoven with dried cotton stems and spindly branches laden with orange berries, which give the impression that they could wrap their clutches around a trick-or-treater at any moment.
What do you put on a door for Halloween?
It's Halloween, so fulfil your wildest nightmares when it comes to door decor. While you'd usually want to create a warm welcome for guests, the holiday is a great excuse to spook them out instead. Adding a wreath to your door is a traditional piece of fall decor – but think about adding model spiders, skulls or miniature gourds painted with Jack O'Lantern faces in time for the witching hour.
Fake cobwebs work well for coverage over such a tall space as a front door, and can form a great backdrop to bigger decorations fixed to the doors, like large model spiders, dangling skeletons and more.
How do you wrap a door for Halloween?
When it comes to wrapping a door for Halloween, you have two options. You can purchase a ready-made door wrap, printed in some form of ghoulish pattern or design – in this case, you should simply follow the instructions for the product you buy.
Alternatively, you can get DIY with it – and how you put it together is dependent on the final look you want to achieve. You can ›create your own layered design using colored cut-outs, or take a single sheet of pale weather-proof fabric and use dye to paint on your own design, employing stencils if you need them. Be sure to measure it up for your door beforehand, and to cut out slices for your mailbox, door handle and doorbell if necessary.
Ailis started out at British GQ, where a month of work experience turned into 18 months of working on all sorts of projects, writing about everything from motorsport to interiors, and helping to put together the GQ Food & Drink Awards. She then spent three years at the London Evening Standard, covering restaurants and bars. After a period of freelancing, writing about food, drink and homes for publications including Conde Nast Traveller, Luxury London and Departures, she started at Homes & Gardens as a Digital Writer, allowing her to fully indulge her love of good interior design. She is now a fully fledged food PR but still writes for Homes & Gardens as a contributing editor.