Fall planter ideas – 15 looks for seasonal containers
Embrace the changing season with fall planter ideas that will bring color to your garden and handle the cold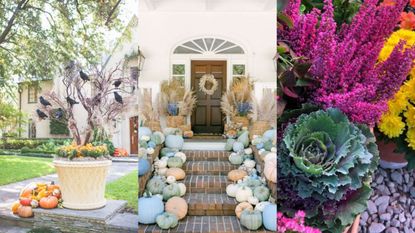 (Image credit: Melissa Gerstle Design/Tara Cosgrove / Stephanie Hoey Interiors/Kelli Boyd Photography / Yoksel Zok)
Making sure your fall planter ideas are vibrantly colored, well-structured and fit to flourish in the colder weather will make spending time in your autumnal garden a pleasure – even if it means putting on an extra layer or two.
While incorporating fall decor ideas into your home will make indoors feel cozy and welcoming, be sure to show your outside space some decorative love too.
There are so many wonderful fall flowers for pots to choose from. Filling pots with plants that bloom in the colder months will add color, while incorporating evergreen foliage and hardy perennials will ensure a lush look even as the leaves turn brown.
Don't forget about your houseplants either – fall calls for a decorative shake up, which means switching up their planters is on the cards too.
Fall planter ideas
From dainty dahlias to tumbling grasses, we asked the experts for their favorite fall planter ideas, and brought them together with outdoor fall decor for some stunning visual inspiration for you too.
1. Conjure up a contrasting color scheme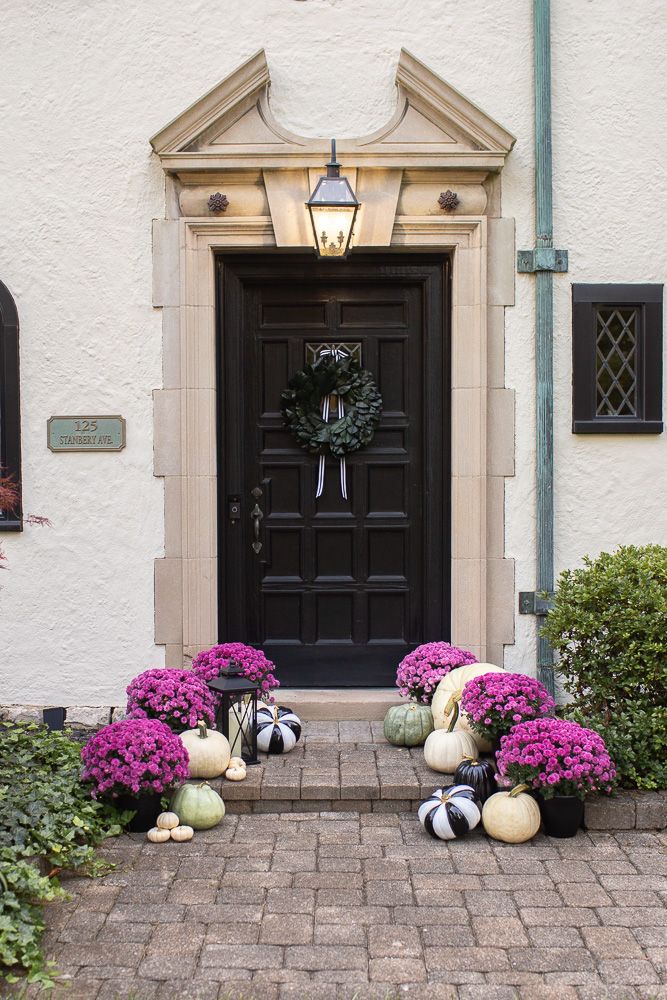 Fall color schemes tend to be fairly predictable (if beautiful), but there's no need to stick to tradition for fall planters if you don't want to.
'The best plants for fall color are quite varied, so you really can switch up your scheme to suit your mood,' says Rachel Crow, Homes & Gardens' gardens editor. 'I love this more contemporary take: a combination of no carve pumpkin ideas with painted pumpkins and lipstick pink chrysanthemums.'
2. Choose dried flowers for an exotic appeal
Decorating with dried flowers is having something of a moment, and it's a great choice for fall planters, assuming yours are part of your fall porch decor – in other words, kept out of the rain.
And while you can come up with a ton of fall wreath ideas made from real flowers, those made from dried flowers will complement your dried flower planters, too.
3. Combine fall planting with Halloween decor
'If you can design a fall planter that's perfect for housing Halloween decor too, you've got it cracked,' says Jennifer Ebert, Homes & Gardens' Digital Editor. 'Top of our list is perching faux crows (you can buy fake crows on Etsy) or bats in the best trees for fall color underplanted with pretty flowers, however we think the bare branches and cobwebs woven into this planter make for an eerily attractive sight.'
4. Create a fun fall planter kids will love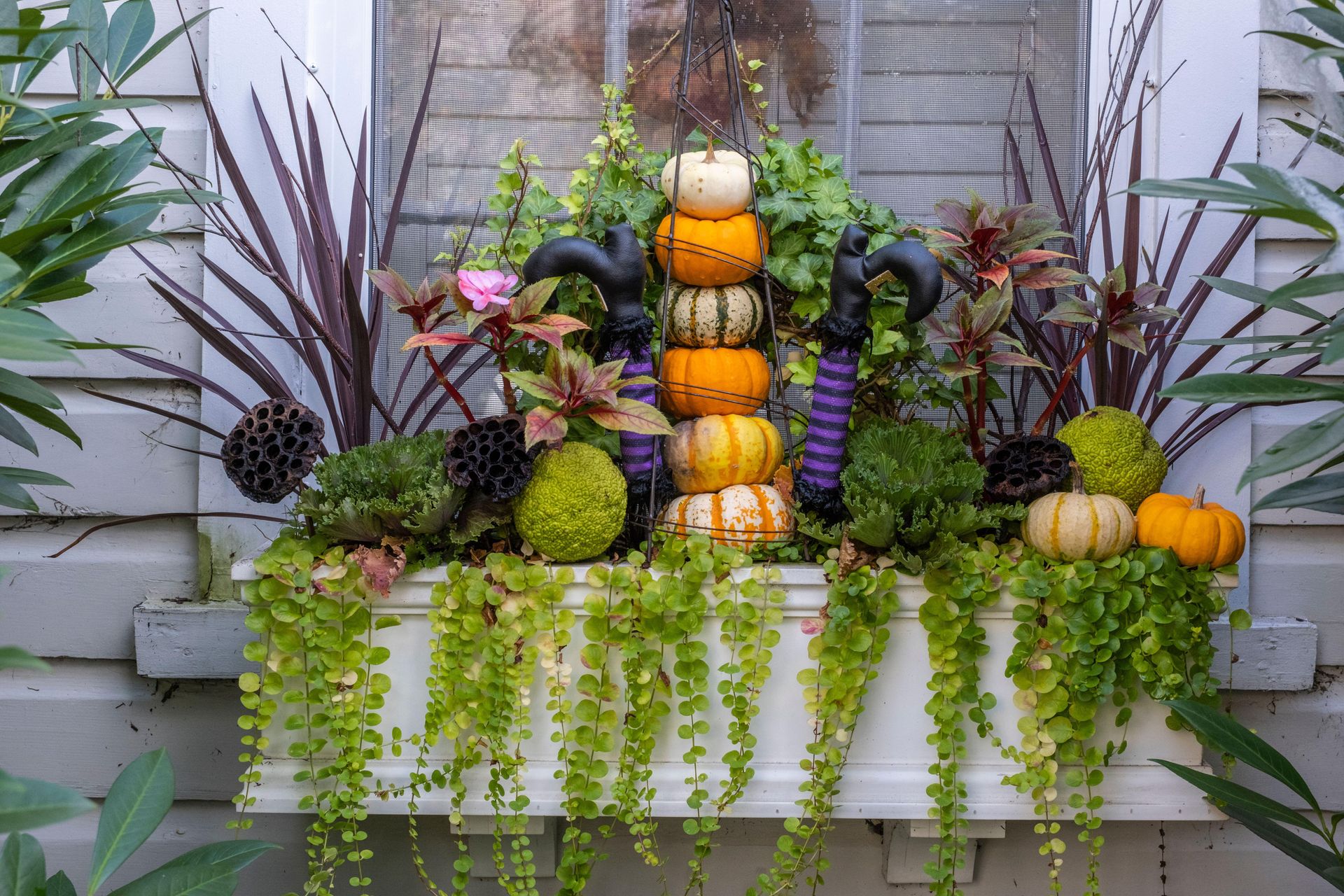 A planter full of evergreens that look good year round can be easily pepped for fall with a small pile of pumpkins (within the container or around the outside). The witch's legs are a fun addition bound to please kids before and beyond Halloween.
And don't forget, this shape and style of fall planter can be brought indoors as a fall table decor idea that can be put outside again once it's time to start putting up Christmas decorations.
5. Choose seasonal flowers in autumn colors
'The vibrant colors of autumn offer plenty of ideas to bright up outdoor spaces before we transition to wintertime,' says garden designer Anna Dabrowska. Choosing plants that bloom during autumn is a no-brainer for your fall planter ideas, but picking them in colors that mirror the oranges, reds and yellows of the autumnal leaves that surround them will boost the warmth of your outdoor fall decor ideas.
Landscape design architects Balston Agius put together the 'Universal Windowbox' garden above, which featured a variety of autumnal blooms in fiery colors. Among those you can see here are rudbeckias in 'Little Golstar' and 'Cappuccino', as well as bright red 'Bishop of Llandaff' dahlias, and pink-edged 'Suniq Orange' dahlias.
'For pollinators, consider a variety of flower shapes as well as colors that are particularly attractive,' says Marie-Louise Agius, Director of Balston Agius. 'Think also about plants that have long or continuous flowering periods. Some, such as dahlias, will also benefit from regular dead-heading which encourages the new buds to take over from the fading ones.'
'Dahlia 'Bishop of Llandaff' is one of the most elegant and vibrant red colors of peony dahlias ideal for autumn display in pots,' adds Dabrwoska.
6. Add pumpkins and gourds to your display
Gleefully bulbous and vibrantly colored, fewer natural forms so clearly signal the arrival of fall as the pumpkin. They aren't just for Halloween either – as well a picking out miniature gourds to include in your fall front door ideas, consider using them to add a seasonal touch to your outdoor planters.
In this example at London's Petersham Nurseries, a selection of green and white gourds surround the base of a shallow urn, filled with heather. Country Homes & Interiors stylist Sara Bird even suggests making them the central focus of your fall planter.
'Perfect for outdoors, make a seasonal hanging planter with a wire basket filled with mini pumpkins and squashes,' says Bird. 'Mix varieties to get lots of different colors. The arrangement, if kept outside, should last for a good month.'
7. Choose warming colors and materials for indoor planters
As the temperatures drop, you'll likely be spending less time in the backyard – so be sure to consider indoor plants within your living room fall decor too. Think about switching up your houseplants' looks by moving them into seasonally colored planters – and focus on a palette of rusts and ochres to reflect the changing natural world. In this example, a tarnished copper planter gives a warming touch to a potted monstera, which is surrounded by natural woven baskets and raw woods.
8. Use a planter as part of your fall porch decor
Gathering together atmospheric fall porch ideas is a great way to create a warm welcome for guests arriving in the colder months. Along with a wreath, pumpkins and lanterns lining the steps, and seasonal climbers turning the front of the house into a color riot like in this example, consider throwing a statement fall planter into the mix. Here, a large hammered metal planter is filled with berry-laden branches – cut and styled in this instance, you can also consider planted alternatives.
'If you wanted more drama and had a large enough pot, then a small japanese acer like Acer palmatum 'Winter Flame' Tree would look great,' says garden designer Sara Edwards, of No. 30 Design Studio.
'A medium-sized blueberry shrub, like Vaccinium corymbosum 'Spartan', is a suitable option for container growth,' adds Dabrowska. 'With its leaves turning red and purple in autumn, it is an energy-boosting shrub that lights up any outdoor space in autumn.'
'Cercis canadensis 'Forest Pansy' is a small multi-stemmed tree with burgundy, heart-shaped leaves which turn a dramatic red, bronze and yellow in autumn. This plant will add emotion to your garden space that it is also suitable to grow in containers.'
9. Use pumpkins as planters
A pumpkin planter is a wonderful way to show off fall planting or flower displays. But while fall color schemes may be largely about warmer tones, there's no reason why you can't mix it up for a chromatically exciting look.
'In putting together an autumn container, I like to choose alternative colors to the season at hand, as it can be a welcome reminder that spring is not that far off – especially for those who dread the approach of long-winter nights – and demonstrate the range of colours the season has for us to enjoy,' says garden designer John McPherson, of Happy Gardens.
McPherson says he likes to combine complementary colors – those on opposite sides of the color wheel – to create 'bold combinations that really pop'.
'Photinia serratifolia 'Pink Crispy' is a perfect small shrub for a container, underplant it with lime green Carex alata Aurea to make a bold and bright statement,' he says. 'Another idea is to choose colored containers to complement your plants.'
10. Celebrate harvest season with ornamental cabbages
We may be losing the leaves from the trees, but we're gaining a lot at this time of year too. With the arrival of fall comes a whole host of newly seasonal fruit and vegetables sprouting from the garden. If you can't get enough of the harvest season and want to continue the celebration beyond the vegetable patch, consider growing ornamental cabbages in your containers.
They're often edible, but can be very bitter – choose them instead for their purple, blue, white or pink rosettes of leaves. As well as for the garden, their vegetal aesthetic makes them a great addition to fall table decor ideas in the dining room too.
11. Build height with hardy grasses
'For fall, you can also include ornamental grasses for texture and movement and they are particularly striking when the light catches them,' says Agius. Hardy grasses are a great way to bring height to container gardens.
'Grasses such as Miscanthus give an autumn interest, especially with the sun behind them, lighting up their flowers and seedheads,' says garden designer Mika Misawa. 'If you trim grasses neat and beautifully, they look elegant and create a wonderful see-through effect.'
In Sara Edwards's container garden at Chelsea Flower Show 2021, tiered containers feature Carex testacea 'Prairie Fire', an evergreen grasses which is combined with Dryopteris erythrosora, an autumn fern. 'I think these plants are the perfect autumn combination as they combine warm autumnal tones, with a good variety of texture,' says Edwards.
12. Channel spooky season with an urn
If fall for you is all about Halloween, ensure your planters are ready for the spooky season. If you're looking to invest in new planters, think about urns. Not just for adding grandeur to fall mantel ideas, their classical shape popular in the 18th century adds a historical aura to a garden, while the deathly connotations that come with the vessel's alternative use come to full fruition on Halloween night. Look for distressed examples like this one at Petersham Nurseries for added ghostliness.
13. Use evergreens for structure
Of course, the colder temperatures of this time of year will limit what will flourish in your fall planter – so include some dependable evergreens to make sure your pots have structure all year round. 'Look to balance the planting in any container,' says Agius. 'Ensure you have your structural anchor plants – this will probably be something evergreen and may not be the focal plant, but will provide the backdrop against which the more floriferous choices can shine.'
'The planting for my container garden at Chelsea was all about getting contrast within the form of the foliage and less about the flowers,' says garden designer Ellie Edkins, who put together the above example for Chelsea Flower Show 2021.
'Evergreen structure for a shady space could be created in the form of the Carex 'Ice Dance', which when cozied up to Ilex crenata (Japanese Holly) balls, creates a wonderful pairing,' says Edkins. 'I used three sizes of Ilex crenata balls across the clusters of planters for interest and to keep the eye moving around the space. Geranium Rozanne sits below the Ilex balls – it is such a hard-working little plant and will flower right the way through autumn if treated right, tolerating partial shade.'
14. Channel a little desert heat with succulents
While cacti and aloe may instantly channel notions of baking desert heat, hardy succulents will happily prove that they can deal with pretty much anything if you include them in your fall planter ideas.
Caring for succulents in winter requires care. If you're planting them outdoors, ensure you choose frost-hardy varieties – the likes of sempervivums and some varieties of sedum are perfect for the job. 'For a big fall planter idea, style up new favorites cordelines with outdoor succulents,' suggests Bird. 'Dot in some munchkin pumpkins for a charming touch.'
15. Pick pansies for pockets of autumnal color
A longstanding favorite in the world of fall planters, pansies are always a great way to ensure dabs of bright color dot your autumnal garden. Often flowering through late fall and into winter and spring, they are continually popular for autumnal planters both small and large. With a wide range of colored and bi-colored varieties available, use them to add quaint chromatic details to evergreen laden planters like in this example.
What do you put in a planter in the fall?
If color is what you're looking for from your planters in the fall, look for plants that flower in the cooling months. Pansies are a favorite for English garden ideas, while chrysanthemums will create allusions to East Asia. Marigolds bring a warming crop of sunshine to an autumnal garden, while asters will festoon a space with delicate purple flowers. Dahlias are also a favorite for fall, and are available in a wide range of colors.
Choose large-leaved evergreen plants to ensure structure in your planter design, while grasses will help add height and breadth to a design.
How do you decorate outdoor planters in the fall?
Fall planters often need little decoration because their beautiful autumnal colors can speak for themselves. However, you can dress them up with further details, such outdoor Halloween decor through October, swapped out for pretty, colorful wired ribbons in complementary colors through November to Thanksgiving. Assuming your plants still look good once December comes, you can swap out Thanksgiving decor with something a little more Christmassy.
What can I plant in pots in October?
In terms of what to plant in October for your pots and containers, foodies should think ahead for spring and summer. Plant Strawberries in early October and ensure you add some doses of well-rotted manure or compost to help them along. Peas are also a great shout for this time of year – the fact that they climb makes them perfect for smaller container gardens without a lot of ground space. On a similar note, fava beans and broad beans should also be planted this month.
On the floral side of things, planting sweet peas in October will result in 'bigger plants with a stronger root system that should give flowers next spring earlier and last longer,' according to gardening expert Monty Don. Crocus bulbs are also best planted in pots at this time of year.
Sign up to the Homes & Gardens newsletter
Decor Ideas. Project Inspiration. Expert Advice. Delivered to your inbox.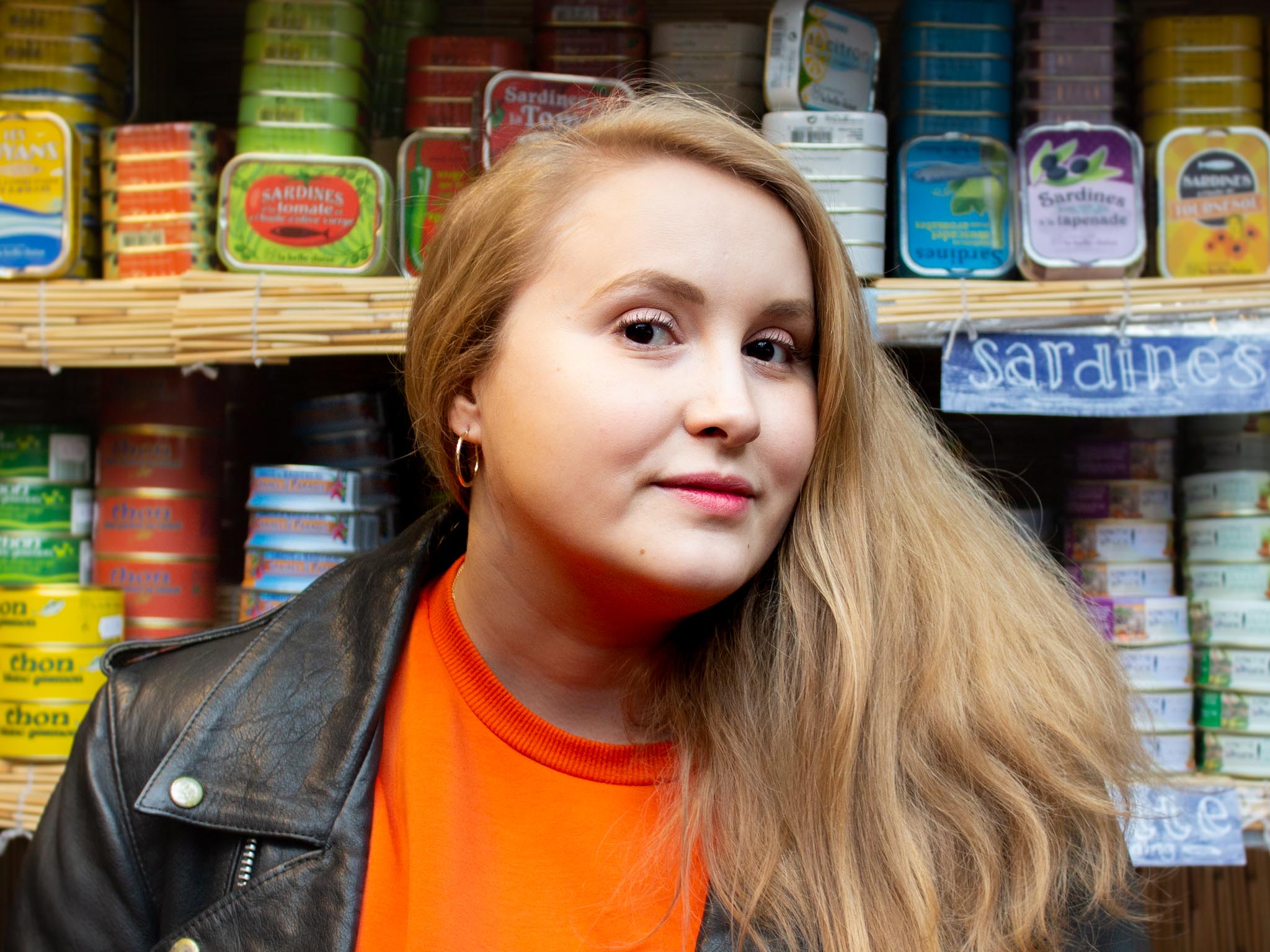 Ailis started out at British GQ, where a month of work experience turned into 18 months of working on all sorts of projects, writing about everything from motorsport to interiors, and helping to put together the GQ Food & Drink Awards. She then spent three years at the London Evening Standard, covering restaurants and bars. After a period of freelancing, writing about food, drink and homes for publications including Conde Nast Traveller, Luxury London and Departures, she started at Homes & Gardens as a Digital Writer, allowing her to fully indulge her love of good interior design. She is now a fully fledged food PR but still writes for Homes & Gardens as a contributing editor.