15 fall porch ideas that create a cozy, warm welcome into the home
From piles of pumpkin to flickering lanterns, the best fall porch ideas combine elements of the natural world with the coziness you crave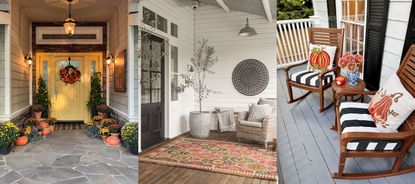 (Image credit: @jodie.thedesigntwins | Weaver Green | Leah Atkins Design)
Sign up to the Homes & Gardens newsletter
Decor Ideas. Project Inspiration. Expert Advice. Delivered to your inbox.
Thank you for signing up to Homes & Gardens. You will receive a verification email shortly.
There was a problem. Please refresh the page and try again.
By embracing stylish fall porch ideas, you will help to make your home look more inviting, welcoming and cozy during the colder months.
As one of the main areas to really get creative with outdoor fall decor, your porch provides the perfect platform to celebrate the season with a whole host of stylish designs.
From colorful pumpkins and garlands, to inviting lighting, color schemes and more, prioritizing front porch ideas that work in perfect harmony with your indoor fall decor will ensure you're cocooned in that cozy fall feeling as soon as your arrive at your front door.
Our 15 favorite fall porch decor ideas to embrace this season
'Fall is a softly lit, beautiful time of year,' says Brigitte Girling, artist and founder of floral design company Moss & Stone. 'A time to celebrate the warmth of summer captured within the color of the relaxing garden, golden foliage and remaining drowsy flowers.'
So, if you are looking for front porch decor that is perfect for fall, and which can take you right up to the New Year, then look no further: below, we have some wonderful ways to decorate a front porch for the season ahead.
Brigitte Girling is an artist, florist and founder of the Moss & Stone Flower School in the UK, and has has taught floral artistry to people from across the world.
1. Celebrate the colors of fall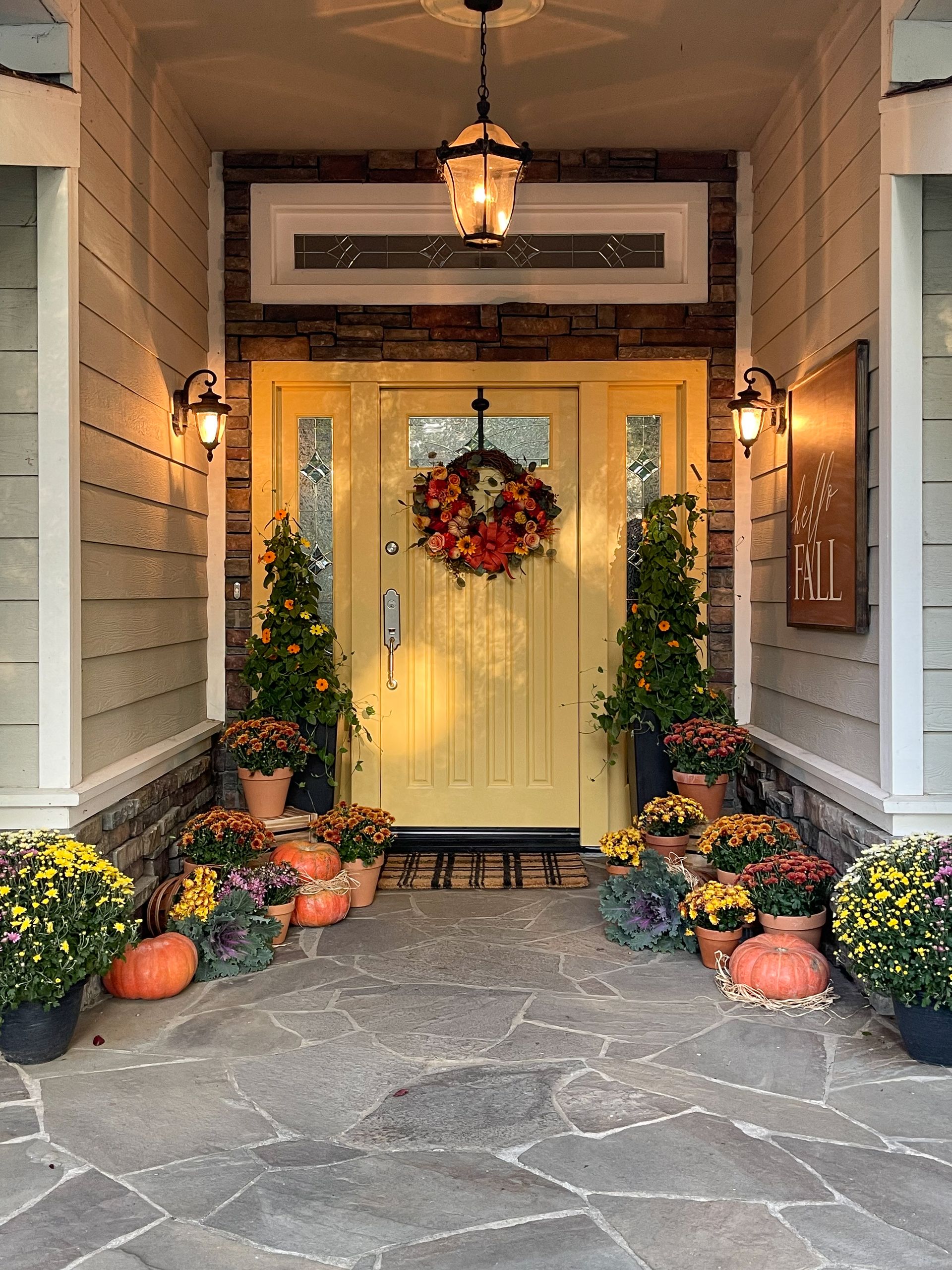 When many of us think of fall, we think of the beautiful colors of the natural world that truly define the changing of the seasons.
From rich red and deep ochre to warm yellow and purple, embracing a fall color scheme on your porch is an easy way to celebrate the season.
From colorful fall planter ideas, to an assortment of pumpkins and fall wreath ideas, there are so many ways you can uplift your porch with the natural colors of fall, beautifully shown on the above porch by Jodie Kammerer or The Design Twins.
2. Make the most of the fallen leaves with a homemade wreath
'Although wreaths are traditionally linked to Christmas porch decor, we love a fall wreath to lift the spirits and create something beautifully welcoming to your façade as days grow darker. It's about displaying the warming colors of amber leaves and the muted tones of dried flowers,' says Francesca Morris, senior buyer at Garden Trading.
'Natural and understated, fall is a transitional period perfect for exploring different options, scattering floor lanterns, perhaps a pumpkin or two and readying your porch for an influx of decorative ornaments ahead of the festivities come December.'
If you don't fancy learning how to make a fall wreath, then we think this beautiful, rustic door wreath from Garden Trading will work just as well.
3. Illuminate your porch with cozy fall lights
Fall front door decor isn't just about wreaths; it pays to consider glorious garlands and twinkling lights too.
'Create the ultimate warm welcome home from frosty fall walks with porchways adorned with seasonal wreaths and garlands, with freshly fallen leaves and a rich color palette of muted orange and plum that will perfectly encapsulate the true essence of fall. Intertwine the warm glow of micro lights, like our bronze globe lights available on Amazon amongst the autumnal foliage where the delicate wire and subtle LED light will softly blend with the seasonal leaves,' says Emily Kelsey from Lights4Fun.
'Simply arch the autumnal garland around the top of your doorway and hang the wreath on the front of your door, securing in place with a nail or door hanger. Pair black metal lanterns and outdoor (LED) candles together, placing either side of your doorway for the perfect autumnal entrance. Mix and match various heights and sizes around the foot of your porch, where the darker evening will roll in and the soft ambient glow will guide you home.'
4. Dine outside on your porch
Fall table decor ideas needn't just be indoors: if you have room for a table outside on your porch, why not decorate it for fall?
'Outside dining on your front or back porch, even during the fall season, is still possible if you do a bit of cozy prep work first – comfy seat cushions and thick woolen blankets are a necessity and make sure you have plenty of lanterns and candles on the table. If you have a chiminea or fire pit get that fired up to keep warm and it will create a lovely glow too,' says Lucy Searle, editor in chief of Homes & Gardens.
Lucy Searle has written about interiors, property and gardens for over 30 years, starting within the interiors departments of women's magazines before switching to interiors-only titles in the mid-1990s. In 2018, Lucy took on the role of Global Editor in Chief for Realhomes.com, taking the site from a small magazine add-on to a global success. She was asked to repeat that success at Homes & Gardens, where she has also taken on the editorship of the magazine, which is the UK's oldest interiors magazine at 103 years old. Lucy is a serial renovator and also owns rental properties in the UK and Europe, so brings first-hand knowledge to the subjects she oversees.
5. Refresh your porch with a fall color scheme
Fall color schemes are all about the rich shades we see reflected in nature, so why not combine them with your fall porch ideas for the perfect combination.
'I accentuated our 1911 Seattle home with a bead board soffit and a pair of Dutch doors by painting them a rich plum brown to balance the sunlit space. Lap-siding and woven shade add texture while a Jaipur runner softens this heavily used area. This space acts as a corralling area for my two resident dogs seen peeking through the glass. A wall lined with hooks keeps the space tidy,' says Raina Henderson, founder and principal designer at Raina Henderson Interior Design.
Raina Henderson is a Seattle based residential interior designer and founder of Raina Henderson Interior Design.
6. Scatter pumpkins in a range of colors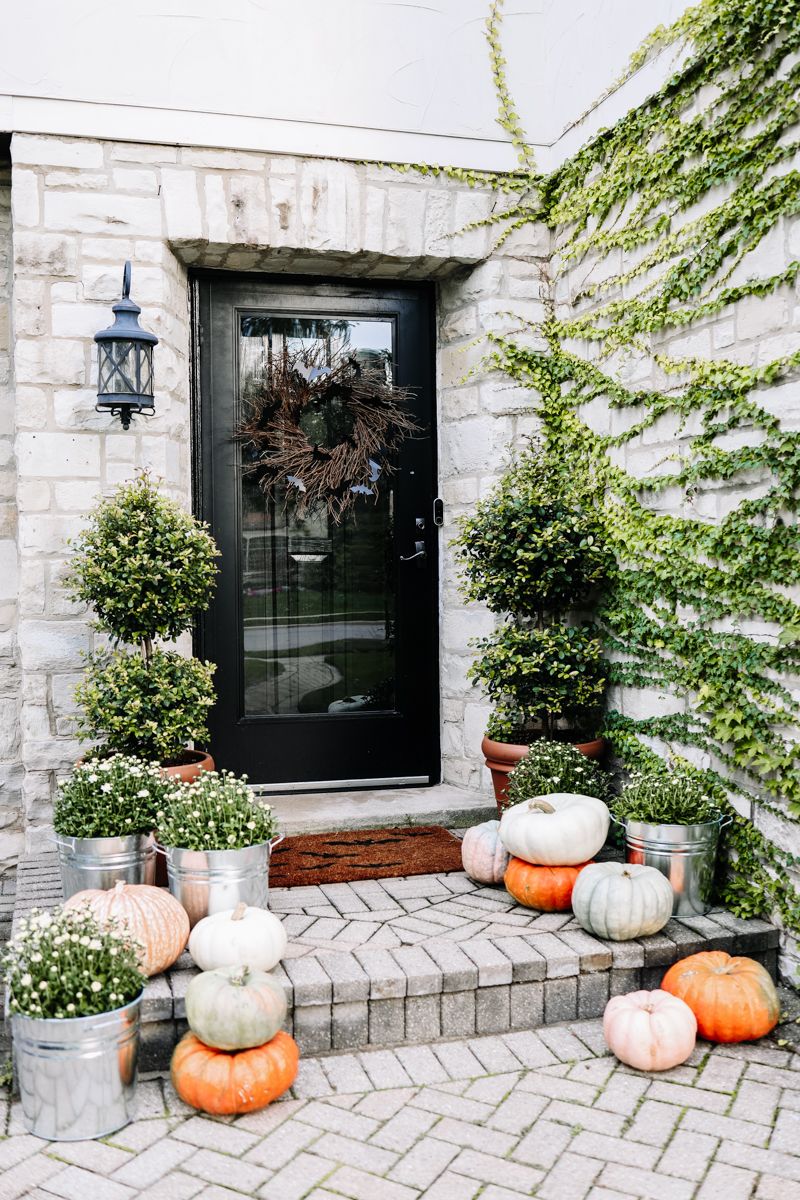 Pumpkins are an enduring stalwart of Halloween decorating ideas, but that isn't the only role the pumpkin planter has to play in fall. Apart from being delicious, they also make whimsical additions to non-spooky fall porch decor across the whole season. Plus, pumpkin planters are a wonderful way to decorate your home in fall.
'A scattering of pumpkins in different colors (we have plenty of pumpkin painting ideas) will make your fall porch feel elegant, and they can be placed alongside fall planters for more texture and color,' says Jennifer Ebert, digital editor, Homes & Gardens. 'And of course, you can repurpose them as Halloween porch decor once 31st October rolls around.'
Jen is the Deputy Editor (Digital) of Homes & Gardens online. Before starting this position, she had completed various interior design courses at KLC Design School, as well as working across Ideal Home, LivingEtc, 25 Beautiful Homes and Country Homes & Interiors as an interiors writer.
7. Use a fall floral arch to create a warm welcome
Fall mantel ideas on steroids? It has to be this floral arch idea, which will be sure to create a stir in the neighborhood.
'Go further than a fall wreath this year, especially if you are hosting. This stunning floral arch is adorned with fall blooms and greenery, it will set the scene for this cozy season and add a splash of color and texture to your porch,' says Andrea Childs, editor, Country Homes & Interiors. 'Simply choose the best plants for fall color to provide the basis for the arch and work seasonal blooms into it for added jewel tones.'
If you're looking to achieve a similar look but in a more subtle way, then embrace a more stripped back, simple fall garland, like this beautiful Preserved Full Harvest Garland design from Terrain.
8. Switch up your rocking chair pillows
One easy fall porch idea is simply switching up the accessories on your front porch furniture.
'Changing out pillows on rocking chairs is such a simple way to update your porch each season! Adding a candle and some florals makes the seating area feel even more welcoming,' says Leah Atkins, owner and lead designer at Leah Atkins Design.
Leah Atkins is the owner and designer at Leah Atkins Design, an interior design firm based in the Atlanta area. Leah's lifelong dedication to design and interiors has given her a unique and artistic talent which is used to continuously provide unmatched design services. Leah Atkins graduated from Carson-Newman University with a four year degree in interior design.
9. Arrange clusters of seasonal delights
With the world changing right outside your window, it's hard not to put nature at the center of your fall porch ideas. 'It's a time to welcome the transition of focus from outside to inside whilst still celebrating nature's final flourish before winter,' says Moss & Stone's Brigitte Girling. 'An easy way to do this is to create an inviting seasonal harvest of nature's gifts around our doors and porchways.'
Creating low-level clusters of natural decor, such as easy, no-carve pumpkin ideas and displays – mixed in with the occasional man-made organizing tool – next to your doorstep or around columns are wonderful back porch ideas, and will create the feel of plants organically sprouting from the ground.
'Mix foraged foliage, seasonal produce and dried flowers and grasses for an upbeat and on trend style,' suggests stylist Sara Bird. 'Use oversize vases and pots for stems with pumpkins and squashes arranged around the base.'
Sara Bird has worked on the Homes & Gardens team for many years, making seasonal projects look beautiful for us. Sara is passionate about crafts as well as re-loving and renovating homes and interiors, and she always warms to great interior ingredients.
10. Get cozy with an outdoor rug
Love your living room fall decor? Then greet your guests with a little bit of it on your porch. Incorporating weather-proof textiles and the best outdoor rugs into your porch will signal to your guests that inside awaits a cozy refuge. Outdoor rugs, like this Nomad Sultan Rug from Weaver Green, are the perfect transitional addition.
'A rug or runner in a porch will instantly update and change the feel of the entrance of a home,' says Tasha Green, Director of Weaver Green. 'Whether it is a statement rug or a simple herringbone design, the addition of a rug or runner will help set the tone for the rest of the interior.'
11. Let your fall foliage run riot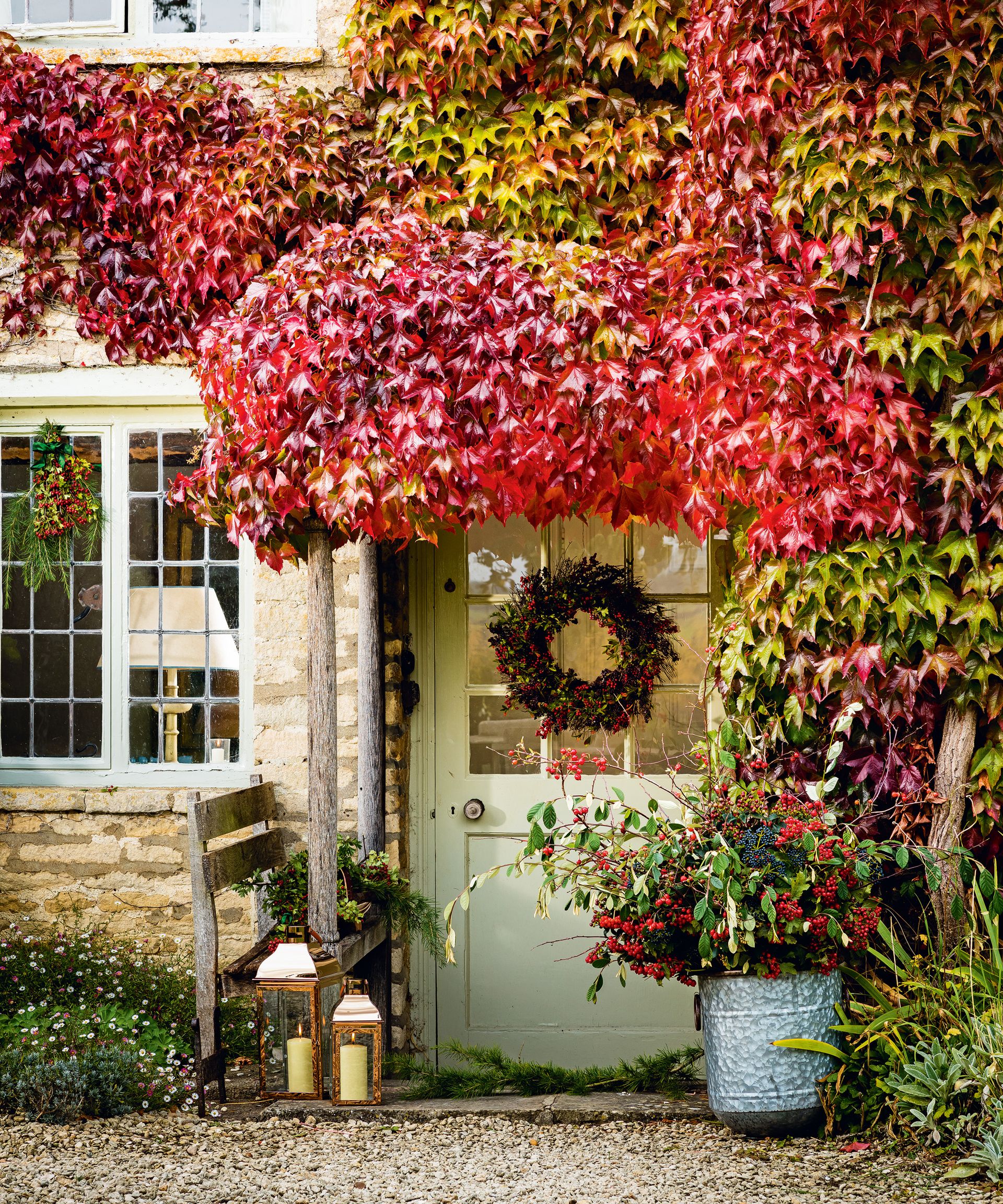 The fiery colors of autumnal leaves always inspire the best fall color schemes for our interiors, so ensure you make the most of them in their natural state in your for a fall porch. This may take a little planning earlier in the year, but think about introducing plants into your porch area and its surroundings that will naturally create a dazzling display when fall comes around.
In this example, Boston Ivy has been allowed to run across the front of the home and down around the porch area – this variety turns a vibrant ruby red when fall arrives.
We have a list of the best trees for fall color and plants for fall color if you are looking for more inspiration.
12. Add decorative displays to the window sills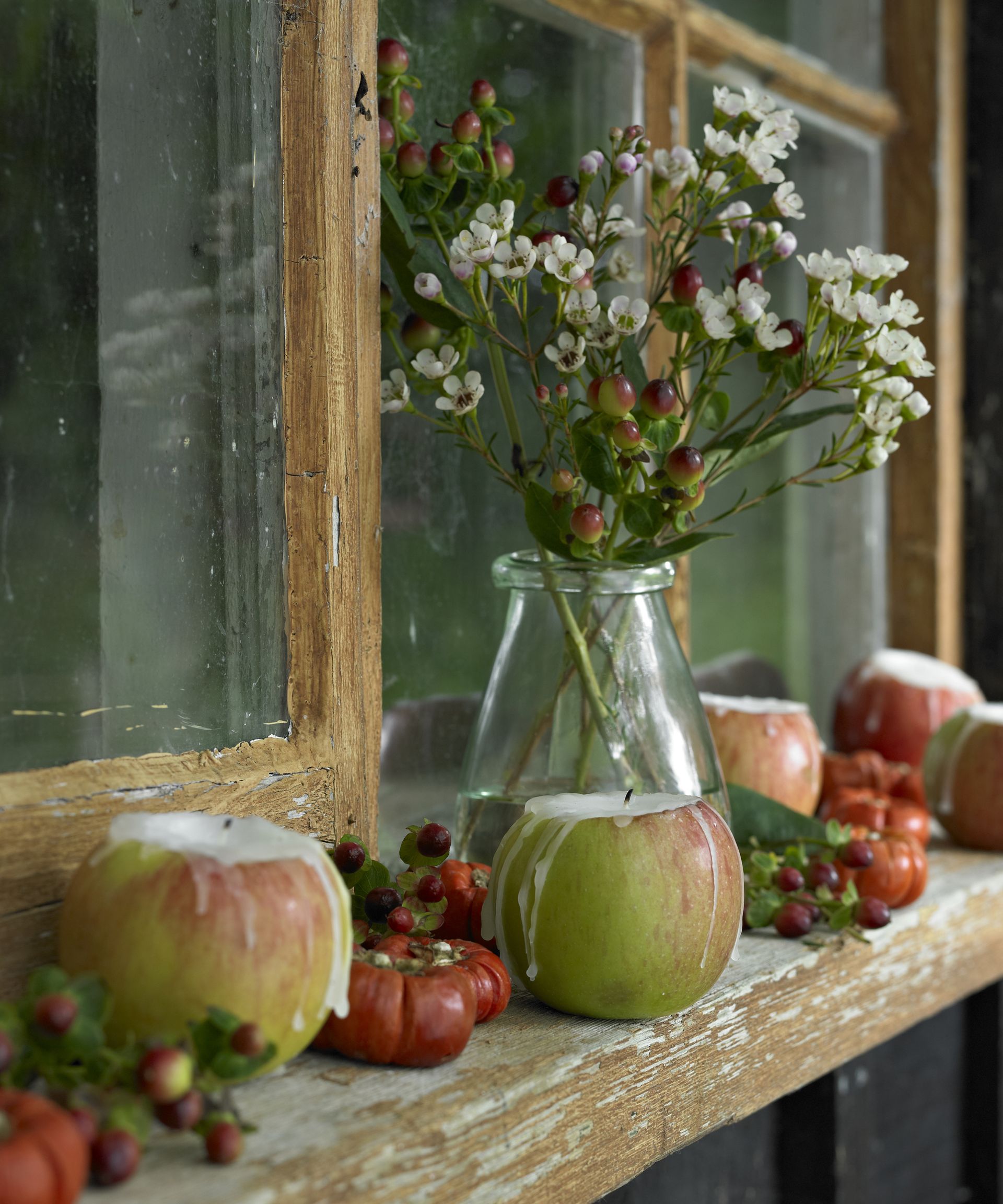 Wondering how to decorate for fall on a budget? Why not use what you already have at home? A few apples make for charming decorations, and local wildlife will enjoy them too.
Your fall porch decor shouldn't stop at the front door. If you have a wide porch that runs some or all of the width of the home, consider getting your window sills in on the action.
Take a leaf out of your book of fall living room decor ideas, and perch small vases of seasonal flowers as well as decorative objects from the natural world and arrange them along these little spaces, alternating height as you go. In this example, apples have been hollowed out and filled with wax and a wick to create a seasonal candle.
13. Light up your steps with lanterns
We all want our guests to feel a warming glow when they enter our home, so why not start from the doorstep? 'If you have space, the finishing touch of a few lit lanterns as the dark nights draw in, creates a wonderfully enticing welcome for visiting friends and family,' says Brigitte Girling.
If you have steps leading up to your front door, place lanterns, like this floor lantern design from Wayfair, or candles in hurricane vases on each step to the sides, as demonstrated in this example. You can group these with low-level displays of gourds and even intersperse them with your fall planter ideas.
14. Incorporate texture with a range of organic decor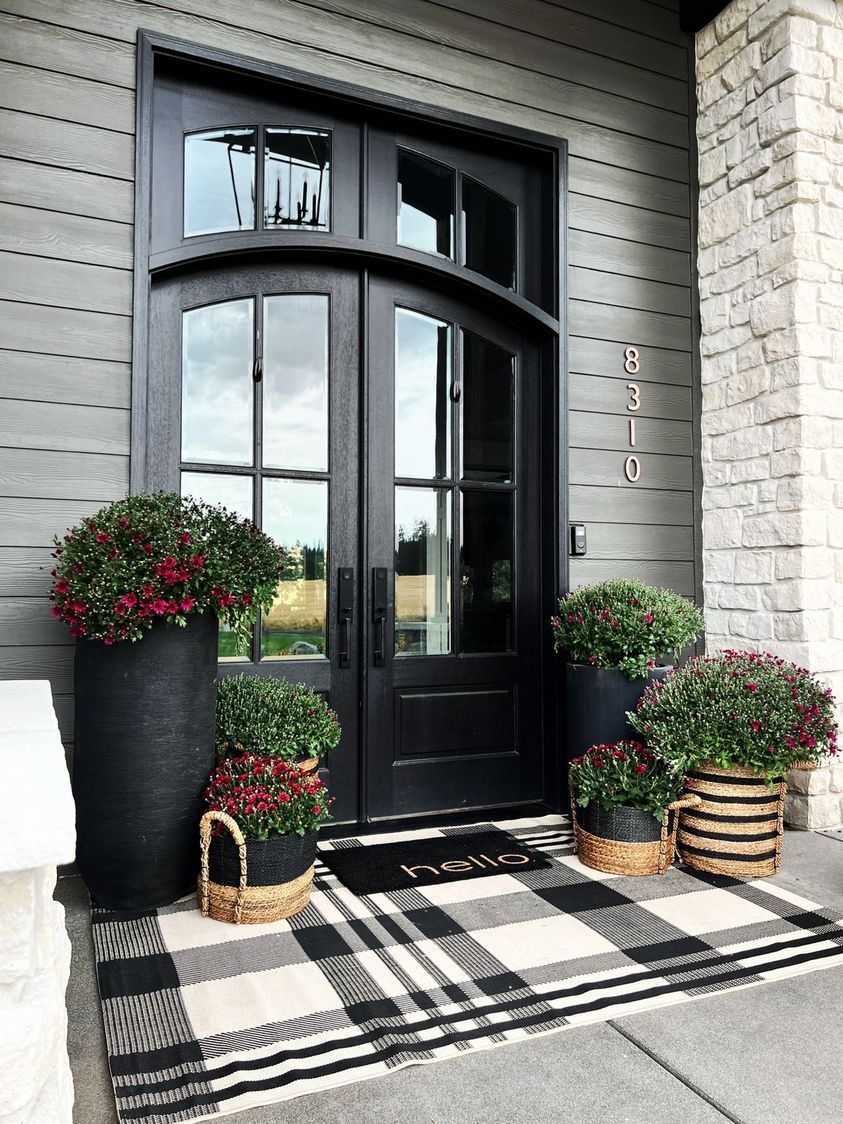 If you're front or back porch is sheltered, then you can get as cozy and creative as you like with plenty of tactile texture.
From rugs to woven wicker planters, blankets and throws, decorating your home's entrance with plenty of warming texture will only make the space feel more inviting and homey.
We love the use of materials and textures on this front porch by Our PNW Home. The red and green plants work perfectly with the neutral woven planters to establish a warming contrast with the black and gray exterior, with the checkered rug connecting and grounding all of the different elements together as one.
15. Bundle up in a blanketed seating area
For larger porches, a seating area for watching the world go by is a must. There's no need to tuck away your best outdoor furniture when the weather turns colder either – just ensure you're well prepared for the chill by layering up your benches and armchairs with lots of lovely warm blankets.
Choose easily washed fabrics so you don't have to worry too much about leaving them outdoors, and opt for either greys to mimic autumnal skies, or warm rusts to create a sensation of extra warmth.
Shop fall porch decor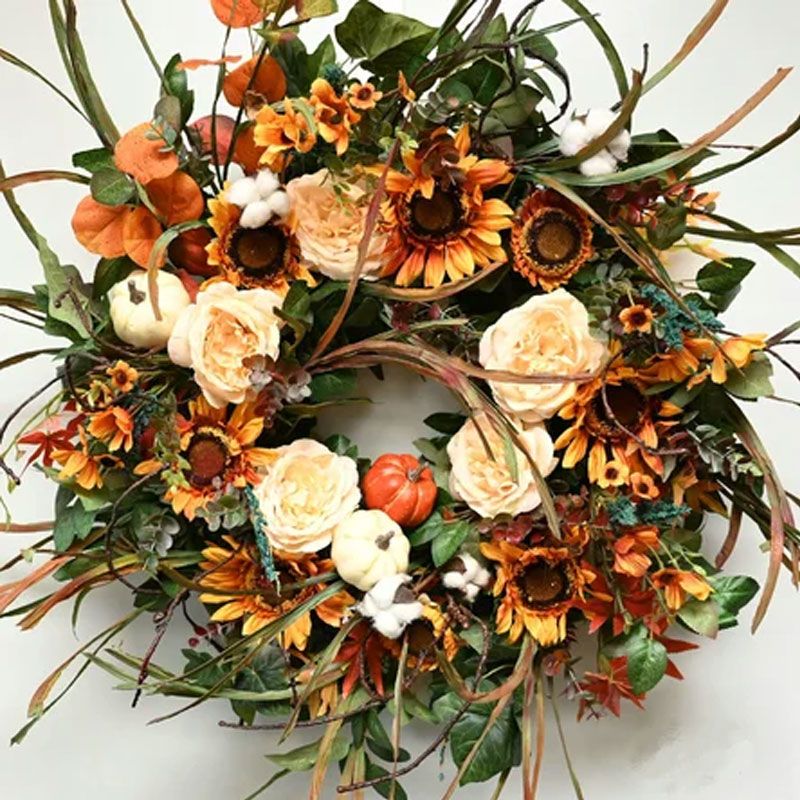 Faux Sunflower Floral Wreath by The Holiday Aisle
This colorful wreath will bring in the beautiful colors of fall into your home, perfect for hanging on a door, on a wall or above a fireplace.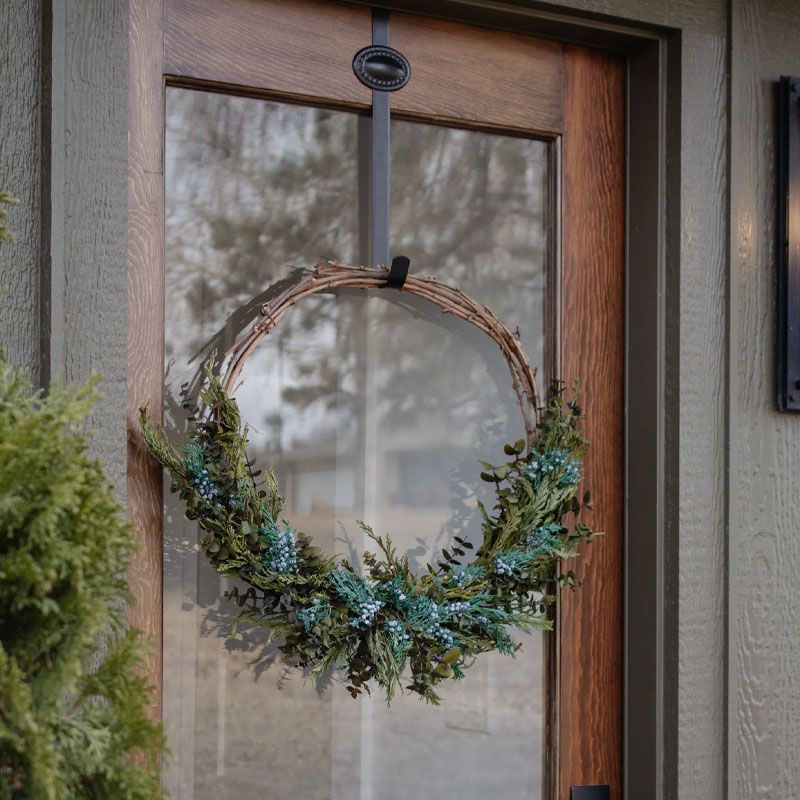 Preserved Juniper and Cedar Pinecone Forest Wreath
Hang this fall wreath on your door or above your mantel, and let the natural, fragrant greens fill your home with the delightful aroma of nature.
FAQs
How Should I Decorate My Porch In Fall?
Looking to nature is the best way to create a truly atmospheric fall theme for your porch, and the best way to start decorating for fall. Pumpkins, gourds and pinecones are among the more obvious pieces, but there is much more beautiful autumnal florals and foliage out there too.
'I would suggest looking a little more closely at the hedgerow for inspiration,' says Moss & Stone's Brigitte Girling. 'Branches of hawthorn berry, sloes and rosehips are festooned there, like glistening jewels. Gather a few, leaving plenty for the birds, and place loosely in chunky jugs or tall glass vases. Again, grouping a few jugs and vases together can give sumptuous but easy to achieve natural display full of the ripeness of the season.'
'Bracken too has put its autumn burnished coat on. Gather an armful and arrange around a display of bowls filled with gathered apples, quince, plum, pear, conkers, medlar fruits and seed pods. Rather wonderfully, the bracken doesn't require water this time of year.'
How can I make my front porch look good in fall?
Once you've found your materials, putting them together is where the real artistry lies. For an organic look, arrangements on the floor of gourds, candles, lanterns and more can look relaxed and natural.
You will, however, also need to think about layering your porch decor and including some height. A wreath on the front door will add excitement to your visitors' eyeline, while berry-laden branches pinned or hanging from the top of the porch roof will create an inviting arch under which to enter.
If you have a seating area, coordinate your blankets with your decor – choose burnt oranges to go with your pumpkins, red to match any bright berries and brown ochres if you're focusing on the likes of twisted branches and pinecones. Surround them with fall flowers for pots as a colorful finishing touch.
---
If you don't want to place real pumpkins around your porch, and would prefer a more long-lasting decoration that you can use year after year, why not embrace an enduring metallic pumpkin.
We love this Pumpkin Luminary design from The Home Depot, and how it is both a stylish decoration and cozy light all in one.
Sign up to the Homes & Gardens newsletter
Decor Ideas. Project Inspiration. Expert Advice. Delivered to your inbox.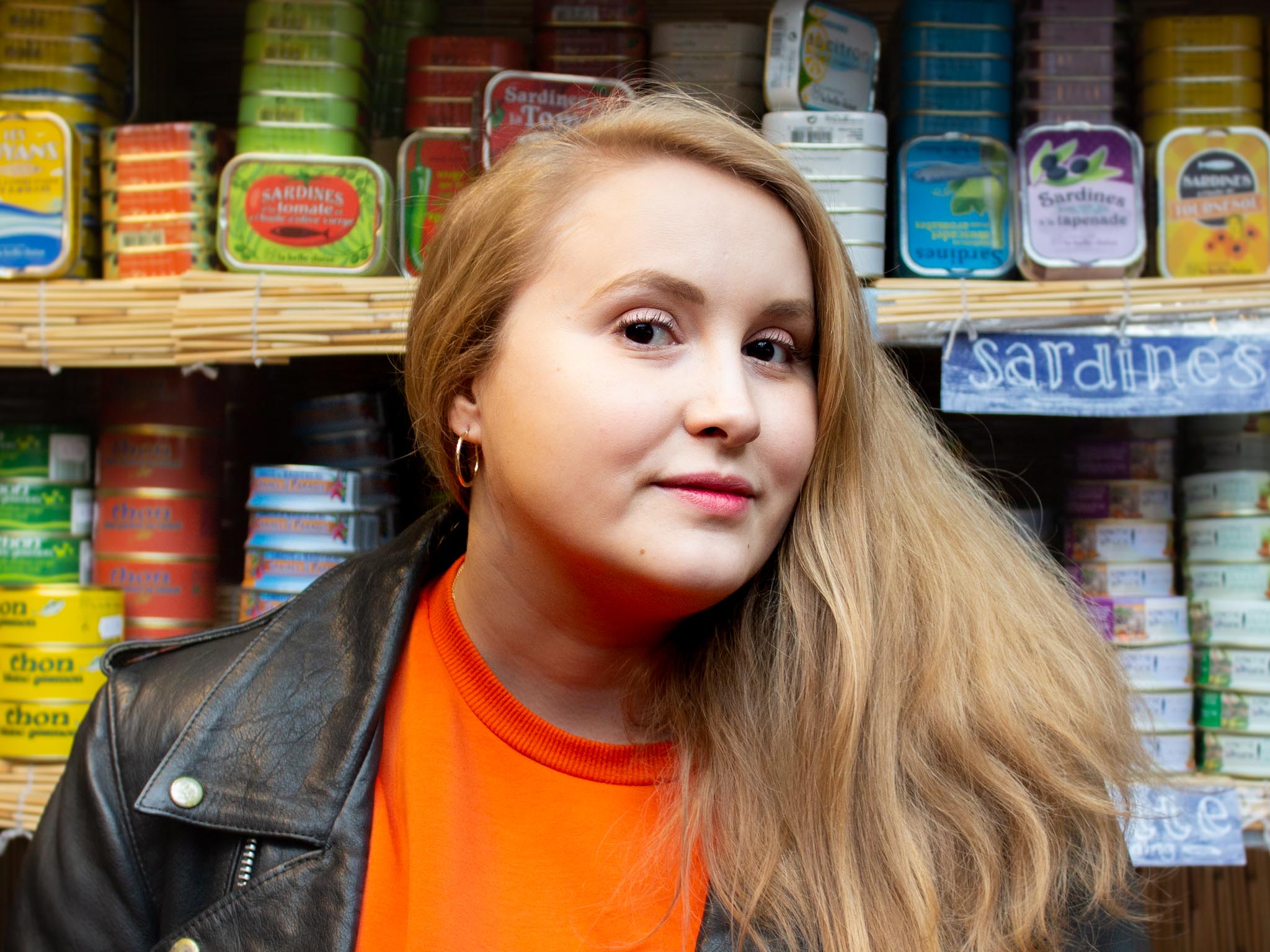 Ailis started out at British GQ, where a month of work experience turned into 18 months of working on all sorts of projects, writing about everything from motorsport to interiors, and helping to put together the GQ Food & Drink Awards. She then spent three years at the London Evening Standard, covering restaurants and bars. After a period of freelancing, writing about food, drink and homes for publications including Conde Nast Traveller, Luxury London and Departures, she started at Homes & Gardens as a Digital Writer, allowing her to fully indulge her love of good interior design. She is now a fully fledged food PR but still writes for Homes & Gardens as a contributing editor.