Fall porch ideas – 11 autumnal front door decor tips for a warm welcome
From pumpkin piles to flickering lanterns, the best fall porch ideas mix the natural world with the coziness you crave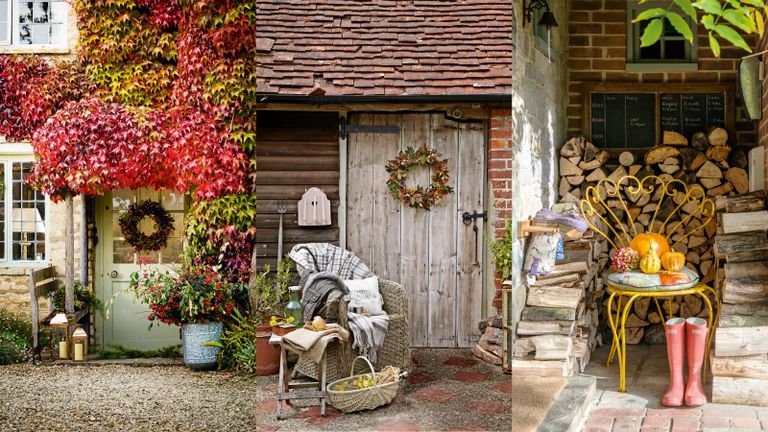 (Image credit: Ben Anders/Future/Polly Eltes)
Fall porch ideas are the first step in offering your guests a truly warm welcome during the colder months.
If the weather is bleak, there's nothing like arriving at the door of a home you know will envelope you in coziness, with fall decor ideas that still nod to the dazzling colors, textures and changes unfolding in the natural world.
'Autumn is a softly lit, beautiful time of year,' says Brigitte Girling, Founder of floral design company Moss & Stone. 'A time to celebrate the warmth of summer captured within the color of the relaxing garden, golden foliages and remaining drowsy flowers.'
Below, we have some wonderful ways to decorate a front porch for the season ahead.
Fall porch ideas
From foliage festooned wreaths to piles of pumpkins and lanterns to light the way home, we spoke to the experts about how to create stunning fall porch ideas to welcome you in from the cold.
1. Arrange clusters of seasonal delights
With the world changing right outside your window, it's hard not to put nature at the center of your outdoor fall decor ideas . 'It's a time to welcome the transition of focus from outside to inside whilst still celebrating nature's final flourish before winter,' says Girling. 'An easy way to do this is to create an inviting seasonal harvest of nature's gifts around our doors and porchways.'
Creating low-level clusters of natural decor – mixed in with the occasional man-made organizing tool – next to your doorstep or around columns are wonderful front porch ideas and back porch ideas, and will create the feel of plants organically sprouting from the ground.
'Mix foraged foliage, seasonal produce and dried flowers and grasses for an upbeat and on trend style,' suggests Country Homes & Interiors stylist Sara Bird. 'Use oversize vases and pots for stems with pumpkins and squashes arranged around the base.'
2. A wreath is for fall, not just for Christmas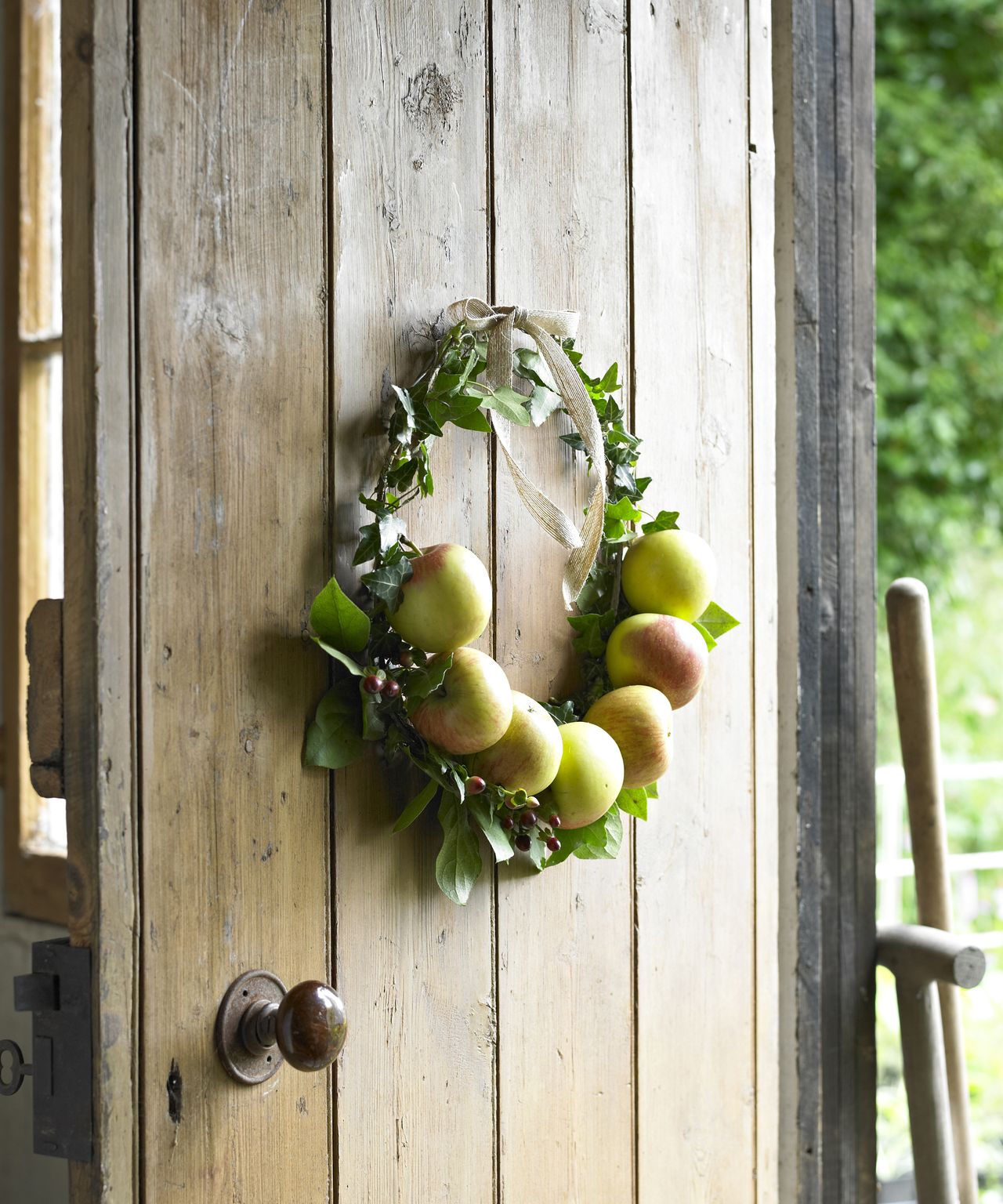 Don't wait until December to show your front door some decorative love – incorporating fall wreath ideas into your porch design is a great way to bring some height to your scheme. Just as at Christmas time, the season's natural bounty makes for excellent wreath-building fodder. At this time of year, however, ditch the glitter and festive bows and keep it simple.
'For an easy wreath idea, twist dried grapevine around on itself to make a twiggy natural shape,' says Bird. Weaving autumnal leaves, feathers, pinecones or berry-laden branches into your base will add interest – if you're feeling more ambitious you can even try adding threading apples like in this impressive and unique example.
3. Get cozy with an outdoor rug
Love your living room fall decor? Then greet your guests with a little bit of it on your porch. Incorporating weather-proof textiles into your porch will signal to your guests that inside awaits a cozy refuge. Outdoor rugs like this one from Weaver Green are the perfect transitional addition.
'A rug or runner in a porch will instantly update and change the feel of the entrance of a home,' says Tasha Green, Director of Weaver Green. 'Whether it is a statement rug or a simple herringbone design, the addition of a rug or runner will help set the tone for the rest of the interior.'
4. Let your autumnal foliage run riot
The fiery ochres of autumnal leaves always inspire the best fall color schemes for our interiors, so ensure you make the most of them in their natural state in your outdoor areas. This may take a little planning earlier in the year, but think about introducing plants into your porch area and its surroundings that will naturally create a dazzling display when fall comes around.
In this example, Boston Ivy has been allowed to run across the front of the home and down around the porch area – this variety turns a vibrant ruby red when fall arrives.
5. Don't limit your pumpkins to Halloween
They are an enduring stalwart of Halloween decorating ideas, but that isn't the only role the pumpkin planter has to play in fall. Apart from being delicious, they also make whimsical additions to non-spooky fall porch decor across the whole season. Plus, pumpkin planters are a wonderful way to decorate your home in fall.
'The traditional 'go to' display of produce tends to use pumpkins and gourds,' says Girling. 'Beautifully shaped and colored, they are easy to place in groupings that convey a sense of the season.'
Ditch the carving, and group miniature varieties together around larger ones for a layered look.
If you are mixing them up for Halloween, there are some contemporary tricks out there to look out for too. 'For a safer Halloween pumpkin idea, use battery candles inside carved out versions,' suggests Bird. 'Don't throw away the pumpkin tops once carved out but replace to give shelter to the candles.'
6. Add decorative displays to the window sills
Your fall porch decor shouldn't stop at the front door. If you have a wide porch that runs some or all of the width of the home, consider getting your window sills in on the action. Take a leaf out of your book of fall mantel ideas, and perch small vases of seasonal flowers as well as decorative objects from the natural world and arrange them along these little spaces, alternating height as you go. In this example, apples have been hollowed out and filled with wax and a wick to create a seasonal candle.
7. Light up your steps with lanterns
We all want our guests to feel a warming glow when they enter our home, so why not start from the doorstep? 'If you have space, the finishing touch of a few lit lanterns as the dark nights draw in, creates a wonderfully enticing welcome for visiting friends and family,' says Girling.
If you have steps leading up to your front door, place lanterns or candles in hurricane vases on each step to the sides, as demonstrated in this example. You can group these with low-level displays of gourds and even intersperse them with your fall planter ideas.
8. Incorporate texture with a range of organic decor
Of course, fall isn't all about leaves and pumpkins. The season comes with a whole wealth of hardy, long lasting organic elements that are easy to forage for your decor, often after having fallen from trees and thus limiting the need to disturb your surroundings.
Take notes from your fall table decor ideas and layer multiple types of flora. 'Think scale and texture with autumnal arrangements,' says Bird. 'Large leaves look wonderful mixed with berries, nuts and cones.'
9. Bundle up in a blanketed seating area
For larger porches, a seating area for watching the world go by is a must. There's no need to tuck away your best outdoor furniture when the weather turns colder either – just ensure you're well prepared for the chill by layering up your benches and armchairs with lots of lovely warm blankets. Choose easily washed fabrics so you don't have to worry too much about leaving them outdoors, and opt for either greys to mimic autumnal skies, or warm rusts to create a sensation of extra warmth.
10. Make a feature of your log store
As temperatures dip, your log store gets its time to shine. If it's located on your porch, show it some appreciation by making a decorative feature out of it. Stacked up logs already communicate an autumnal aesthetic, so why not make them the backdrop to a seating nook, adding pumpkins and gourds into the mix.
As with all decorative shed ideas, you'll need to make sure any fun elements work with the space's practical function – ensure any chairs don't get in the way of you accessing logs on cold evenings, or are easily moved to the side.
11. Keep it all organized
Just with any space, a key element of keeping your fall porch looking good is keeping things organized. If you have a functional porch with a seating area or log store, ensure you have a box or basket to tuck away blankets and scatter cushions, and a sheltered, dedicated space to keep your logs – that can either be a built-in, or a smaller shelving unit like this one. Take note from your mudroom storage ideas too, and consider putting in a unit to store the dirtiest boots, and keep them sheltered from the rain.
How should I decorate my porch in fall?
Looking to nature is the best way to create a truly atmospheric fall theme for your porch. Pumpkins, gourds and pinecones are among the more obvious pieces, but there is much more beautiful autumnal florals and foliage out there too.
'I would suggest looking a little more closely at the hedgerow for inspiration,' says Girling. 'Branches of hawthorn berry, sloes and rosehips are festooned there, like glistening jewels. Gather a few, leaving plenty for the birds, and place loosely in chunky jugs or tall glass vases. Again, grouping a few jugs and vases together can give sumptuous but easy to achieve natural display full of the ripeness of the season.'
'Bracken too has put its autumn burnished coat on. Gather an armful and arrange around a display of bowls filled with gathered apples, quince, plum, pear, conkers, medlar fruits and seed pods. Rather wonderfully, the bracken doesn't require water this time of year.'
How can I make my front porch look good in fall?
Once you've found your materials, putting them together is where the real artistry lies. For an organic look, arrangements on the floor of gourds, candles, lanterns and more can look relaxed and natural.
You will, however, also need to think about layering your porch decor and including some height. A wreath on the front door will add excitement to your visitors' eyeline, while berry-laden branches pinned or hanging from the top of the porch roof will create an inviting arch under which to enter.
If you have a seating area, coordinate your blankets with your decor – choose burnt oranges to go with your pumpkins, red to match any bright berries and brown ochres if you're focusing on the likes of twisted branches and pinecones.
Ailis started out at British GQ, where a month of work experience turned into 18 months of working on all sorts of projects, writing about everything from motorsport to interiors, and helping to put together the GQ Food & Drink Awards. She then spent three years at the London Evening Standard, covering restaurants and bars. After a period of freelancing, writing about food, drink and homes for publications including Conde Nast Traveller, Luxury London and Departures, she started at Homes & Gardens as a Digital Writer, allowing her to fully indulge her love of good interior design. She is now a fully fledged food PR but still writes for Homes & Gardens as a contributing editor.