How can I decorate for fall on a budget? 7 ways to style your home for less this season
Style your home for the cooler seasons and decorate for fall on a budget with these designer's advice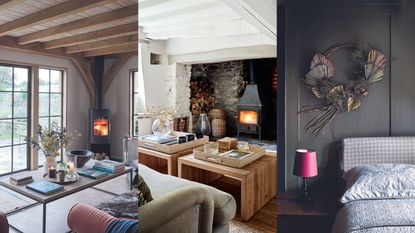 (Image credit: Future)
As the leaves begin to turn brown and the warm summer days begin to fade into shorter, cozier ones, decorating for fall is coming to the forefront of many people's minds. With the season being so short, however, it is worth looking at how to decorate for fall on a budget so that you can save for the more extravagant Christmas decorations later in the year.
There are numerous fall decor ideas that can be done for less but styling your home with things you may already own or making more simple swaps can be enough to transform your space from a summer space to a cozy room sanctuary. Whether or not you want to follow fall trends, or if you want to use classic decorating ideas such as fall porch ideas and fall mantel ideas, you can decorate for fall cheap no matter your style.
Here, designers and experts have offered their recommendations for pared-back fall decor ideas so you can make a house look cozy, perfect for that fall feeling and adding warmth to a room.
Decorate for fall on a budget
From lighting ideas for setting a cozy mood to changing out your home's hardware for the perfect fall scheme, these designers have all the right ideas when it comes to fall decorating.
1. Create a cozy glow with lighting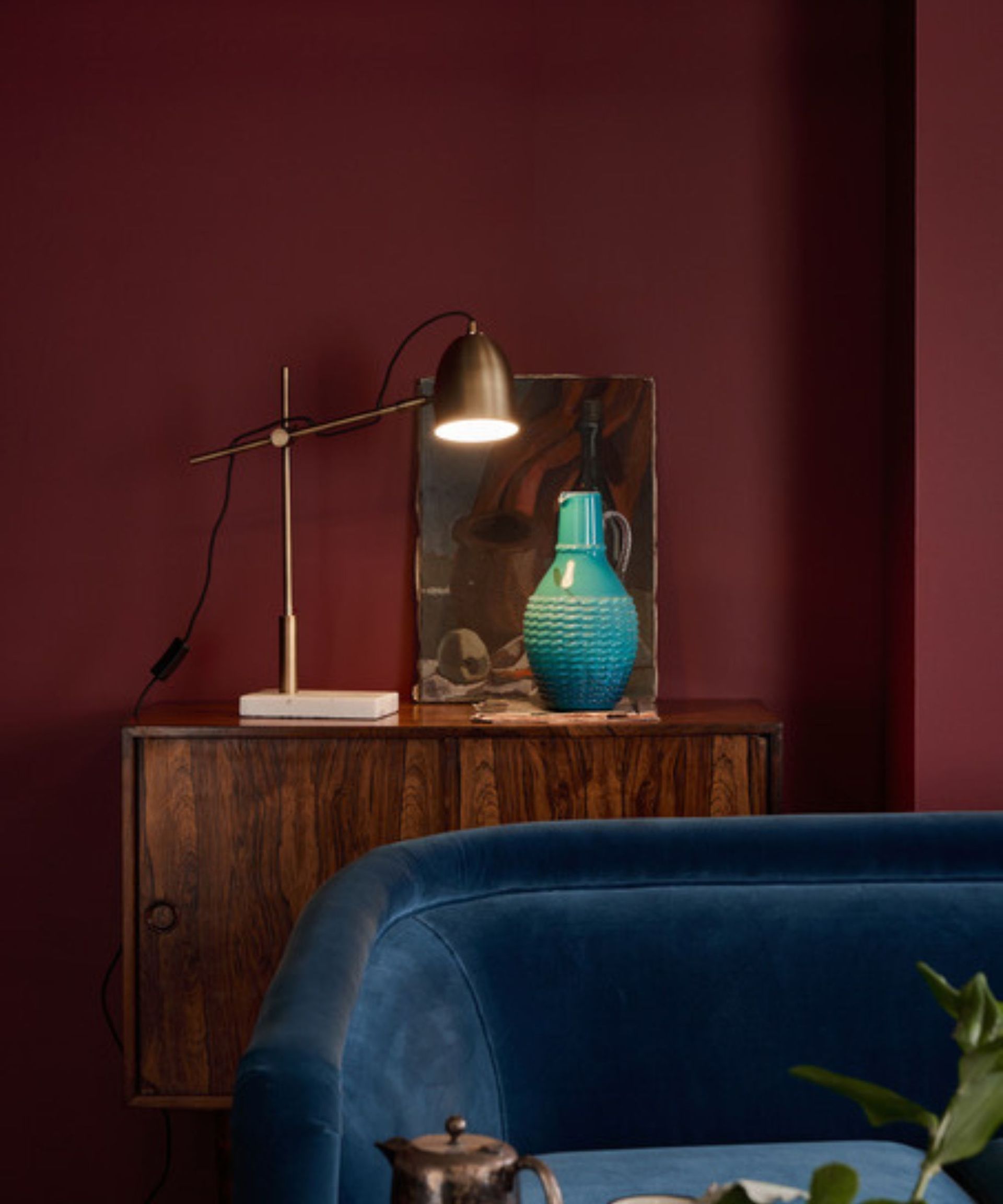 Creating the perfect fall look does not necessarily mean changing out only your decor. Although your home's lighting should be perfectly layered all your round, as the days become shorter we will rely more heavily on our artificial lighting to set the tone in our homes.
'Purchasing new lighting can often be expensive, especially if a replacement or rewiring is needed. Before taking the plunge, consider if swapping the shade or repositioning the light will update the look,' suggests Jenna Choate-James and Mariana Ugarte, co-founders of London-based studio Interior Fox. 'When choosing a new shade experiment with color, size, and texture. You will be surprised at what a transformation it will make and at a fraction of the cost of a brand-new light.'
'With the days getting shorter and nights getting longer, we must up the coziness, the lighting should be inviting and comforting – not too bright and not too harsh – ensuring just the perfect level of warmth,' explains Giuliano Ghidini, UK consumer commercial leader at world-leading lighting systems company and owner of Phillips HUE, Signify.
'Ambient lighting, often referred to as mood lighting, illuminates the whole room uniformly. It can offer a soft warm glow making your home cozy and inviting. Soft lighting reduces the contrast between light and dark offering the perfect balance bright cool light, warm light, and all the shades in between. Whether you are curled up reading an enticing book or watching a thrilling film – smart lighting can offer you the perfect lighting for any occasion.'
'Layer lighting by bringing in an assortment of lamps, this will create a subtle autumnal ambiance in the home,' adds David Amos, CEO at Amos Lighting + Home. 'Using lamps in the evening, as opposed to spotlighting and ceiling lights, creates a softer lighting look which will affect the overall mood of the home. For a comforting environment choose warm lighting, with soft tactile shades.'
2. Save with impactful soft furnishings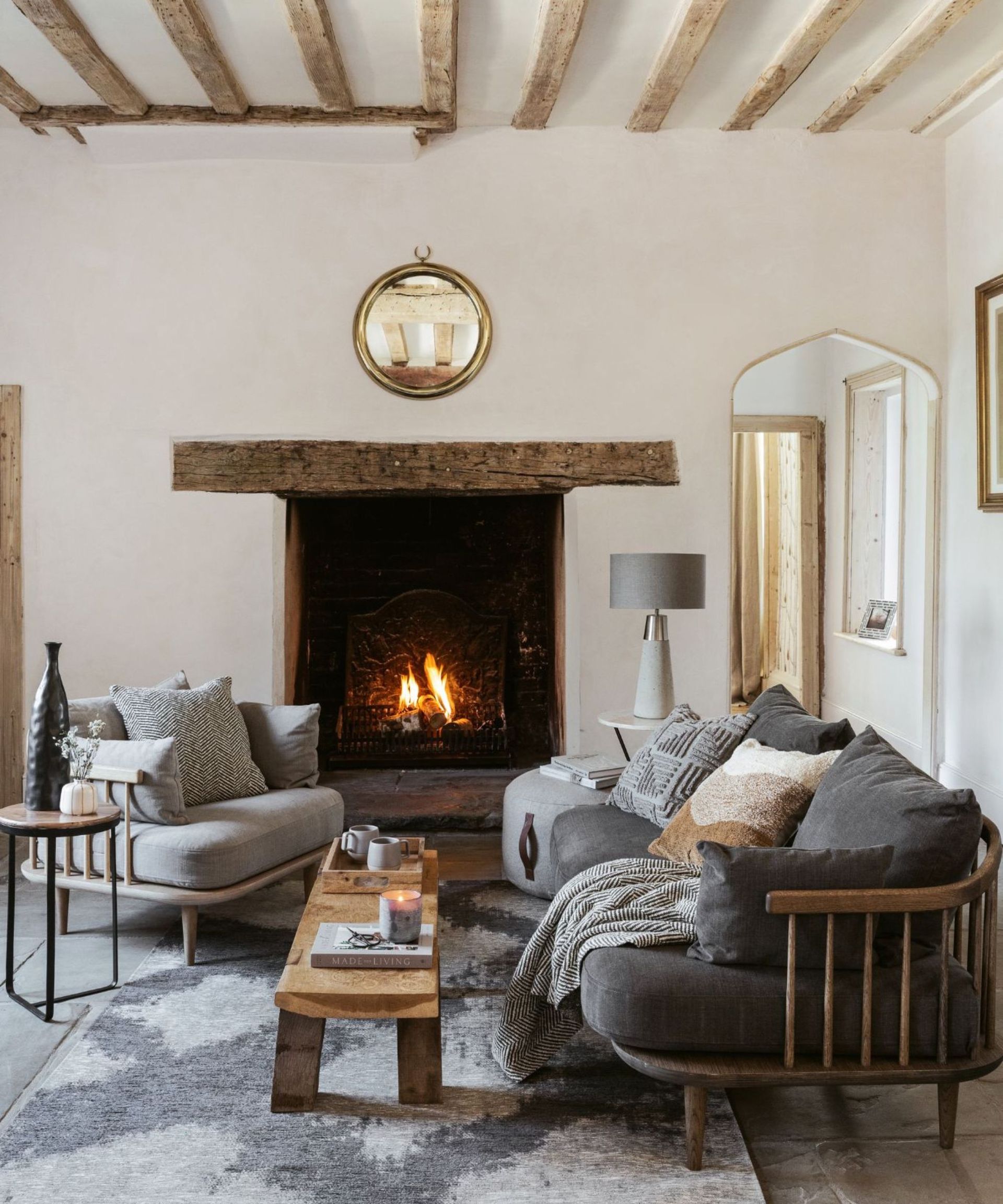 One of the most common decorating ideas is to incorporate soft furnishings that can easily be swapped out as the seasons roll around. When decorating for fall on a budget, consider adding and layering textiles that have distinct textures to elevate the space and foster a cozy, welcoming atmosphere.
Sam Hood, co-founder, and chief creative officer at AMARA, suggests: 'When the weather starts to turn, one of the main things that make people feel cozy is being able to reach for a warm blanket. Adding fabrics, including cushions, throws and rugs help to soften a room and increase the sense of coziness. You should also think about what materials you want these luxury accessories to be. Opt for knitted throws, fluffy blankets, soft cushions, and shaggy rugs for a real sense of autumnal coziness. These fabrics will help to add layers of texture to your decor and break up any hard edges or surfaces with their soft lines. Not only that, the fluffy materials are perfect for making you feel cozier as the nights get colder.'
'To decorate for the autumn months, whilst being budget conscious, you can bring in soft furnishings such as cushions, and occasional chairs,' suggests Rob Ellis, head of design at dwell. 'Opt for warmer colors and textural fabrics to give a seasonal feel. You can also pull in decorative ornaments. Choosing a mixture of materials, for example, combining ceramic and glass vases, will give an eclectic homey feel.'
'Small accessories such as cushions, throws, and lighting is an inexpensive way to make your spaces feel more autumnal,' continues Kelly Collins, interior designer and head of creative at Swyft. 'Place a soft throw over your armchairs and turn on a table lamp. Keeping your lighting low will also help create a more cozy atmosphere.'
If your budget allows, consider commissioning upholstery and soft furnishings for a bespoke look tailored to your home for the ultimate cozy fall setup.
3. Make a statement with window treatments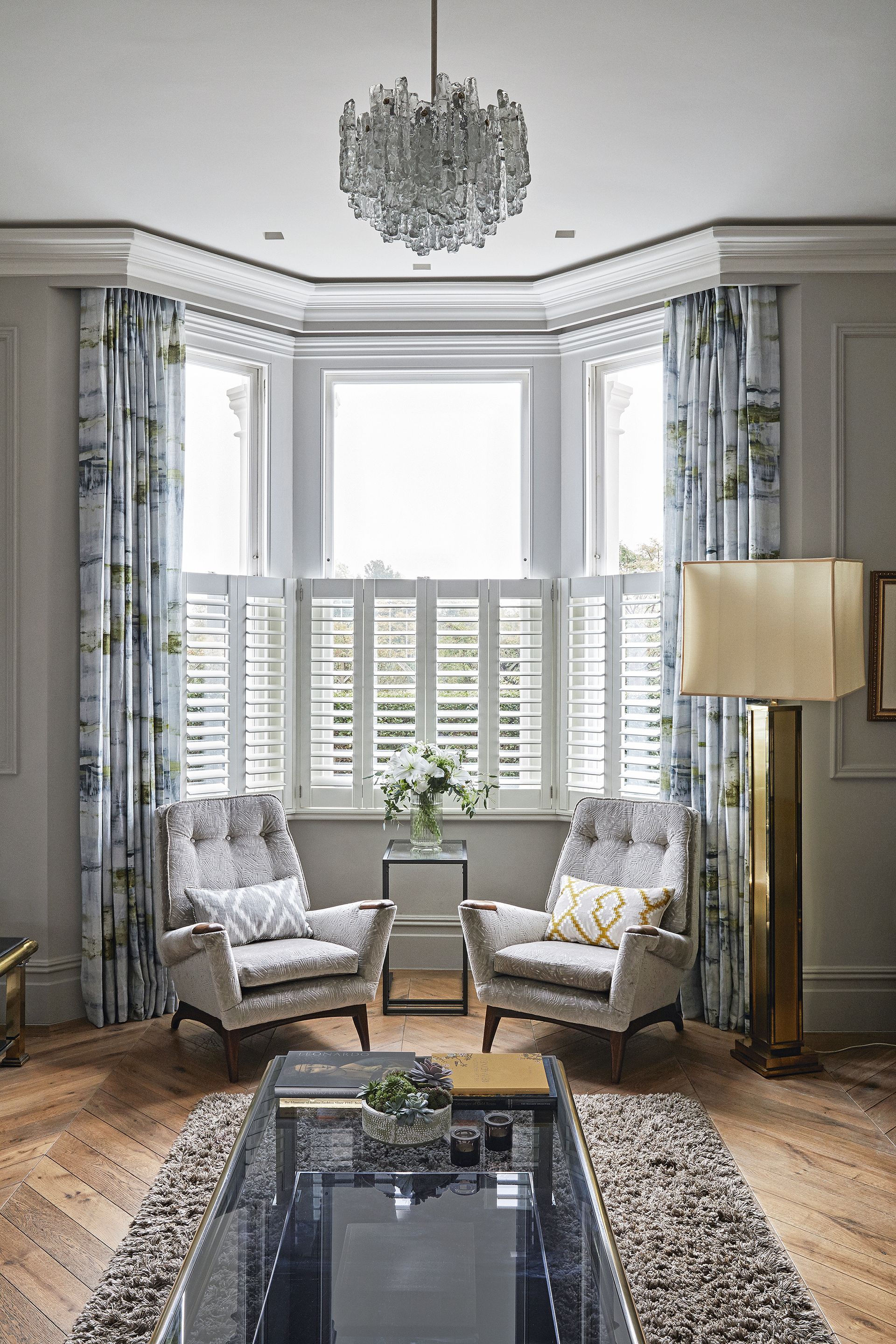 Window treatment ideas are not frequently thought about when it comes to seasonal decorating or changing up a room. However, with the temperature dropping, swapping out lighter, light-filtering curtains and window dressings for thicker, more luxurious drapes and treatments will not only help prepare your home for fall but also keep your house warmer.
'Dressing the windows with shutters is the perfect way to decorate for fall, as not only will shutters provide a heritage aesthetic to the room, but they will also help to insulate the home ahead of the cooler months, suggests Sally Denyer, digital marketing manager at Shutterly Fabulous. 'The correct size shutter can prevent over half of all heat lost through windows, keeping cold draughts under control even in older houses. Incorporating any style of shutter in a space will help with warmth, but solid wood panel shutters especially are the most effective as they aren't louvered.'
If shutters are not your style, consider decorating for fall with lush curtain ideas for a homey, cocooning look and feel throughout the fall and winter period.
4. Consider homey handmade decor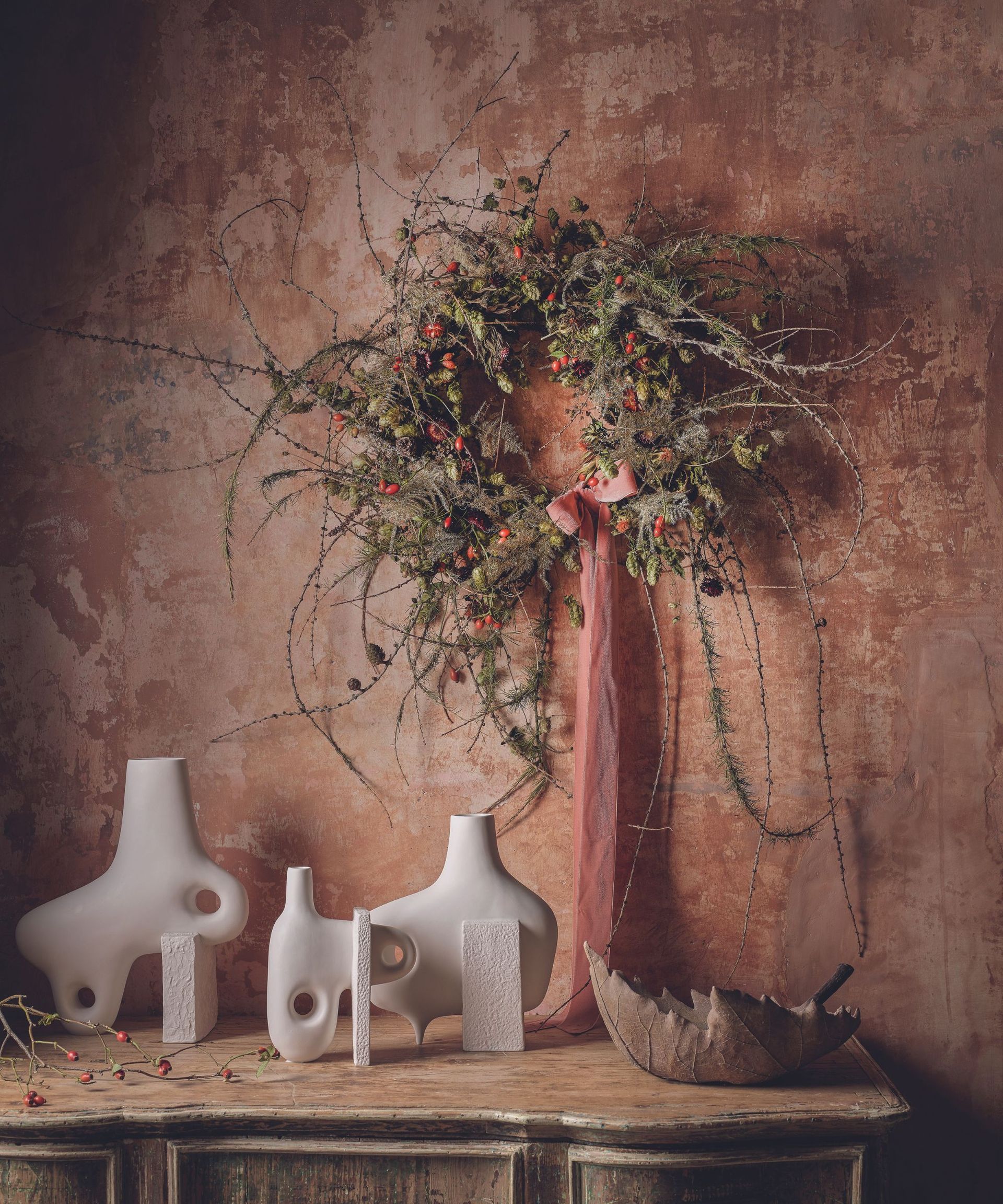 Making your own decor does not have to be a laborious process resulting in makeshift or tacky decorations. Consider crafting your own fall wreath ideas using cuttings from your fall garden for a homey touch to your fall decor. Alternatively, use flowers you have cut and dried yourself to adorn festive fall table decor ideas to welcome your family with a personal touch during thanksgiving.
If making your own decor pieces when decorating for fall on a budget is not for you, consider artisanal, handmade pieces that will provide the comforting appeal of a crafted item without the effort.
5. Introduce warm tones through hardware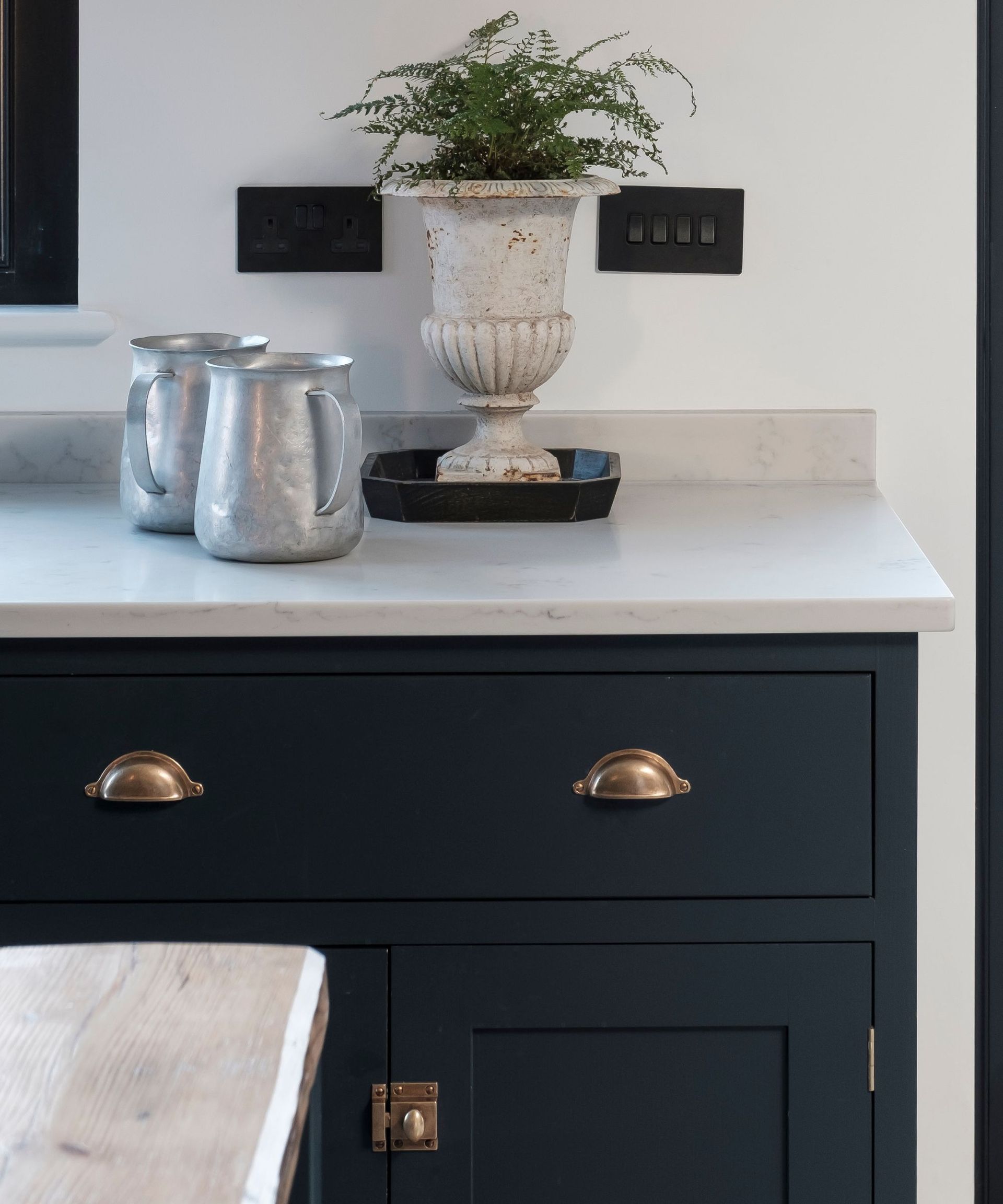 Changing out hardware has become a popular way of updating a space on a budget, but can have surprising effects when changed for the seasonal period.
As we focus on warming up our homes both literally and decoratively in the fall months, swapping out decorative finishes or learning how to restore original brass fittings on drawers and desks, and in bathrooms and kitchens can add a bold pop of warmth to even the coolest of schemes.
'Adding bold color through features within the kitchen is a great way to uplift the home ahead of autumn. Updating smaller features such as hardware and a splashback is an affordable option to add some seasonal ambiance to the kitchen. Opt for a bright splashback panel to create an autumnal statement,' suggests Mehul Raj, managing director of AluSplash.
6. Place pumpkins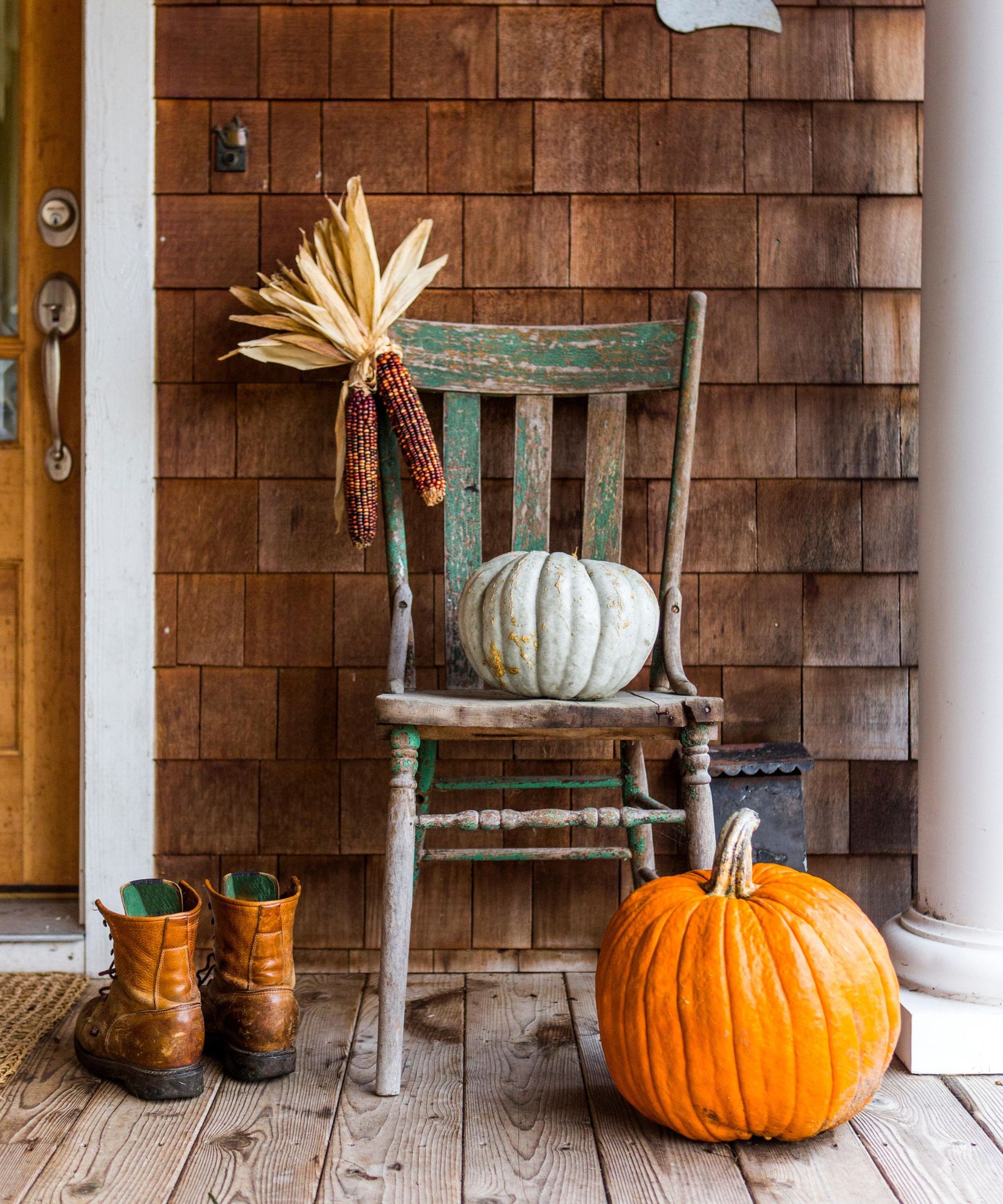 Although obvious, pumpkins are one of the easiest and most budget-friendly ways of decorating for fall. While picking pumpkins from your garden or fresh from a pumpkin patch is perfect for getting the whole fall experience, pumpkins can be found in abundance from local stores in a range of shapes, sizes, and colors to decorate your fall porch ideas and beyond.
When using pumpkins as decor, think about when to put pumpkins out to make sure they last throughout the season for the spooky holidays.
7. Channel fall with color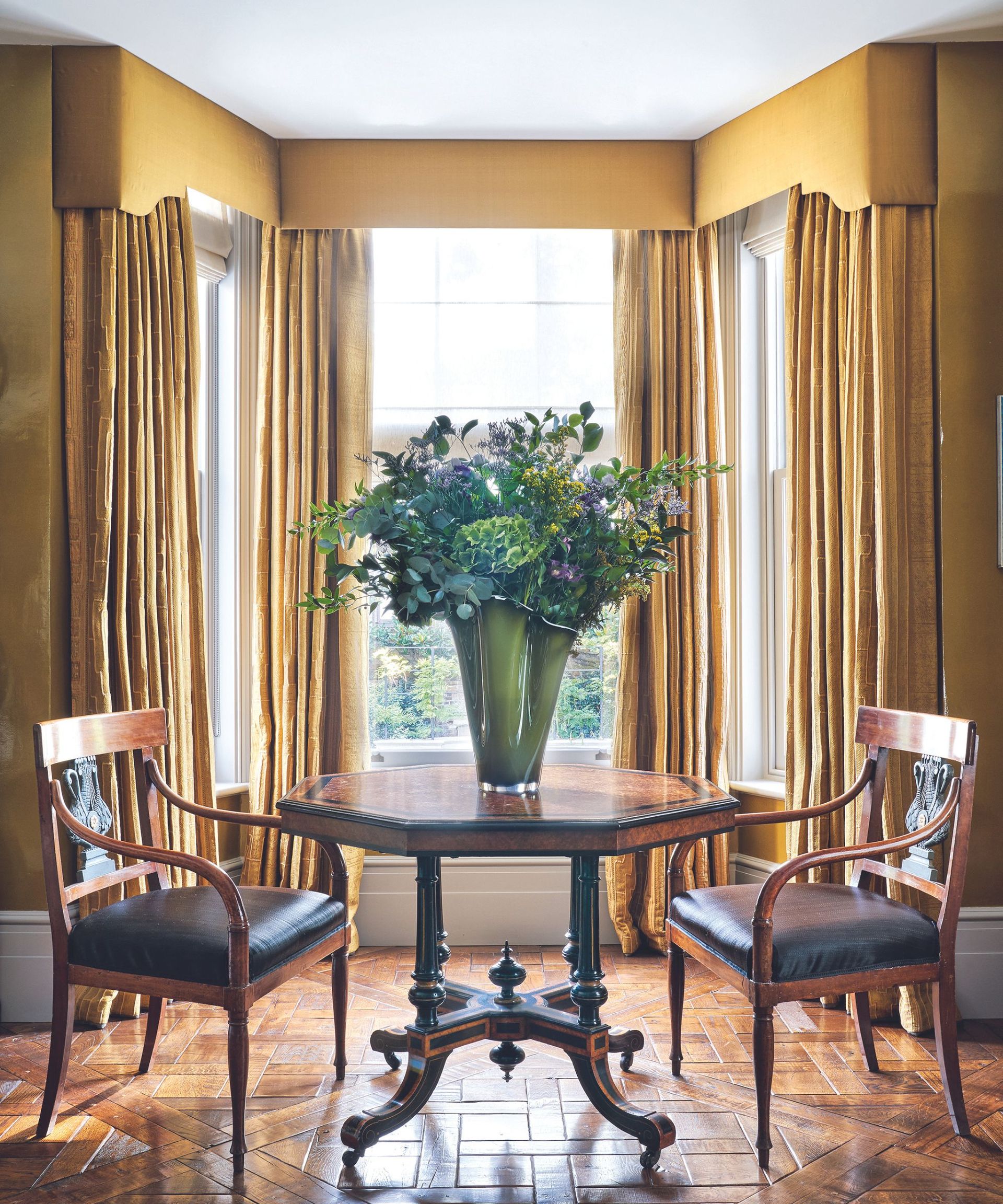 Adding color to a space is the perfect, budget-friendly way to decorate for fall. Whether you are considering paint ideas, planting plants for fall color, or want to add color more subtly through decor pieces, there can be some surprising ways to use color in fall to help create the perfect space on a budget.
'Combining rich colors, playful patterns, and decorative details, this look is all about embracing creative expression and injecting a bold, joyful energy into a space,' says Claire Hornby, head of creative at Barker and Stonehouse. 'Earthy mustard yellows and vivid cobalt blues hum happily alongside dusty reds and khaki greens, whilst rattan weaves and organic wood grains offer natural warmth. Together these elements exude a bounty of confidence and grounded optimism.'
'If you are wanting to make more of a dramatic change you can paint the wall or even ceilings,' suggest Kelly. 'Painting ceilings is a trend we have seen a lot this year and can help make your spaces feel more cocooning. Stick with a natural color palette such as taupe, terracotta and warm creams. Don't be afraid to bring together colors, styles, and patterns that clash a little. An eclectic combination can have an incredibly powerful and uplifting effect.'
What is the easiest way to decorate for fall?
One of the easiest ways to decorate for fall is to use seasonal flowers, pops of color such as browns, oranges, and beiges, or to put out festive fall pumpkins in varying shapes, sizes, and colors. It is a good idea to distinguish between your fall decor and Halloween decor to maintain a tasteful approach to decorating that doesn't use bats and skeletons throughout your house in early September, say.
What month do you decorate for fall?
Usually, people start decorating for fall around September or October as the leaves begin to turn brown and the weather starts to cool down. Despite this, when to start decorating for fall is subjective, and should be down to personal choice and whether You want to cling onto summer a little longer or want to jump straight into the spooky season.
Sign up to the Homes & Gardens newsletter
Decor Ideas. Project Inspiration. Expert Advice. Delivered to your inbox.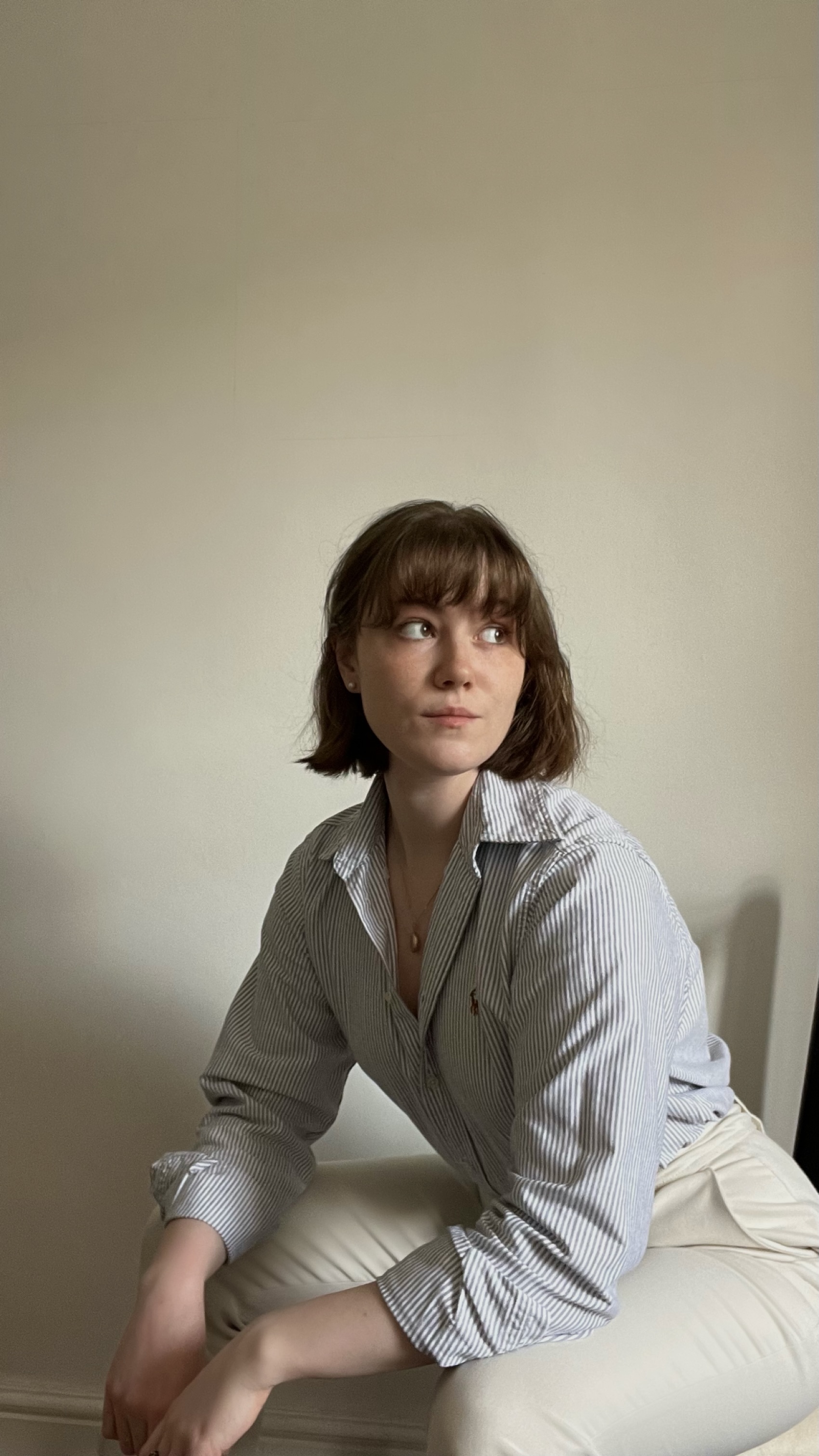 Chiana has been at Homes & Gardens for a year, having started her journey in interior journalism as part of the graduate program. She spends most of her time producing content for the Solved section of the website, helping readers get the most out of their homes through clever decluttering, cleaning, and tidying tips – many of which she tests and reviews herself in her home in Lancaster to ensure they will consistently deliver for her readers and dabbles in the latest design trends. She also has a first-class degree in Literature from Lancaster University.