When to pick a pumpkin off the vine – expert tips for the ripest fruit
Understanding when to pick a pumpkin off the vine will mean you get to enjoy the freshest and tastiest harvest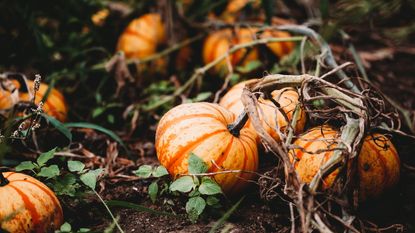 (Image credit: Getty Images/Helaine Weide)
Pumpkins are deliciously versatile, and if you know the right time to pick a pumpkin off the vine you will benefit by enjoying the tastiest and ripest gourds.
A vegetable (well, strictly speaking it's a fruit) that is synonymous with fall, pumpkins are among the many winter squashes that can be enjoyed at this time of year, whether added to soups and stews, roasted to bring out the sweet flavors, or carved for Halloween displays.
Pumpkins are an invaluable addition to your vegetable garden ideas. And once you know how to grow pumpkins, you can look forward to the arrival of these delicious additions to add to your repertoire of fall recipes.
When to pick a pumpkin off the vine
Growing pumpkins requires some patience, as certain varieties have a long growing season.
'Larger, heartier pumpkins tend to need more time to grow, mature, and then cure in the field before harvesting. This could take up to 120 days for some varieties,' says garden expert and chef Sylvia Fountaine, founder of Feasting at Home.
Some smaller sugar pumpkins, however, may only require 80-90 days – so there is slightly less urgency to get these varieties in the ground earlier in the year.
Sylvia Fountaine started Feasting at Home more than 12 years ago to share recipes from her catering business. She is a professional chef, former restaurant owner and caterer, and has been in the food industry for more than 25 years.
How do you know when a pumpkin is ready to be picked?
There are several ways to tell when to pick a pumpkin off the vine, just follow our handy checklist:
The pumpkin should be bright orange in color
The stems and vine will be dried out and starting to wither
The shell should be hard. If it's soft, do not harvest the pumpkin
You can test if a pumpkin is ready to be picked by pressing your fingernail against the outer skin, or rind. It should be strong enough to resist puncture. Another way to tell if a pumpkin is ripe enough to pick is if it produces a hollow sound when you tap it.
To harvest the pumpkin, use a pair of pruning shears or a sharp knife to cut the stem, leaving a couple of inches left on the pumpkin. Don't break the stem off as this will cause it to rot.
Can you leave pumpkins on the vine too long?
The timing for when to pick a pumpkin off the vine is generally from mid-fall – depending on when they were planted. You want to leave them on the vine for as long as possible to ripen and the flesh sweeten.
Often the plant may die back before you feel your pumpkins are ready to harvest. It is fine to leave the fruits where they are, however, pay attention to the temperature. Frost can potentially damage the fruit, which will affect the flavor and also result in them not storing well, so it's a good idea to bring them in before the first frost or when night temperatures begin to drop below 40F.
Once pumpkins are ripe, they are also at risk from being eaten by squirrels and birds if left on the vine for too long, Once they are ripe, pick and store to ensure your crops remain intact.
FAQs
How do you store a pumpkin after you pick it?
Once you have picked a pumpkin, wash off any soil or dirt and leave the pumpkin in a warm and dry spot to harden the skin.
'Keep in mind you will need to add an extra week to ten days for the pumpkin to cure,' explains garden expert and chef Sylvia Fountaine. This process allows your pumpkin to last for months, whereas uncured pumpkins can decay in a matter of weeks. Because they are fruits, pumpkins will continue to ripen after they have been cut. This process of curing will encourage any green pumpkins you needed to bring in to protect from frost, to ripen to orange.
---
As well as using delicious pumpkin in a multitude of dishes, if you know how to harvest pumpkin seeds you can toast and add these as a garnish, or store them to start a new crop of pumpkins off next year.
Sign up to the Homes & Gardens newsletter
Decor Ideas. Project Inspiration. Expert Advice. Delivered to your inbox.
Rachel is senior content editor, and writes and commissions gardening content for homesandgardens.com, Homes & Gardens magazine, and its sister titles Period Living Magazine and Country Homes & Interiors. She has written for lifestyle magazines for many years, with a particular focus on gardening, historic houses and arts and crafts, but started out her journalism career in BBC radio, where she enjoyed reporting on and writing programme scripts for all manner of stories. Rachel then moved into regional lifestyle magazines, where the topics she wrote about, and people she interviewed, were as varied and eclectic as they were on radio. Always harboring a passion for homes and gardens, she jumped at the opportunity to work on The English Home and The English Garden magazines for a number of years, before joining the Period Living team, then the wider Homes & Gardens team, specializing in gardens.