US hardiness zones – and what you need to know about them
Discover the US hardiness zones and why gardeners need to know which zone they live in when planning their garden planting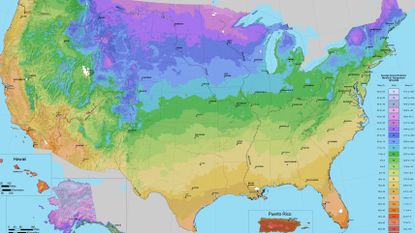 (Image credit: USDA.gov)
Have you ever wondered what is meant by the US hardiness zones included on a plant seed packet or description?
The USDA's Hardiness Zone Map has helped gardeners and plant growers for years by identifying which plants are most likely to thrive and grow well in the climate where they live.
Knowledge of the US hardiness zones is invaluable to any gardener when they are planning their garden. More particularly, it can help them to identify the best plants to include as part of their flower bed ideas that are suited to growing in their region, or crops that are most likely to produce a healthy harvest for vegetable garden ideas.
What are the US hardiness zones?
The US hardiness zones are identified on the USDA's Hardiness Zone Map. The map is available as an interactive online map, but you can also download and print images of your state or region to have in your potting shed or seed journal for easy reference.
The map is based on the coldest average yearly winter temperatures in a location, and are divided by 10-degree Fahrenheit zones. The divisions allow growers to determine which plants are hardy enough to survive those low temperatures. When you see labels reading 'plant hardiness zone,' 'growing zone,' or 'planting zone,' they all offer information based on the USDA's Hardiness Zone Map.
So, for instance, if you are looking for the best flowering climbers suited to your climate, you would first check which zone you live in, and then refer to the plant label to ascertain if it is a good choice to grow in your area.
Planting zones
US hardiness zones are also known as planting zones and can help you decide which plants will survive frost in your area.
'Average last frost dates – in spring – and first frost dates – in fall – are important markers for when to plant annuals, tropicals and bulbs,' explains Carrie Engel, retail greenhouse manager of Vally View Farms Garden Center in Cockeysville, Maryland.
While you can take certain measures to protect plants from frost, in general 'frost can kill plants that are not hardy year round in specific zones,' Carrie adds.
Why is it important to know an area's planting zone?
Choosing plants that are suitable for your location is an important step when creating a sustainable garden.
The newest version of the Hardiness Zone Map has 13 zones, and each zone is divided into two 5-degree Fahrenheit zones A and B. The map creates zones based on elevation, nearness to oceans or other large bodies of water, terrain and landscape differences, such as valleys or mountains.
The zones are not necessarily chronological sections traversing the United States. For instance, the state of Vermont is shown as one zone on the larger map, however, by clicking on the state, it becomes apparent that Vermont actually has several hardiness zones, ranging from 3b to 5b.
The differing hardiness zones within a US state can be even more extreme. In Arizona, the region that includes the Sonora Desert may have cold temperatures averaging from 20 to 40 degrees Fahrenheit, in Zones 9b to 10b. However, isolated parts of central and northeastern Arizona are located in Zone 4b, and may see low temperatures of -25 to -20 degrees Fahrenheit at certain times of the growing season.
Don't, therefore, assume you are in a particular zone. Instead click on the map to find the zone and information that is specific to your area. You may discover that you are able to grow plants you never thought possible.
Checking plants' suitability for US hardiness zones
It is not necessarily the case that plants sold locally are suitable for the US hardiness zone in which you live.
Some nurseries or suppliers bring in plants that are good sellers, despite their hardiness. Be aware of your hardiness zone before purchasing plants. Then check each plant type's attached tag to find its preferred growing or hardiness zone. If there is no tag, look up the plant by its scientific name on the internet to find its hardiness. Choose plants that will offer you best value and pleasure.
Another consideration is that the USDA hardiness zone map does not take summer temperatures, periods of drought, humidity, snow fall or other factors into account – all of which can affect a plant's ability to thrive in a specific location
You may also live in an area experiencing a microclimate, and this could affect your growing success. Water, wind, and landmasses, such as mountains or even buildings, are factors in creating a microclimate. Cities can be a hardiness zone higher than the rural farmland that surrounds it.
US hardiness zones for determining pruning and harvest times
When you are considering when to plant vegetables, the planting times and resulting harvest will depend on the US hardiness zones, as well as the length of time from germination to fruiting.
'It's fun to watch when produce is available in Florida, which generally doesn't have many killing frosts, to the much shorter seasons in Maine,' explains Carrie Engel.
Pruning, however, is something that depends on the specific plant, she adds. 'Pruning times are generally after a tree or shrub blooms, but different plants have different needs. For example, an azalea should be pruned in late spring in the mid-Atlantic, before buds set for next year. Pruning late in fall will disrupt the blooming times.'
In short, USDA hardiness zones do not offer a definitive guide of what you can or can't plant when you are looking at how to plan a garden, but they are certainly a helpful reference to consider alongside other factors – not least the advice of your fellow local gardeners.
Sign up to the Homes & Gardens newsletter
Decor Ideas. Project Inspiration. Expert Advice. Delivered to your inbox.
R.W.Williams is a freelance writer who lives in the Green Mountains of Vermont. Her work has been seen in print and online publications for decades, and she continues to learn and grow every day in the industry. Over the years, she has written about lifestyle, gardening, pets, agriculture, sustainability, retirement, budgeting, celebrities, and more.