How to harvest pumpkin seeds – expert ways for saving seeds to plant and store
Learn how to harvest and save pumpkin seeds for planting, storing and eating with advice from the professionals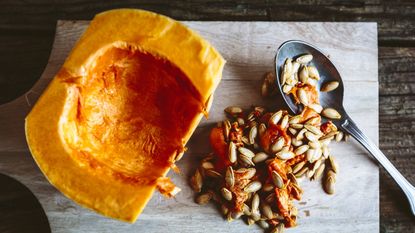 (Image credit: Getty Images/Westend61)
If you want to know how to harvest and save pumpkin seeds, the good news is that it's actually really easy. Once you have carved your pumpkins or decorated them for Halloween, and maybe made delicious pumpkin pie with the flesh, don't discard the seeds. If properly prepared and stored, they can be planted in the garden next year or kept for roasting and used as a garnish on soups and salads or in home baking.
Of course, if you want to learn how to grow pumpkins from scratch, knowing how to preserve the seeds from your store-bought Halloween pumpkins will give you a head start.
3 simple steps to harvesting pumpkin seeds
Our expert tips will ensure you can put your Halloween displays to good use by learning how to save pumpkin seeds for eating and planting in your kitchen garden.
1. Clean the pumpkin seeds
Cleaning the seeds is the first – and essential – step for harvesting your pumpkin seeds. It's important to remember that pumpkins should be fully mature before you begin harvesting the seeds to ensure they are fully developed, as this will help with germinate rates.
Once you've chosen a ripe pumpkin to use for your pumpkin carving ideas, pull out the pulp and separate the seeds.
'Rinse the seeds thoroughly in a fine-mesh strainer under cold running water,' says Lars Nyman, founder of vegetable growing platform Taim.io. 'This will help remove any remaining pumpkin flesh. Pat them dry with a clean towel or paper towel.'
Lars Nyman is an experienced gardener and the founder of Taim.io, the
gardening site that teaches people how to grow. He is a is a start-up veteran and has a lifelong passion for gardening and agriculture.
2. Lay your pumpkin seeds out to dry
Next, you want to prepare your pumpkin seeds for drying. Tammy Sons, a horticultural expert and CEO of TN Nursery, uses the following method: 'Place them on a dry paper towel or on a cheesecloth (cotton dries them out faster). Make sure the seeds are spread out and not sticking to one another on the cloth.'
Tammy says you could also put them on paper towels on a cooling rack, so that air can circulate underneath them.
The next step is to stir the seeds around once or twice a day, switching to clean paper towels as needed until the seeds are completely dry. If there is any water left, the seeds will mold and rot in storage.
Tammy Sons is the owner of Tennessee Wholesale Nursery, a third-generation family business based in Tennessee that grows an extensive selection of trees, shrubs, flowers, and other plants.
3. Store your pumpkin seeds
Storing your pumpkin seeds correctly will ensure they keep until next year. Once the seeds are dry, they should be stored in an airtight container in a cool, dry place out of the light.
For an alternative way to store them, you can also freeze your pumpkin seeds.
If you are harvesting pumpkin seeds for eating, Lars Nyman says you can eat the seeds from all pumpkin varieties, however smaller pumpkins are far tastier than large ones. 'All pumpkins seeds must be roasted,' he adds. 'Some larger seeds may simply be too tough to eat, so discard any outsized ones. After cleaning and drying your pumpkin seeds, you can roast with your favorite seasonings for a tasty snack.'
FAQs
Can all pumpkin seeds be used for planting?
No, and it's important to know what type of pumpkin you've got in order to avoid disappointment when trying to grow them next year. 'Hybrid pumpkin varieties may not produce the same characteristics as the parent plant. If you want to ensure consistency, choose seeds from heirloom or open-pollinated pumpkin varieties,' says Lars Nyman, founder of Taim.io.
---
Whether you use them in the kitchen or for creating a growing patch of your own next year, it's safe to say there is a huge amount of value in pumpkin seeds. If you decide to grow your own pumpkins, these guides will help you to know when to pick a pumpkin off the vine come harvest time, and how to use leftover pumpkins as fertilizer on your garden.
Sign up to the Homes & Gardens newsletter
Decor Ideas. Project Inspiration. Expert Advice. Delivered to your inbox.
Anna K. Cottrell is now a freelance writer, having previously been a Content Editor for Future's homes titles. She writes about interior design, property, and gardening. On H&G, she specialized in writing about property – buying, selling, renting – sustainability and eco issues.