How to grow pumpkins – a step-by-step guide
From all the different pumpkin varieties you can grow, to getting your compost just so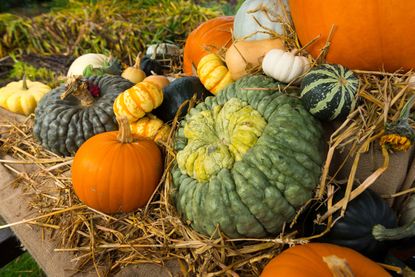 (Image credit: RHS/Adam Duckworth)
Sign up to the Homes & Gardens newsletter
Decor Ideas. Project Inspiration. Expert Advice. Delivered to your inbox.
Thank you for signing up to Homes & Gardens. You will receive a verification email shortly.
There was a problem. Please refresh the page and try again.
Pumpkins are fall personified. From that rich, orange hue to its pride-of-place at not one but two massive holiday events, there's not a single fruit or veg that owns its season like the pumpkin.
Family trips to the pumpkin patch are some of the best memories you can create with your kids, but if you want to make your Halloween carving or thanksgiving pie that extra bit special, we would certainly recommend growing your own.
Once you know how to cultivate your pumpkins they're super-easy to grow year after year as part of your vegetable garden ideas, and the results can be extraordinary, turning your garden into an autumnal wonderland just before they're ready to be clipped, and carved or eaten. Plus, you can keep them for months after harvest, ensuring a ready supply of pumpkin meat through the winter for you to enjoy.
With the help of some expert gardeners, we break down all you need to know to grow pumpkins.
How to grow pumpkins
Before you start, you'll need to pick your seeds. Jack O'Lantern seeds are the standard for Halloween carving. Little Gems, Buffy Ball, and Hooligan pumpkin seeds are the best options for small gardens as they spread less and produce smaller fruit.
If you're growing your pumpkins for culinary endeavours, consider the honey-sweet Crown Prince or the Galeux d'Eysines, which is considered the best for pumpkin pie.
1. Plant your seeds in pots
Find out when to plant pumpkins for the best results. Pumpkin seeds do not germinate in cold soil, so for the best results sow pumpkin seeds indoors and then plant out into the garden once all risk of frost has passed. This way you will also leave them enough time to grow big and beautiful for October.
Use a 9cm pot per seed to begin with to allow plenty of space to grow, explains Matthew Oliver, a horticulturist at RHS Garden Hyde Hall. This will avoid the need for transplanting them into a bigger pot as they grow.
2. Prepare the soil
Add a moist but free-draining compost to the pots when planting the seeds. Consider using a compost that contains grit or perlite, a natural volcanic rock, that helps the soil absorb and hold vast amounts of air and moisture.
'It will help open the compost as the seed is liable to rot if sown in cold and damp conditions,' notes Oliver.
3. Leave to germinate
Place your potted pumpkins in a warm, bright area. 'Try to maintain a temperature above 20°C and germination should take place in 3-7 days,' explains Oliver.
4. Plant your seedlings outside
When all risk of frost has passed, plant them out into the garden in a bed that has had plenty of garden compost applied to it. 'Ideally in the warmest, sunniest but most sheltered position that you have,' says Oliver.
Build a small mound of dirt and plant the seed an inch deep. The mound will help improve soil drainage and allow the sun to heat the soil faster, speeding up germination in the process.
As a rule of thumb, also plant them six feet apart, but check the seed packet for the correct planting distance as these can vary depending on the variety of pumpkin.
5. Raise off the ground
As they grow you may need to raise the pumpkins off the ground to prevent damage or rotting, says Marcus Eyles, horticultural director at Dobbies Garden Centres. He recommends pieces of wood, but you can also use bricks or tiles.
6. Water and feed regularly
'They are hungry and thirsty plants so regular high potassium liquid feeds throughout the season,' advises Oliver. A lack of water or nutrients can cause pumpkin leaves to turn yellow, as can fungal diseases.
'Powdery mildew can be a problem late in the season, especially in dry years, so removing infected leaves as they appear or weekly foliar sprays of liquid seaweed or SB Plant invigorator can keep the plants healthy and growing for longer into the autumn.'
7. Harvest and store your pumpkins
There are ways to spot when to pick a pumpkin off the vine. Once the pumpkins are ready to harvest, cut them off the vine carefully. Then it's just a question of storing the pumpkins in a cool, dry place. Don't worry about refrigerating - pumpkins can last for many months after you have harvested them.
What months do you plant pumpkins?
'Sow your seeds in pots between April and June, the earlier the better for bigger pumpkins,' says Eyles.
How long does it take to grow pumpkins?
'It depends on size,' explains Eyles, 'but by planting out in early June they will be a good size by late September.'
Most types will mature in 90 to 100 days, which makes sense with this time frame, but it can sometimes take as long as 120 days for pumpkins to grow.
Why does my pumpkin plant have flowers but no pumpkins?
Flowering without pumpkins is because your plant hasn't been pollinated. 'Encourage pollinators into your garden with more flowering plants,' advises Eyles.
'Also make sure they are planted in a sunny spot.'
Sign up to the Homes & Gardens newsletter
Decor Ideas. Project Inspiration. Expert Advice. Delivered to your inbox.
Rachel is senior content editor, and writes and commissions gardening content for homesandgardens.com, Homes & Gardens magazine, and its sister titles Period Living Magazine and Country Homes & Interiors. She has written for lifestyle magazines for many years, with a particular focus on gardening, historic houses and arts and crafts, but started out her journalism career in BBC radio, where she enjoyed reporting on and writing programme scripts for all manner of stories. Rachel then moved into regional lifestyle magazines, where the topics she wrote about, and people she interviewed, were as varied and eclectic as they were on radio. Always harboring a passion for homes and gardens, she jumped at the opportunity to work on The English Home and The English Garden magazines for a number of years, before joining the Period Living team, then the wider Homes & Gardens team, specializing in gardens.