Plants for fall color – 5 top picks for your borders
Fill your borders with plants picked for fall color and boost your backyard right through to winter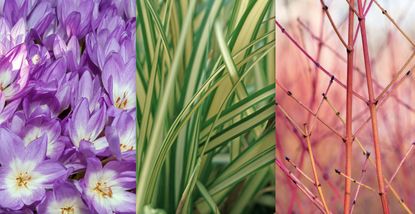 (Image credit: Alamy)
Tending your plot is a year-round activity and for a backyard that looks good through the fall and winter, it's important to consider your plant choices. After all, we want our shrubs and flowers to work hard by offering maximum flowers from the minimum space for the longest time.
There are so many lovely shrubs with great color and shapely foliage that can create interest and texture in your backyard ideas. And we always recommend including evergreen shrubs as they are great for adding structure in the garden.
These plants for fall color have been chosen by gardening expert Nikki Hollier so that you can create the perfect autumnal border.
Nikki Hollier is a gardening expert and landscape designer who specializes in off-the-shelf planting schemes via her company, Border in a Box. Nikki created this bespoke selection of plants for fall color to help you put together a beautiful border.
Plants for fall color – 5 picks for an autumnal border
For a fall border that's filled with interest and color, choosing the best evergreen shrubs is just the start. You'll also want to look at what to plant around and beneath them, which might be the prettiest evergreen plants or perennials known for their late-flowering blooms.
'Larger and mature shrubs can have their lower branches pruned back, thereby raising the canopy. This is called a crown lift, and it's when all the leaves are located in the top section of the plant. This pruning technique can also improve the health of surrounding plants due to increased light and air circulation,' says garden designer Nikki Hollier.
To get the quickest results, you could look to include a pick of the best fast growing shrubs in your border.
Here, Nikki suggests a planting plan to create multi-layered border that will provide interest through every season, and particularly in the colder months.
1. Photinia x fraseri 'Red Robin'
'These are commonly used in hedges, but I love the lollipop tree versions as they're great for adding height and interest in a small garden,' says Nikki. 'In the spring the new foliage is bright red, turning green as it matures.'
Bay trees are a good alternative – in fact, bay trees are some of the best trees for small gardens and tiny yards. Both Photinia and bay trees if you're considering clipped evergreens and topiary in your garden.
'Both trees are happy in a sunny or part-sunny spot,' Nikki says. 'Bay leaves have an added benefit as they can be used in cooking. Keep them clipped to the desired height and shape.'
2. Colchicum 'The Giant'
'This fall-flowering crocus looks wonderful planted beneath the lollipop Photinia. As it's name suggests, it's a tall variety – growing to around 20cm high, with narrow leaves and purple-violet flowers.'
When you plant crocus will depend on what season the variety will flower.
'As well as providing a welcome bolt of color, the flowers provide pollen for honeybees when the garden larder is sparse.'
3. Carex oshimensis 'Evergold'
Knowing how to grow ornamental grasses, and when and where to introduce them to your planting plan, is key to creating a garden full of movement and depth.
'Plants with different heights create interest, and low-growing evergreen grasses such as Carex oshimensis 'Evergold' provide beautiful movement in the border,' confirms Nikki. 'It will grow to around 50cm tall and wide when mature, and looks fantastic underplanted and around a Cornus.'
4. Cornus sanguinea 'Midwinter Fire'
Also known as red twig dogwood shrub, this deciduous shrub is grown for its colorful winter stems – a stunning bright orange or red that will sing out from the border on a gloomy winter's day. The Cornus will grow to around 2m tall and wide.
5. Abelia × grandiflora 'Hopleys'
There are lots of different Abelia shrubs – including the Radiance Abelia Shrub, which offers evergreen foliage all year round.
'I also like the Abelia x grandiflora 'Hopleys' variety,' says Nikki Hollier. 'This evergreen shrub grows to around 1m tall and wide but can be easily cut back to the desired height.
'It has a pretty variegated leaf, with white flowers in spring, and it's one of those plants that I just leave to do its thing in my garden and it always looks good!'
What is the best tree for fall?
Trees and deciduous shrubs are the obvious choice when it comes to fall color – the turning of their leaves from green, through yellow, gold, orange, red and russet brown is one of the most beautiful sights at this time of year.
If you're considering best trees for fall color, yellow Gingko Biloba, red maples and gumtrees, and berry-rich trees such as rowan and crab apple are all good options.
What plants flower in fall?
Pansies, chrysanthemums, heleniums, marigolds and asters are all fantastic fall flowers for pots. And they can even brighten your borders, too.
'Place pots in gaps in the borders during the winter months to bring color to your yard,' suggests garden designer Nikki Hollier. You can also combine plants, flowers and seasonal produce like pumpkins to make creative fall planter ideas.
Where to buy plants for fall color?
You can buy plants for fall color at your local nursery; ask for guidance if you need help. Otherwise, shop online for the best places to buy plants. These include: Lowes Garden Center, Home Depot's Garden Center and Burpee for the best buys.
Andrea has been immersed in the world of homes, interiors and lifestyle since her first job in journalism, on Ideal Home. She went from women's magazine Options to Frank. From there it was on to the launch of Red magazine, where she stayed for 10 years and became Assistant Editor. She then shifted into freelancing, and spent 14 years writing for everyone from The Telegraph to The Sunday Times, Livingetc, Stylist and Woman & Home. She was then offered the job as Editor on Country Homes & Interiors, and now combines that role with writing for sister title homesandgardens.com.