Dogwood care and growing guide – expert tips for these colorful flowering trees
Add a flowering dogwood to your yard and you can enjoy spectacular flowers and vibrant fall foliage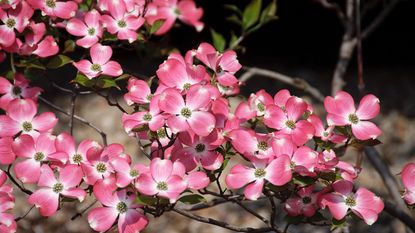 (Image credit: Blickwinkel/Alamy Stock Photo)
Dogwood trees are some of the most spectacular deciduous flowering trees, and large shrubs, that we can grow. In late spring or early summer the bold, distinctive four-petalled white flowers cover the plant before the foliage unfurls or as it opens, often followed by large strawberry-like fruits and spectacular fall foliage color.
Dogwood trees are related to the red-twig dogwoods but are grown for their flowers and allowed to mature to their natural shape, while the red-twig dogwoods are grown for their colored stems and pruned back hard every spring.
As well as the native flowering dogwoods (Cornus florida and Cornus nuttallii), and the similar Japanese dogwood (Cornus kousa), dogwood trees also include Cornelian cherries (Cornus mas), grown for their yellow, late winter flowers and edible berries. There is also the native Pagoda dogwood (Cornus alternifolia) with small white flowers and rich fall foliage and, in particular, the elegant tiered growth of its branches and the similar Asian wedding cake dogwood (Cornus controversa). Most of these flowering shrubs are adaptable and easily grown in most reasonable humus-rich soils, in sun or partial shade, though many dislike chalky and limy soils. These are some of the finest ornamental trees and shrubs that we can grow.
Graham has a wealth of knowledge in all things horticulture. He trained at the prestigious Royal Botanic Gardens in Kew, England, and since then has written more than 20 books on plants and gardening and been a judge at the Chelsea Flower Show. He gardened in Pennsylvania for 20 years, but has recently returned to his native England.
Dogwood trees: key facts
Plant type: Deciduous trees and shrubs
Mature size: 15-40ft (4.5m-12m)
Soil type: Any good, well-drained soil, preferably rich in humus
Soil pH: Acid, neutral
Time to plant: Fall, spring
Flowering time: Late winter to early summer
Hardiness zones: USDA Z4-5
Scientific name: Cornus
Common name: Flowering dogwood
The different kinds of dogwood
'The dogwoods are an extremely popular group of small trees and shrubs, whether grown for their stems, foliage or floral display,' say the experts at Trees and Shrubs Online. 'The majority of these are "flowering dogwoods" and most are cultivars of Cornus florida or Cornus kousa. The hybrid between the two combines the characters of these two superb species.'
There are three main types of dogwood. The American native flowering dogwood (Cornus florida) is native in the east and south from southern Ontario to Florida and Mexico. It is the state tree of Missouri and Virginia. It flowers in late spring but suffers badly from disease so is not now widely planted. Its western version is the Pacific dogwood (Cornus nuttallii), but this only thrives in the Pacific North West.
The Japanese dogwood (Cornus kousa) flowers from early spring and well into summer, it is more disease resistant than flowering dogwood and also more cold hardy. The best plants of this type are the Rutgers dogwoods (Cornus x rutgersensis), hybrids between the native flowering dogwood and the Japanese dogwood developed in New Jersey at Rutgers University. These are very vigorous, prolific in flower and disease resistant.
The cornelian cherry (Cornus mas) is very different with clusters of small yellow, late winter flowers that develop into small shining red, edible berries along with reddish purple fall foliage color.
The Pagoda dogwood (Cornus alternifolia) and the wedding cake dogwood (Cornus controversa) are similar, noted for their tiers of horizontal branches and creamy fragrant flowers. Pagoda dogwood grows better in the north of the US, wedding cake dogwood in the south.
How to choose the right dogwood tree for your yard
Whether you're looking for a front yard tree or a pretty option for your backyard, there's a dogwood tree to suit. Consider whether flowers, foliage or fruit are most important to you, and then choose a variety accordingly.
Flowers Start by looking for the disease-resistant Rutgers dogwoods. 'Constellation' (white, upright growth, available from Monrovia), 'Stellar Pink' (blushed white, available from Monrovia), or 'Ruth Ellen' (late flowering white) – or any of the others you come across – all are good. Then consider the Japanese dogwoods such as 'China Girl' (white, vigorous) and 'Miss Satomi' (deep pink, superb fall color). Nature Hills has a good selection.
Foliage Dogwood trees have two exciting foliage features: variegated leaves or fall foliage color – sometimes both. For variegated foliage look out for 'Wolf Eyes' (creamy leaf edges that turn pink in fall). In disease-free areas consider 'Rainbow' (rich yellow leaf margins that turn scarlet in fall). Many flowering dogwoods are some of the best trees for fall color. Cornus florida 'Appalachian Joy' is one of the best, and is unusual in native flowering dogwoods in being disease-resistant.
Fruits The native flowering dogwood (Cornus florida) and the Chinese dogwood (Cornus kousa) both produce large, attractive bright red fruits but they are very popular with birds. The Cornelian cherries (Cornus mas, available at Fast Growing Trees) also have fruits, in shining red, which are edible when fully ripe – but not before. It takes patience to collect enough but they make superb jellies and other preserves.
Where to grow dogwood trees
Flowering dogwood trees appreciate moist acid soil with a little shade in the afternoon but will thrive in full sun provided that the roots are prevented from drying out in the summer months. Drought is definitely the enemy so be sure to amend the soil with organic matter before planting. Many will tolerate heavy soil conditions but not waterlogging.
They make superb lawn specimens and stand out in suburban developments and subdivisions. But it pays to choose your dogwood mail order rather than at the local nursery – everyone else will go to the local nursery, which means everyone will be choosing from the same small range. Try something different, especially if you're after a more unusual shrub for the front of the house.
The Cornelian cherry (Cornus mas) is much more adaptable, growing well in dry or wet conditions and in all soil types.
Variegated varieties appreciate some shade as this prevents scorching of the pale areas of the leaves.
How to plant dogwood trees
When planting a tree good preparation is important, especially for dogwoods, to ensure they will thrive.
Soak the roots of your dogwood tree the day before planting and again on planting day.
Dig a hole that is perhaps wider than you would usually dig as this allows the roots to take advantage of more improved soil.
Add plenty of organic matter to the soil when planting, and do not simply put a layer in the base of the planting hole – use your garden fork to mix it with the existing soil. Also, add a general shrub or tree fertilizer (try Amazon) into the mix.
Stake the tree with an angled stake tied securely to the tree about 2ft above the ground.
Mulch an area about 12in from the trunk all around your newly planted tree. Apart from being good for the roots, mulching will prevent you accidentally damaging the tree when mowing the lawn.
Dogwood care tips
Dogwoods are slow to heal after pruning so, if possible, pruning is best avoided. Pruning a dogwood with the aim of encouraging the tree to develop a good shape is not generally necessary as dogwood trees usually form a good shape naturally.
It is, however, important to prevent branches rubbing against each other by removing the weaker of any touching branches. Also, remove any damaged or broken branches promptly after damage occurs.
Regular irrigation is important for all dogwood trees, but especially the wedding cake tree and pagoda dogwood which will suffer for the whole season if allowed to become parched just once.
How to make more dogwood trees
Dogwood trees can be propagated by taking cuttings in summer, immediately after flowering – although it has to be said that the rate of success is not usually very high.
In early summer, snip off shoot tips about 4-6in long.
Cut off the lower leaves, trim just below a leaf joint to leave a cutting with one or two pairs of leaves at the top.
Fill a 6in pot with damp seed starting mix, then tap on the table to settle it.
Dip the base of each cutting in rooting hormone then push into the seed starting mix so that the lower leaves are just above the mix.
Stand the pot in an open plastic bag and keep in a bright, cool place but out of direct sun. Do not allow the mix to dry out.
When roots emerge from the base of the pot, move the cuttings into pots of their own.
Dogwood problems and how to solve them
Dogwood trees suffer from a number of problems but there is one simple prevention that really does help keep your dogwoods trouble-free: ensure that your dogwood is tree growing happily and it will be far less likely to be attacked by anthracnose disease, wood borers, mildew or other problems.
Good growth depends not only on thorough preparation but on good long term care. So check supports, renew your chosen type of mulch whenever necessary, irrigate in dry spells, and feed annually with a rhododendron feed, such as this Miracle Gro plant feed from Amazon.
Anthracnose is a fungus disease that mainly attacks native flowering dogwood (Cornus florida). It shows as brown patches on the leaves or flowers, often edged in purple and travels along the stems eventually killing the branches. There is no cure, if anthracnose is a problem in your area plant a resistant Rutgers dogwood. Powdery mildew, a dusty white coating on the foliage, can be dealt with using a fungicide.
Dogwood borer is a nasty pest that feeds under the bark, making small holes with a little sawdust at the entrance. Good general growth is the best preventative.
How fast do dogwood trees grow?
Pagoda dogwood (Cornus alternifolia), which reaches about 20ft, and the larger wedding cake dogwood (Cornus controversa), which reaches 40ft, are not considered to be fast growing trees. The Cornelian cherries (Cornus mas), are more like large shrubs than trees and will steadily develop their bushy growth to 20ft or a little more.
The native flowering dogwood (Cornus florida) reaches between 25-35ft, sometimes more, and the Japanese dogwood (Cornus kousa), about the same.
The hybrid between the two, Rutgers dogwood (Cornus x rutgersensis), is much more vigorous in its early years, but eventually settles down to about the same height as its parents in about as many years – 20ft in 20 years.
What's the best dogwood for a small garden?
In addition to good flowering, there are two features to consider when choosing a dogwood tree for a small garden. First, overall height and spread and second, good fall foliage color. Disease-resistance is also very important.
So, in general, choose a variety of Rutgers dogwood. Aurora ('Rutban') makes a narrow crown, especially when young, and has prolific white flowers that develop pink tints as they mature, rich green summer leaves and wine red fall foliage. Celestial ('Rutdan') is less vigorous than many so takes longer to fill its space, has upright growth and white flowers, plus fiery fall color. It also has a variegated version, Celestial Shadow ('Michael Steinhardt').
Is there a variegated dogwood?
Yes, there are variegated varieties of almost all types of dogwood tree.
'Daybreak' and 'Rainbow' are variegated forms of flowering dogwood (Cornus florida).
'Gold Star', Samaritan ('Samzam') and 'Wolf Eyes' are variegated forms of Chinese dogwood (Cornus kousa).
Celestial Shadow ('Michael Steinhardt') is a variegated form of Rutgers dogwood (Cornus x rutgersensis).
'Variegata' is a variegated variety of cornelian cherry (Cornus mas).
'Argentea' and Golden Shadows ('Wstackman') are variegated varieties of the Pagoda dogwood (Cornus alternifolia).
'Variegata' is a variegated variety of the wedding cake dogwood (Cornus controversa).
Do you get berries on a dogwood tree?
If you're a fan of trees with red berries, most dogwood trees develop them in the fall, providing a welcome display as well as food for many birds.
Those of cornelian cherry (Cornus mas) are edible – but not until they are so ripe that they are ready to fall off the tree. The fruits of the Japanese dogwood (Cornus kousa) are also edible, with a sweet and creamy flavor.
Are dogwoods deer resistant?
Dogwoods aren't considered to be a completely deer-resistant plant. The experts at Rutgers University have tested eight different types of dogwoods and have assessed Japanese dogwood as 'Seldom Severely Damaged' and Japanese dogwood and pagoda dogwood as 'Occasionally Severely Damaged'.
So dogwood trees are in the middle range of vulnerability to hungry deer, pointing to the need for protection.
Are dogwoods American natives?
Yes, some dogwoods are American native plants. '(Flowering dogwood is)… A native of the understory of our eastern forests, and one of the most beloved and most beautiful of our flowering trees,' say Louise and James Bush-Brown in America's Garden Book, available on Amazon.
In the Pacific North West the rather similar Pacific dogwood (Cornus nuttallii) takes over from flowering dogwood while Pagoda dogwood (Cornus alternifolia) is another eastern native.
How and where to buy dogwood trees
Potted dogwood trees in full flower are very tempting when offered in walk-in nurseries and garden centers and the variegated varieties will catch the eye into fall when the foliage brightens before dropping.
If your chosen specimen is a large one, ask for help getting it into your car or truck and organize more help for when you arrive home – trees in large pots can be very heavy. If you lay it down in the back of your pickup, cover it to prevent the wind drying out the foliage as you drive home.
Mail order, flowering dogwoods are available in a range of sizes from tubes, to 6ft plants in five gallon pots or even larger.
Sign up to the Homes & Gardens newsletter
Decor Ideas. Project Inspiration. Expert Advice. Delivered to your inbox.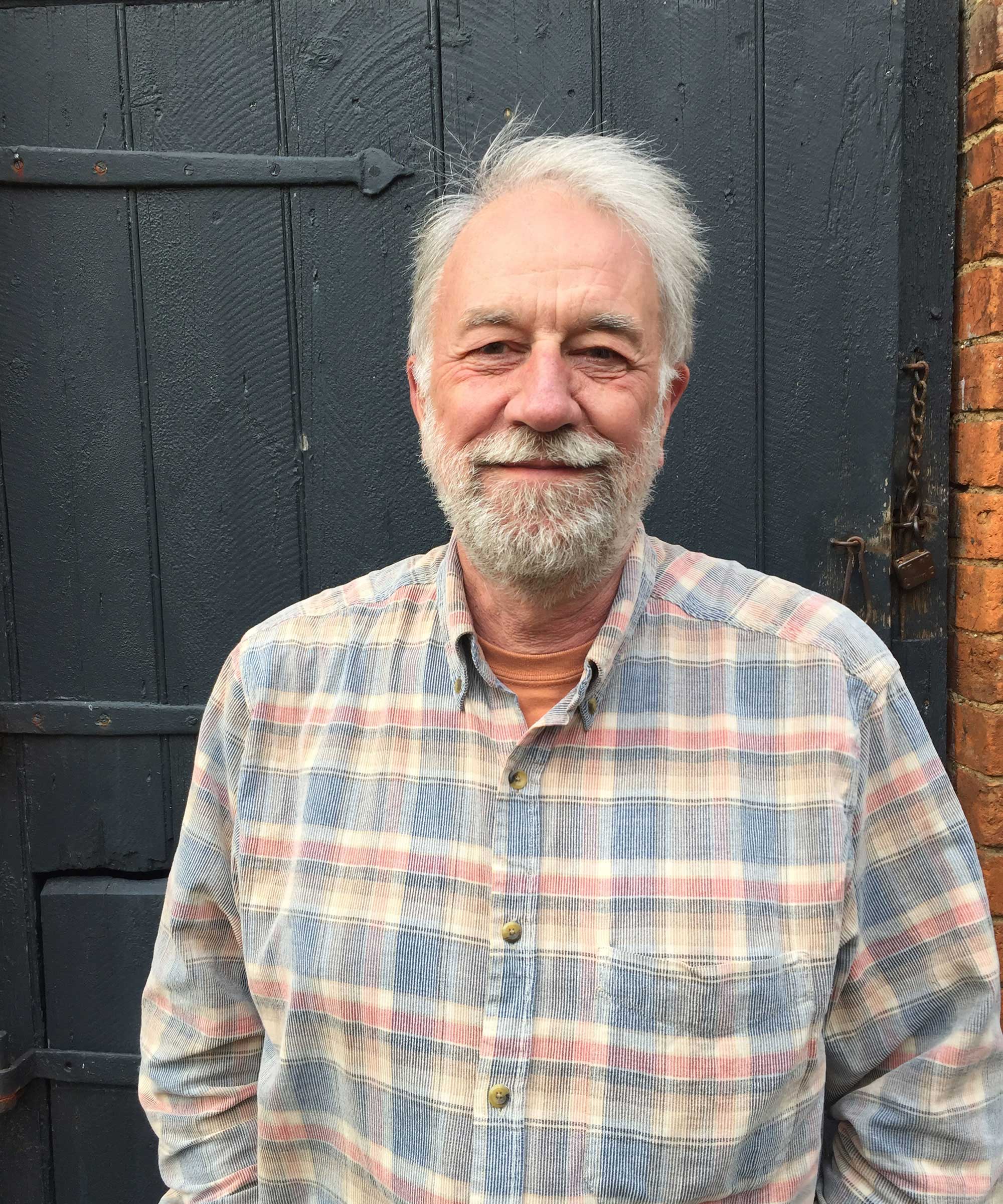 Graham Rice is a garden writer who has won awards for his work online, and in books and magazines, on both sides of the Atlantic. He is a member of a number of Royal Horticultural Society committees and the recipient of the 2021 Garden Media Guild Lifetime Achievement Award. He gardened in Pennsylvania for 20 years, but has recently returned to his native England.