How to plant a winter border for bees
This pretty planting plan will fill your garden with fragrance and feed hungry bees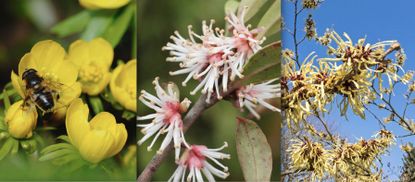 (Image credit: Alamy)
Most bees are snuggled up in their hives during the cold months, but there will be some bees and other insects that will still go foraging for food and water, so providing winter flowering plants in your border is a must. Plus, the blooms will cheer up your backyard, too – a double win!
Bulbs such as snowdrops and crocuses are loved by bees and are great wildlife garden ideas to pop into any gaps in the border of a winter garden. They're great for early color and can be bought 'in the green' in pots from your local plant or garden center.
'Although this costs more than buying bare bulbs, it does mean you can see spot any gaps and fill the borders easily without digging up any later-flowering bulbs.
'Buy single flowers rather than doubles as it's difficult for the bees to get to the pollen, advises garden designer Nikki Hollier, who specializes in off-the-shelf planting schemes via her company, Border in a Box.
1. Clematis cirrhosa 'Jingle Bells'
'This is a winter-flowering version that will grow to around 16-foot tall and 6-foot wide. It prefers full sun but is equally happy in partial shade,' says Nikki. 'It flowers from December to February, with large creamy-colored and scented flowers. The flowers will become attractive seedheads, too.
'If you're looking for pergola ideas, this plant looks great growing over a pergola or obelisk.
Although this clematis doesn't need much pruning (we've all you need on how to prune clematis for abundant flowers), keep it in shape by cutting back any long shoots straight after flowering and adding a layer of organic matter to the base of the plant.
2. Hamamelis × intermedia 'Pallida'
'This is a large shrub/tree that grows to around 10 feet x 10 feet – which makes it one of the best shrubs for privacy. It is also a great focal point in the border and is ideal for birds to perch in.
'It will grow in full sun or partial shade in moist but well-drained neutral-to-acid soil. It flowers from December to February with scented bright yellow flowers on bare branches.'
3. Eranthis hyemalis
'These really are brilliant for shady spaces, especially in a woodland setting – so add it to your go-to list of woodland plants is this a style you love. Of course, that makes it one of the best plants for shade, too.
'Eranthis hyemalis has acid yellow flowers and ruffs of green leaves, and will happily naturalize under the Hamamelis. They will flower from January to February and grow to around 15cm tall.'
4. Sarcococca hookeriana var. digyna 'Purple Stem'
'A fabulous evergreen shrub with dark purple stems that grows to around 5 feet x 5 feet and prefers part or full shade in moist, but well-drained soil. The flowers may look insignificant, but they are highly scented – making it one of the best fragrant flowers – and will bloom from December to March. These turn into round blue-black fruit (not edible).'
5. Helleborus niger 'Christmas Carol'
'There are so many colors and varieties of hellebores to choose from. They make a great gift in pots and are perfect porch or patio ideas.
They grow to around 1-foot tall and prefer partial shade. This variety will flower from December to March and look fabulous when planted in swathes. Their leaves are semi-evergreen and if they get Hellebore leaf spot (which are blackened spots) simply cut the leaves off at the ground and add a layer of organic matter around the plant.
After moving into a new-build property, and wondering how to turn the boring patch of turf in her backyard into a beautiful garden, Nikki retrained as a garden designer and launched Border in a Box, a series of ready-made garden design kits to help everyone create a gorgeous garden in less than a day.
With contributions from