Best fragrant flowers – 10 plants to add lovely scent to your garden
Add some beautiful fragrant flowers to your planting plans for a garden that appeals to all of the senses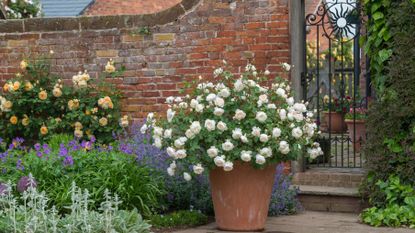 (Image credit: David Austin roses)
Fragrant flowers add an extra dimension to any garden, making your outdoor space a feast for all the senses. Scent is one of the most savored and sought-after qualities in a garden plant, and many scented florals are also fantastic for cutting, allowing you to fill your home with their beautiful perfume, too.
Including fragrant flowers in your flower bed ideas will enhance your enjoyment of your garden. Aroma often draws you to a plant before you can even see it, and engaging with fragrant flowers and foliage is a key part of a sensory garden experience. With the right choice of plants, there's no reason your outdoor space can't be filled with wonderful, sweet smelling blooms all year round.
Fragrant flowers
To get the most out of your fragrant flowers, consider planting them around seating areas, paths and doorways where you can enjoy their scent to the full.
When choosing fragrant flowers to plant, it's also worth thinking about when you spend the most time in the garden. Some flowers, such as if you're growing jasmine and nicotiana, intensify in fragrance in the evenings, so these are particularly good for planting as a patio idea, or in other spots where you might sit on a summer's night. Whereas if you like to enjoy breakfast on a sunny terrace or courtyard, then fragrant roses scrambling up a nearby wall could fill the air with their aroma, and aromatic herbs can fill containers.
Include some of the best flowering shrubs, climbers, bulbs and annuals blooming throughout the seasons to fill your outdoor space with fragrant flowers all year round.
1. Mock orange – Philadelphus
Known as mock orange for its gorgeous citrus blossom scent, this tall, deciduous shrub produces arching stems that become smothered in clusters of pure white flowers in late spring through early summer. The blooms of this fast growing shrub are often four-petalled with contrasting yellow stamens, though double varieties are also available.
Philadelphus coronarius 'Aureus' combines elegant single blooms with eye-catching golden-green foliage, and the fragrance really does have to be smelt to be believed, so is a top choice for fragrant flowers to plant.
'Visitors often inquire about the scent and Philadelphus coronarius 'Aureus' and any other mock oranges are powerfully perfumed when their flowers appear in late spring says Eric Hsu, plant information coordinator at Chanticleer Garden, Pennsylvania.
USDA zones: 4-8
Flowers: May-June
Plant: in full sun or part shade, in moist but free-draining soil
Prune: straight after flowering, prune back all flowering stems to one third of their length to prevent the shrub from becoming leggy.
2. Roses
No scented garden is complete without a rose. Some of the most fragrant flowers to plant are David Austin's famous English roses, which have been bred to combine the best traits of modern rose varieties – including color range and repeat flowering – with the wonderful fragrances of old varieties.
There are many rose garden ideas for ways they can be incorporated into your yard. 'All David Austin roses are fragrant, but there are five different fragrance profiles: Myrrh, Tea, Fruity, Musk and Old Rose,' explains Rebecca Koraytem of David Austin Roses. One of the top varieties for scent, says Rebecca, is 'The Generous Gardener', a rambling rose whose fragrance is a combination of Musk, Old Rose and Myrrh. She also recommends the climbing rose 'Bathsheba' for Myrrh, and 'Desdemona' for Old Rose, 'Vanessa Bell' for Tea, and 'The Poet's Wife' for Fruity – all shrub varieties.
David Austin roses can be grown in a wide range of climatic zones, thriving in USDA zones 4-11. Rebecca has some top tips for successfully growing at these two extremes. 'In truly hot zones, plant roses where they get morning sun and protection from afternoon sun. To extend winter hardiness, choose an 'own root rose' – a rose grown from a cutting, rather than grafted onto a rootstock – and always plant deep so that the crown is at least 2 inches below the surface of the soil."
USDA zones: 4-11
Flowers: May-November depending on variety
Plant: in full sun for best flowering, but a minimum of 4-6 hours direct sun per day, in fertile, humus-rich but well-drained soil
Prune: Some varieties need to be pruned in winter, and others straight after flowering. Learn how to prune roses for the best blooms year after year.
3. Sweet peas – Lathyrus odoratus
Most at home scrambling over obelisks and archways, sweet peas are a favorite among cottage garden plants, a hallmark of summer and a classic cut flower if you're planning a cut flower garden.
It is easy to learn how to grow sweet peas, and there are a huge number of varieties available of this popular annual climber, in myriad colors. Most are heavily scented, but perhaps the most fragrant flowers of all belong to 'Matucana', a historic heirloom variety boasting bicolored blooms in opulent shades of rich purple and velvety maroon. The secret to abundant flowering is to keep picking your sweet peas, so you can enjoy luxurious bunches all around the house, where they will fill the room with their sweet scent.
USDA zones: 2-11 (thrive 3-8)
Flowers: June-August
Plant: in full sun in moist, fertile, humus-rich soil or in pots
Prune: pick flowers continually to encourage more blooms to be produced and remove any seedpods that develop.
4. Tobacco flower – Nicotiana
Flowers that release their scent in the evening are perfect for planting around patios, or as courtyard garden ideas for those who like to relax in the garden after getting home from work.
Nicotiana, or tobacco flowers, are great night-scented plants. Blooming from early summer right through to the first frosts, this popular bedding plant is perfect for filling gaps in borders and containers. They are usually grown as a half-hardy annual and are good for low maintenance border ideas and easy to grow. Although they look lovely all day, tobacco flowers really come into their own in the evening, when they release a heady fragrance to attract nocturnal pollinators.
Nicotiana alata is a great choice as its relatively small size means that pockets of it can be incorporated into pretty much any garden or container display. Nicotiana alata varieties come in a range of colors, from pure white to hot pink to vivid lime green. For something taller, try the equally fragrant Nicotiana sylvestris, which is ideal for woodland gardens.
USDA zones: grown as an annual in zones 6-9; may overwinter in zones 10-11
Flowers: June-October
Plant: in sun or part shade, in fertile, moist but well-drained soil
Prune: deadhead faded blooms to prolong flowering.
5. Lilacs – Syringa vulgaris
Lilacs are the top recommendation for fragrant flowers to plant of Jim Sutton, display designer at Longwood Gardens, Pennsylvania. 'For scent, the lilacs – Syringa species – always come to mind. We have a nice collection of them at Longwood and our guests greatly enjoy their recognizable scent when in bloom. It is such an iconic shrub for its fragrance and is very easy to grow,' he says.
Native to the rocky hills of the Balkans, central Europe, this deciduous shrub is very hardy and in fact requires a chilly winter to successfully bloom. Heart-shaped leaves emerge in spring, followed by dense clouds of tiny but powerfully scented flowers in shades of lilac, purple or white, depending on variety. Lilacs are also great for cutting, making an opulent display in a vase where you can enjoy their fragrance to the full.
USDA zones: 3-7
Flowers: April-May
Plant: in full sun, in moist but free-draining, non-acidic soil
Prune: learn how to prune lilac to keep your plant looking its best. Prune after flowering, removing spent flowerheads. Remove any dead, damaged or diseased material, and tidy the shape as required.
6. Wisteria – Wisteria sinensis
There are few garden features more spectacular than a mature flowering wisteria. In spring, this enduringly popular climber becomes festooned with long tresses of pale lilac flowers, which appear before the leaves to create a stunning display. The attractive lobed foliage, when it emerges, is a beautiful fresh bronze in color before maturing to green.
It's worth learning how to grow wisteria as they can take on magnificent structures, developing beautiful twisted woody trunks with age. Not only all this, but they have beautifully fragrant flowers, too. To appreciate their fragrance to the full, train a wisteria up the wall near your doorway, or over an arbor above a seating area.
USDA zones: 5-9
Flowers: April-May
Plant: in full sun in fertile, free-draining soil, next to a south- or west-facing wall, fence or arbor up which it can be trained.
Prune: It is important to know how to prune wisteria to keep them under control. Prune according to the 2/7 rule: establish a main framework and prune side-shoots back to two buds in February (the 2nd month) and back to seven buds in July (the 7th month).
7. Dutch hyacinths – Hyacinthus orientalis
This is a fragrant flower that you can also grow in the house. Everyone has a place for Dutch hyacinths, whether for container gardening ideas, window boxes, dotted through borders or even in a bowl indoors. Their large, intensely fragrant flowerheads come in all shades of blue, pink, purple and white.
'When planted en masse, the smell is unmistakable,' says Jim Sutton of Longwood Gardens. 'It is also an easy spring bulb to plant in almost any garden.'
Although hyacinths naturally bloom in March and April, you can also buy 'prepared' bulbs which have been heat treated to flower earlier. These are ideal for indoor growing and when planted up in a decorative pot, the sprouting bulbs make a lovely Christmas gift.
USDA zones: 4-8
Flowers: March-April
Plant: in full sun and free-draining soil in fall, or plant prepared bulbs in pots in September for Christmas flowering
Prune: remove faded flowerheads at the base but allow the foliage to remain for a few weeks to produce energy back into the bulb to feed next year's flowers. Once it begins to die back it can be removed. Potted bulbs can then either be placed in a cool, dark place such as a shed or lifted and stored somewhere cool and dry.
8. Holly olive – Osmanthus heterophyllus
Fall can be a more challenging season to find fragrant flowers to plant in your garden. However, one must-have plant for scent in fall is the holly olive or Osmanthus heterophyllus, which are also deer resistant plants.
'Osmanthus fragrans and Osmanthus heterophyllus may not have showy flowers, but their delightful citrus, stone fruit, and floral aroma more than compensates. They are beautiful evergreen shrubs as well,' says Eric Hsu of Chanticleer.
Jim Sutton of Longwood Gardens agrees. 'Osmanthus heterophyllus 'Gulftide' makes a nice hedge, although it has spiny leaf margins. It smells wonderful in the fall when it comes into bloom,' he says.
USDA zones: 6-9
Flowers: September-November
Plant: in sun or part shade, in fertile, moist but free-draining soil
Prune: little or none required; if desired, trim back long twigs to a pair of nodes to encourage a compact, bushy habit.
9. Winter box – Sarcococca confusa
Coming into its own at a time when not much else is in flower, winter box is an essential for every garden or patio.
Highly versatile, the small evergreen is an ideal shrub for shade and works in pots, as informal privacy hedges or as punctuation points in borders to create year-round structure and interest.
Glossy, deep green spear-shaped leaves beautifully offset the delicate hanging clusters of tiny white fragrant flowers. Although small, the flowers are packed with an almost inconceivably powerful sweet scent, which will drift for yards on even the faintest breeze. The blooms are followed by shiny black berries. A compact and relatively slow-growing evergreen shrub, Sarcococca confusa is perfect for small gardens.
USDA zones: 7-9
Flowers: December-March
Plant: in shade or part shade, in humus-rich, moist but free-draining soil
Prune: none required, but the plant can be lightly trimmed after flowering to maintain the desired shape.
10. Daphne – Daphne bholua 'Jaqueline Postill'
During the darkest months of winter, the divine fragrance of Daphne bholua 'Jaqueline Postil' cuts through the air, lifting the spirits on even the coldest, dullest days and drawing in all who smell it.
Among the best winter flowers, the waxy four-petalled flowers in palest pink of daphnes are held in tight clusters, each with a ruff of slender semi-evergreen leaves. The masses of intensely fragrant flowers are followed by round purple berries. This daphne makes a wonderful specimen shrub and is best planted near to a path or doorway where its scent can be enjoyed to the full.
USDA zones: 7-10
Flowers: January-February
Plant: in sun or part shade, in fertile, humus-rich but free-draining soil
Prune: none required – unless removing dead, damaged or diseased wood.
Which flower has the strongest fragrance?
Many of the plants listed above have some of strongest fragrances. However, the scent of fragrant flowers can be intensified by heat, by humidity, and by being trapped within a confined space, explains Jim from Longwood Gardens.
'We force Oriental lilies into bloom in the conservatories during the winter months. When you put a couple of hundred of them in an enclosed space, the scent is strong, unmistakable, and very floral,' he says.
'During summer, the humid, warm air intensifies the gardenia-like fragrance of Hosta plantaginea 'Aphrodite',' adds Eric from Chanticleer.
What is a very fragrant flower?
There are many flowers that are very fragrant, but it's important to remember that what one person finds a pleasant scent, another might not.
'Scent is a very personal preference,' says Jim. Not only is the pleasantness of scent subjective, but different people are wired to detect and perceive scents differently. Some may not even be able to smell certain scents at all. For this reason, when choosing fragrant flowers to plant in your garden, it's important to try before you buy – go along to a botanic garden or a garden center, and have a good sniff.
Which jasmine plant is the most fragrant?
'Most of the highly scented jasmines are the indoor species that we grow as houseplants in the UK,' explains Jane Lindsay, owner of specialist nursery Tynings Climbers , which holds the UK's National Collection of jasmines.
'The most fragrant are Jasminum angulare, Jasminum grandiflorum 'De Grasse' – which is beautifully scented and used in the perfume industry – and Jasminum sambac, which is probably the most highly scented of all the indoor species."
'For outdoor growing, the most strongly scented is the star jasmine Trachelospermum jasminoides, especially in the evening.'
This fast-growing flowering vine is a popular all-round choice. 'It ticks all the boxes – it's scented, and it's an evergreen climber,' says Jane. This makes star jasmine perfect for growing up a trellis to screen off a seating area.
Another highly fragrant hardy jasmine is the deciduous Jasminum officinale f. affine. ;It's quite happy to be container grown, so if you're short of space, you can grow it on the patio scrambling up an obelisk,' suggests Jane.
Trachelospermum jasminoides thrives in USDA zones 8-10 and Jasminum officinale f. affine in zones 7-10.
Sign up to the Homes & Gardens newsletter
Decor Ideas. Project Inspiration. Expert Advice. Delivered to your inbox.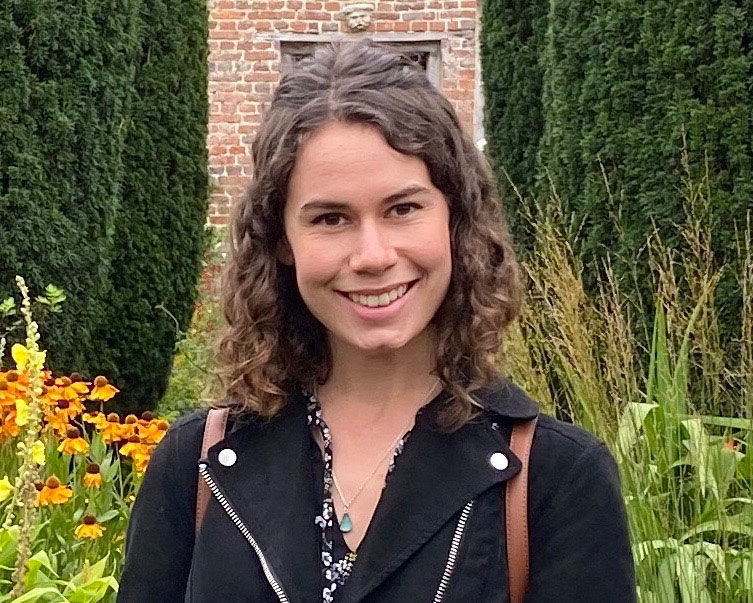 After studying Plant Sciences at Oxford University, Olivia trained as a professional horticulturist. She has been lucky enough to work in public and botanic gardens all around the UK. Her work has even taken her across Europe, from helping to curate a botanic garden in the Swiss Alps, to studying the native flora of Tenerife. Now a full-time writer, she enjoys nothing more than sharing her love of plants and gardens with others.