How to prune roses – including climbing roses and rose bushes
Learn how to prune roses to increase flower production and get the best out of these much-loved plants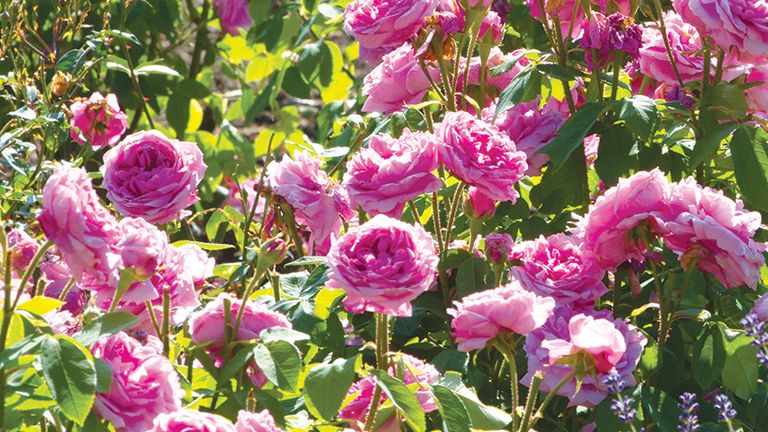 (Image credit: Leigh Clapp)
By Melanie Griffiths published
Knowing how to prune roses the right way is essential if you want to keep the plants healthy and ensure maximum blooms.
Roses have been prized for their beauty and fragrance for millennia, and today they play a starring role in gardens across the globe – adding romance and color to borders, walls, and patios.
You will be spoiled for choice when looking for rose garden ideas as the plant offers endless color and style variations.
Though they produce some of the most graceful flowers, roses are actually very hardy shrubs. Even an overzealous prune is unlikely to harm them, so you can cut with confidence.
However, in order to get the best out of roses, you should follow a few simple pruning rules.
How to prune roses – what you need
Before tackling rose pruning, make sure you have the right tools for the job – starting with a good pair of secateurs.
'It may sound obvious, but the most important thing when pruning roses is that your secateurs are sharp, so they won't tear or harm the plant,' says Period Living's gardening expert Leigh Clapp.
You can sharpen your secateurs at home using a sharpening stone or diamond sharpener, although some tool manufacturers offer a cleaning and sharpening service.
While secateurs are suitable for pruning most green rose stems, for thicker, mature branches and dead wood you will require loppers or a hand saw.
As when planting roses, you will also need thick gardening gloves to protect your hands from the thorns – preferably leather gauntlets that will also cover your lower arms.
Rose thorns can harbor harmful bacteria, so if you do cut yourself, clean the wound with an antibacterial spray.
How to prune rose bushes
It's important to prune rose bushes at the right time of year. 'Prune in late winter to early spring, just when the first growth is beginning,' says Richard Austin from world-renowned rose grower David Austin.
If you prune your rose bushes too early, you risk making the plant more vulnerable to frost damage; too late and you will be removing valuable new growth.
Austin advises that it's better to prune them late than not at all, so even if spring has sprung, you should still proceed. But never prune when the stems are frozen or frost-covered.
Bear in mind that roses take a couple of years to establish, and young plants need a lighter trim. 'Don't prune shrub roses too hard until they have established over the first couple of years, to help the stems mature and support the large blooms,' says Clapp.
Prune mature rose bushes down to half their size – or if a young rose, remove up to a third. It is helpful to insert a cane into the ground next to the rose at the new desired height, to act as a gage.
Use your secateurs to cut the stems. 'Don't worry about cutting back too much on established plants – and don't worry about where you cut the stem,' advises Austin. However, to help the new shoots to grow outwards and maintain a more open center, gardening expert Matt James recommends you 'make a gentle sloping cut, just above a healthy outward-facing bud.'
Remove any dead or diseased stems right at their base – dead stems will be completely brown without signs of green. You may require a hand saw for very hard dead wood.
Remove thin, weak stems that easily bend, as these will not be able to support new growth.
Where parts of the plant are congested, remove a stem or two, to allow in more air and light. Also, where two stems rub together, select one for removal.
Strip all foliage from the plant – you don't want any leaves left. However, do not compost them, as this can spread disease.
'Shaping is essential – try to create a rounded shrub,' says Austin. This will mean cutting the sides a little shorter than the middle stems.
'Don't be alarmed if your rose looks significantly smaller! The growth will strengthen and re-establish quickly in the spring,' Austin adds.
Finally, clear up fallen leaves that may harbor diseases, apply rose feed according to packet instructions, and mulch the plants. 'Mulching with a good layer of well-rotted manure retains moisture, limits weeds and suppresses diseases such as black spot,' says Clapp.
Once roses have flowered in the summer, remove the spent blooms. 'Deadheading roses regularly will encourage more flowering shoots for repeat-flowering roses,' says Clapp. 'A mid-summer tidy up will help to reinvigorate tired roses.'
How to prune climbing roses
Climbing roses should be pruned in the spring at the same time as shrub roses. However, you need to treat them a little differently in order to encourage them to grow to the desired height and spread.
'Soon after planting, prune a climbing or rambling rose, and continue doing this each year to maintain a good-shaped plant that will produce plenty of new growth and flowers,' says Tony Hall, author of The Kew Gardener's Guide to Growing Roses.
To prune a climbing rose, you need to first identify the main stems – these are what give the plant its height, allowing it to climb. Each main stem will have numerous side shoots, and it is these that will be the main focus of your pruning.
'Prune these side stems annually back to two or three buds – generally 3-4 inches from the main stem,' says Hall. 'Shorten the main stems to keep them in bounds.'
'After three or four years, remove old stems – one per year – towards the bottom of the rose to promote growth lower down and get flowers all along the plant,' adds Clapp.
As with bush roses, you need to remove diseased, damaged or dead stems.
Remove all of the foliage from the plant, but do not compost the leaves, to avoid the spread of disease.
Now you need to work on the shape of your climbing rose and make sure the stems are properly tied to the support. 'Have a good look at your rose and visualize what you want it to do. Does it need training in a certain direction, or more than one direction, to establish and build your framework? If so, tie the stems in the appropriate positions,' says Hall. 'If the stems are too long, shorten the ends or, if soft and pliable enough, tie them back into the required position if space allows.
Feed your rose according to package instructions, and apply a thick layer of mulch around the base.
If your rose is a 'rambler' rather than a climber, it will need to be pruned just after flowering, as they then will produce new wood for next year's blooms. 'In summer prune rambling roses after flowering – unless they are repeat-flowering varieties,' says James.
'Cut side shoots that have flowered back to two buds from the main stems. Tie in two to three strong shoots and remove the same number of old ones at ground level.'
How to prune tree or standard roses
Tree – or standard – roses, which are grafted on top of a long central stem, should be pruned in the same way as rose bushes. However, closer attention should be paid to creating a nicely rounded shape.
When pruning a rose tree, you want to minimize stems that are growing very upright, favoring those with well-positioned outward-facing buds. Try to ensure you have a good balance of stems growing in each direction.
With tree roses, you also need to pay close attention to 'suckers', which are stems growing from the base of the trunk, from the root stock, that take energy from the main rose. Remove these as they appear.
After the first flush of blooms, tidy up the shape by giving the tree a light trim. This will also encourage a second flowering.
How to prune roses for winter
It is not a good idea to prune roses for winter, as you will leave them vulnerable to the cold and frost. For the best results, time your pruning for the very end of winter and the onset of spring.
However, where rose branches are damaged in the wind, it is best to remove them from the plant.
You could also take rose cuttings in the fall or winter, to grow new plants.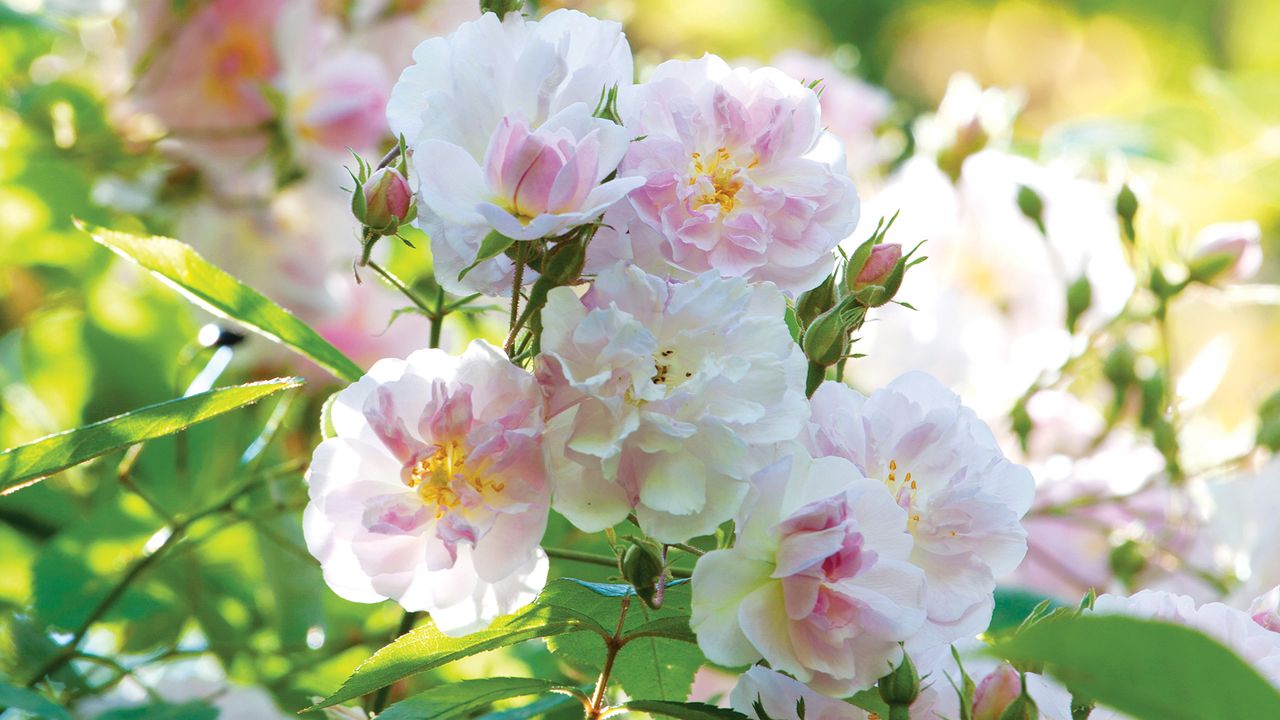 How to prune roses in summer
Most roses don't need pruning in the summer, with the exception of rambling roses. 'Prune ramblers just after flowering, as they then will produce new wood for next year's blooms,' says Clapp.
However, after the first flush of flowering, you can tidy up your roses with a light trim to maintain their appearance and encourage more buds to develop.
Pruning neglected roses
If you have inherited a rose that is overgrown or covered with a lot of dead wood, you can renovate it by giving it a hard prune at the end of winter, just as spring is about to emerge. This advice will work for whatever type of rose it is.
Cut back the stems to make the plant around 12 inches tall.
Remove any diseased, damaged or dead wood. You will likely need a hand saw to remove dead stems at the base, as they can be very hard.
Where stems are crossed and rubbing together, choose one to remove.
Remove any spindly, weak stems.
If the plant is congested, remove a stem or two to allow in more air and light.
Remove all foliage from the plant, and clear any leaves from the ground, to minimize the risk of disease.
You must feed the rose to help it rejuvenate. Use a specific rose food and follow the packet instructions.
Finish by applying a thick layer of mulch around the rose.
What is the best time to prune roses?
The best time to prune roses is at the end of winter and the beginning of spring.
Do you cut off dead roses?
You should cut off – or deadhead – roses once the blooms are faded as this will encourage the growth of new flowers.
'If, however, you have roses, such as rugosas, with lovely hips for autumn, leave the finished blooms on the bush,' says Clapp.
As editor of Period Living, Britain's best-selling period homes magazine, I love the charm of older properties. I live in a rural village just outside the Cotswolds, so am lucky to be surrounded by beautiful homes and countryside, where I enjoy exploring. I am passionate about characterful interiors and heritage-inspired designs, but I am equally fascinated by a house's architectural elements – if I spot an elegant original sash window or intricate stained-glass front door, it fills my heart with joy. It's so important to me that original features are maintained and preserved for future generations to enjoy. My other passion is my garden, and I am slowly building up my planting knowledge, and becoming more confident at experimenting with growing my own. As well as editing Period Living, I am also co-editing the Country Channel of Homes & Gardens. In my previous roles, I have worked on Real Homes and Homebuilding & Renovating, writing about modern design and architecture, so my experience is broad – but my heart belongs to period homes.