18 living room fall decor ideas – for a cozy, comforting and relaxing retreat
From layers of soft, tactile texture to beautiful foliage, warming lighting schemes and more, transform your living room into a stylish, snug space this fall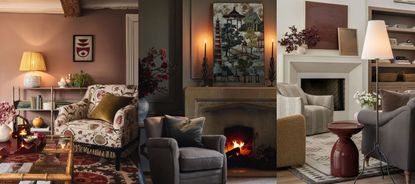 (Image credit: OKA | McGee & Co.)
Living room fall decor ideas – that are warm, cozy and inviting – are pretty much at the top of our list of must-haves at the moment. And for obvious reasons, when you consider that the most used room in a home is the living space.
From effortlessly elegant color schemes to enhancing the space with seasonal accessories, fall decor ideas will only help to make your home feel more snug and special during the colder winter months.
There are plenty of big – and small – updates you can make to your living room ideas to make the space feel more seasonal; these are our favorites.
Learn how to decorate you living room for fall with our favorite design ideas
This is how to embrace living room fall decor that invites warmth, coziness and lustrous layers into your home.
1. Layer lighting across your living room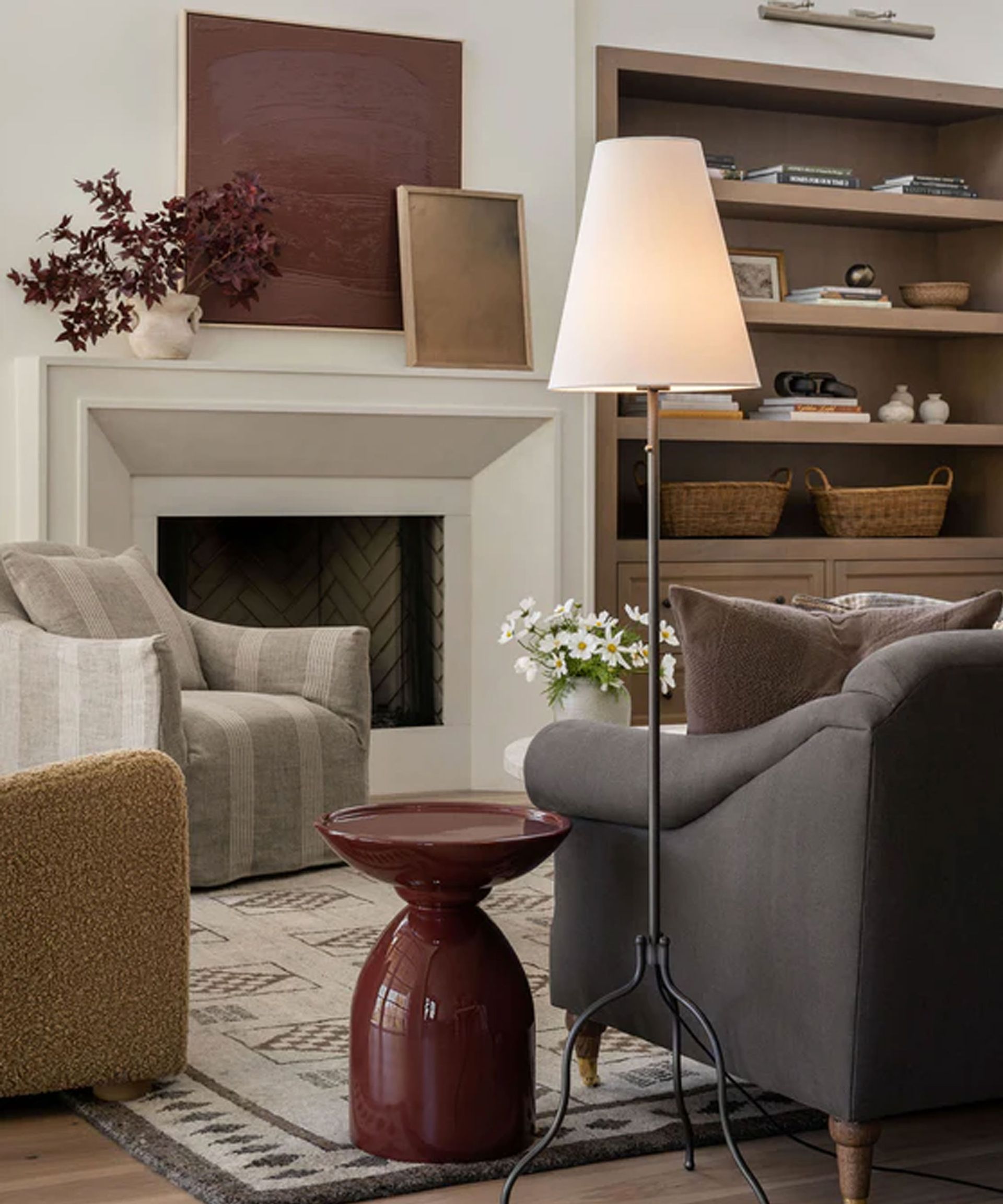 Having the right living room lighting is important no matter what time of year, but it is during fall and winter – where the days become shorter and the nights longer – that good lighting can really make a difference in the overall mood and ambience of the space.
The key to a successful lighting scheme is having plenty of layered lighting dotted around the room. From cozy table lamps placed upon side tables and sideboards, to tall floor lamps positioned beside a sofa or lounge chair – not to mention plenty of candles and twinkling string lights – all of these lighting elements can work together as one to make you space feel more cozy, warm and relaxing.
We love simple yet sculptural Windham Floor Lamp from Studio McGee shown above, part of their new 2023 fall collection.
2. Create a refreshed fall scheme with paint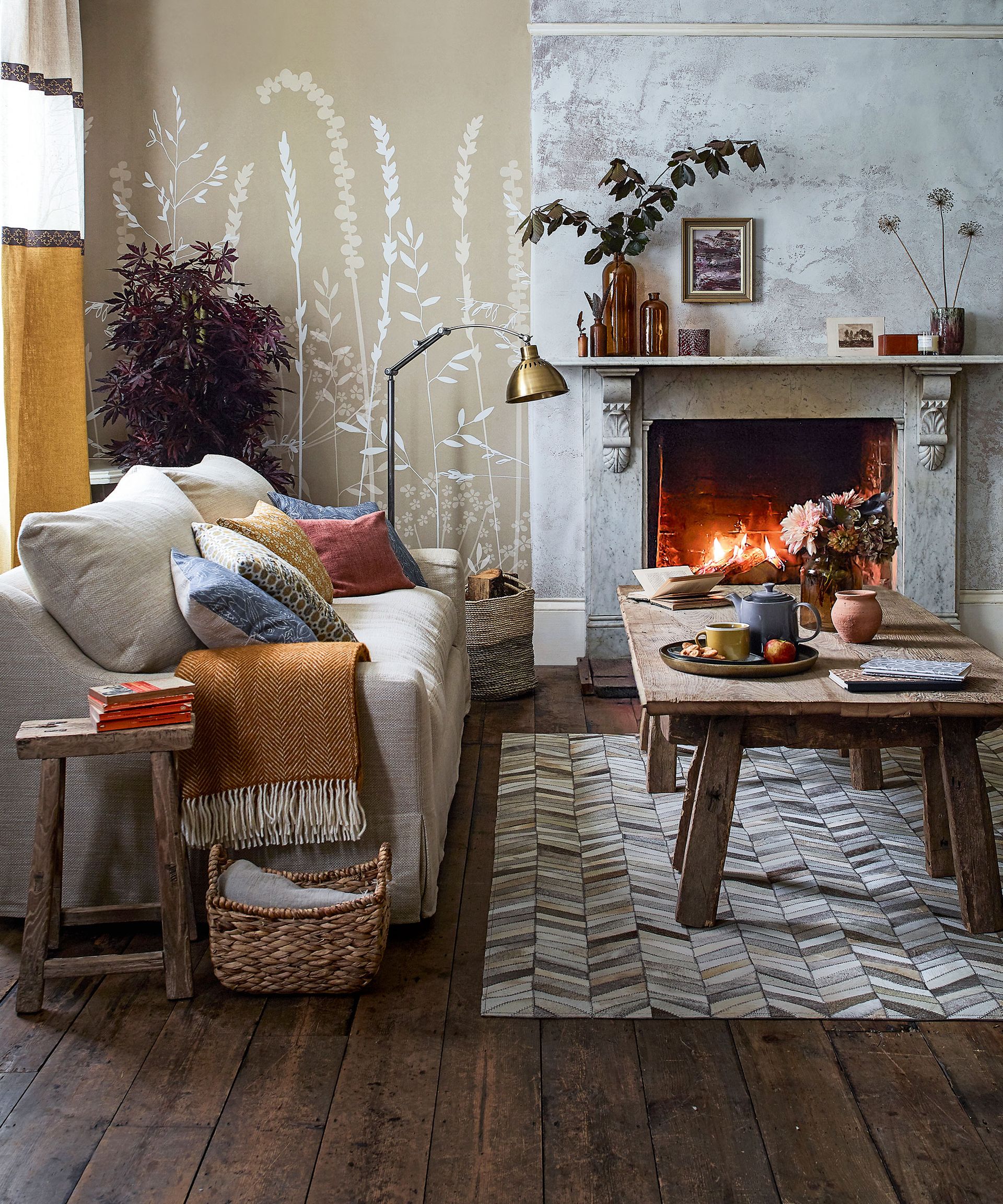 Living room fall decor can be really comforting when it has a craft-appeal.
'If you love the idea of fall craft ideas but simply don't have the time or space, why not use paint tricks to update your living space for fall?' suggests Lucy Searle, editor in chief of Homes & Gardens. 'The paint effect in the living room above has been created with stencils, but you could paint free-hand to introduce a living room feature wall idea that's not only unique but easy to update or replace when the next season approaches.
'Use warm colors to introduce fall color schemes to otherwise neutral rooms, and look forward to painting over them in spring colors come March when you want to introduce spring decor ideas instead.'

Lucy Searle has written about interiors, property and gardens for over 30 years, starting within the interiors departments of women's magazines before switching to interiors-only titles in the mid-1990s. In 2018, Lucy took on the role of Global Editor in Chief for Realhomes.com, taking the site from a small magazine add-on to a global success. She was asked to repeat that success at Homes & Gardens, where she has also taken on the editorship of the magazine, which is the UK's oldest interiors magazine at 103 years old. Lucy is a serial renovator and also owns rental properties in the UK and Europe, so brings first-hand knowledge to the subjects she oversees.
3. Dress a fall fireplace with finds from your yard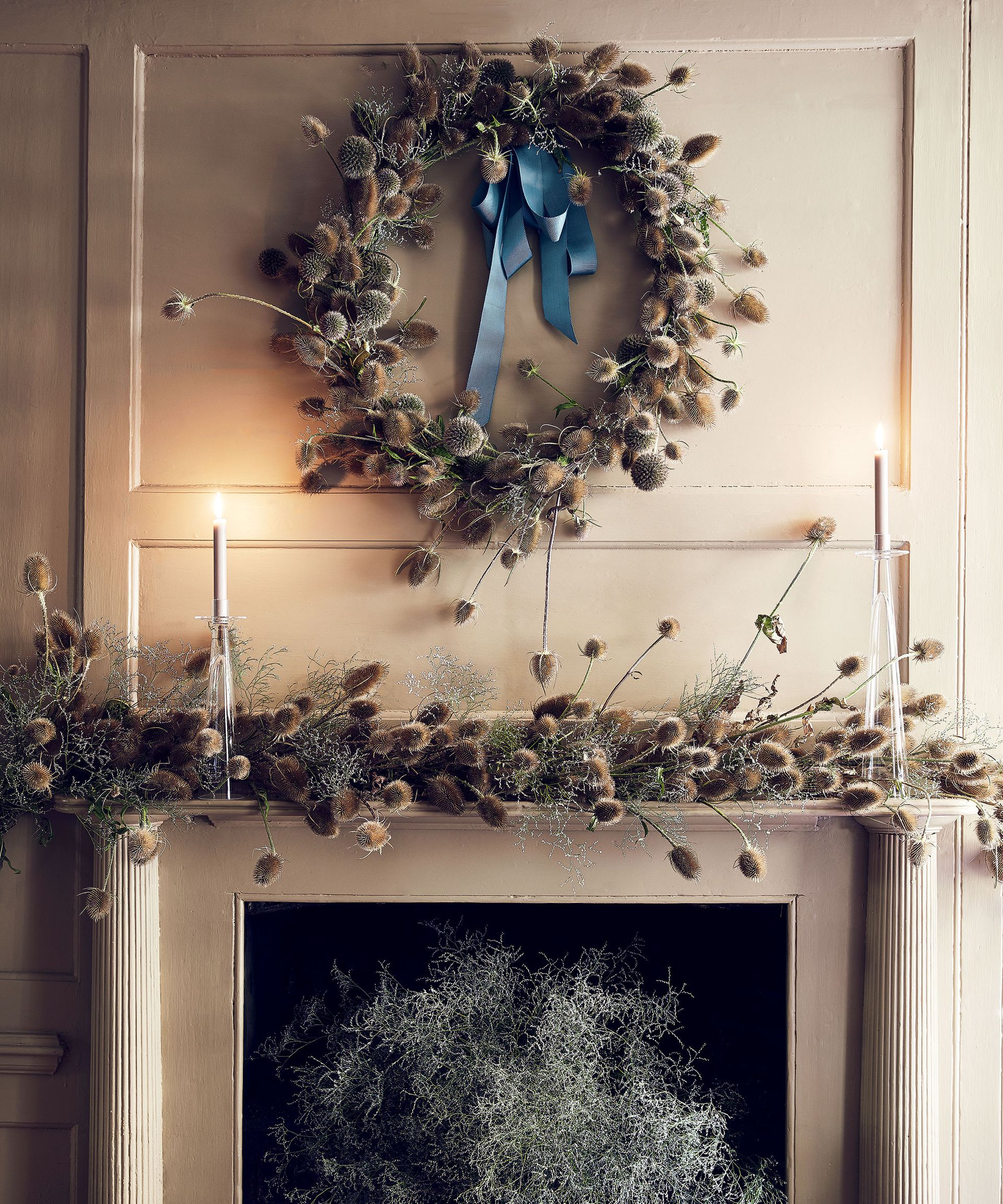 Fall wreath ideas and fall mantel ideas are two living room fall decor basics that can instantly lend a cheery feel, and they're always at their most charming when they have been created with seasonal finds from your flowerbeds (or a florists').
'This is the perfect time to scavenge in your yard for outdoor fall decor ideas that can come inside: seedheads, flowerheads that are spent but still shapely, and even ornamental grasses,' says Homes & Gardens' gardens editor, Rachel Crow.
'It's easy to make a fall wreath around a ready-made base (my favorite is this artificial fall wreath from Amazon because you only have to add a few sprigs to it for it to look really full); and you can make a mantel garland to match.'
4. Choose fall flowers to complement furnishings
Snuggle up and get comfy with warming fall color schemes: a palette of pinks and an eclectic, elegant union of patterns, shapes and materials to create a cozy and comforting fall living room space.
Here, in this beautiful living room designby OKA, florals in the fabrics and colors in the artwork have been cleverly matched to the fall flowers for pots, which can be dried and kept indoors to lend color and texture to your scheme right through winter.
We can't get enough of the beautiful fall foliage available from Afloral, featuring dried flower bouquets, faux-foliage, wreaths and more.
5. Enrich your shelves with a seasonal display of nature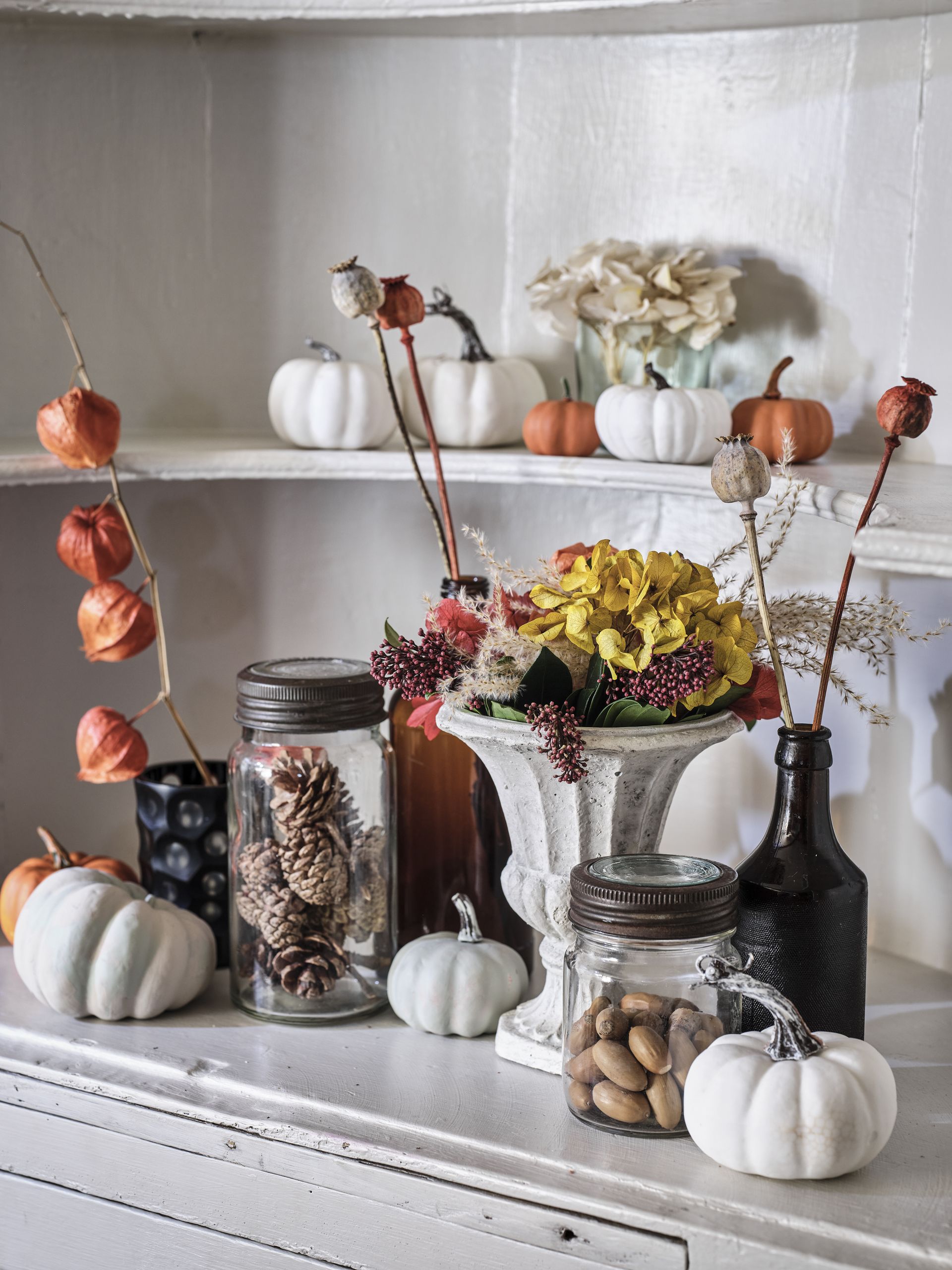 One must-have living room fall decor element is, of course, the pumpkin. If you are looking for easy, no-carve pumpkin ideas, the simplest is to paint your pumpkins in seasonal shades – or cool white for a more modern look.
You can then use these, along with other foliage of the season, to dress shelves, mantelpieces and for fall table decor ideas.
'Pine cone Christmas craft ideas can start being useful from September onwards,' says stylist and Homes & Gardens' deputy editor Jo Bailey. 'Display them singly or piled into bowls – or use them as one of your Mason jar crafts.'
Jo Bailey is Deputy Editor of Homes & Gardens, overseeing all features for the print edition. Before joining Future PLC, she worked as an interior stylist for over ten years, specializing in commercial photo shoots for luxury clients such as; Design Centre Chelsea Harbour, Christopher Farr Cloth and Heal's. She has worked with Homes & Gardens for over a decade, having styled and produced editorial shoots and events over the years.
6. Embrace a calming, natural mural
Wondering how long you leave fall decorations up? The answer can be: year round.
'Scenic landscape wall mural ideas are the biggest story in decorating today – wonderfully atmospheric and evocative, a statement design will transform a space and capture the imagination,' says H&G's decorating editor Emma Thomas. 'This Upper Brook St. in Night Garden by Little Greene is ideal for a year-round interest.'
7. Magic up the scent of fall in your living room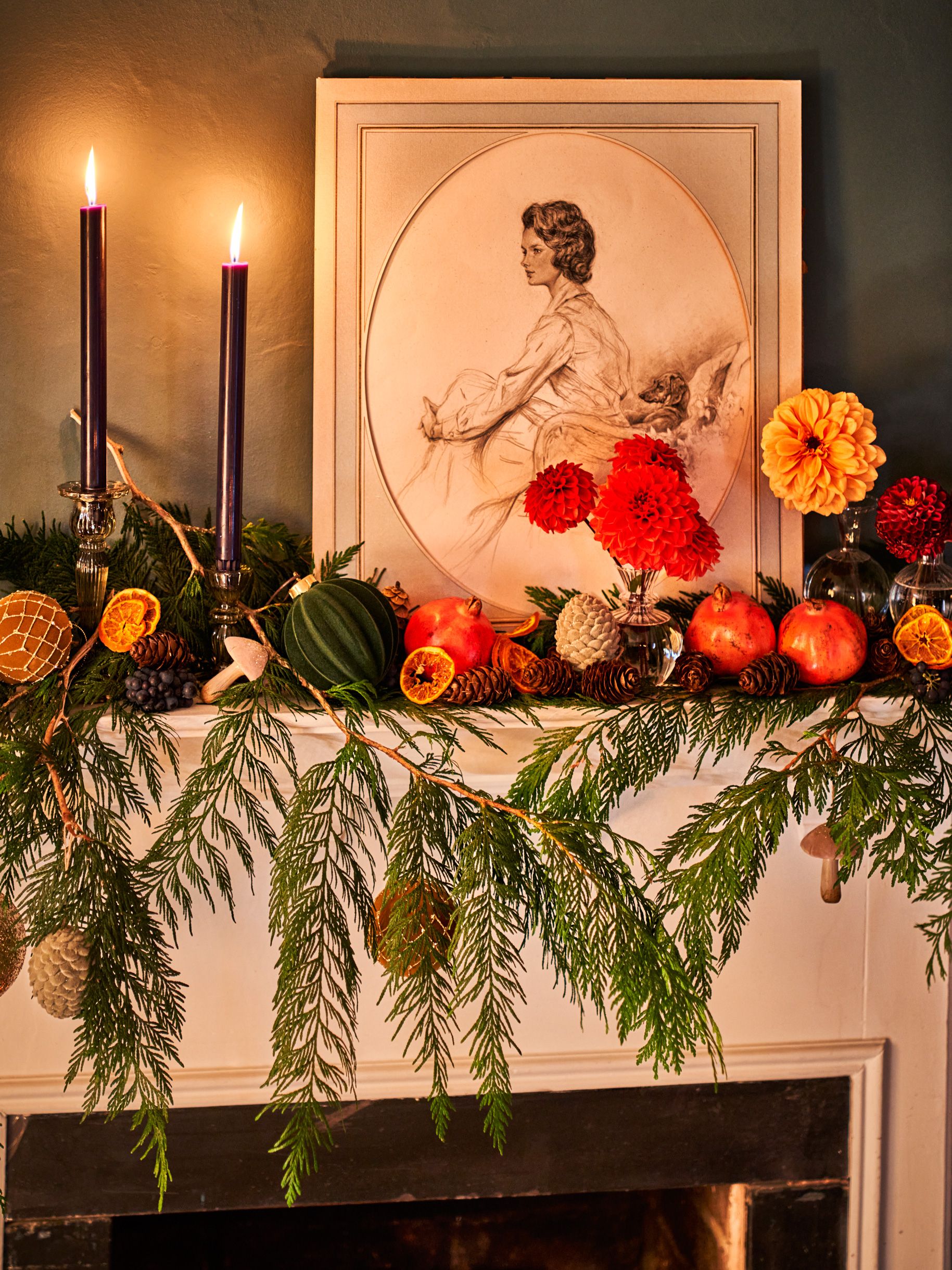 There's nothing better than taking a walk in a forest in fall, and breathing in all those seasonal scents, from pine to late summer blooms, all while enjoying fabulous plants for fall color.
'You can recreate the scents and colors of fall indoors with foliage and flowers pretty easily,' says H&G's gardens expert Rachel Crow. 'A few small branches from pine trees, a pile of pumpkins, seasonal flowers, whether real or faux, can all create a riot of color and scent. Choosing the best luxury candles that can also heighten these scents, and cast a soft glow around your living room.
8. Add warmth to cooler schemes with layering
Gray living room ideas are perennially popular, but while they feel fabulously serene in summer, they can feel a little cool in fall and winter. If warm colors aren't your thing, you can quickly make a living room feel fall-ready with plenty of layering.
The simple addition of blankets, throws, cushions and rugs in a living room can make the space feel instantly more welcoming. Store away these items in summer, and bring them back out in fall when the temperatures dip. Similar to fall bedding trends, it's got to be the simplest fall living room decor idea ever.
9. Use fall decor to bring the beauty of the outdoors, indoors
While we might miss the time we spent outdoors in summer, you can extend your exposure to nature by bringing beautiful botanicals indoors in through your furnishings and accessories; from upholstery to cushions, living room curtain ideas, rugs, artwork and more.
10. Embrace a relaxing, neutral fall scheme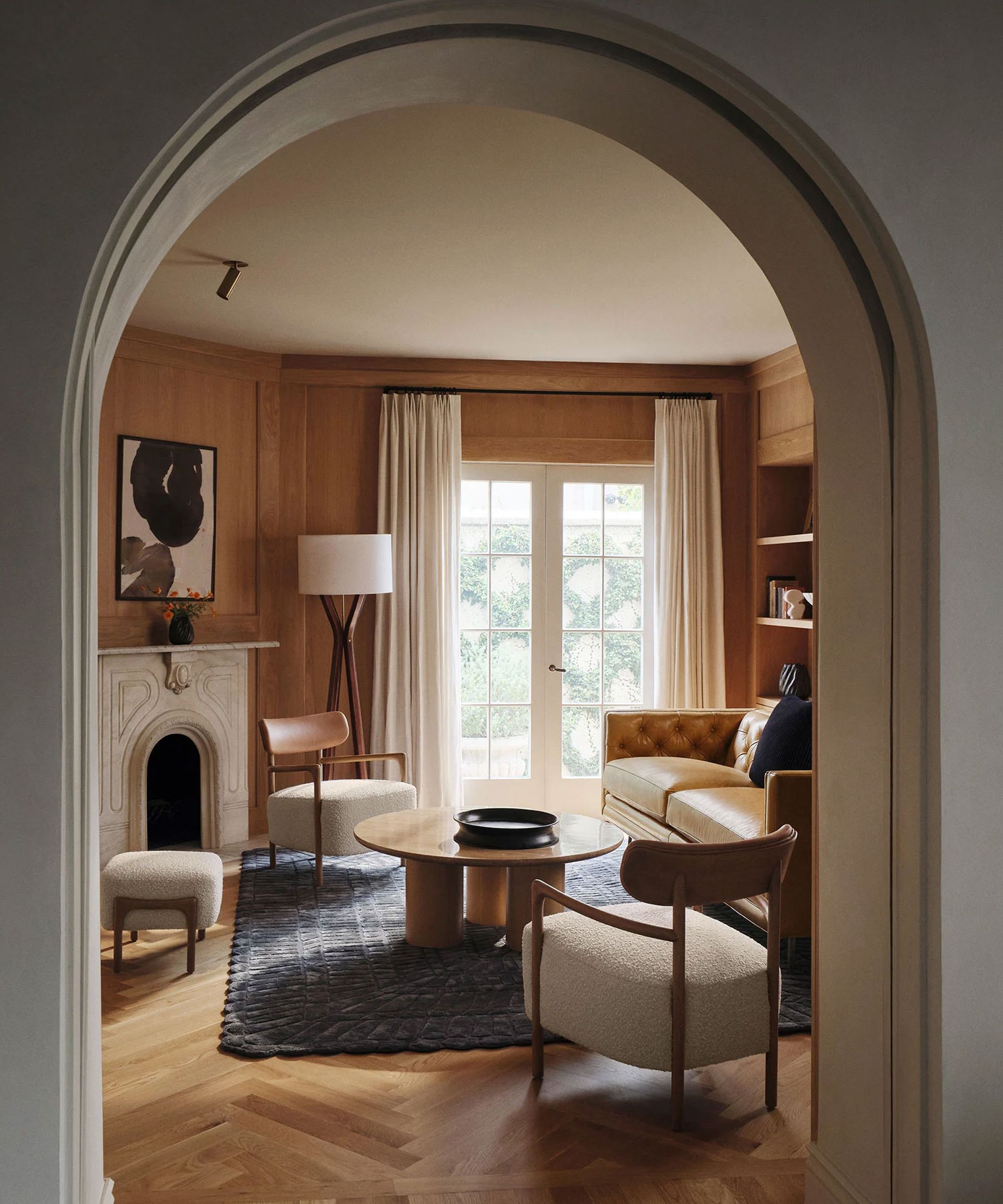 If you thought neutral living room ideas weren't a wise choice for fall, think again. Even a light living room that's lacking in color can still be bursting with visual appeal.
'I love working with a neutral color palette because it can really translate to any design style,' says interior designer and TV personality Bobby Berk. 'But the key to doing it successfully is to embrace a variety of elements that will add interest.'
'Think about pieces that draw the eye, like sculptural vases, patterned cushions or a graphic living room rug for warmth and interest. Layering these items will make a room come to life, even when using only neutral shades. These elements can also bring in an array of tones and patterns that will make the space much more dynamic, too.'
Bobby Berk is a design expert & Emmy-nominated TV host known for his work on Netflix's Queer Eye, where he brings change to people's lives by teaching them that a happy home means a happy life. Bobby also hosted Netflix's Blown Away: Christmas and was a semi-finalist in the sixth season of FOX's The Masked Singer.
11. Create a cozy living room with comforting, upholstered furniture
You living room should feel like a cozy and comforting retreat during the fall and winter; and cocoon you in soft texture and warmth as you escape the harsh, cold weather outdoors.
By having plenty of upholstered furniture and accessories such as chunky, woven knit blankets and throws, your space will only feel more relaxing and snug.
12. Introduce warmth with plenty of tactile texture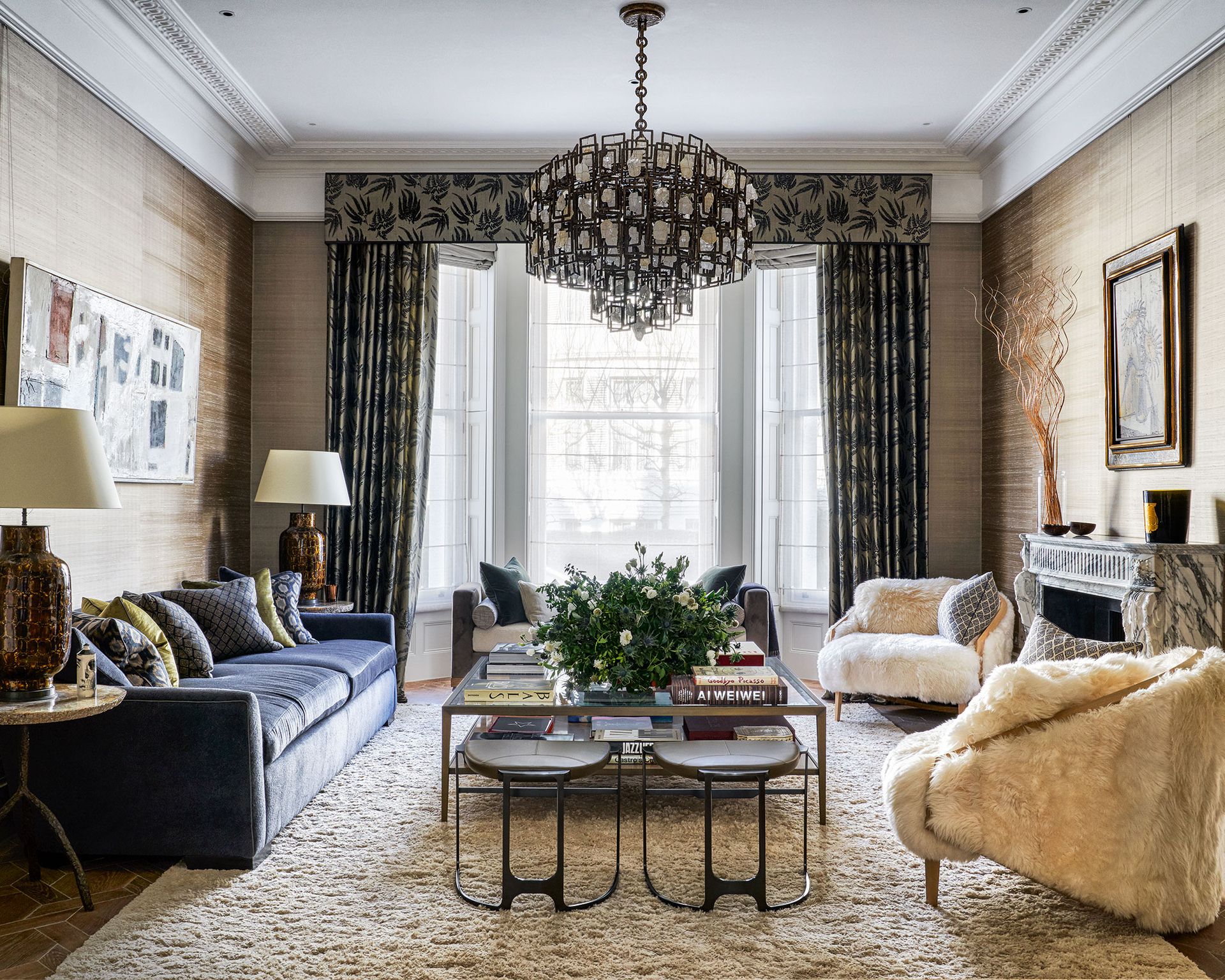 Texture in interior design is vital, and is often used to great effect when planning a cozy living room for fall.
'Texture and layering is all about creating tactile moments that invite touch,' says Tiffany Leigh, of Tiffany Leigh Design. 'It refers to the feel, appearance or consistency of a surface or material. Textures help to keep a space from feeling flat or one dimensional, making them optimal for fall and winter living rooms.'
For a multi-layered look, tactile weaves like bouclé look beautiful when layered against the luxurious feel of faux shagreen or rough-hewn timber to give a room some depth and sense of history.
Tiffany Piotrowski founded Tiffany Leigh Design Inc. in 2019. With an eye for casual classic style, she brings thoughtfully curated designs to her client's homes and cottages. Tiffany prides herself in having a hand in every project coming into the TLD Studio.
13. Create a fresh feel with new decorative accessories
'Tactile textures and dried grasses in earthy tones continue to be popular decorative accessories for fall,' says Claire Hornby, head of creative at Barker and Stonehouse.
'They not only have a visual design function, they are also great to touch and feel,' she says. 'In addition, using woven baskets continues to add artisanal interest to this scheme as well as provide much needed storage solutions.'
14. Mix and match modern and rustic materials
Combining the warmth of a rural retreat with the opulence of a Georgian townhouse, this living room fall decor look is perfect for those looking to create a seasonal hibernation spot for winter.
'Accessories with texture and a visual point of difference create layers of interest in a room,' says Claire Hornby. 'A velvet cushion or throw for example, provides both decorative opulence as well as adding a comforting tactile element that further enhances a homely, inviting feel.'
15. Lean into a bohemian living room style
Don't automatically assume that the color white will make a room feel cold. White, teamed with plenty of texture and natural fabrics and surfaces, can look instantly appealing, like in this modern bohemian living room idea above – while dark shades on walls will make a room feel cozy, not small.
'Boho is one of those styles that is completely unique and able to be interpreted in so many ways,' says Bobby Berk. 'And for us, the most interesting and unexpected take is combining boho with more modern elements for a truly 21st-century twist.'
At the heart of boho style is an eclectic mix of materials, patterns and eras. Limiting color palette to tone-on-tone is a good place to start, whether its going with warmer shades for fall or cooler shades for spring. And bringing in white, black and wood tones will also help to amp up the modern feel.
16. Amp up the cozy factor with plenty of candles
Aside from installing a living room fireplace, a woodburning stove or adding more radiators, there are plenty of simple cozy living room ideas that will add visual warmth to a space through decor.
Along with the cozy glow of the best candles, add cosseting fabrics and accessories for instant warmth, and if you're worried your living room may look too warm or dark in spring and summertime, you can always switch out some of your decor – swap dark, heavy drapes for lighter, brighter versions, and scale back the use of throws and pillows.
17. Embrace more unique fall color schemes
When many of us think of the colors of fall, we are drawn to rich reds and beautiful burnt oranges, but that doesn't mean you need to shy away from cooler, darker colors.
If you're looking for living room ideas that are calming, even in the busiest of households, then blue is the living room color scheme to choose.
'Blue is a surprisingly versatile color that can work all around the house', says Kathryn Lloyd, color specialist at Crown Design Studio. 'All the different tones of blue have the power to convey a variety of moods, from tranquil to vibrant, so they can be easily introduced in any type of living room, no matter the size or style.'
'Darker colors can imbue a magical quality in your living room, maximizing its coziness', says Patrick O'Donnell, brand ambassador at Farrow & Ball. With blue being one of the world's longest standing most popular colors, it's safe to say it's been added to the timeless palette. It's hard to go wrong with elegant and rich blue room ideas.
Patrick O'Donnell is Farrow & Ball's color consultant & brand ambassador and has been with the brand since 2012. Patrick works with designers in the UK and North America, helping to bring their projects alive with the iconic, F&B color palette.
18. Or, turn to a palette of primary colors
Decorating with primary colors may have fallen out of fashion in recent years in favor of paler, neutral living room color schemes, but adding bold brights can be done in a way that's sophisticated and refined, if the primaries are included in subtle additions rather than swathes of color.
When choosing primaries for your living room fall decor – and their derivations – bear in mind that cool colors recede meaning they are exceptional choices for bright spaces that you want to feel calm and spacious; warmer colors advance, making them ideal for creating cozy, lively spaces in winter.
Shop living room fall decor