No-carve pumpkin ideas – 18 easy, stylish gourd designs for Halloween and fall
These no-carve pumpkin ideas are perfect for creating a colorful witching hour, without the knifework. From decoupage to painting, here's what to try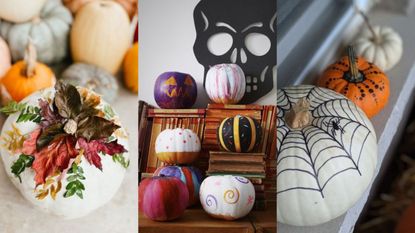 (Image credit: Andrea Gordon/@playwithstyleblog / Graeme Ainscough / Holly Featherstone/@hollyberry_feathers)
Looking for no-carve pumpkin ideas that will make your Halloween celebrations a little simpler this year?
While getting stuck in with a gourd and a carving knife can be great fun, it's not always the best way to go about Halloween decorating ideas with young children around. Pumpkin carving ideas also have their limitations – if you're looking to inject some color, texture or more sophisticated pattern into your pumpkin, then considering alternative techniques can open up a whole world – or underworld – of possibilities.
Picking up a paintbrush or grabbing a pot of glue can allow you to totally transform your pumpkin, either turning it into a Halloween showstopper or a nature-embracing piece of fall decor ready for putting your pumpkins out for the big event.
No-carve pumpkin ideas
From gourds decorated with fall leaves to pumpkins painting ideas with elaborate spooky designs, take a look at these quirky pumpkins and pick up some tips for creating a stunning pumpkin that ditches both the pointy tools and the fuss. The other benefit of no-carve pumpkin ideas? You can use the innards in your pumpkin recipes once Halloween is over.
1. Fill a tall lantern with mini gourds and dried stems
Not all no-carve pumpkin ideas have to be for outdoor Halloween decor; they work wonderfully indoors, too.
'Sometimes the smallest of touches can create the biggest impact and having a useful piece such as our box lanterns means you can create themed look with minimal effort,' says Suzy Humphreys, founder of Layered Lounge.
'For Halloween I fill a few square lanterns with a mix of our nude ceramic pumpkins, vibrant orange gourds and a few leaves from the Virgina Creeper in our garden, it's such a gorgeous mix of color and unmistakably fall.
'I'll dot these along the mantelpiece or use it as Halloween table decor along with more lanterns filled with pillar candles, it's so simple but really effective. Once fall is done you can swap the pumpkins for pinecone decorations, fir sprigs and dried oranges for an instant festive flourish.'
2. Make your own pumpkin patch
'Give your fall decorations a pretty feel with this fabulous no carve pumpkin idea. No messiness, just pure sewing fun, with multiple fall-colored fabrics and a touch of creativity – and the best bit is you get to keep your fabric pumpkins for life!' says Melanie Griffiths, editor, Period Living.
There is a ton of pumpkin sewing kits on Etsy, but we like this one most.
3. Ditch the orange and go for painterly blues
Whether you are growing pumpkins yourself, buying them from the grocery or farm shop, or have faux pumpkins to paint, consider an alternative color scheme this year.
'We wanted to create a "Gather at Home" Coastal Fall theme. Kim from August Floral and Event Design took her inspiration from coastal landscapes for the painted pumpkins that are placed alongside on the mantel. We love the idea of showcasing something beautiful and a bit dramatic that is also super obtainable for anyone,' says Stephanie L Hoey, owner and lead designer at Stephanie Hoey Interiors.
4. Opt for simple textures and elegant tones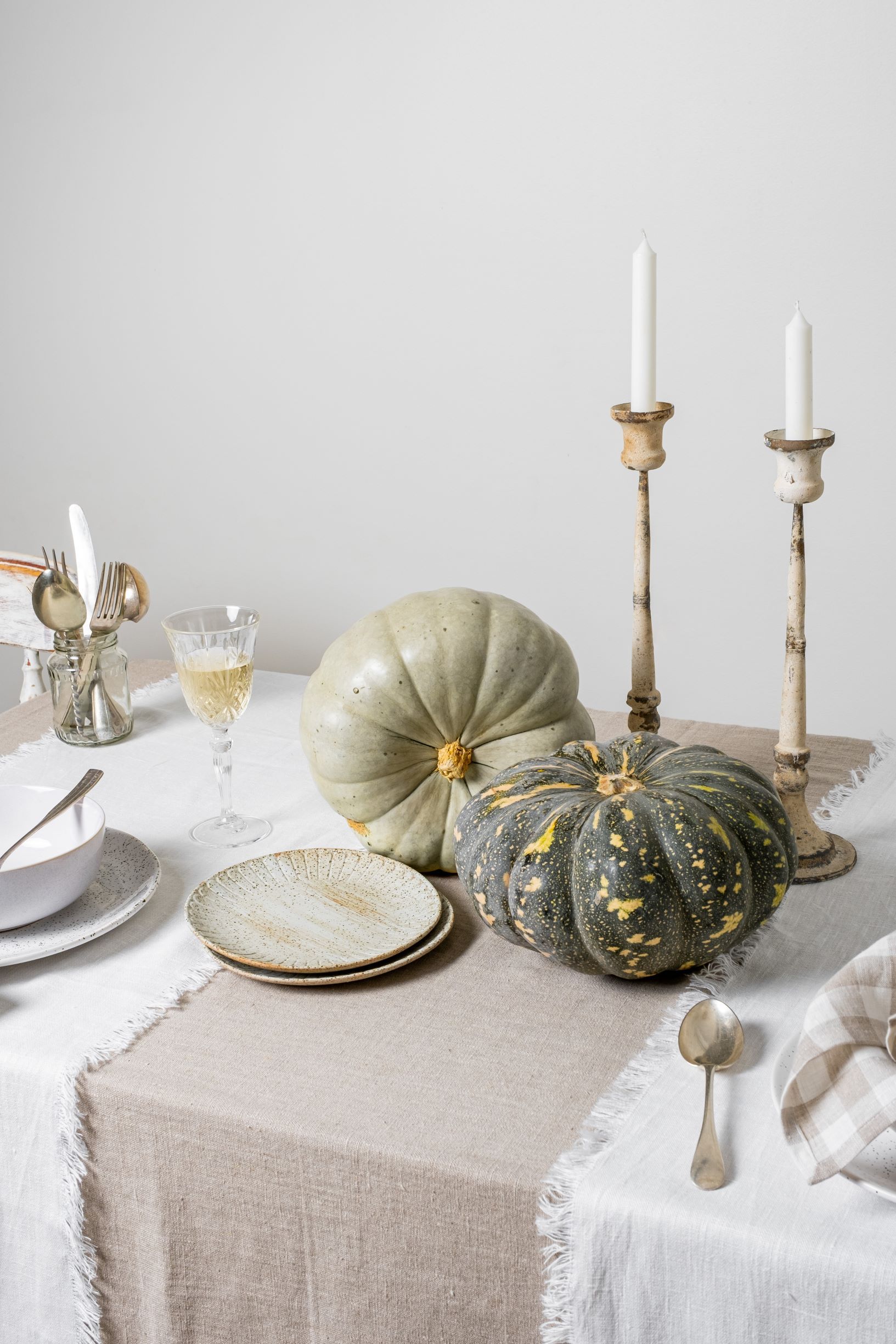 'There are many different varieties of pumpkins that span colorways too, so firstly, if the traditional orange shade isn't for you then consider one of these beautiful options instead. And secondly, choose a pumpkin that's got its own decorative qualities, it will be eye-catching enough in its entirety so you won't need to carve any designs,' says Jennifer Ebert, digital editor, Homes & Gardens.
5. Feeling artistic? Give a faux pumpkin a mosaic makeover
Why not go multi-colored with your Halloween decorating ideas this year?
'These happy (faux) pumpkins are hand painted using acrylic paints in a variety of colors. When finished, each pumpkin has anywhere between 10 to 15 layers of paint and is sealed with a high gloss protective coat to make them last and able to pull back out to decorate year after year,' says Emily Nichols of Emily Nichols Art.
6. If real pumpkins simply aren't your thing...
'A good reason to invest in long term pumpkins, aside from the no carve element, is that you can keep on using them, or gift them to family and friends during the fall seasons. We love this clever and sustainable idea of decorating your home with pumpkins made from straw, wool and felt in various shades of fall tones,' says Melanie Griffiths, editor, Homes & Gardens.
Check Etsy's knitted pumpkins for ready-mades like these.
7. Give your pumpkin a crown of leaves
For Halloween porch decor especially, taking inspiration from the changing natural world is a great way to keep things feeling in touch with the wider season.
'This colorful leafy pumpkin is a fun and easy decorating project that takes almost no time at all,' says blogger Andrea Gordon, Founder of Play With Style. 'I went for a walk and foraged for leaves with different shapes, sizes, and colors. Once at home, I laid out the leaves in the pattern that I wanted and began to glue them on the pumpkin in layers.'
Allow the ends of the leaves that point away from the core to remain free to create a crown-like effect. 'Pro tip: use leaves that are not brittle or dry as they will be easier to glue and will not break apart,' adds Gordon. 'These pumpkins could be made with so many different patterns – you could also add in wildflowers, grasses, and twigs.'
8. Use stickers to create a no-carve Jack O'Lantern
The classic Jack O'Lantern, with its angered eyes and grizzling mouth, will always be a favorite design – but it's also possible to achieve this ghoulish look without picking up a knife. Look online for vinyl sticker sheets that include black cut-out shapes of eyes and mouths – these can easily be applied to any pumpkin, even by little hands. Alternatively, get creative with a plain sticker sheet (in black, or any other color that takes your fancy) and have a go at drawing your own unique facial expressions or ghostly designs. We think it makes for the perfect Halloween window decor because it'll be visibly scary if uplit.
9. Paint pumpkins with spooky designs
While there is technically no limit to the remit of your no-carve pumpkin ideas, keeping it spooky at this time of year is always a good way to go. Not needing to carve a pumpkin means you can create more complex patterns on your painted pumpkin, as well as incorporating color.
In these examples, a Day Of The Dead-inspired skull pumpkin is painted with yellow dots and winding green vines, while a second pumpkin sports the silhouette of a haunted house and has its orange hue invigorated by multiple tones and a glowing white full moon.
10. Decoupage the patterns of fall with colored paper
Decoupage – the practice of layering thin pieces of paper or material onto a surface and using glue to secure them – is an excellent way to jazz up a pumpkin. In this example by Sylvie Mulcahey, owner of decor company Faerien, images of fall leaves from a white paper napkin have been cut out and decoupaged onto a white pumpkin.
'Take matte Mod Podge and brush on the pumpkin where you want your image to be and apply the napkin to the wet Mod Podge,' says Mulcahey. 'Use your brush to gently push down into any grooves and smooth it out. Little wrinkles are unavoidable and actually look natural. Continue until you have your images all around the pumpkin and allow to dry. Then give it all a second coat of Mod Podge and you're done!'
If you can't find a napkin that works, find tissue paper in keeping with your fall color scheme and draw your own leaf shapes.
11. Get the kids involved – and let their imaginations run wild
If the children of your household are a little too young to learn how to carve a pumpkin, get them involved with painting instead. 'Imagine all the fun you could have, creating painted pumpkins with your little ones,' says Vicki Thompson, Design Consultant at So Lets Party.
Make an event of it with a painting party and encourage them to let their imaginations run wild. If you want to ensure they all fit within your decor, give them a limited palette of colors but allow them to paint whatever they like, from abstract patterns to Jack O'Lantern faces.
12. Straddle the seasons with pressed summer flowers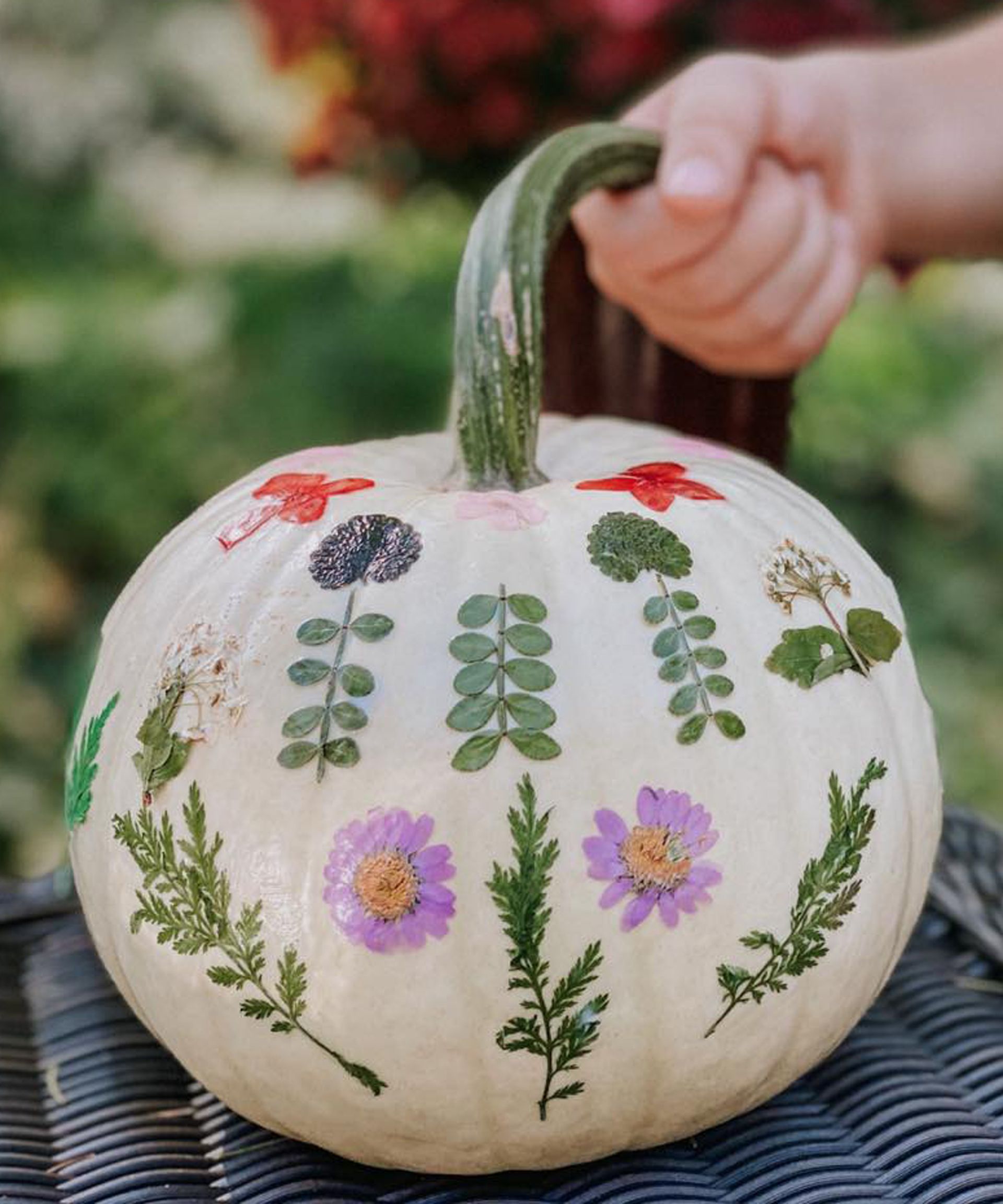 When putting together your fall decor ideas, it's often pleasant to incorporate a nod to the departing summer. Little Pine Learners blogger Tara Rondinelli used the pressed flowers she collected over the summer to decoupage a fall pumpkin.
'Decorate a pumpkin with pressed pieces of nature,' says Rondinelli. 'Don't have any pressed flowers or leaves? No problem, you can find pressed packs online!' The result is a multicolored pumpkin that is more stylish than scary, but while having its roots in the fall, reminds us that spring is never too far away.
13. Get sculptural and stack them up
Making the most of your pumpkins isn't always about how you decorate them – it's about how you arrange them too. If you want to embrace your pumpkins' natural patina but are looking to add a quirky take to your display, get sculptural and stack them up. In this example, pumpkins of different colors are stacked up in descending size order to create a column. This can work really well among your Halloween door decor ideas, with columns placed either side of the entrance to your home.
14. Go faux with pretend pumpkins
'If you do not like pumpkin pie, or do not have the time to carve out the pumpkin yourself, faux pumpkins can be purchased and used again and again,' says Thompson, who suggests investing in fake gourds for reusable Halloween porch decor. 'Why not buy a collection of ornamental squashes, add some candles of varying heights and voila – Halloween on your doorstep.'
As well as for outdoor, faux pumpkins are great for adding a natural feel to living room fall decor. 'Decorating with faux pumpkins can be one of the easiest ways to decorate your home for Halloween,' says Kelly Lambert, Senior Merchant for Seasonal Décor at Grandin Road. 'Layer faux pumpkins with your everyday décor on your mantels, shelves, tabletops, and windowsills for a fun, colorful touch.'
15. Decoupage real fall leaves – with a twist
If you've collected more than enough leaves for your fall wreath ideas, consider using the surplus to decorate your no-carve Halloween pumpkin. In this example by Instagrammer Cicely Jackson used large fallen leaves as the material for her decoupage, but gave their shapes a fun twist. 'To make these pumpkins, I collected some leaves, soaked them in water to make them less brittle, cut out star shapes and used watered-down PVA glue to paste them on,' she says. 'Really quick and easy!'
16. Paint pumpkins to help them fit into your color scheme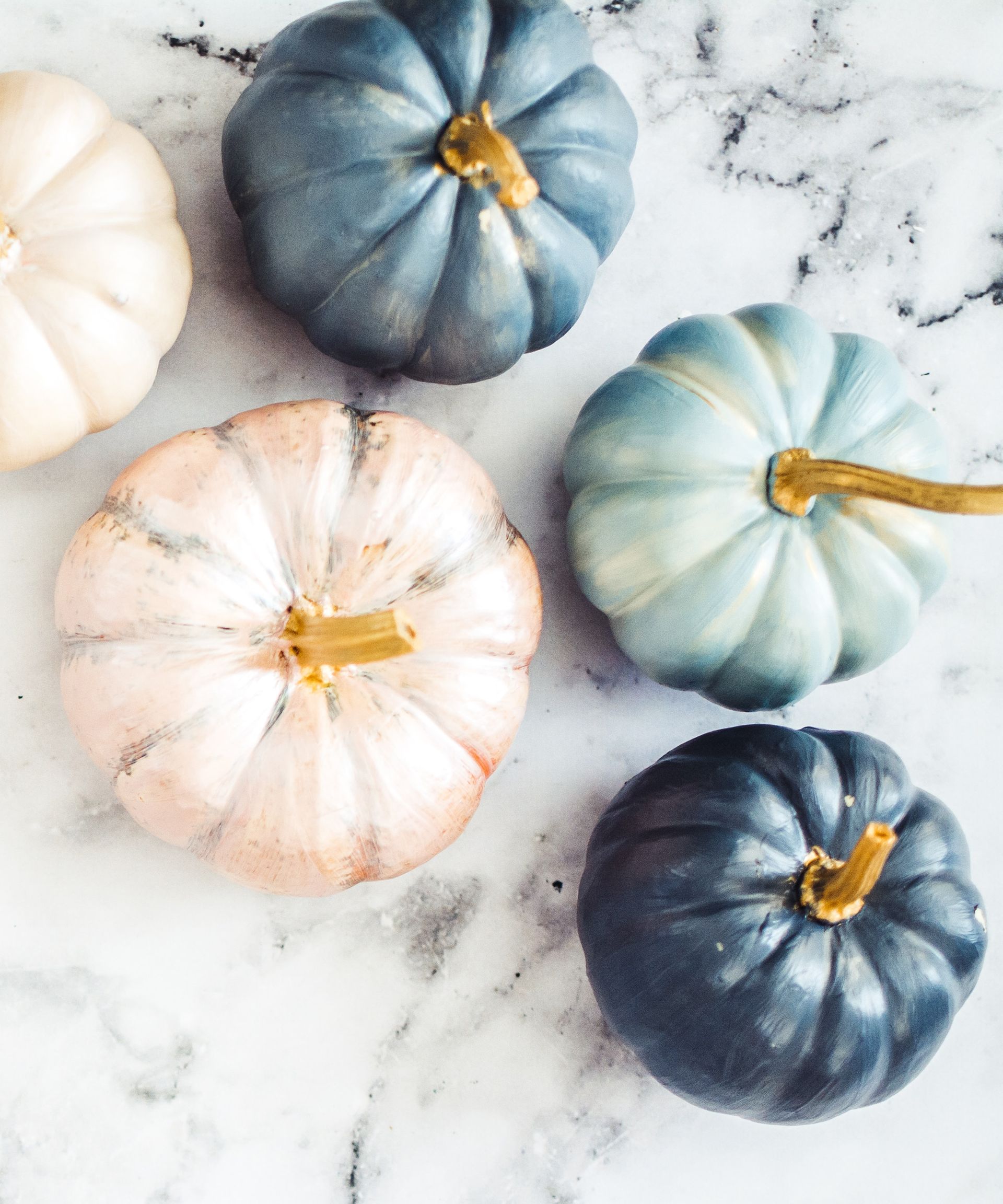 If you're looking to take a subtler approach to Halloween this year, make your pumpkins work for you. Instead of using paint to cover them in spooky patterns, reimagine your bright orange pumpkins with a lick of paint in a hue that fits in with your home's existing color scheme. Don't be afraid to think outside the box – these pastel-painted pumpkins would make a great addition to Halloween table decor schemes that reflect a light and bright living or dining room.
17. Create precise line designs with a permanent marker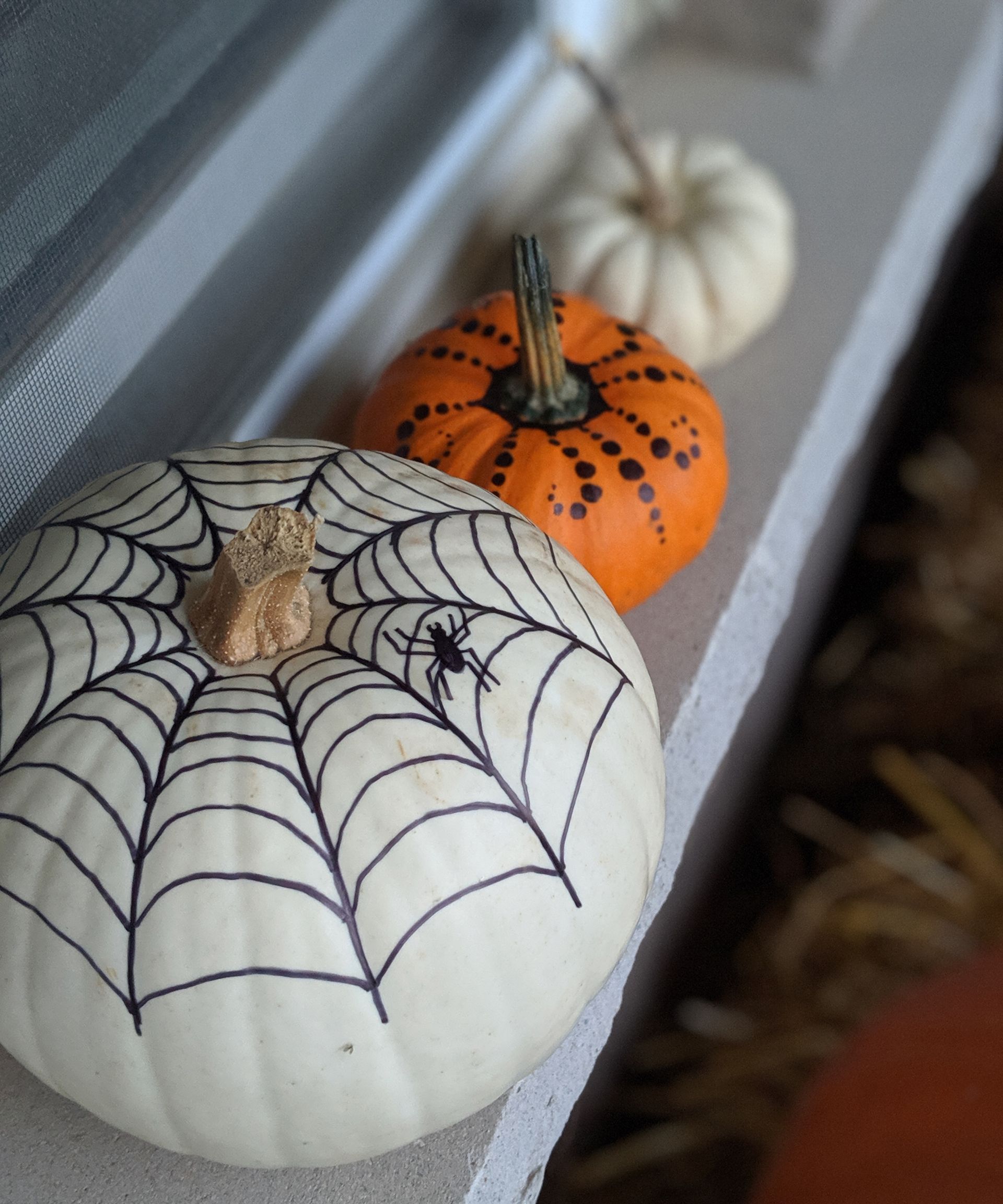 If getting messy really isn't your scene, keep it clean with your no-carve pumpkin decorating – not just in terms of your creative process, but in the design too. 'Everyone has a permanent marker kicking around, and if you like doodling, consider pumpkins an empty canvas!' says Instagrammer Holly Featherstone. 'I like to make detailed doodles – but you can even just draw faces on the pumpkins too. One pro tip: your marker ink might run out, so make sure you have backups on hand!'
18. Arrange pumpkins in a seasonal flower display
For a true celebration of your pumpkin's natural – rather than spooky – connotations, pair it with other seasonal flora. Miniature pumpkins work really well in and among fall planter ideas, adding pops of solid color either at the base of plants or around the outside of a planter. If you're thinking about how to make a Halloween wreath, consider tying miniature pumpkins into an arrangement of autumn leaves, branches and berries.
What can I use to decorate a pumpkin without carving?
To add instant impact with ease, painting is the easiest way to totally transform a Halloween pumpkin. Not only can it help you emulate familiar pumpkin carving patterns like the enduring Jack O'Lantern face, but you can also use paint to overhaul your pumpkin's color palette and create an ornament that will fit into any interior design scheme.
Alternatively, get sticking with it. Using PVA to decoupage shapes cut from tissue paper, autumn leaves or even dried flowers onto your pumpkin is a great way to incorporate texture into a design. For something less messy, look for sticky-backed vinyl to simply stick on either readymade shapes, or silhouettes of your own design.
How do you decorate pumpkins?
When decorating a pumpkin, it's first important to consider what kind of style you are going for. If this is a pumpkin that you want to aesthetically endure beyond Halloween and into the remainder of the season, choose a decoration style that is more subtle and adaptable to a more general fall scheme.
Then, choose your technique. If carving is a no-go, painting, decoupage and stickers are all a great way to reimagine your pumpkin. For a fall pumpkin, embrace natural materials and colors. For a Halloween scheme, focus on more dramatic neutrals like blacks and whites, with a spot of dramatic color in there too to contrast with the pumpkin's vibrant orange skin.
Ailis started out at British GQ, where a month of work experience turned into 18 months of working on all sorts of projects, writing about everything from motorsport to interiors, and helping to put together the GQ Food & Drink Awards. She then spent three years at the London Evening Standard, covering restaurants and bars. After a period of freelancing, writing about food, drink and homes for publications including Conde Nast Traveller, Luxury London and Departures, she started at Homes & Gardens as a Digital Writer, allowing her to fully indulge her love of good interior design. She is now a fully fledged food PR but still writes for Homes & Gardens as a contributing editor.