How to grow rudbeckia – tips for endless summer to fall flowers
Find out how to grow rudbeckia and these easy-to-cultivate plants will give you long flowering displays of blazing yellow blooms from July to October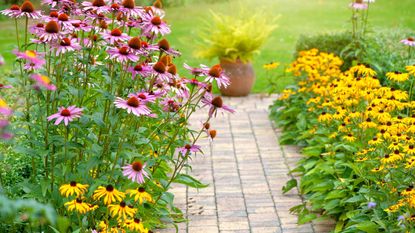 (Image credit: Getty Images)
Sign up to the Homes & Gardens newsletter
Decor Ideas. Project Inspiration. Expert Advice. Delivered to your inbox.
Thank you for signing up to Homes & Gardens. You will receive a verification email shortly.
There was a problem. Please refresh the page and try again.
Learn how to grow rudbeckia and enjoy a blaze of bold golden-yellow color that goes from late summer into fall. Rudbeckia are easy to grow, easy to maintain and they are available as annuals or perennials.
A cheerful addition to your flower beds, rudbeckia are members of the Aster family with daisy-like flowers in shades of yellow and orange, ranging from fresh lemons and golden hues to apricot, copper and russet brown. Rudbeckia are commonly known as 'coneflowers' and 'black-eyed Susan', due to the raised central disc in the middle of the flower.
Rudbeckia are native to North America and have become synonymous with the prairie-style planting made popular by garden designer Piet Oudolf.
How to grow rudbeckia
Here, we cover everything from planting to companion planting.
Where and how to plant rudbeckia
For the best results you need to plant rudbeckia where they will get full sun. They can grow in light shade, but they will not flower as well as in a sunny spot.
Find a suitably shady spot
You'll need to plant into neutral, well-drained soil
Dig over in advance and prepare with compost or well-rotted manure
Dig a hole the size of your rootball and plant
Water in and feed with general plant food
Apply a mulch around the plant
How to sow annual rudbeckia
For those who want to learn how to grow rudbeckia annuals, you can sow seeds from February to April. You can sow them in trays or pots using seed compost.
Do not cover the seeds with compost as they need light to germinate, then place them on a sunny windowsill.
When they have two sets of leaves, transplant them to a larger pot before hardening them off for around two to three weeks in preparation for planting them into the soil in late May/early June.
How to sow perennial rudbeckia
For those who want to learn how to grow rudbeckia perennials, you can sow seeds anytime from February to July in trays or pots using well-drained specialist seed compost.
Keep your seeds in a propagator or warm spot to keep to the optimum temperature of 65-70℉, covering the seeds, just, with compost.
When large enough, transplant seedlings to larger pots and store in a cool place for two to three weeks and then plant out when there is no chance of frost.
How to care for rudbeckia
The main thing to remember is that rudbeckia like to be moist, so they need to be watered regularly and mulched if the soil is sandy or generally dry.
It is very important that they are not allowed to dry out as they will suffer from powdery mildew.
Deadheading coneflowers will encourage more flowers to form.
As the flowers fade the central cones remain, providing attractive fall and winter structure. The seeds contained in the cones provide winter food for birds.
Leave the stems of perennial rudbeckias until February, then cut them to the ground and mulch over the stems to help next season's growth.
Established perennials should be divided every two to three years.
Best annual rudbeckias to grow
Some annual rudbeckias are low-growing and perfect for containers or placing at the edge of a border, while others grow to between 24–32in, making them ideal for planting in in borders with ornamental grasses and other perennials like salvias, heleniums and persicarias.
1. Rudbeckia Cherry Brandy
A unique rudbeckia with striking cherry red petals around chocolate brown cones. Mid-height and with sturdy stems, it's a great choice for adding jewel-like color to a late season border. It's also a good cut flower. Height 24in. Spread 18in.
2. Rudbeckia Prairie Sun
A sunny plant with large flower heads made up of unusual pale green centers surrounded by single rows of orange-yellow petals with paler yellow tips. A tough plant that doesn't need support. Height 32in. Spread 16in.
3. Rudbeckia Sahara
Beloved of florists, this relatively recent introduction produces flowers in a fabulous array of warm tones of peach, copper, dusky pink and caramel. The flowers are also a mix of single, semi-double and doubles. Height 24in. Spread 18in.
4. Rudbeckia Chim Chiminee
Slender, quilled petals give these flowers a chimney sweep brush appearance, but rather than sooty black they're a glowing mix of autumnal tones such as ruby red, rusty orange and golden yellow. Height 24in. Spread 18in.
5. Rudbeckia Toto
For a container display that provides months of glowing color, grow this compact cultivar that forms neat mounds and has multiple branching stems topped with a profusion of small, sunshine yellow blooms. Height 16in. Spread 12in.
6. Rudbeckia Chocolate Orange
A bushy cultivar that has sumptuous bi-colored blooms consisting of mahogany red petals with orange tips which are produced over a long period right up to the first frosts. Plant with dahlias for sparkling autumn color. Height 30in. Spread 18in.
7. Rudbeckia Aries
A particularly eye-catching rudbeckia with two-tone flowers in a striking combination of bright yellow and deep red. It's especially long-flowering too, with flowers from July to October and is ideal for weaving through the middle of a border. Height 30in. Spread 18in.
8. Rudbeckia Cherokee Sunset
Glorious rusty orange flowers that are perfect for the late summer/early fall garden. The semi-double flowers have an attractive shaggy appearance and they look fantastic in a vase along with dahlias. Height 24in. Spread 18in.
Best perennial rudbeckias to grow now
Some rudbeckias are hardy perennials. These tend to grow tall with statuesque stems that can be used to add height to the back of a border.
1. Rudbeckia Herbstsonne
A towering prairie plant with tall stems and flowers made up of green centers and lemon yellow petals that hang downwards. Not for the faint-hearted or small gardens – give it plenty of room. Height 6ft. Spread 3ft.
2. Rudbeckia Goldsturm AGM
A shorter perennial rudbeckia which forms good-sized clumps of dark green leaves and golden daisy-like flowers with black centers from July to October. Pretty intermingled with other late-flowering perennials and short grasses. Height and Spread 24in.
3. Rudbeckia Henry Eilers
Found growing by a railway in Illinois, USA, this cheerful plant has masses of bright yellow blooms throughout summer. Unusually each petal rolls in on itself rather than lying flat, creating a quilled effect. Height 4ft. Spread 27in.
4. Rudbeckia Green Wizard
A curious plant with prominent dark brown cones, speckled around the base with golden pollen and surrounded by a ring of green sepals rather than colorful petals. The cone seed heads provide strong fall and winter interest. Height 4ft. Spread 27in.
Best companion plants for rudbeckia
These plants make fantastic companions for rudbeckia.
1. Perovskia blue spire
A perennial with aromatic grey-green foliage and upright, silvery-grey stems studded with small, lavender blue blooms, which are loved by pollinators. The bare stems in winter have a ghostly white quality. Height 1.2m (4ft) Spread 1m.
2. Eupatorium maculatum 'Purple Bush'
Eutrochium purpureum, commonly known as Joe pye weed makes a good companion for the tall perennial rudbeckias. It has tall, self-supporting, purple stems and domes of fluffy pink flowers that are a magnet for bees and butterflies. Flowers August to October. Height 7ft. Spread 4ft.
3. Helenium sahin's Early Flowerer
One of the first heleniums to flower, with chocolate-colored centers encircled by yellow petals streaked with orange which deepens as the flowers age. Will bloom from July to October if you keep deadheading. Height 27in. Spread 16in.
4. Salvia Amistad
A tender salvia with gently arching, stately, almost black stems that are studded with deep purple blooms loved by bees. It makes a spectacular sight in a late season border. Will need winter protection. Height 4ft. Spread 20in.
Sign up to the Homes & Gardens newsletter
Decor Ideas. Project Inspiration. Expert Advice. Delivered to your inbox.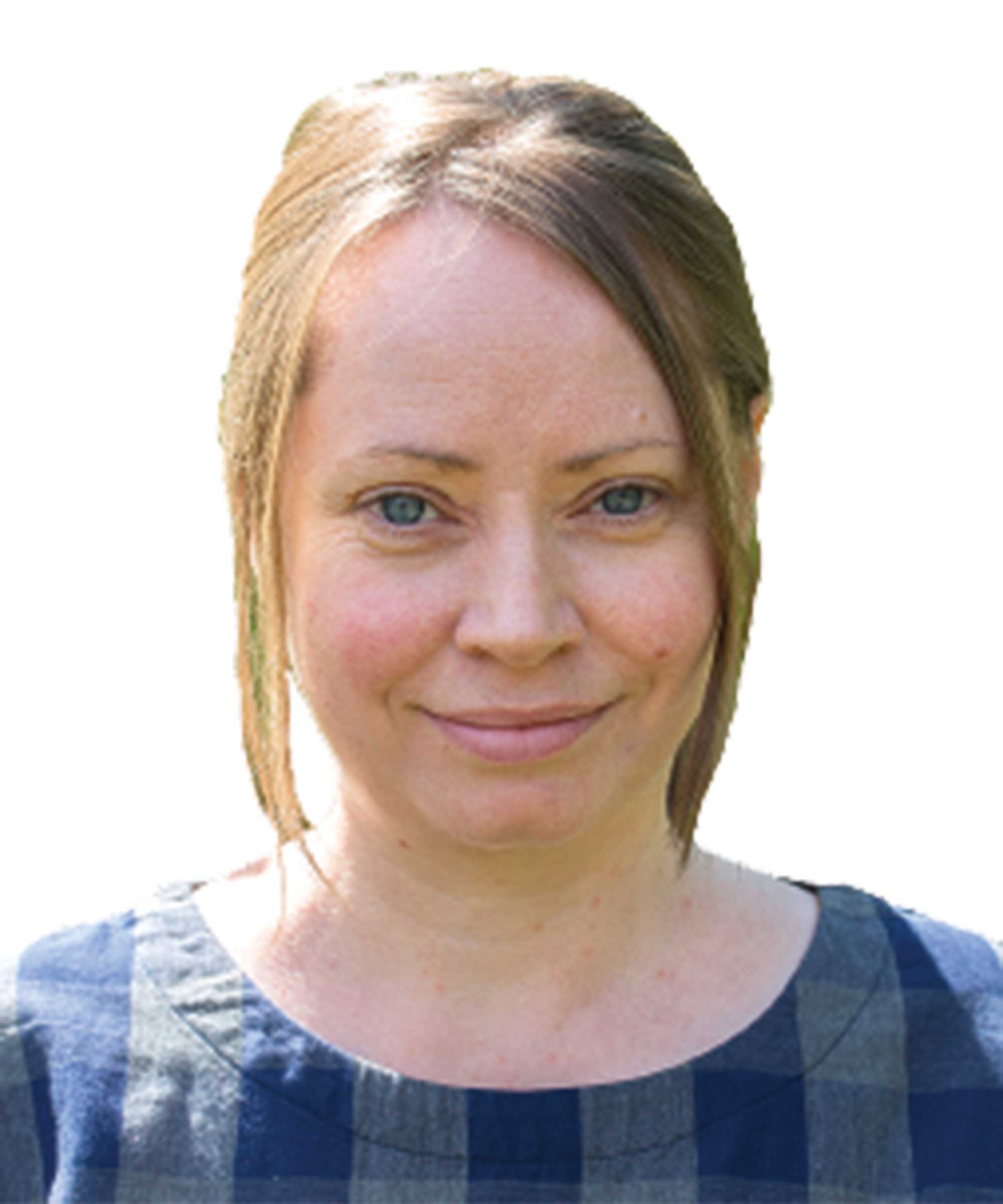 Louise Curley is an allotment-grower and gardener, and when she's not flexing her green fingers, she's writing about plants. She has written for multiple publications, including national newspapers and magazines. She has also written two books, with the first, The Cut Flower Patch, being awarded The Garden Media Guild's 'Best Practical Gardening Book of 2014'.